[Case Study] How Andrew Dolbin-MacNab Used ManyChat To Increase Local Subscriber Base By 1,650+ in One Month, and So Much More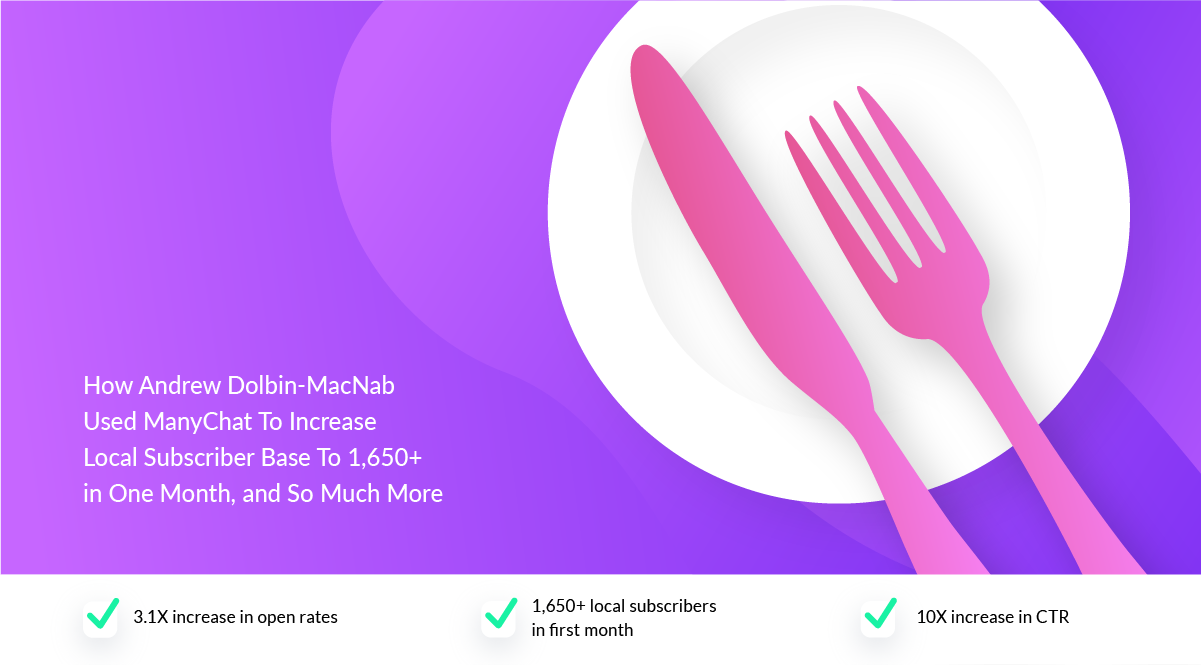 After years of diverse marketing experience, Founder Andrew Dolbin-MacNab knew his tactics needed a refresh and more focused niche. He relied on email marketing to connect with customers, but it wasn't getting the engagement it needed.
When starting a new local food and drink company, he immediately took to ManyChat to grow his start-up in late January. Since then, he's grown to over 2,000 subscribers, 3,300+ Facebook Page Likes, and is getting 92% open rates through his ManyChat bot.
Getting Imaginative with Conversational Marketing
By 2018, marketer Andrew Dolbin-MacNab realized that his strategy needed an overhaul. Although he specialized in digital marketing, he struggled with building repeatable systems that could scale. And he knew that embracing new and innovative ideas was critical for success.
At the time, he was relying heavily on email and social marketing to communicate with customers – sending out weekly newsletters, deals, and posting on social channels. Reach and engagement continued to fall, and the needle wasn't being moved as much as it used to.
According to Dolbin-MacNab, "Although email has its place in digital marketing, results have continued to decline for most people. End users are numb to email because they get so many on a daily basis."
He continues to describe that email marketing is becoming more expensive for the value you get from it. Good emails typically get around 20 to 25% open rates, and 5 to 10% click-through rates. Most people never even see your message.
"Before starting an email campaign, you always know that best case is out of a 2,000 person list, 1,600 people would never see your message. And of the 400 who do see it, maybe 20 or 40 would start a conversation. All those lost conversations with customers are a huge missed opportunity."

Andrew says the idea that ManyChat could make customers feel like there was a warm person on the other side of the screen, and start conversations at scale, were 2 big reasons he pursued Messenger marketing.
Targeting Prospects with Personalized Conversation Flows
Andrew founded this company to connect local customers with local restaurants, so building a local presence and increasing visibility was crucial. Doing this involved providing valuable content like live videos that featured local restaurants, gift card giveaways, digital coupons and more. He believes conversational marketing is critical for improving engagement and building a customer database in his agency.
Starting with zero subscribers and zero online presence, he decided to use ManyChat as the core of his growth strategy.
"It came down to ease of use and being able to visualize things I liked. Using Flow Builder to create engaging messages that are tailored for each user, I was able to get real data and have relevant conversations with my local community".

The next step would be to drive people to his live streams and other relevant content they were looking for.
"I use ManyChat in the lead up to the live engagements on my page. Or, I post questions on Facebook attached to a comment growth tool with ManyChat. It started bringing people into the bot where I ask questions to find out where they live, what kind of food they like best, and more."
From these conversations, Andrew gathers useful data and build a relationship between his new company and the subscriber.
Remarkable Results and Plans for More
Andrew set out to grow and inspire his local community fast. Within one month and little ad spend, his subscribers grew from zero to 1,687. Today, his subscribers continue to grow, and Facebook Page Likes are escalating past 3,300 followers.
Now, he can start the conversations needed to better connect with his customers, and segment profiles to deliver exactly what they want, when they want it.
He has more than quadrupled his open rate for messages, coming in at 92%. While broadcasts are performing strongly at 55% click-through rate, and live broadcast notifications are seeing an average conversion rate between 30-40%.
All of this means more conversations started across the board. Restaurants are noticing the engagement and are asking to be featured in his videos, and even become a client with his agency.
Andrew plans to continue to use ManyChat to keep on with his company's growth.
"I'm currently rolling out a new Passports program. It offers local coupons that customers can get in their Messenger, bring into a restaurant, and use to save money."
He continues to talk about how ManyChat helps him learn more about local eaters to give them better coupons.
"One of the things I ask people when they interact with my ManyChat bot is "where are you most likely to go out to eat?" and then tagging people with that. Now I know the area they live in, and where they like to eat. So when I put out coupons, I can give the best offers tailored to them".
He goes on to explain. "It's is a win for everyone. Customers get to learn about amazing restaurants in their backyard. Restaurants get free exposure and visibility, and can see how strong their digital marketing could be. For me, ManyChat has helped build a repeatable and measurable process that I can use to help my digital marketing agency get results for my restaurant clients."
Andrew feels that entrepreneurs who are considering making the move to chatbots should take action and go for it. He describes ManyChat as an "easy-to-use and powerful platform" with tremendous potential to connect with your audience in a way that's familiar and convenient for them.
Sign up for a free ManyChat account and build your chatbot today.

The contents of this blog were independently prepared and are for informational purposes only. The opinions expressed are those of the author and do not necessarily reflect the views of ManyChat or any other party. Individual results may vary.