Forbes Names ManyChat as one of America's Best Startup Employers 2020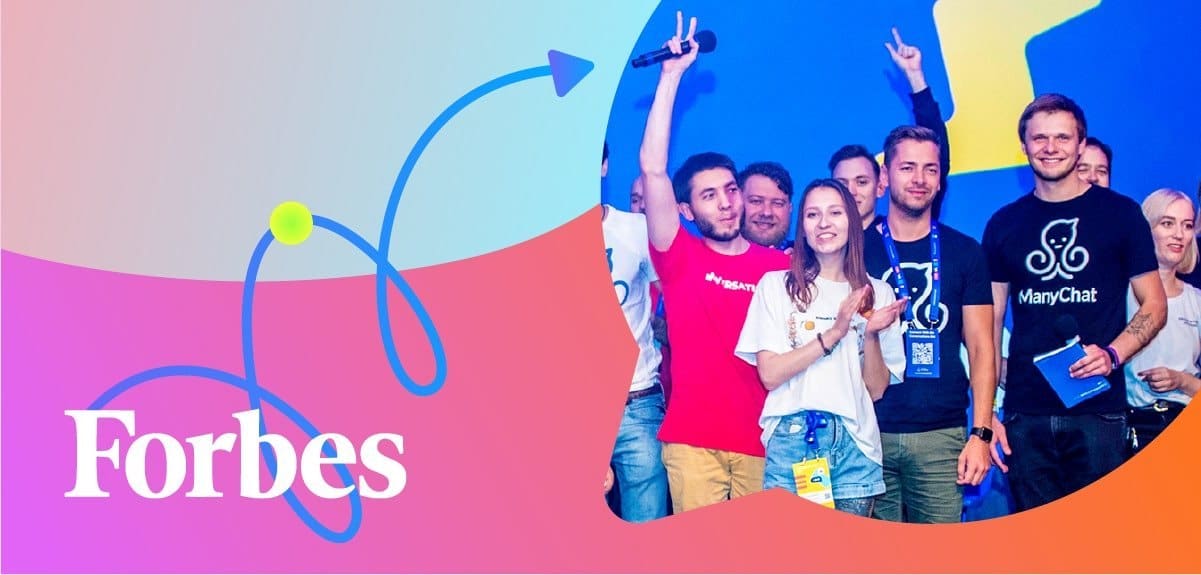 San Francisco, March 10, 2020 — ManyChat, the number one Chat Marketing platform, was named by Forbes as one of the country's Best Startup Employers in 2020. The list, which features America's top startups who have created an outstanding culture for their employees, were selected by Forbes and Statista on the following criteria:
Employee Satisfaction: extensive research was conducted on 'Average Length of Employment', 'Employee Ratings', and 'Quantity of Ratings'.
Employer Reputation: a measurement of social media success; company-specific information was algorithmically extracted from social media channels such as news sites, micro-blogs, blogs, and social networks.
Company Growth: extensive metric calculations were evaluated including 'Website Traffic', 'Job Openings', 'Headcount Information', and 'Funding Information'.
"At ManyChat, we've handpicked a team of passionate, creative and talented individuals who are dedicated to helping businesses around the globe grow and build meaningful relationships with their customers," said ManyChat Co-Founder and CEO Mike Yan. "We know that our employees are our most valuable team players, and we appreciate the recognition for the effort and attention we put into making ManyChat a great place to work. where we ourselves would want to work."
ManyChat offers employees a flexible work schedule and paid time off, healthy office snacks and weekly team lunches, team-building events and competitive salary, stock option plans and 401(k). The company has more than 100 employees and is headquartered in San Francisco, California and has an office in Moscow, Russia. Last year, ManyChat was recognized as 2019's fastest-growing apps by Zapier and HubSpot, as well as one of the 20 Rising Stars on the Forbes 2019 Cloud 100 list. For more information on the Forbes Best Startup Employers list and methodology, please click here.
For more information on working at ManyChat, please click here.
About ManyChat
ManyChat helps e-commerce, marketing agencies and businesses grow and engage with customers through the right channel at the right time by combining Facebook Messenger, SMS and email. With billions of people across the world now using Chat to communicate, ManyChat's Chat Marketing platform helps businesses connect with customers in a personalized and engaging way. ManyChat was founded in 2015 and is based in San Francisco with venture funding from Bessemer Venture Partners. Learn more at www.manychat.com or follow the company on Facebook, Messenger, Instagram, or Twitter.
Media Contact
Fara Rosenzweig
Head of Content, ManyChat
Fara@manychat.com
The contents of this blog were independently prepared and are for informational purposes only. The opinions expressed are those of the author and do not necessarily reflect the views of ManyChat or any other party. Individual results may vary.