A Real Estate CRM With ManyChat + Integromat + Coda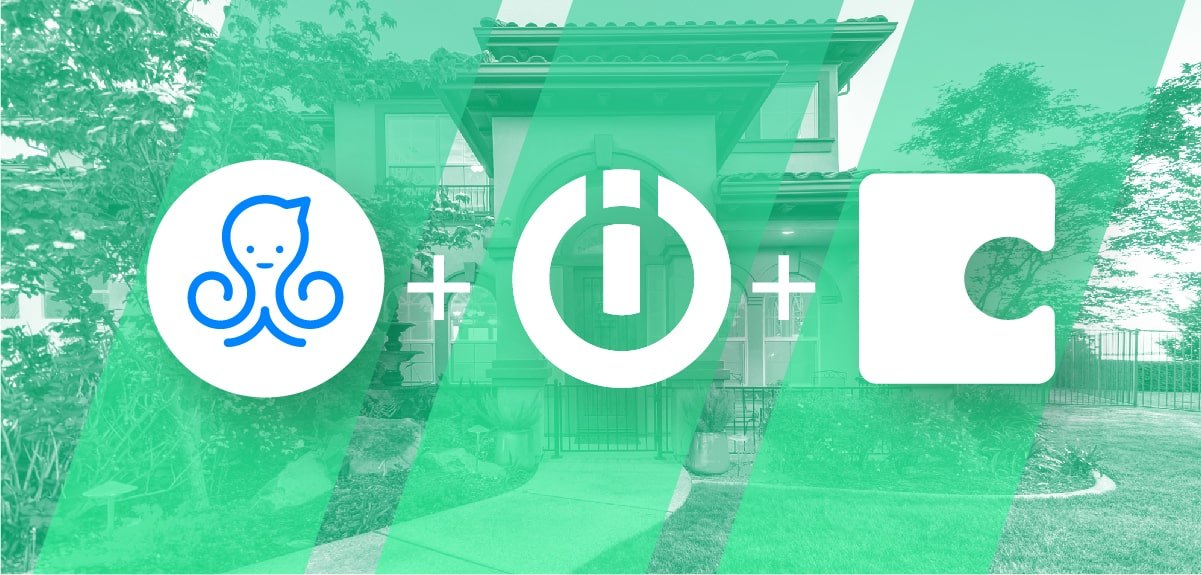 Have you ever wanted to do more with the data coming from your Messenger bot? Now you can with this helpful template by our friends at Integromat and Coda! Integromat is one of our native integrations that opens up your Messenger bot data to hundreds of other applications. One of these applications is Coda, an all-in-one document that grows with your team. We're really excited to show how Integromat allows you to see and organize your data in Coda in a more interactive way, compared to a traditional spreadsheet.
This real-world example will explore how data from a Messenger bot for a real estate business can be moved to Coda via Integromat, and how you can use Coda as a CRM (customer relationship management) for real estate leads. If you prefer to watch a video walkthrough of how this template with Integromat works, see the video below.
Qualifying and managing leads for your business
Let's say you run a real estate business and have a Messenger bot that is helping you qualify your leads. You have leads that may be looking to purchase a home and leads that are looking to sell their home. Traditionally, you might use our Google Sheets integration so that once your bot captures new lead information like a phone number or email, you can organize them in a spreadsheet of rows and columns.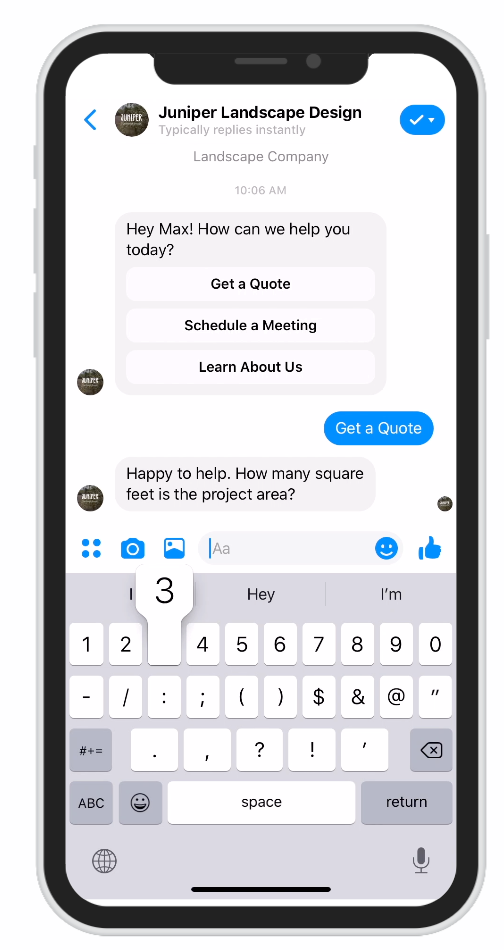 However, in order to manage your buyer and seller leads, Google Sheets may not be the best solution, which is why most real estate businesses also have an internal CRM tool. Most CRMs are not very flexible and can be quite expensive, so this is where Coda comes into play. This template is a CRM that you can use to manage all the leads that are coming from your Messenger bot, enabling you and your team to close more deals.
What the Coda template does
Instead of having your lead data stay in a static spreadsheet, Coda gives you the building blocks to turn your list of leads into a full-fledged CRM that your team can use to close more deals. In the template, you have a master list of buyer and seller leads at different stages in the process. At any point in time, the summary page lets you see how many leads you have, the status of those leads, and the total dollar amount those deals are worth: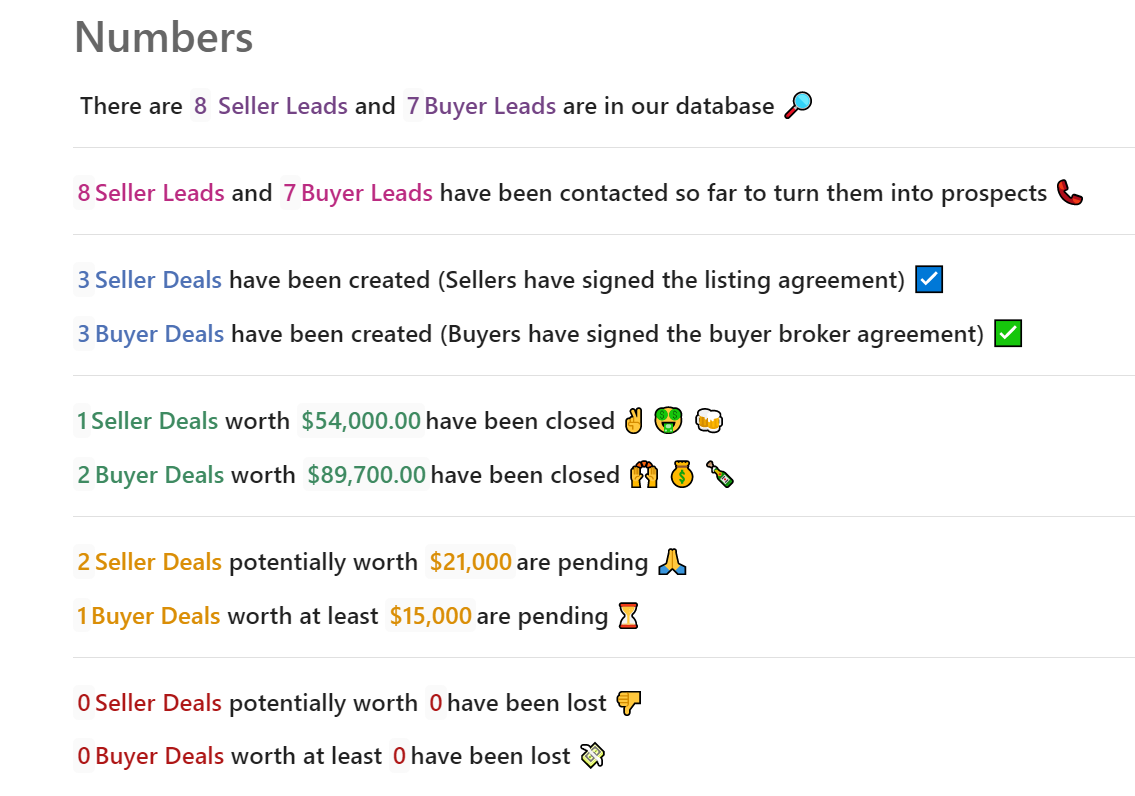 Tables and views to see the data that matters to you
Two of the most useful building blocks in Coda are tables and views. Once your lead data is stored in a table in Coda, you can build multiple filtered views that are like mirrored reflections of the master table, but filtered down to just the data that matters. The best part? When you update data in a view, the data also gets updated in the main table.
Say you want to focus on the active deals where you are working with a customer who is trying to sell their home. When the listing agreement gets signed by the seller, that's when you consider that customer an active deal, and when that lead would show up in the "Seller Deals" section and that seller's home shows up in the "Homes for Sale" page. All other leads are filtered out of these two sections, allowing you to focus on the most important leads.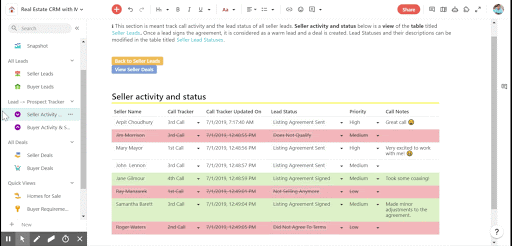 Customize the CRM template to your needs
Unlike traditional CRM SaaS tools and software that can be rigid and inflexible to use, a Coda document can be tailored to the needs of your business. If you want to add in your own dropdowns and define your own filters to reflect how your business operates, that is doable in Coda without the need to write any code. Coda offers so much more than a regular document or spreadsheet to build your own CRM tool. There are buttons to make your document feel more like an app and Automations to put repetitive tasks on autopilot.
Coda also offers various integrations including Gmail, Google Calendar, and Shopify to bridge your data with other tools your team is already using today. If you want to send an e-mail to a new lead that is interested in buying a home, you can automatically send them an e-mail with the Gmail Pack so you never forget to follow up. This means more revenue and happier customers.
Adding Integromat to bring your leads into Coda
Our native integration with Integromat allows you to bring your data to other applications that might be critical to your business. There are times a regular spreadsheet is not enough to keep pace with the growing number of leads you get every day from your Messenger bot. That's why Integromat created two templates to easily bring your data about your sellers and buyers into Coda:
You'll notice that in both Integromat templates, the data that comes from your Messenger bot can be manipulated with Switches so that data is properly formatted before it goes into a Coda table.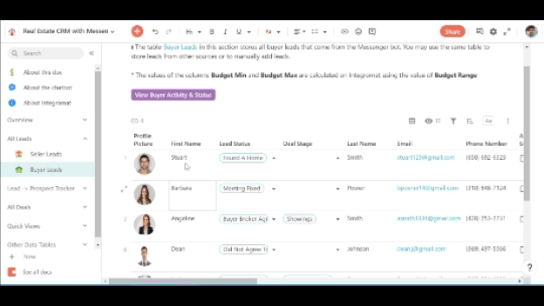 The power of Coda and Integromat together
You are getting so much valuable data from your Messenger bot, and to make sure your marketing or sales team is making the most of these leads, seeing that data in a custom-made CRM ensures that you are maximizing business potential. Integromat takes the raw data from your Messenger bot and puts it into a Coda table. From there, you can build your own custom CRM, content scheduler, or social media tool right inside Coda.
What are some of the advantages of using Integromat with Coda?
Your Messenger bot leads are monitored 24/7 by Integromat ensuring no data is ever lost.
Data can be manipulated in Integromat before it goes into a Coda table.
Coda's tables and views mean no more copying and pasting data (like you would in a spreadsheet).
You can create a custom internal tool in Coda without being a software engineer.
Getting started with Coda and Integromat
There are a few steps to get started, but feel free to customize your settings on Integromat and the Coda document depending on the needs of your business:
Check out this preview of the ManyChat Real Estate bot.
Want to get more leads and close more homes, faster? Get ManyChat free today.
The contents of this blog were independently prepared and are for informational purposes only. The opinions expressed are those of the author and do not necessarily reflect the views of ManyChat or any other party. Individual results may vary.