5 Emerging Types of Restaurant Technology to Help Navigate COVID-19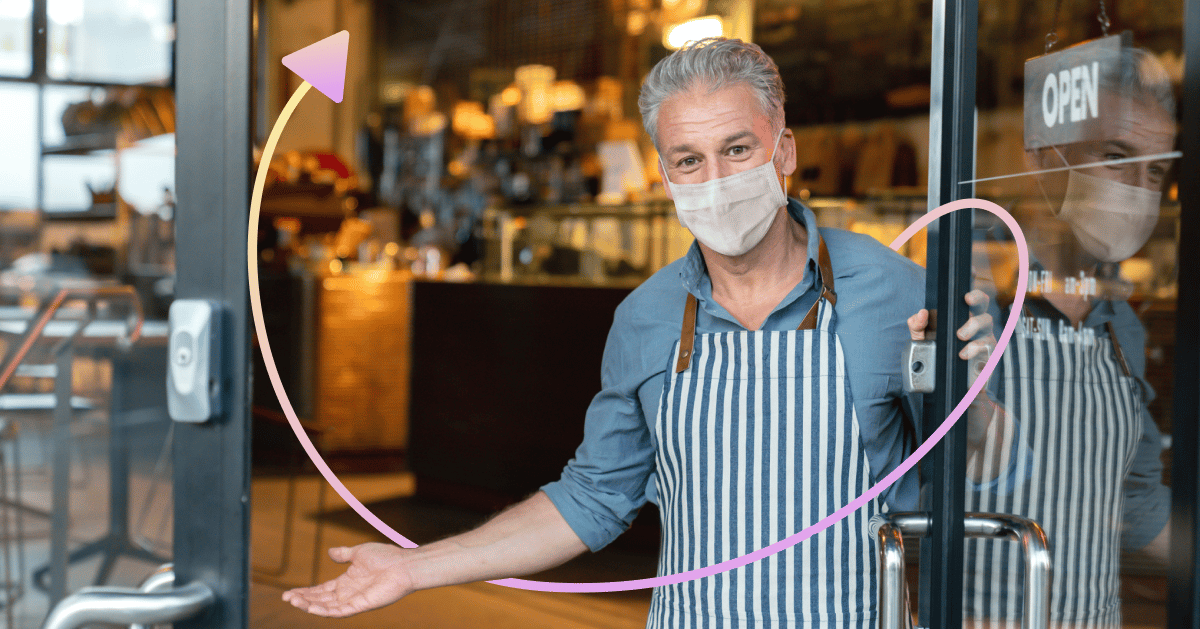 The COVID-19 pandemic has forced the global restaurant industry to take a 50% hit in revenue, and it's unclear when public health conditions will start to improve.
And in regions where the virus is under control, restaurants aren't rebounding as expected.
Since the future of the hospitality industry is so unpredictable, it's important to be realistic and accept that life might not ever return to the way things were. In order to survive, restaurant operators need to adapt.
Luckily, thanks to technology, there's a potential pathway beyond a brick-and-mortar that can help your food business thrive. Here are five emerging technologies restaurants can use to spark their next great idea.
1. Online courses

Turn your menu into education
One result from the pandemic is a spike in people cooking at home. Overall, this trend is good for society and promotes saving money and healthy eating habits since people are more aware of what exactly is going into their meals.
Restaurants can tap into this trend by creating live or pre-recorded video courses. Platforms like Teachable, Thinkific, Skillshare, and Udemy help restaurants create and share content with online audiences. Your customers come to your restaurant for the food, so why not offer to help them recreate the dining experience at home?
By creating online tutorials, you'll expand your customer reach to people located all over the world. Plus, an online presence is helpful for connecting with food bloggers and influencers.
2. Restaurant management software

Connect to the digital economy
Software like OpenTable makes it possible to streamline your table reservation and ordering process. This type of restaurant tech helps operators manage their businesses with things like online ordering, digital menu creation, and customer experience management, all of which are important for supporting takeout and delivery systems.
It's worth noting that pizza delivery became more popular during the pandemic because these eateries have made it even easier for customers to order food online or through a mobile app. It therefore makes sense for other food purveyors to follow pizzerias' lead and modernize their systems by using a restaurant management software.
Ready to scale your restaurant? Learn how ManyChat can help you succeed.
3. Self-ordering kiosks

Make it easier to offer takeout
In some cases, online ordering and delivery are not ideal options as some foods are best served as fresh as possible. So how do you serve hungry customers quality meals while also limiting chances of exposure?
One option is a self-ordering kiosk. Restaurant operators can use their existing point-of-sale (POS) system, along with a tablet or smartphone, to create a touchless experience. In addition to this system, you can create a mobile app customers can use to place orders before entering your restaurant.
The Jambalaya Shoppe Acadian in Baton Rouge, Louisiana, for example. has implemented a "scan to order" option in the restaurant. Restaurant owner Kathy Fives decided to use software called Scan to Order, part of the Clover POS platform, where customers scan a Clover-generated QR code with a smartphone camera to access a digital menu, place an order, and pay.
With this ordering experience, your restaurant can better coordinate food preparation with pickup times all while keeping customers and staff safe.
4. Thermal scanners

Create a safe dining environment
Public health officials have learned the hard way that the coronavirus spreads through the air, especially in indoor spaces — bad news for restaurants.
While some restaurants have closed their doors completely — either by choice or government mandate — others have remained open for outdoor dining.
Regardless of your situation, the last thing you want is for your customers to fall ill after eating at your restaurant. If your employees get sick, you may be forced to shut down to minimize the risk of spread in your particular area.
For this reason, many establishments are considering using thermal scanners — which can detect fevers in a noninvasive way — to ensure patrons aren't ill. A healthy and safe environment is crucial for your customer experience.
The video below is an example of how a thermal scanner works:
5. Chatbots

Better support for your customers
One of the biggest challenges of the COVID-19 pandemic has been cognitive overload. In 2020 alone, people around the world navigated escalating bad news and other daily responsibilities, increasing the levels of anxiety and stress.
With this new experience of cognitive fatigue, people can use a little help navigating everyday decisions — that includes figuring out what to eat and ordering meals for the family. Provide that extra dose of help with a chatbot.
By using a chatbot, you can build a simple online experience to showcase your specials, highlight diet-specific menus, and offer a takeout option.
Integrate your chatbot software with your online ordering system to better support delivery and takeout, resulting in a safer and more efficient restaurant operation.
A sample chatbot flow, to help you simplify your online bookings, is available from ManyChat, here.
Last but not least
Remember that your customers love your restaurant. For this reason, it's worth it to keep your doors open.
The entire restaurant tech industry is on your side and ready to support you. As you navigate new technologies, don't go it alone. Reach out to support teams, talk to fellow entrepreneurs, and stay optimistic.
It was a dream and life calling that pushed you to become a restaurant owner, and that dream is always worth fighting for.
Ready to scale your restaurant? Learn how ManyChat can help you succeed.
The contents of this blog were independently prepared and are for informational purposes only. The opinions expressed are those of the author and do not necessarily reflect the views of ManyChat or any other party. Individual results may vary.