Get More Diners: 8 Proven Restaurant Promotion Ideas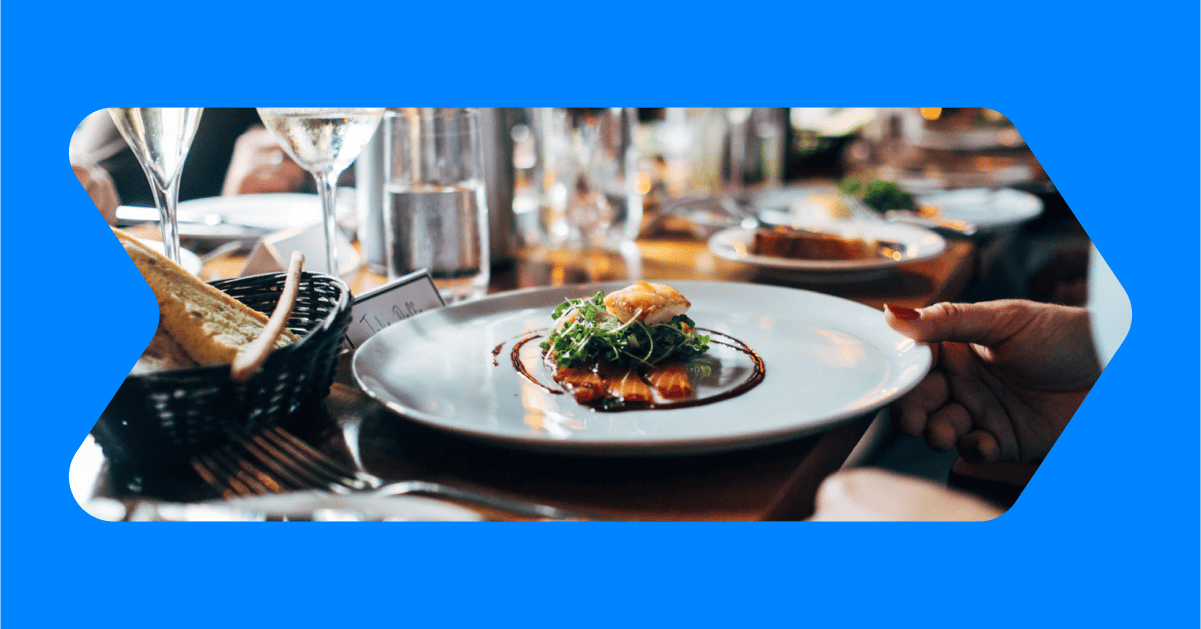 It's vital to test different digital marketing strategies to find new ways to market your restaurant. However, unless you have a massive budget to try every tactic under the sun, doing so can be a drain on your budget and resources.
Restaurant owners don't always have the luxury of trying and hoping a promotion idea will drive sales. They need to know what works.
That's why this article will share eight tried-and-true restaurant promotion ideas (some you may not have even thought of yet), along with recommendations and examples for implementing them in your restaurant today.
Top 8 proven restaurant promotion ideas
Tired of hearing the same old tips and tricks for promoting your restaurant? Explore these marketing ideas below using the latest proven tactics for large and small restaurant owners:
Loyalty programs
A restaurant loyalty program is similar to your standard retail customer loyalty program. It tracks customers' spending and awards them points they can redeem for rewards. You can use a loyalty program to attract new diners and keep existing ones coming back for more.
Rewards can be anything, including:
Free delivery
Free dessert
Free meals
Free drinks
Free appetizer
Discounts off future meals
The 2020 Bond Loyalty Report found that 78% of customers are more likely to continue patronizing a business that has a customer loyalty program. Today, you can build a loyalty program for your restaurant in more ways than one.
Take the Brick Oven Pizza Company. The restaurant, which generated over $620,000 in sales during the pandemic year through Messenger alone, has built a huge database of loyal customers. Their loyalty program plays a big role in their marketing, and the results speak for themselves.
Regardless of whether you dine at the restaurant, order delivery, or pick up takeout, you can sign up for Brick Oven Pizza Company's loyalty program through a QR code.
Once customers become members, the brand can connect with them directly through Messenger. The program lets customers earn rewards for their purchases and encourages repeat orders, increasing customer lifetime value for the restaurant.
Read more: How Misfit Media Drove $620,000 in Sales for Brick Oven Pizza Company
Instagram (IG) marketing
It's no secret that millennials want Instagrammable restaurants. Adglow reports that "there is a new wave of 'Insta-friendly' restaurants launching around the globe. Each element of these restaurants has been carefully crafted… all with the sole intent of customers posting photos on Instagram."
The surge in "Insta-friendly" restaurants comes as no surprise, given that restaurateurs want to turn at least a few of the app's 1 billion users worldwide into diners. But did you also know that 80% of users state that Instagram helps them decide whether to buy a product or service? If you want to generate sales through social media, Instagram is an essential channel for promoting your brand.
Restaurants use a number of different tactics to attract new diners:
Run giveaways and promotions
Create branded hashtags
Post user-generated content
Offer discounts
Team up with Instagram influencers
Engage in live chat with followers
Run automated engagement campaigns
Instagram Automation by ManyChat is a great tool for restaurants that want to increase follower engagement and boost sales. You can build pre-set interactions in a way that's similar to an email marketing campaign builder to create conversations with your followers.
You could use Instagram Automation to:
Generate sales by replying to questions like, "Can I book a reservation for tonight?" quickly and easily
Save time and automate answers to queries such as "Can I see a menu?" or "What's your address?"
Generate qualified leads by automating coupon delivery
Increase engagement by automatically responding to comments and Story mentions
With ManyChat, you can run Instagram ads that start conversations with customers, similar to the click-to-Messenger ads mentioned above (more on them later). You can run promos for holiday sales, special discounts, or new item launches. Brands are seeing up to 741% lifts in IG engagement and 30% increases in lead generation from using Instagram Automation to run their campaigns.
Ready to scale your restaurant? Learn how ManyChat can help you succeed.
QR codes
Want to create a contactless ordering system for your restaurant? Try a QR code. QR codes are barcodes that diners can scan to interact with your brand. These codes contain data that, when scanned, will send people to a digital destination of your choice.
Restaurants use QR codes for:
Curbside pickup ordering
Loyalty program sign-ups
Connecting offline and online experiences
Promoting new deals or a Happy Hour
Showing diners a digital menu
La Catrina, a taco and tequila restaurant in St. Augustine, Florida, wanted to attract new customers during the pandemic. The restaurant was running advertisements in a local magazine but couldn't track how many customers acted on the print ad's call to action.
The restaurant partnered with Danny Monzon, founder of DM Digital, to create a QR code campaign that connected the print ad to Messenger.
When viewers scanned the QR code, they entered into a conversation with La Catrina in Messenger. From there, they could view menu items, place an order online, or join the restaurant's loyalty program.
The campaign worked so well that La Catrina was able to add 245 members to its loyalty program and produce an additional $27,000 in sales during the campaign. Learn more about how it worked by reading How La Catrina Drove $27,000 in Additional Sales with ManyChat.
Social media ads
Paid social media advertising is a cost-effective restaurant promotion tactic. Each network uses a pay-per-click (PPC) model, which means you only pay if a viewer takes the action you want. Unlike billboard ads or postcards, social media allows you to interact with a niche market for an affordable price.
Click-to-Messenger ads are a newer, popular ad type to consider.. These ads send people into a conversation with your business on Messenger from both Facebook and Instagram. Click-to-Messenger ads are helping restaurants like 5 Napkin Burger in New York City find new customers and drive more sales.
In 5 Napkin Burger's case, the restaurant wanted to attract local diners to its four Manhattan restaurants and build a database of customers for future marketing efforts. They partnered with ManyChat Agency Partner Misfit Media to run click-to-Messenger ads to a target audience within close proximity of the restaurants.
The ads promoted two-for-one burgers with a "Send Message" call to action (CTA) that linked to Messenger. The restaurant then collected people's email addresses in exchange for the offer.
After customers dined at the restaurant, 5 Napkin continued to connect with customers through sponsored messages. These paid messages offered special promotions relevant to the customer segments. The campaign, which ran for seven weeks, delivered the following results:
20% increase in average sale amount
10x return on ad spend
477 in-store offer redemptions
Learn more about this Facebook ad case study on the Facebook for Business blog.
Mobile ordering
It's no secret that eCommerce is taking over the world. Data compiled by Insider Intelligence suggests eCommerce spending worldwide will reach $5.4 trillion by 2022, comprising 20% of all retail sales.
Consumers' digital behavior has changed, and restaurants need to keep up. Restaurant Business reports that online orders now make up 30% of Yum Brands' (KFC, Pizza Hut, Taco Bell, and The Habit Burger Grill) sales, and mobile ordering at Starbucks accounted for 22% of transactions in Q2 2020. The pandemic has been a huge boon for mobile ordering, with numerous restaurants reporting higher average ticket sales and app downloads.
"The whole idea is that no matter where your customers engage with your brand, we have systems set up that will capture their information and bring them down a similar marketing funnel into the restaurant."

Brett Linkletter, co-founder of Misfit Media
Adding online ordering to your restaurant has several advantages:
It makes the ordering process easier
It's easier to manage orders and customer data
It keeps you ahead of the competition
Despite industry-wide uncertainty and many layoffs, The Crawfish Hole, a local restaurant in Bridge City, Texas, thrived during the pandemic by leveraging mobile ordering.
The restaurant implemented a Messenger bot ordering system which helped customers place orders and pick them up at The Crawfish Hole. The strategy led to over 360 first-time visits and $23,000 in additional sales in three weeks from an affordable $332 ad spend.
You too can create your own mobile ordering system with ManyChat (and avoid paying delivery service fees!) Learn more by reading How The Crawfish Hole Increased Sales by $23,000 Using Curbside Pick-Up.
Ready to scale your restaurant? Learn how ManyChat can help you succeed.
SMS
SMS marketing is a newer channel that restaurant owners should take advantage of. It allows you to connect with customers through text messages, 90% of which are read. Research also shows that 64% of consumers think businesses should contact them via text message more often.
Engaging in SMS marketing for restaurants helps get customers into your dining room. But you can also use it to allow people to book a table, order takeout, or to get feedback on their dining experience.
Regardless of how you use it, SMS is a personal way to communicate with customers on a channel with a negligible learning curve and almost no barriers. Everyone who has a phone can send or receive text messages without downloading an app. The only caveat? You have to get text message recipients to opt-in for your texts.
One smart business owner, Don Marler, owner of Daddy O's Cheesesteaks, has seen great success with his SMS marketing efforts. Don went from working at Walmart to owning a popular food truck that generates over $10K a month using ManyChat SMS. And his campaigns are so simple; anyone can copy them.
Don built an SMS list by running ads and publishing organic posts on Facebook. When someone signs up for his list and gives him their phone number, he segments them by location. Now every time he parks his food truck in a specific area, he sends an SMS broadcast to the local group.
Thanks to this SMS strategy, Don has seen a 30% overall increase in revenue and a 5x return on ad spend. Learn more about Don's SMS campaign by reading How a Food Cart Boosted Revenue by 30% with SMS.
Food bloggers
Social media marketing is important for any restaurant trying to grow its fan base. Eye-catching photos, cool stories, and social media influencers are a few common restaurant ideas you can try.
Popular influencers are a potent force in the modern social media platform landscape, and few verticals are a better fit for this marketing trend than food! Food bloggers are now a significant tool in savvy restaurant owners' arsenal.
Make the most of influencers by having them offer special experiences and meals. When paired with an influencer's ability to convince people to eat at your restaurant, limited offers are key to filling up your dining room.
The results speak for themselves! On average, businesses make $6.50 for every $1 spent on influencer marketing.
Read more: Successful Marketing Strategies to Increase Restaurant Sales
Local SEO
Did you know that 85% of consumers search for local information online?
As the need for quick and accessible information grows, restaurants have begun looking for ways to show up first on Google, Maps, Yelp, and other directories.
Customer reviews and local address information are becoming more critical for high search rankings. Every local business needs to be on Google Maps & Yelp. Both directories are popular places potential diners check first when deciding where to grab a bite to eat.
Google Maps and Yelp offer a potential customer everything they need to know about a restaurant, from reviews to menus to photos and more. The easiest way to improve your SEO is by creating and optimizing your Google My Business Page. This gives customers a quick, no-click peek into information about your restaurant.
Want to optimize your local online presence? Read How to Optimize Your Google My Business Page by local SEO firm Big Picture Marketing.
Improving your restaurant promotion strategy
Whether you are launching a new restaurant or running your tenth pop-up, there's no doubt that promoting your restaurant is hard. But by using the above tactics, you'll be well on your way to creating a marketing strategy that nets you consistent leads, generates sales, and builds a customer base you can market to in the future.
Ready to scale your restaurant? Learn how ManyChat can help you succeed.
The contents of this blog were independently prepared and are for informational purposes only. The opinions expressed are those of the author and do not necessarily reflect the views of ManyChat or any other party. Individual results may vary.