6 Easy Ways to Improve Facebook Ad CTR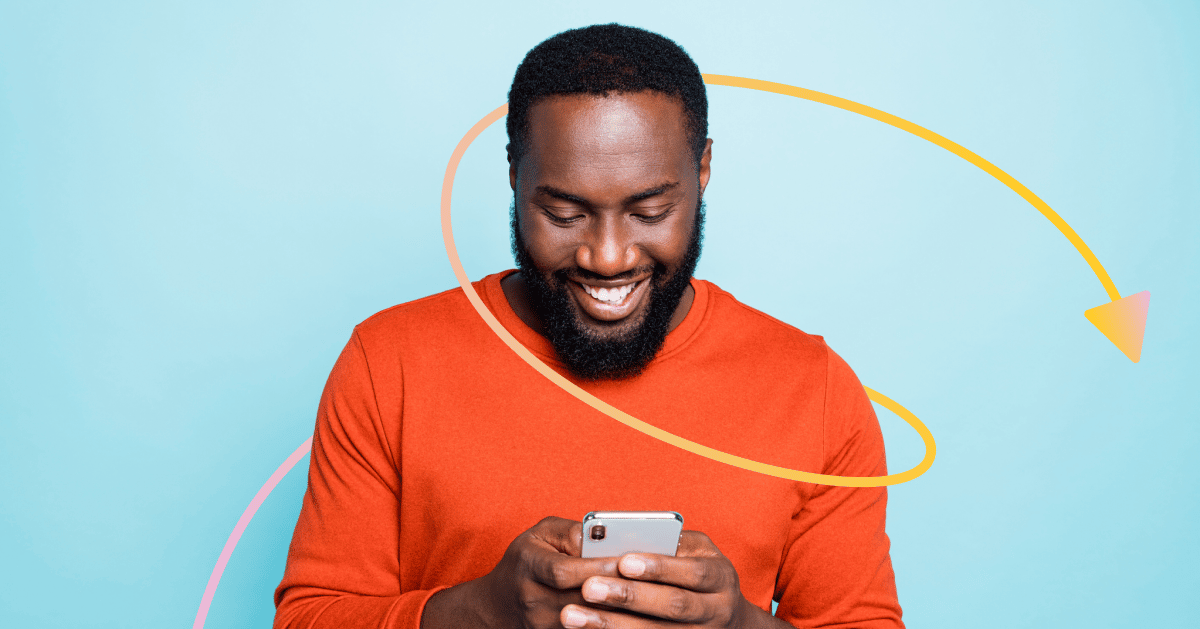 A Facebook ad campaign with a low click-through rate won't get you the return on investment you want. Only when people click on your ad will they end up in your marketing funnel—and move one step closer to the sale.
A low CTR can mean you need to fix something. Otherwise, you'll be stuck with fewer leads and lower sales — and no one wants that!
Are you running Facebook ads that aren't generating clicks? Read on to learn how you can increase your Facebook ad CTR with these six tried-and-true tactics.
What is the average CTR for Facebook ads?
The average CTR for Facebook ads across all industries is 0.90% but can vary depending on your industry.
A CTR of less than 1% seems pretty low, so you may want to aim higher. A recent survey by Databox, a data visualization company, revealed that marketers consider between 2-5% to be a good CTR for Facebook ads.
How do you optimize Facebook ads for conversions?
If you want to prime your Facebook ads for conversions, test the tactics below, and you'll be well on your way to success.
Use eye-catching visuals
Your Facebook ad should capture viewers' attention with the right combination of copy and visuals. Visuals will help create a positive user experience and express your brand's personality (e.g., friendly, innovative, trendy, etc.), and persuade users to click.
Some tips for creating Facebook ad visuals:
Don't overload images with text. Although Facebook removed the text limit on ads, you don't want to add excessive text to your ad image. Facebook has found that ads with less than 20% of the image covered with text perform better. So keep your text short and concise.
Use the correct size ratios. Each Facebook ad type has its own technical requirements and specifications. If you don't follow them, your images may appear blurry or low-quality. Make sure to always check image requirements (and if you have any questions, check out our Facebook ad sizes cheat sheet!).
Test GIFs and videos. Try different types of visuals, such as GIFs or video ads, to see how people respond. If a particular type delivers better results, double down on them to increase click-through rate for your Facebook ads.
Write copy that's short and sweet
A vital component of any good Facebook ad is compelling ad copy. Copy helps explain how people will benefit from your offer and can convince people to take action on your call-to-action.
Guidelines to follow when writing ad copy:
Be personable. People don't always buy from brands; they buy from people. Often marketers deliver accurate information in an ad, but the ad doesn't resonate with the reader because there is no emotional connection. Clearly define who the ad is for, what this group's goals are and how your product can achieve them, and write like you're speaking to them in person.
Be brief and snappy. Viewers won't spend much time looking at your Facebook ad as they're mindlessly scrolling through their News Feed. So get your point across quickly. Ask yourself: Is my copy specific, sincere, and succinct? If the answer is yes, you're on your way to a higher CTR for your ads.
Timebox it. Provide a timeframe for people to act in your ad copy. Limited time offers motivate people to take you up on your offer and can lead to higher CTR.
Learn more: 7 Tips for Writing the Best Facebook Ad Copy
Want higher conversions on your Facebook ads? Run your campaigns with ManyChat. Start free today.
Use a strong call-to-action (CTA)
Think about the last time you clicked on a Facebook ad. What made you take action? A strong Facebook CTA can help turn browsers into customers and increase your CTR.
Check out three key places to place a CTA:
Ad copy: Add persuasive copy to your primary text box, then finish it with a CTA. For example, if you're running a retargeting ad, you could write Come back and finish your order today! Or Book now and save with our last minute deals!
Image: While a CTA in your ad copy is a good first step, it may not stand out to people scrolling through the News Feed. That's where a CTA on your image comes in.
Hulu uses this tactic (see image below) to acquire new sign-ups for a limited time offer. They promote the offer visually as well as in-text to ensure viewers won't miss it.
CTA button. Facebook offers nearly 30 different CTA button options for ads. Choose one that aligns with your offer and make sure it links out to a relevant page or Messenger flow.
Learn more: 9 Facebook CTA Examples to Steal Today
Choose the right ad format and type
There are many different Facebook ad types and formats to choose from. Each has its own purpose and utilizes creative assets to help drive positive outcomes for your business.
Here are some ad types you'll want to test out to achieve high CTR:
Single image ads: Image ads remain the most popular Facebook ad type. They are easy to create and can be used to promote your store, send people into a Messenger bot, or drive traffic to specific product pages.
Facebook dynamic ads: These ads retarget shoppers based on their past activity and interests. You load your product catalog, launch a campaign, and the ads run on autopilot to help you generate more clicks and sell more products.
Facebook Carousel and Collection ads: These two ad types let viewers browse your catalog in a multi-card, swipeable format. The big difference is that with Collection ads, you can add video and Instant Experiences. They also only appear on mobile, whereas Carousel ads work on both desktop and mobile devices.
Facebook Boost Posts: Want a quick and easy way to get more engagement on your Facebook posts? Take five minutes to boost one and reach more potential customers.
Pro tip: Use a variety of ads over time to achieve higher CTR. Facebook found that displaying three different creative combinations drove more conversions and traffic to a marketer's site than using the same ad type continuously did. The three combinations, tested over eight days, were:
A video ad followed by a single image ad, using the same photo as the thumbnail for the video
A single image ad followed by a video ad
Sequential series of two single image ads
Learn more: 8 Facebook Ad Types Every Marketer Needs to Try
Target custom audiences
When showing ads to a cold target audience, it's likely your engagement rates will be lower than when targeting one that is familiar with your brand. Facebook's Custom Audience feature makes it easy to find people who are already aware of your company.
A Custom Audience is a group of people who've already interacted with your brand. They've become a critical component of Facebook ad targeting best practices because of how effective they are at increasing CTR and business outcomes.
Here are some reliable sources you can use to build a Custom Audience:
Website visitors, such as browse or cart abandoners
Email list
Video viewers on Facebook
Users who've interacted with your products on Instagram
Recent customers
You can also use Custom Audiences to create a Lookalike Audience and target ads to people who are similar to your customers. Utilizing a Lookalike Audience is just one of many ways you can use a Custom Audience to improve your ads and increase Facebook ROAS.
Learn more: How to Set Up Custom Audiences and Make Them Work For You
Optimize for conversions
Did you know you can instruct Facebook to optimize your ads for conversions? When setting up your ad set in Ads Manager, choose Link Clicks under the Optimization & Delivery section.
This enables Facebook to test different groups and compare conversions for your ad sets. The algorithm learns over time what types of users are most likely to click and it will show your ads to them, helping you improve CTR and get the most from your ad spend.
Final thoughts
All the tactics mentioned in this guide have the potential to improve your Facebook ad CTR. But don't feel like you have to do all of them overnight. Test each one to see which ones result in the best outcomes for your business.
However, remember that while clicks indicate your ads intrigue people, consider what happens after someone clicks your ad. It does you no good to bring people to your site if no one is buying anything. A good post-click experience is key to winning at Facebook advertising.
Once your ads are targeted and optimized for better CTRs, your campaigns will generate better returns.
Connect with shoppers and grow your business on Facebook with ManyChat's marketing automation. Start free today.
O conteúdo deste blog foi preparado de forma independente e destina-se apenas a fins informativos. As opiniões expressas são de responsabilidade do autor e não refletem necessariamente a posição do ManyChat ou de qualquer outra parte. Os resultados individuais podem variar.