How to Use ManyChat with Clubhouse App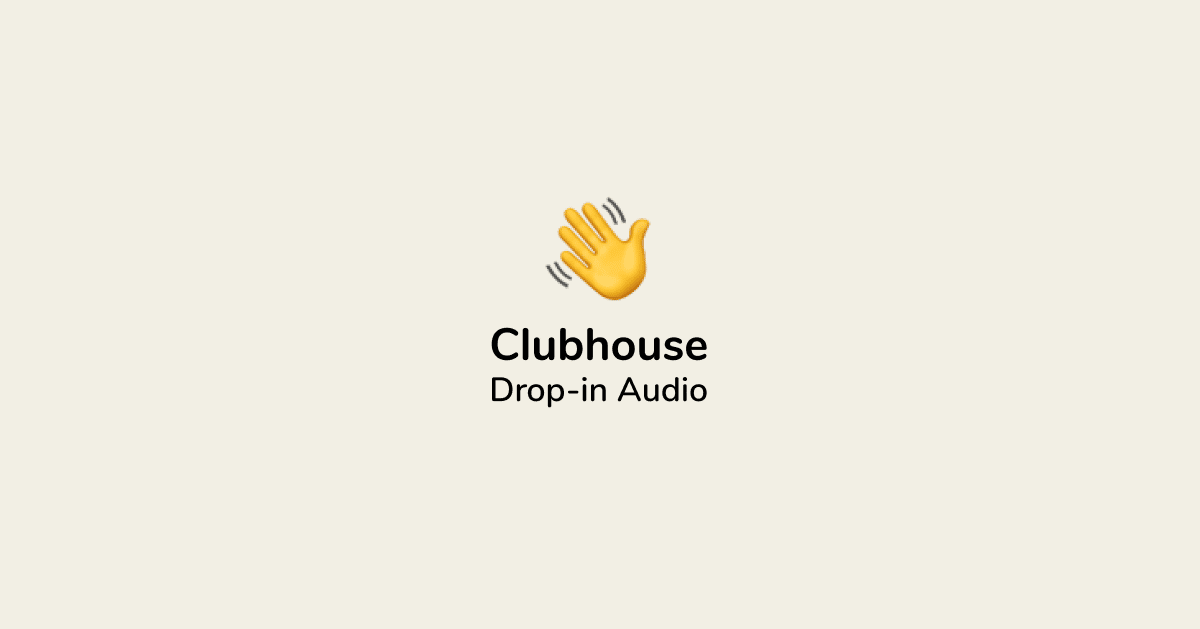 Clubhouse: Everyone's talking about it, but only a few are invited. And the FOMO is real.
The new invite-only social media app has been causing much chatter inside and outside the app.
It's like talk radio meets social networking, live. You hear from celebrities, entrepreneurs, subject-matter experts, and like-minded people discussing topics that interest them. No scrolling through "just married" photos or "I'm eating a burrito" status updates. Simply find a topic you're interested in and listen.
You might be thinking, Cool, another social media app. But for entrepreneurs, Chat Marketing experts, and eCommerce owners, this is an audio-only social app where you can share your expertise in a club room, start conversations, and take the discussion to Messenger by Facebook for a one-to-one chat.
It's giving you more opportunities to engage with potential customers in your preferred ecosystem (i.e., Messenger, email, SMS).
New and growing with currently 600,000 users, the highly-exclusive social media app can be another way to capture new customers, whether you're a marketing agency, service provider, or coach.
What is the clubhouse app?
The Clubhouse app is an exclusive, invite-only audio app where members can hop around different chat rooms discussing topics like Building a Seven-figure Empire, Business Growth, eCommerce trends, Culture and Arts, and more. The audio-only conversations happen in real-time, and when it's over, they disappear forever.
Who made the Clubhouse app?
The Clubhouse platform was created by Paul Davison and Rohan Seth and is funded by Silicon Valley venture capital firm Andreessen Horowitz.
What can you hear on Clubhouse?
The chat rooms offer a wide range of topics, from music and arts to business development, politics, and more. You select topics you're interested in, and the app circulates content that matches your interests.
So if you're a gym owner, you can follow fitness trends and hop into different wellness topics and small business owner discussions related to business growth and more. Or if you're a marketing agency, tune in to different "rooms" that fit your niche and start networking with fellow industry professionals.
You can also start a Clubhouse chat room, which can help drive leads to your business.
How do you get on the Clubhouse platform?
Clubhouse is invite-only. Download the social app and add your name to the wish list. If one of your contacts is already a Clubhouse member, they'll receive a notification and get you in. Otherwise, you can ask a current Clubhouse member for an invite and they can hook you up.
Now that you understand the gist of Clubhouse, let's dive into how you can use your ManyChat account with the app.
How to use your ManyChat account with Clubhouse
Your Clubhouse profile is helpful to generate leads, you just have to figure out what you want or need. For example, what action do you want Clubhouse users to take? Do you want them to contact you? Download a template? You can give away something, or ask them to text, chat, or email you; just choose the channel where you want to have a one-to-one conversation.
When a person is on your Clubhouse profile and interested in you, have a call to action (CTA) on your profile.
For instance, Henry Chen, a Wedding Chat Marketing expert, connected his ManyChat account to his Clubhouse profile and added a call to action asking those interested to text "clubhouse" to his phone number for free training.
And when he's speaking in a club room, Chen also says, "Text me at XXX-XXXX to chat, ask a question, or get some more information." Since Clubhouse is an audio-only social media platform, the Chat Marketing expert likes using text messaging because.
"This allows you to move the conversation elsewhere."
Two ways to get visitors into your ManyChat flow
Ref URL
Ref URLs are one of the easiest ways to start a conversation. But the trick? No hyperlinks are allowed on your profile. Luckily, there's an easy work-around.
"Rather than using a long link m.me/FacebookBusinessPageName, I recommend using a shortened link or having another domain name," suggests Chen. "For example, I have one called chatmarketing.tips/clubhouse, so it's easier to remember. Then that URL will redirect to the ref URL, and I go from there."
Chen takes his opt-in flow and adds a tag to it so if anyone from Clubhouse comes in it triggers the Welcome Message content for Clubhouse participants.
Once someone is in the Welcome Message flow, Chen greets the person and offers the user freebie content that connects to a new flow. Once the new flow opens, he has a new message pop up with a downloadable PDF.
Since Chen moderates a room, he offers users the opportunity to learn more in his Clubhouse room and links back to the app. Additionally, you can take users to your website, have them book a consultation, check out a catalog, and more.
"Keep it personal, conversational, and casual; just like you're chatting with an acquaintance," suggests Chen.
Related: Join the Audio Trend: How to Build a Clubhouse Sales Funnel
Keywords
Another way to trigger your opt-in or lead magnet flow is through a keyword.
In the keyword section, type in the word "Clubhouse".
In the example above, the keyword "Clubhouse" starts Chen's SMS opt-in flow. When someone texts "Clubhouse" to the number in Chen's profile, it opens up this flow.
To find your number, go to the left-hand side of your ManyChat dashboard, right-click settings and select "open link in new tab". Scroll down until you see SMS. Click on SMS and you'll see your number.
Now to optimize your SMS flow. The keyword, "Clubhouse" triggers the starting step. Write whatever copy you want into the SMS message block, click Add Link, and select Open in Messenger. This link will allow you to continue the conversation in Messenger at no cost.
On the right-hand side, select Start Another Flow.
Then, click Select the Flow and find your lead magnet.
Now, this person might not be on your contact list, so when they click on the message, they'll have to select "opt in to Messenger".
"You want to make it very clear in the copy that they're going to get the PDF in Messenger," Chen says.
As soon as the user clicks the Get Started button to opt-in, they'll be sent a lead magnet, or whatever your offer is, instantaneously.
Connecting ManyChat to your Clubhouse profile is one more opportunity for you to chat and engage with potential customers.
Note: The SMS information is provided for educational purposes only and should not be relied upon as legal advice. Please always consult your attorney before engaging in text marketing.
The contents of this blog were independently prepared and are for informational purposes only. The opinions expressed are those of the author and do not necessarily reflect the views of ManyChat or any other party. Individual results may vary.