Why Switch to a Business Instagram Account? 5 Reasons + How to Start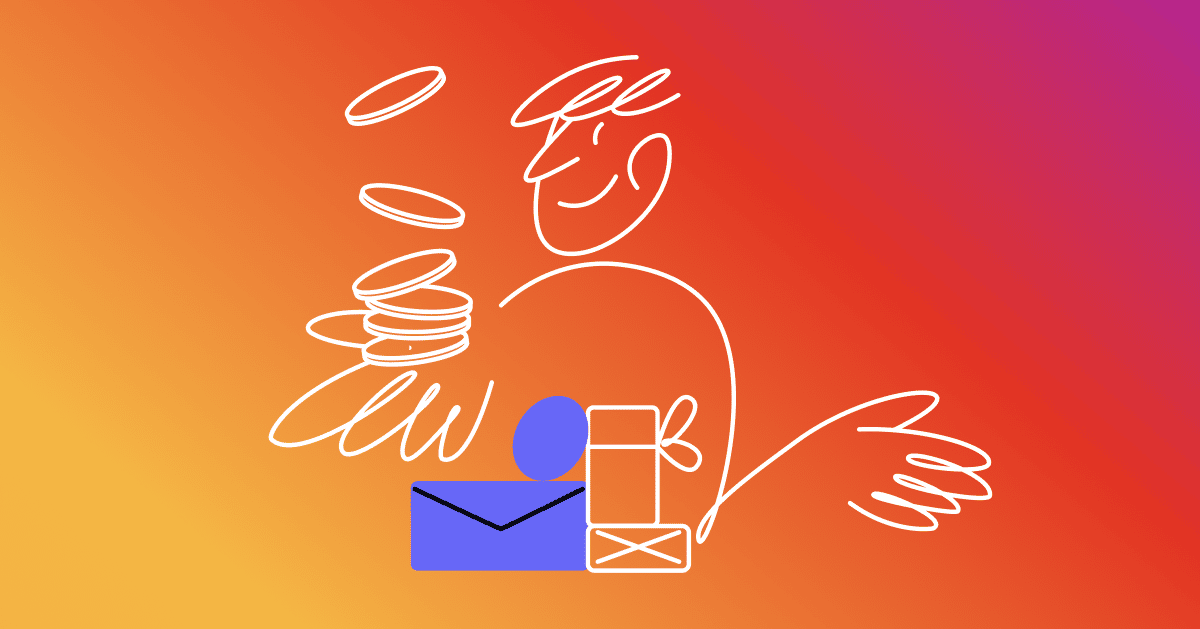 Have you been considering switching to an Instagram business account but haven't quite taken the plunge yet?
There are so many reasons why you should switch to a business profile on the social media platform, from your personal account, this week.
For one thing, 84% of Instagram (IG) users are eager to discover new products on the addictive social media platform. They are so motivated that 66.7% percent of them take the initiative to visit new business profiles they aren't already following.
The support for businesses, for an individual business page, from Instagram is solid, too. From Instagram's analytics features to the ability to add links to Stories to selling right there on Instagram, business accounts on IG have all the tools they need to succeed.
Here's another way to see the differences between the two accounts: If personal Instagram accounts were sedans, business accounts would be Bugattis 🚀 With all of these features, it's no wonder many brands, small businesses, and even influencers choose to use a business account these days.
The difference between personal and business Instagram accounts
To outside observers and general Instagram followers, the most obvious difference between a personal and a business Instagram account is probably the contact button. 
Personal accounts do not have the option to include a phone number or other contact information for Instagram followers to see, whereas business accounts do. But that's not the only feature that separates them. The only similarities they share are publishing format and content (photos, videos, in-feed, Stories, reels) and a link in the bio.
Here's a quick comparison of a personal versus business Instagram account.
Essentially, a business account offers all the tools you need to monetize Instagram, whereas a personal account gives you just enough tools to enjoy it as a hobby.
Instagram business account benefits
Wondering what those extra business account features mean for you, compared to a personal Instagram account? They provide access to insights about your Instagram marketing efforts, the chance to reach more people with ads, and many more perks!
Here are five standout benefits for Instagram business accounts:
1. A better understanding of your audience
A solid Instagram marketing strategy starts with a firm understanding of your audience by studying each Instagram insight. That's one of the things a business account will help you with. You'll get metrics for your Instagram posts to help you understand who your followers are, what hashtags they use, and what content really engages them.

By analyzing these metrics and learning with every Instagram insight, you'll start to understand what works and what doesn't, enabling you to refine your messaging accordingly.
2. Improved audience targeting Instagram business accounts
Instagram analytics in a business account does more than just help you better understand your audience. They'll also help you dig even deeper into your most engaged audience's demographics.
The target age, gender, the cities and countries they live in, and the best time to post— Instagram Insights will reveal them all. Once you have this information in hand, you can modify your strategy to target more of that demographic, and see the kind of people that would want to engage with your Instagram profile. 
3. Doubled reach
You may not know this, but while Facebook Pages can run ads,an individual Facebook profile can't. It's the same with Instagram. An Instagram business account gives you the option to promote your posts (even to non-followers) to achieve the most extensive reach using paid Instagram ads. A personal IG profile has no such ability with any Instagram ad. 
Related: Instagram Story Ads: A Complete Guide for Beginners
4. Ability to engage in ways that matter for your business
When you post on Instagram, what results do you want to see? Chances are, you don't care about superficial metrics such as likes and comments.
While those engagements matter for brand visibility, they're not nearly as likely to lead to a sale as a phone call, email, or even a direct message from a new lead might.
With an Instagram business account, you can add a contact button to your bio so people can call or email you, increasing your chances of generating a sale. You even have the opportunity to add links in Stories so people can click back to your website whenever you post.
Read more: How to Add Links to Instagram Story With 1K or 10K Followers
5. You can sell directly on Instagram
With a business account, you can create an online shop right there on your Instagram business profile to sell your products or services. Instagram Shops provide a full-screen storefront that allows customers to browse and buy in the app.
Once you have Instagram Shopping enabled, you can tag products from your shop in posts on your feed or Stories. You can also take advantage of ManyChat for Instagram, which provides the following IG selling features:
Instagram Messenger live chat to solve customer inquiries quickly and easily
Automated replies to common questions
Keyword triggers to capture traffic from Instagram Stories
Simple Instagram ad integration to connect with new leads
Easy ways to collect and store contact information, like phone number and email address
Using ManyChat, you can turn generic Instagram traffic into meaningful relationships. Chatting with your followers helps them become comfortable with your brand, leading to more sales for your business.
Resources:
How to switch to an Instagram business account from a personal Instagram account
Ready to start benefiting from a professional account? Here's a step-by-step guide to show you how to switch to a business account on Instagram using your computer.
Click over to your profile page from the Instagram home page. (You'll find the profile icon at the top right corner.)
Select Settings from the dropdown that appears.
The Switch to a Professional Business account option is located at the bottom left of the Settings page.
Clicking that link will bring you to a page that asks you to choose between the two available professional account types.
Choose Business, then click Next.
You should now see the page pictured below:
Scroll down and click Next again.
This time, you'll land on a page where you'll choose your business category.
Select the appropriate category and click Done.
For your last step, you'll find yourself on a page where you can add your contact info (if you want to).
Add that, and congratulations, you have a business Instagram account!
Switching to a professional account on a mobile phone is a very similar process. In the Instagram app, find the Settings, then scroll down to Switch to Professional Account, and choose Business to switch.
Tip! If you ever decide that a business account is not for you, all it takes is a few clicks to switch back to a personal profile from the same Settings page.
Growing your business on Instagram
It's pretty easy to switch to an Instagram business account, right?
For your next steps, it's time to grow your account!
Here are some top-notch resources that will help you get the most out of your new Instagram business profile:
Grow your Instagram following, for your Instagram profile, and make sales with Instagram Automation by ManyChat. See if your business is eligible by applying below.
Instagram business FAQ
Is a business Instagram account free?
Yes! Business Instagram accounts are completely free for users. As long as you want to be recognized as a business on Instagram, you can make the switch at no cost to you.
Can I have a personal and business Instagram account?
Yes, you can have both. You can have an Instagram account for your personal use and a business account solely for business. Fun fact: you can have up to five Instagram accounts now.
Why can't I switch to a business account on Instagram?
If you're having trouble switching to a business account even after following the steps we've included in this article, it's most likely because you've set your personal profile to "private." Private accounts are personal Instagram profiles that are only visible to followers. Business accounts cannot be private, so you may want to confirm that on the settings page first.
Los contenidos de este blog han sido elaborados de forma independiente y sólo tienen fines informativos. Las opiniones expresadas son las del autor y no reflejan necesariamente los puntos de vista de ManyChat o de cualquier otra parte. Los resultados individuales pueden variar.