The Beginner's Guide to Instagram Ads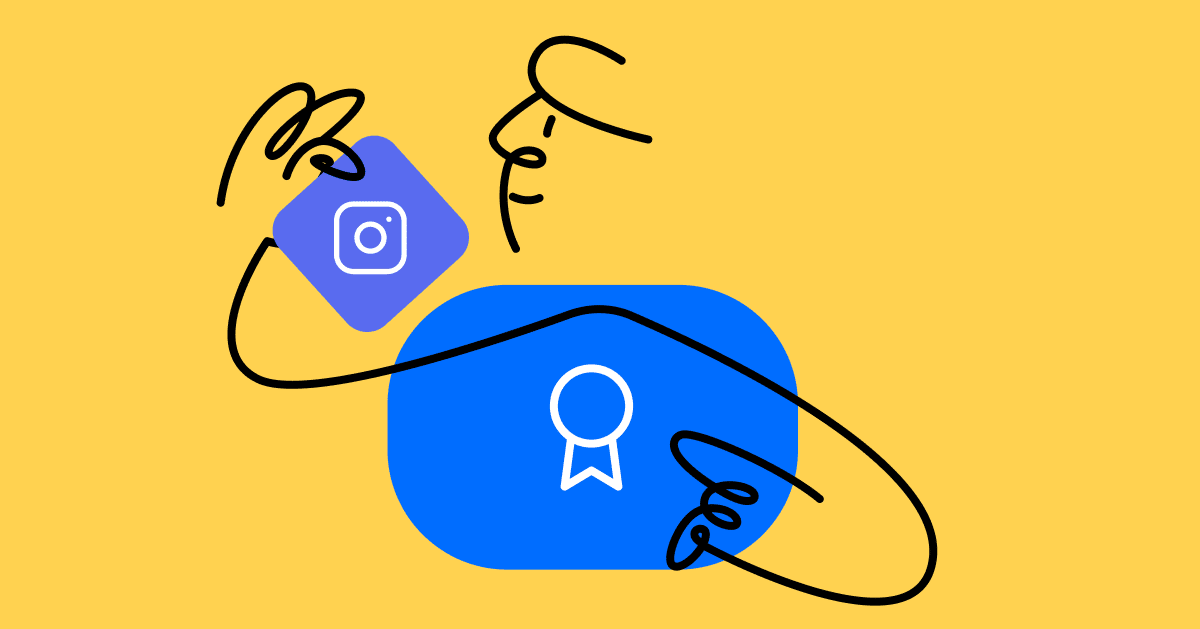 For retailers today, social media advertising is the best way to promote products and increase online sales.
But while the decision to promote on social media is an easy one, choosing the right platform and creative is far more challenging. Marketers usually target large audiences on various apps and hope for the best. This method, while sometimes effective, isn't exactly efficient, especially with a limited ad budget.
If you're looking for a social media platform that gets results, look no further than Instagram. With over 1 billion monthly active users worldwide, it's easy to see why it has become a critical advertising channel for online businesses and marketers. This social network has a unique potential to reach both existing and potential customers fast.
If you're new to Instagram advertising, no worries. This guide will walk you through how Instagram ads work, how to create them, and how to get the most out of your Instagram marketing efforts.
Are Instagram ads worth it?
Instagram ads currently have the potential to reach around 1.16 billion users. According to data from Hootsuite, this represents a 7.1% quarter-over-quarter increase from Q3 2020. While the potential reach alone is impressive, Instagram ads boast additional benefits as well.
Advanced targeting options
Instagram ads use Facebook's advanced ad targeting capabilities to find high-intent buyers, whereas other platforms use cookie-based advertising, limiting you to ads in specific browsers or devices. Instagram allows you to track and reach your audience, no matter where they go.
People spend a lot of time on Instagram
Instagram has become an addictive daily habit for many people. The latest Instagram statistics show that users spend an average of 53 minutes per day on it, which is only a few minutes less than Facebook (58.5 minutes per day) and more than Snapchat (49.5 minutes per day).
Instagram influences buying decisions
Instagram (IG) also has a significant impact on people's buying behavior. An estimated 80% of Instagrammers have decided to buy a product or service after seeing it while scrolling through the app. No matter the size of your business or budget, you can create scalable Instagram ad campaigns that grow revenue and your business.
Send the right messages
Whether users are on the Instagram app or logged into their Facebook profile on desktop or mobile, all data points back to a single profile. Pair IG's powerful influence with its advanced data tracking capabilities, and you'll be able to send the right message, on the right channel, at the right time to achieve your goals.
If you're not running Instagram ads, you're leaving money on the table.
How much do Instagram ads cost?
Research from WebFX shows the average cost for Instagram ads is approximately $3.56 per click and $7.91 per 1,000 impressions.
However, remember that Instagram ad costs for customer acquisition vary depending on the products you sell. If you're selling a $1,200 product, it'll probably cost more to acquire a customer than if you're selling a $50 product.
The above numbers can give you an idea of costs but can't accurately predict your total outlay. The following factors impact Instagram ad costs:
Bid amount: How much you're willing to spend on obtaining leads will affect your costs. Utilizing the right bid strategy helps drive better outcomes (whether it's sales or reach) for a lower cost.
Ad relevance: Instagram wants to show relevant content to its users. If your ad relevance score is low, your ads will be more expensive.
Competition: The more competition, the higher your ad cost will be. If you're trying to reach a specific target audience, there will likely be competitors trying to reach them as well. When multiple companies bid for the same audience, it can result in a bidding war that drives costs up.
Objective: If your campaign objective is brand awareness, you'll be targeting a broader, cold audience. It's a lower value audience than, say, one composed of people who have previously clicked on one of your ads or browsed your website. Pro tip: the lower the audience is in the funnel, the higher the ad costs may be.
Overall, Instagram ads can be an affordable way to promote your brand and its products. Want to learn how to launch your first Instagram ad? Let's get going!
Read more: How Much Do Instagram Ads Cost? (And How To Lower Your Spend)
Types of Instagram ads
Stories ads
Instagram Stories are a great addition to your paid and organic Instagram marketing campaigns. Over 500 million Instagram users interact with Stories every day, and one in five of all Stories posted by businesses result in an Instagram Message from these very users.
Any business whose strategy is to provide value on Instagram is perfect for Stories Ads. You can effectively tap into a viewer's interests and inspire them to take action on an offer.

Cady Marsh, CEO of Cadydid Social Marketing
Stories ads make use of the entire screen, creating an immersive experience for viewers. You can use them to express your brand's creativity and inspire action throughout the customer journey.
With 58% of people confirming they became interested in a brand or product after seeing it in Stories, this is an opportunity you'll want to take advantage of.
Photo ads
Instagram photo ads are another popular ad type. Similar to Facebook's single image ad format, these ads showcase products through captivating images. If you're already creating Instagram Feed content, photo ads will give you another way to boost your reach.
The best part? You can create image ads from Ads Manager or right from the Instagram app. Simply choose any post in your Instagram feed, tap Promote, and make it live.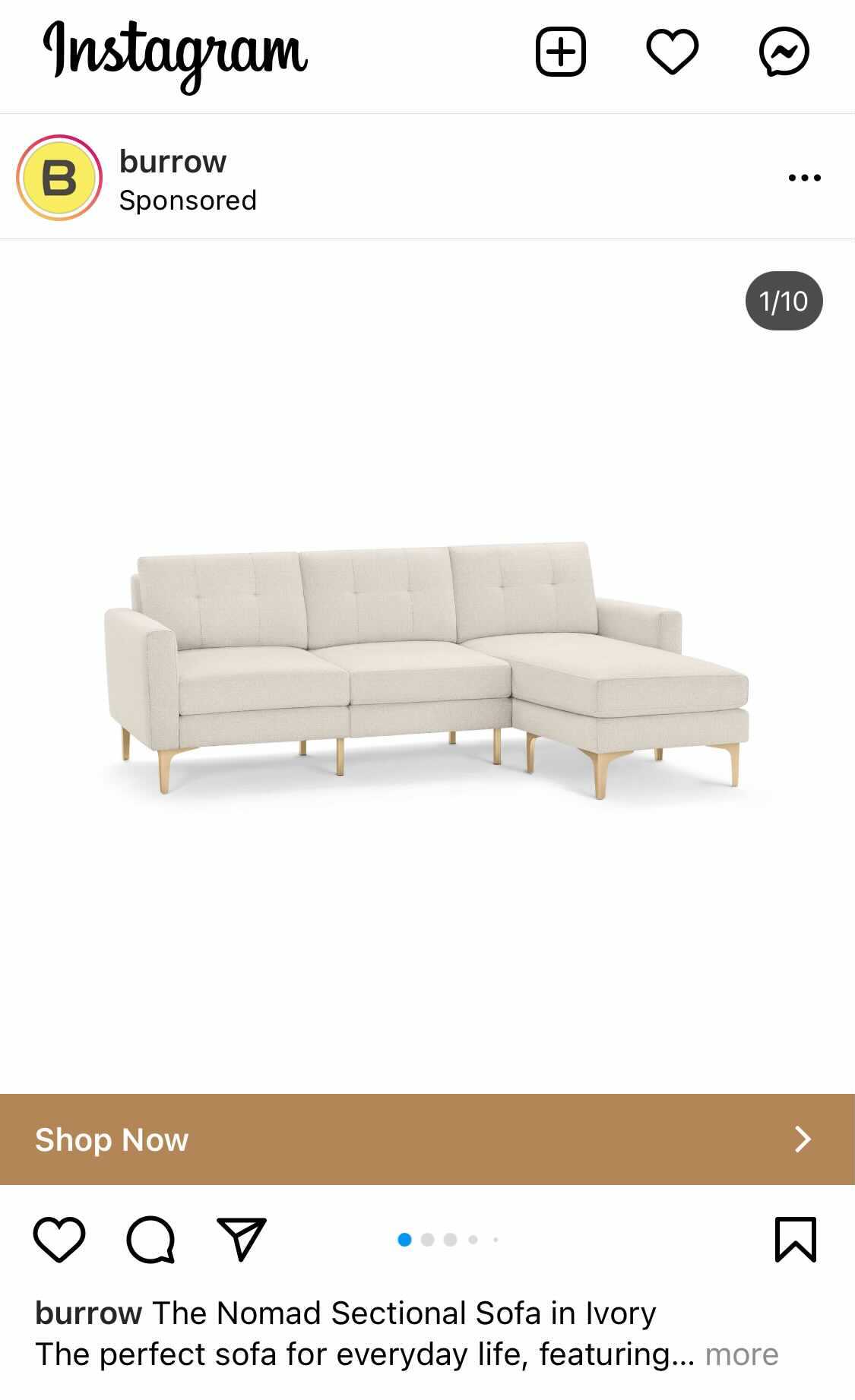 As with any Instagram ad, always include a strong call-to-action to support your goals. Do you want more app installs or traffic to your website? Do you want to start a conversation in Instagram Messenger with potential leads? Tell people what you want them to do, and they'll follow!
Video ads
Video ads can run between three and six seconds. They give you the chance to explain your brand, products, or services in greater detail. Shorter videos tend to perform better because video ad views tend to drop off quickly (according to Facebook data), so you'll want to get your point across quickly.
This ad from Fresh Clean Tees addresses its viewers' problem right away to capture their attention.
Carousel ads
This ad type lets you showcase more than one product in a single ad. You can place carousel ads in the feed and Stories, and display up to 10 images or videos.
Stories let you exhibit three images per ad, each with its own link. These ads display one card and give viewers the option to tap and see the other cards in your Stories carousel ad.
Carousel ads offer viewers multiple ways to experience your brand, which helps you snag their attention and can lead to higher Instagram ad engagement rates.
Collection ads
Collection ads on Instagram make it easy for people to discover and buy products right from their mobile phones. When used in the Instagram Feed, this ad format includes a cover image or video followed by three images. When someone clicks the ad, they'll enter an Instant Experience—an immersive mobile landing page—that drives engagement and boosts sales.
You can use collection ads in Stories, too, but you'll only get one cover image followed by two images, compared with three in the feed. Viewers will still see an Instant Experience when they click on the ad.
How to create Instagram ads
To create an Instagram ad, connect your Instagram account to your Business Manager. Once you've finished, head over to Facebook Ads Manager and click +Create to get started.
Choose an objective
The first thing you'll need to do is choose an objective. An objective defines your campaign goals and how you'll bid.
In this example, we want to start a conversation with prospects in Instagram Messenger, so we'll select the Messages option under the Consideration column.
Name campaign
Next, you'll want to name your campaign and include any additional required information. You can add a Campaign Spending Limit, set up A/B testing, or turn on Campaign Budget Optimization. Click Next when you're finished.
Choose destination
After you've finished the campaign setup you'll move onto the Ad Set page. Name your ad set and select Instagram Direct as your destination. Choose the Facebook Page and Instagram account associated with your ad.
Decide your budget
Enter your daily or lifetime budget and the time frame for when you want your ads to run. These limits help ensure you won't spend more than what you're comfortable with.
Select your audience
Choose the best demographics, interests, and behaviors that define your audience. You can also use a Custom Audience or Lookalike Audience to target a predefined group.
Choose where to place your ad
Decide where you'll run your ad by selecting Automatic Placements or Manual Placements. Ads that click to Instagram Messenger only have two placements, Feed and Stories, so there's not too much to worry about here.
Build your ad
Choose your format and add your creative to the editor. You can choose from single image or video, or carousel formats for Instagram Messenger ads.
Create your conversation
Since this ad will click to Instagram Direct, you'll need to create the follow-up conversation that will take place between the viewer and your business after the viewer clicks on the ad.
Scroll to the Message Template block. Then click + Create.
You'll want to fill out the Greeting text with an upbeat message. (Nothing generic!) This will be the first message a user sees after clicking your ad, so make it contextually relevant and memorable.
In the Frequently Asked Questions section, you'll see three fields with auto-filled questions. These questions act as quick replies. When the user presses Send to post a specific response, it sends as a conversation to the brand's Instagram Direct.
If you have a ManyChat Pro account, you can take those quick replies and create keyword triggers. This way, when the ad runs and people receive the above message (and click the default reply), you can take the conversation into a ManyChat Flow.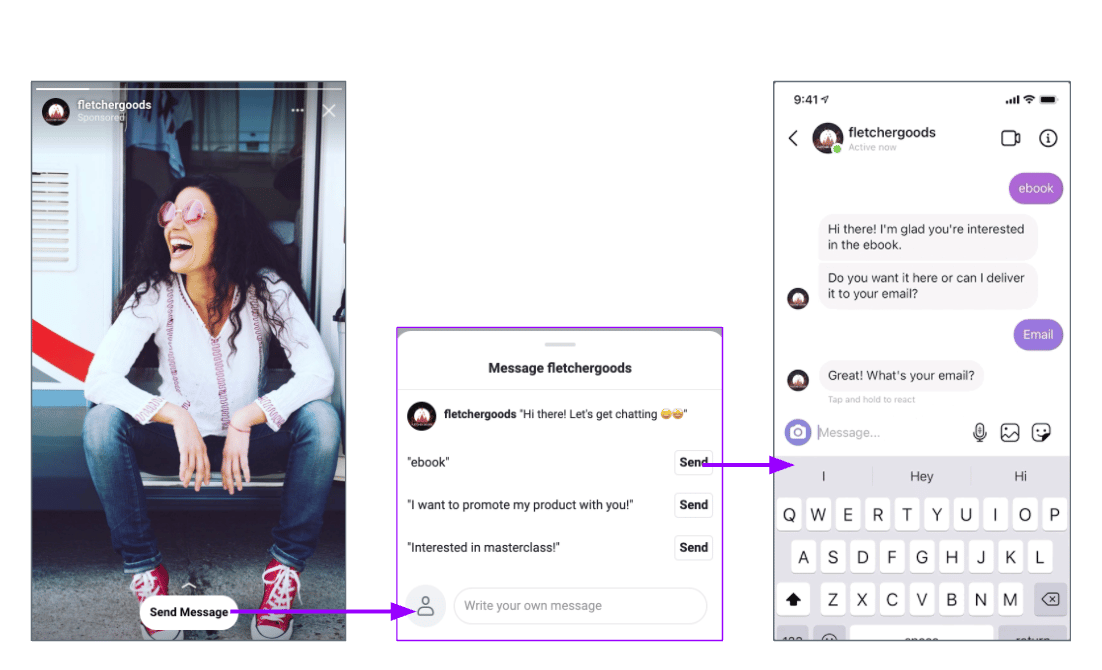 Once you're ready, click Publish to send it live!
Create your first Instagram ad campaign today
As you can see, launching Instagram ads isn't terribly hard. It just takes a little know-how and a creative touch to build campaigns that drive engagement and sales. Even with a limited ad budget, you can still see amazing results from Instagram advertising and grow your business efficiently and sustainably.
Grow your Instagram following and make sales with Instagram Automation by ManyChat. See if your business is eligible by applying below.
Los contenidos de este blog han sido elaborados de forma independiente y sólo tienen fines informativos. Las opiniones expresadas son las del autor y no reflejan necesariamente los puntos de vista de ManyChat o de cualquier otra parte. Los resultados individuales pueden variar.