How to Do SMS Marketing at Every Stage of Your Funnel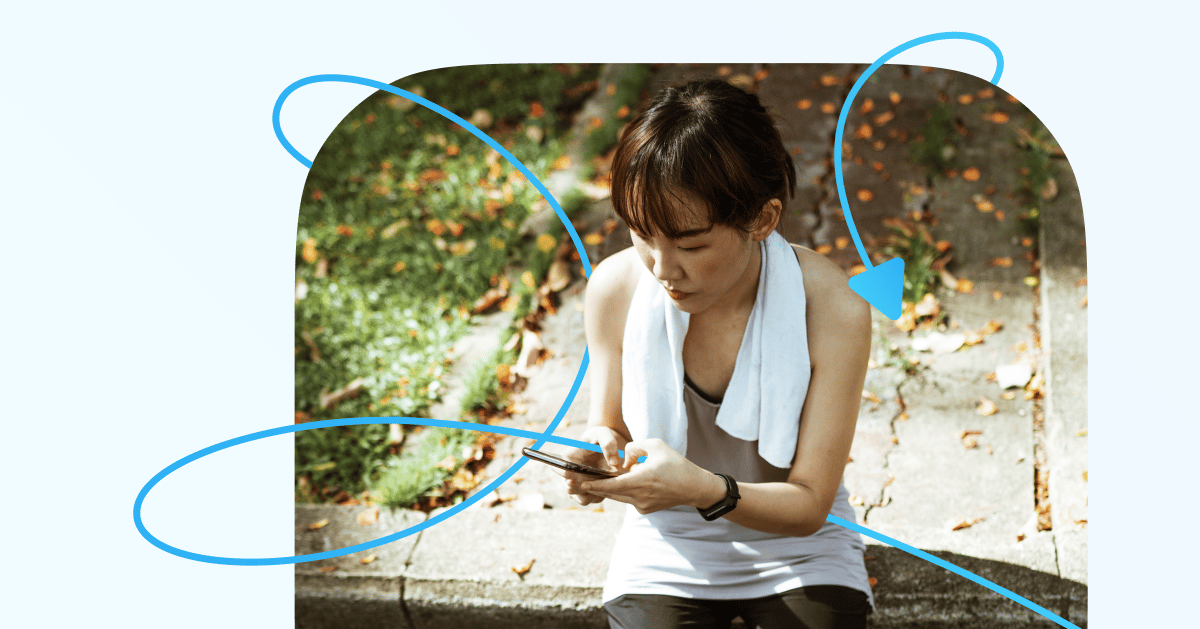 It has been nearly 28 years since the first SMS message was sent in 1992. Since then, usage has skyrocketed. According to Juniper Research, SMS business messaging reached over 3.5 trillion messages a day worldwide in 2019.
With smartphone ownership now at over 3.5 billion people worldwide, savvy eCommerce marketers and store owners are jumping on the opportunity to connect directly with shoppers and reach them, anytime, anywhere—all through texts. Even better? There's no app for shoppers to download (which means no learning curve), and most people know how to text already.
This rise in real-time messaging helps both digital and brick-and-mortar retailers increase conversion rates, close sales, and build more meaningful relationships with shoppers.
So, how can you start using SMS marketing to achieve the same results? Use our guide to integrate SMS into each stage of your funnel and prepare for an onslaught of new sales!
If you're new to ManyChat SMS, watch our introductory video to get set up and learn more about how ManyChat can support your SMS marketing. Next, take advantage of these advanced strategies below.
Top of the funnel: How to build an audience
The first phase of the SMS marketing funnel focuses on building brand awareness; the goal is to reach as many people as possible. As people become more familiar with your brand and engage with it, there's a good chance they'll want to hear more about your promotions and products.
1. Qualify leads and capture contact information
Get the word out about your SMS list by encouraging people to sign up for it on your website. Over 75% of customers are open to receiving SMS from a brand after opt-in; it's a powerful way to connect with new, interested people and move them through the funnel.
Moreover, ManyChat customers using SMS marketing have seen an uptick of 30% in revenue growth. One such online retailer, Basket and Beads Kenya, uses the ManyChat SMS Modal pop-up on their site to collect leads.
After a user signs up, Basket and Beads Kenya sends a follow-up message to thank the subscriber for joining and set expectations for future texts.
Once you have people on your SMS subscriber list, you can send text order updates, abandoned cart reminders, promotions, and exclusive deals to different customer segments.
You can add an SMS modal widget to your website in just a few minutes. Learn how to set it up here.
2. Welcome new subscribers into your brand
You may have heard the saying, "You never get a second chance to make a first impression." Fortunately, ManyChat's text marketing automation can help you create a memorable first impression that will set you up for success with new subscribers.
When someone signs up for your list, you can send a series of texts to welcome them, introduce them to your products, or simply show your appreciation with a coupon code.
3. Send personalized SMS coupons to ad traffic
It's no secret that coupons drive sales for retailers. But, according to CodeBroker, 78% of consumers are likely to redeem a coupon they request from an ad, versus traditional redemption rates that hover between 30 – 50%.
You can create personalized coupons for ads and promotions that shoppers can redeem with one tap. These coupons allow you to deliver a more human touch by interacting with shoppers on an individual level.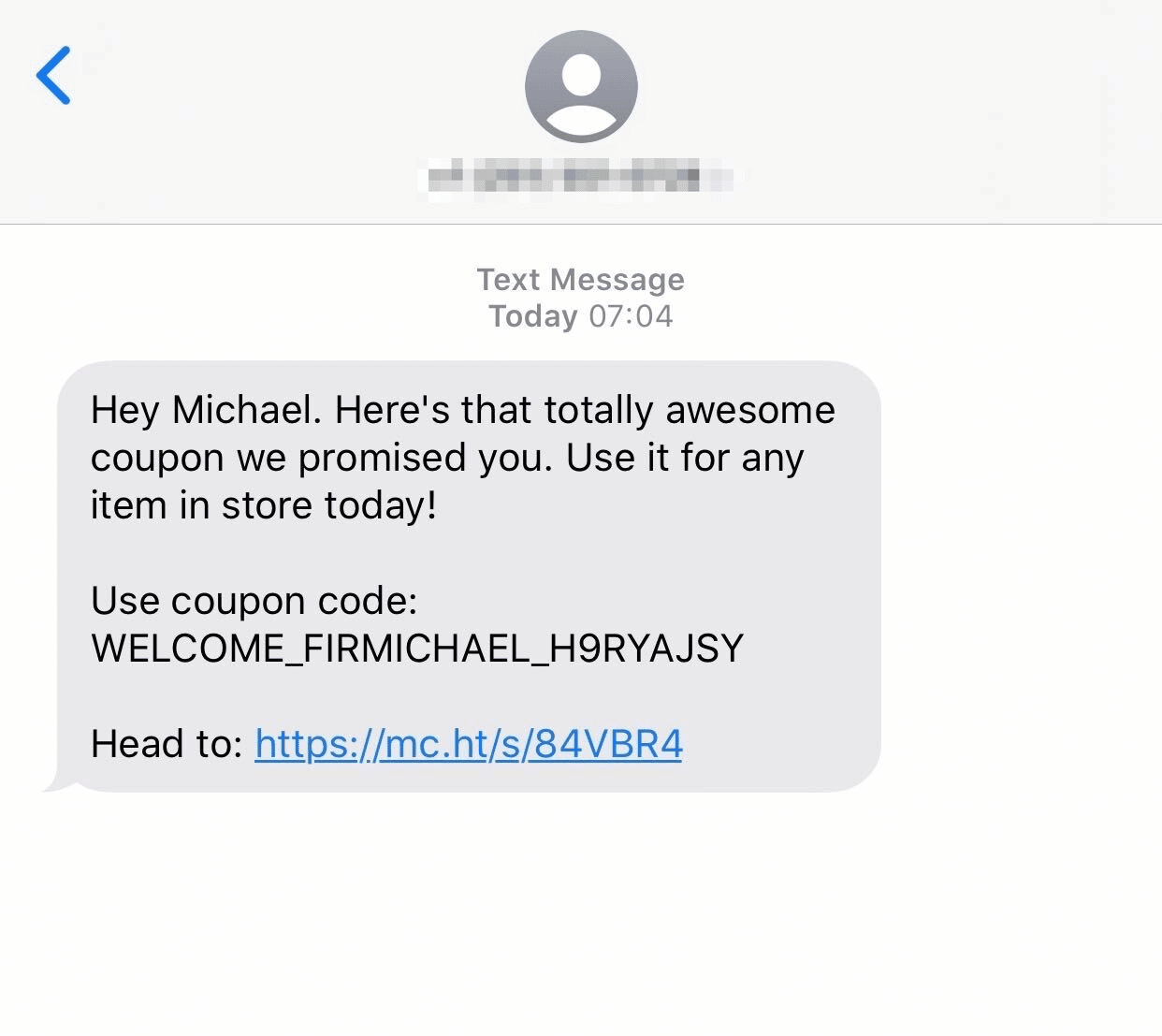 In a time where 66% of consumers expect to be treated like a human, not a number (according to Salesforce's State of The Connected Consumer report), personalized coupons help influence customer expectations and drive sales from ads.
You can also use personalized coupons to better track redemptions and create specific Customer Segments based on behavior and interests.
If you have a Shopify store, you can set up personalized Coupon Campaigns right inside Flow Builder. Learn how to set up Coupon Campaigns.
4. Take advantage of Multimedia Messaging Service (MMS)
Multimedia Message Service (MMS) is a quick and easy way to grab your reader's attention by allowing you to send multimedia content (e.g., photos, GIFs, videos, or audio notes) directly to a shopper's phone. According to research by Marketo, MMS texts have a 15% higher click-through rate (CTR) and increase campaign opt-ins by 20%.
Think of MMS as the Instagram of your SMS marketing efforts. It offers a great branding opportunity for new subscribers because you can get creative with visuals:
Share photos to show off your product gallery
Send QR codes, tickets, check-ins or maps
Celebrate birthdays and anniversaries with GIFs
Run contests and giveaways
Offer special opt-in offers with rich visuals
The possibilities are endless with MMS. As a general rule of thumb, use sharp visuals that are bright and eye-catching, and if the MMS is part of a larger omnichannel campaign, keep the content consistent with your email, Messenger, and web campaigns.
5. Offer keyword opt-in
You can give customers the option to join your SMS subscriber list by creating a word or phrase they can text to your ten-digit number or shortcode. Keyword opt-in is an easy way to collect subscribers from different marketing assets such as:
Traditional ads like billboards and radio
Social media channels
Podcasts
Packaging
Store signs
Blogs or guest posts
For legal and privacy reasons, make sure to secure a double opt-in from new subscribers after they text you a keyword. You can get this opt-in by sending an automated confirmation text from your ManyChat account.
Start by choosing the SMS Keyword Trigger in a new flow. Then create an SMS block to trigger a message when someone texts in the keyword to confirm opt-in.
After a subscriber confirms the opt-in, send a quick thank you message with a reminder of what they'll get from joining your list (e.g., discounts, early access, etc.) and expectations for ongoing communication.
Read more: SMS Marketing Best Practices: 7 Tips to Achieve Success
Middle of the funnel: How to engage subscribers
It's a good feeling when you start growing your SMS list. A bigger list means more sales, right? Not always. The key to converting new subscribers and getting them to stick around is providing incentives to take action or buy. Here are some ways to keep customers engaged and excited to stay on your list.
1. Text flash sales, coupons, and promotions
Consumers prefer mobile coupons over printed paper coupons, and when delivered through text messages, mobile coupons tend to drive higher sales. In fact, nearly 25% of people redeem coupons within three days, and 60% will redeem within one week.
If you're running campaigns for Black Friday or Cyber Monday, you can also send flash sales to your SMS list. For example, you could run a three-hour sale on a specific product, and then send the person to Facebook Messenger to complete the purchase.
Since about 90% of text messages are read within three minutes and have an average response rate as high as 45%, SMS is the perfect channel for quick action and results.
2. Segment customers and deliver them relevant content
As you learn more about who your customers are, you'll want to group them with other customers who share similar characteristics. These groups, or segments, are used to filter contacts and send targeted messages based on their needs, buying habits, and wants.
For example, say you want to target men who recently interacted with your Facebook Page. But you only want to send an exclusive discount to guys who've left a five-star review for your business and chose to communicate via text.
To target this set of customers in ManyChat, you can apply filters for the corresponding System Fields, Custom Fields, and Tags.
In your Audience dashboard, it may look like the example below:
Once you're done sorting through the data you've collected, click the «Create Segment» button on the Audience tab's right-hand side to create the group.
When you go to launch an SMS broadcast, choose a Segment you built and you'll be able to send them a targeted promotional message to encourage conversions.
Once you click Send Now, you'll have a highly relevant and engaging text message campaign on its way to a warm audience who are more likely to buy your products because you've sent them targeted messages.
Read more: How to Create Customer Segments in ManyChat
3. Create SMS based customer loyalty programs
Your customers are the driving force behind your company. Sometimes it's a good idea to go above and beyond to reward them for their loyalty.
Use an SMS-based customer loyalty program to delight big spenders or frequent shoppers with exclusive promo codes, offers, and content. It's a great way to make loyal customers feel valued and keep them coming back to your store.
Need a little more convincing? Consider this: according to eMarketer, 48% of U.S. consumers prefer SMS loyalty communication over direct mail, email, or application loyalty programs.
Setting up a loyalty campaign in ManyChat is simple:
Get a customer's SMS opt-in from an opt-in Growth Tool on your website or post-purchase follow-up
Send them texts with loyalty rewards
Your customer can redeem the coupon at checkout
Remember to include the benefits of signing up for a loyalty program in your welcome message, then set up a drip campaign to send periodic promos and reminders for upcoming sales to this group only. Moving forward, track each subscriber's interactions to collect information such as preferences and buying habits to improve future marketing efforts.
To set up advanced targeting in ManyChat, check out this article. 
4. Omnichannel drip campaigns
Here's a simple, yet effective concept: Add SMS messaging to your existing omnichannel campaigns.
For example, suppose you're already running Facebook Messenger and email campaigns, and retargeting ads from abandoned products in your Shopify store and Amazon. In that case, you can easily add SMS to continue the conversation through different channels and increase sales.
Here are a couple of examples to show how this works:
A customer gets an SMS about a promotion, then receives an email follow-up
A customer gets a cart abandonment message on Facebook Messenger, which is then followed by a text for the abandoned product
A customer signs up for a daily text challenge where they use Messenger to access the content
From seven-day challenges to monthly newsletters, SMS is an integral part of nurturing your customers toward conversion. Using SMS marketing software like ManyChat, you can create a seamless experience across all your channels.
In ManyChat, you can create omnichannel drip campaigns in Flow Builder with ease. It's just like creating a Messenger flow; however, you can add SMS blocks to communicate with people outside the 24-hour window.
Once in Flow Builder, the opportunities are endless. You can:
Set Smart Delays to trigger messages based on a specific time period
Use conditions to automatically send targeted SMS messages to select Customer Segments
Track clicks to collect data on customer preferences
A/B test different messages to improve your SMS campaign metrics
As the traditional customer journey evolves, so should the way you market and create sales opportunities for your business. By adding SMS into your omnichannel campaigns, you can effectively reach mobile-first consumers in an increasingly competitive landscape.
Bottom of the funnel: How to retain customers and get them to buy
The customer journey doesn't end once a shopper buys your product. SMS can help you bring customers back into your funnel's nurturing phase and nudge them into becoming repeat customers and brand fans.
1. Send purchase reminders and notifications to customers
As an eCommerce marketer or store owner, odds are you are sending receipts, confirmations, fulfillment notifications, stock updates, and other types of transactional messages to your customers. SMS automation can help you do just that, as well as personalize transactional messages to match your brand's personality—all without leaving ManyChat.
Due to the critical nature of the message's content, transactional messages usually elicit higher customer engagement than regular marketing messages. If you're not taking advantage of this channel to delight customers, you're missing out on a signficant opportunity to boost your store's sales.
2. Use SMS Live Chat for customer support
SMS Live Chat minimizes time spent sifting through support emails and reduces inbound calls if you have phone-based support.
As you can see in the example below, one customer who received a birthday promo was able to get their questions answered quickly, without email delays or phone calls.
Once you collect a subscriber's number, you can start a real-time SMS conversation with them inside your Live Chat dashboard. All you have to do is click the SMS tab at the top of the conversation window of your contact.
In the right-hand side of your Live Chat window, you can access all the data collected about a customer that will enable you to help them make the best buying decisions.
The example above shows that this particular customer likes streetwear, recommends the brand, and has left a positive review for the business. Use this information to create more customized conversations and move them through the sales funnel.
3. Recover lost sales with cart abandonment SMS
You can encourage shoppers who've left products behind to come back and buy them by sending them cart abandonment messages. A well-crafted cart abandonment message takes much more than simply inserting a customer name into a generic text message. It's about giving someone a relevant incentive to come back and making it easy to click buy.
When you personalize your SMS cart abandonment messages, you send the right message to the right person through the right channel. Not only does it give your message a human touch, but it can also drive revenue. On average, ManyChat's customized messages deliver a 58% lift in recovering abandoned carts vs. industry average.
If you're a Shopify store, can set up an automated flow inside your ManyChat bot with the Abandoned Cart trigger.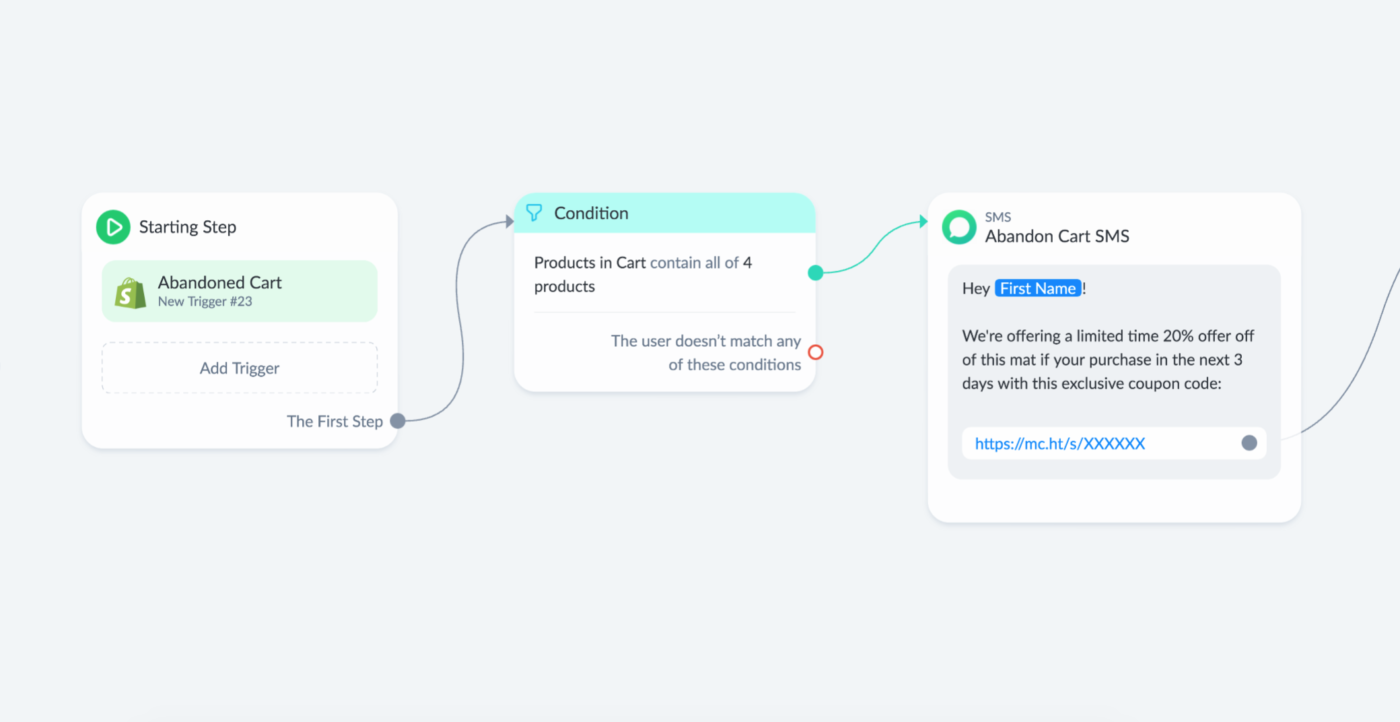 You can choose one or all of your products to send abandoned cart messages for. Plus, add GIFs and images to add an extra personal touch.
To set up abandoned cart flows for your Shopify store, read: Selling on Shopify: Recovering Abandoned Carts on Mobile.
4. Collect feedback and reviews
Customer feedback is a powerful tool for improving your products and making customers feel heard. It shows you care about involving them in your business, and listening to their input can strengthen your bond.
An online store like Sweet Sweaters, for example, can use ManyChat SMS to collect reviews and drive higher sales for their business.
Let customers share their opinion with a simple number or letter system. Or, send them to a richer survey experience using Typeform or SurveyMonkey from the text.
The best part? You can easily filter reviews using ManyChat.
If feedback is positive, you can ask a customer to share on review platforms such as Google, Yelp, or TripAdvisor. If feedback is negative, you can route the customer to a Live Chat to solve the issue and win back a potentially lost customer.
5. Get referrals
Want to receive more qualified leads and speed up the customer journey? SMS referrals are the way to go.
A text-based referral program can help your brand fans convert new customers. Create a template that customers can share with their friends and family in a text or other direct messaging platforms like Facebook Messenger and WhatsApp.
When designing your referral program, consider what incentives your customers want in exchange for sharing your brand. According to a recent survey by Harris Poll, 88% of Americans report they require one of the following:
Money
Free product
Loyalty points
Early access
Brand swag
That number jumps to 95% among 18-to-34-year olds, a prime audience for many retailers.
Once you get a new customer from a referral, you can secure their contact information, find out more about them, create a personalized shopping experience, and start the whole SMS marketing cycle again.
Drive more sales for your online store with mobile messaging
The rapid rise of eCommerce shopping is not slowing down any time soon. If you want to take advantage of this mobile trend, create unique shopping experiences for your customers, and drive more sales for your business, use these SMS strategies to get you there.
Disclaimer: This information is provided for educational purposes only and should not be relied upon as legal advice. Please always consult your own attorney before engaging in text marketing.
Create unique shopping experiences and drive more sales with ManyChat SMS. Upgrade your account today.
Los contenidos de este blog han sido elaborados de forma independiente y sólo tienen fines informativos. Las opiniones expresadas son las del autor y no reflejan necesariamente los puntos de vista de ManyChat o de cualquier otra parte. Los resultados individuales pueden variar.