[Case Study] How The Dream Workshop Shifted to Online Retail During COVID-19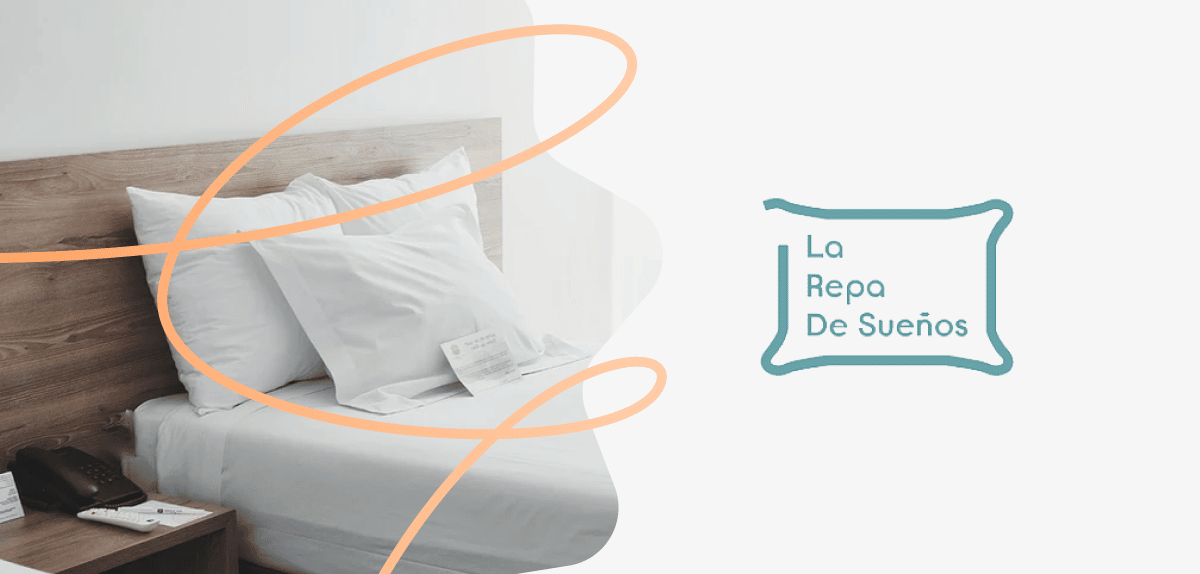 Overview
As the coronavirus hit Costa Rica, the country went into a mandated lockdown authorized by the federal government. For The Dream Workshop, this meant shutting down its brick-n-mortar retail location they opened in June 2019.
Led by Trilce Jiron and the team at The Bot Shop (TBS) Marketing, The Dream Workshop pivoted into an online store to build relationships with new customers and keep the cash flow coming in.
The Dream Workshop used ManyChat to drive Facebook ad traffic to a bot flow and landing page. They used a combination of flows and Live Chat to guide customers to their eCommerce store where customers were shown products, deals, and put customers at ease. This technique helped drive over $43,800 in sales during the shutdown, and create a successful eCommerce marketplace for the business.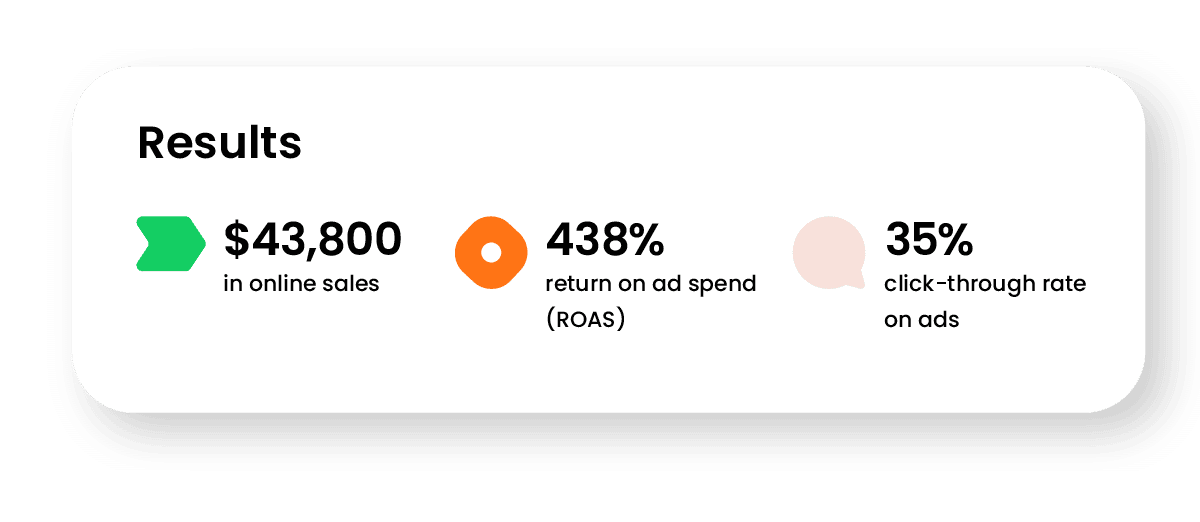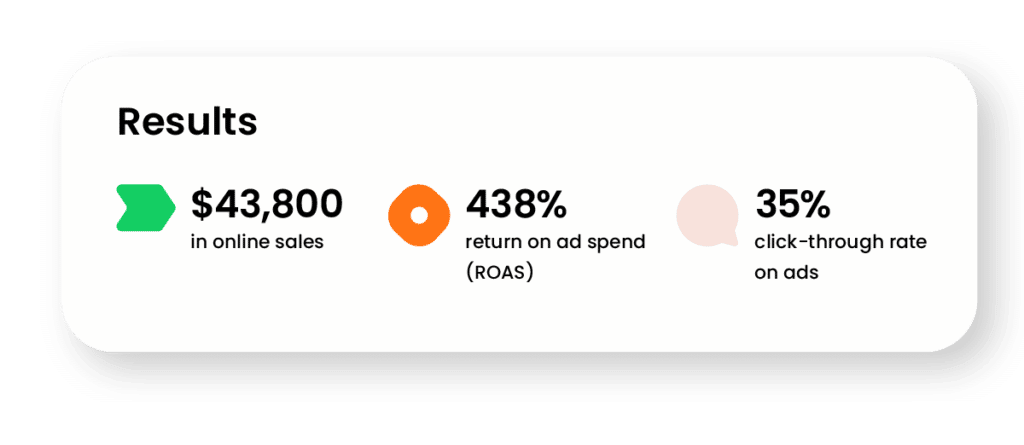 The Problem
The Dream Workshop focuses on mattress repairs and fabrication of personalized beds. When in-store, clients test each mattress component on site, which made the transition to digital challenging. In a country where only 5% of sales happen online, they had to create a thoughtful and comforting online experience to encourage sales.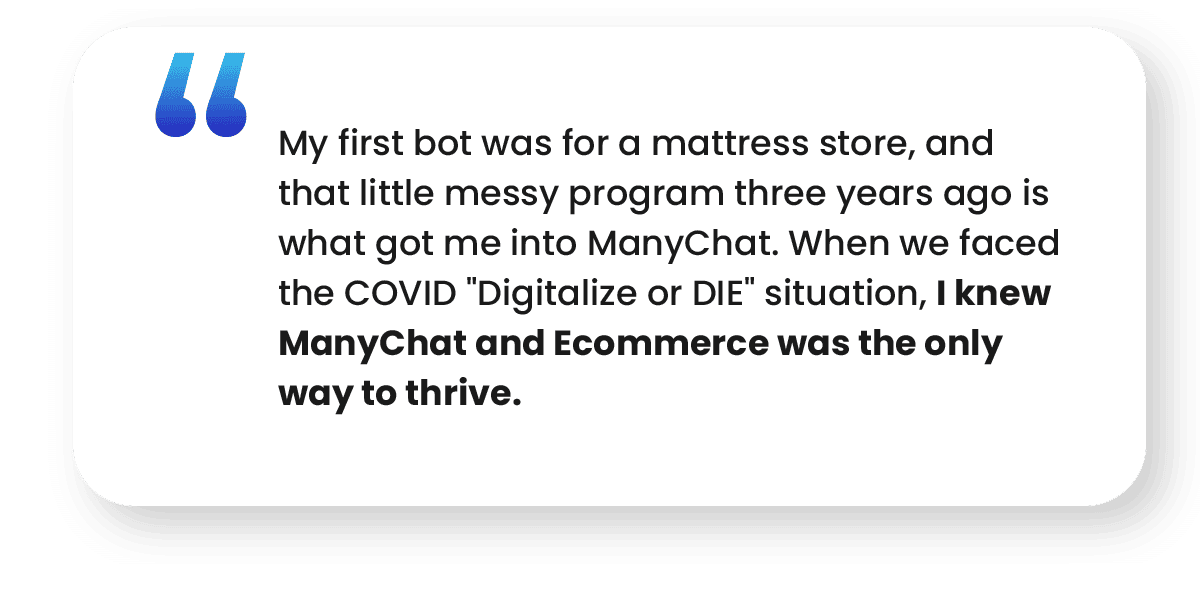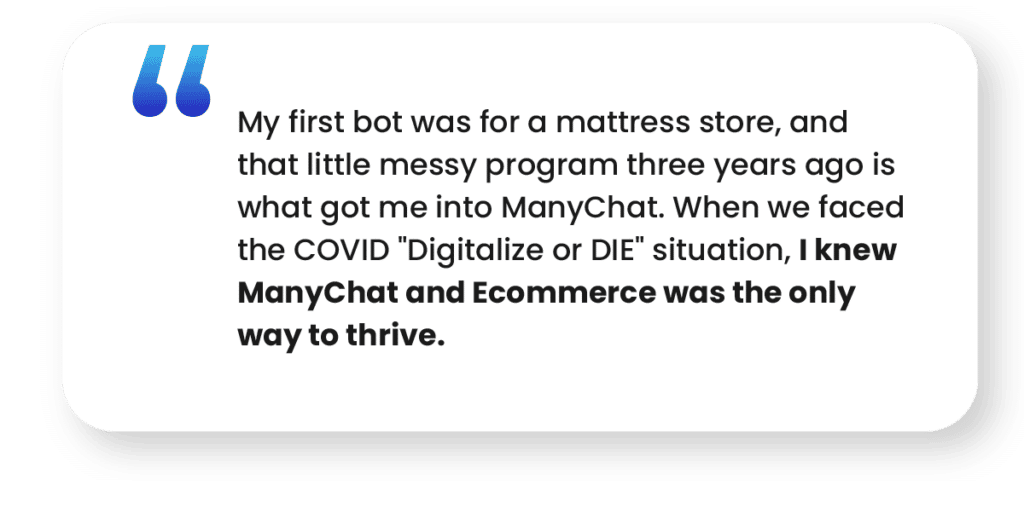 Their Goal
The Dream Workshop wanted to attract sales online and engage with customers by connecting with them through Live Chat.
Approach
Easy online payments processor: Not every country can access PayPal or Stripe to process payments. The Dream Workshop leveraged Oliba, a local online payment platform, to make it easy for customers to order and pay on their online store.
Flexible return policy: Since people could no longer test their mattress in store, the company had to come up with a way to make potential customers secure in their purchase. Trilce established a new 100-day sleep test where customers could fix or return their mattress if they were not happy with it.
Testing different conversion paths: Trilce tested three conversion paths: (1) Facebook dynamic ads to website with Live Chat support through ManyChat. (2) Facebook traffic ads attached a ManyChat bot flow using the Messenger Ref URL. (3) Dynamic ads pushed to WhatsApp for ages 55+ where a sales rep would talk interested people through the buying process.
Live Chat support: The Dream Workshop used ManyChat Live Chat and WhatsApp to answer questions and offer information to customers during the buying process.
How The Dream Workshop Shifted Online During COVID with ManyChat
As Trilce specializes in Neuromarketing for Bots Retail and eCommerce bots, there are three components that made The Dream Workshops lead generation process successful with ManyChat.
Testing different advertising paths through ManyChat
Whether through ManyChat's dashboard or in WhatsApp, one key component of The Dreams Shops online strategy was Live Chat to assist sales, no matter the traffic source
Trilce and her team sent Facebook ad traffic down three different conversion paths:
The company website to capture information through the Facebook pixel and send retargeting ads to site abandoners.
A ManyChat bot flow with deals, an explanation of the warranty, and the possibility to fix their current mattress.
A conversation in WhatsApp for people over 55 years old.
TBS Marketing also designed a Google Sheets system using the integration which automatically tells each agent which client to attend to. Leveraging Live Chat allowed customers to communicate with sales reps in real-time to answer questions and help customers feel more confident in their purchase.
Creating an empathetic bot flow narrative
During difficult times, companies need to be sensitive to customers needs and rethink how they communicate with customers. For The Dream Workshop, that meant shifting their bot flow and ad copy to better speak to the reality everyone in Costa Rica was facing.
Offering an extended return policy
One of the big challenges for The Dream Workshop was replicating the face-to-face interaction and support they always gave customers in store. No one could try out a mattress or drop it off for repairs. So the team had to make up for the lack of engagement that people have come to appreciate from the company.
To make people feel safe with their purchase, The Dream Workshop offered a 100-night sleep test to new customers. If a customer did not like the mattress, they could have it adjusted by The Dream Workshop, for free, or return it. No questions asked. This helped people feel more comfortable purchasing an expensive mattress online.
Conclusion
To smooth the transition over into online selling, brick-n-mortar business owners need access to a simple payments processor and an easy-to-use marketing platform to help with Facebook ads and customer support.
Repositioning your value offer and messaging are also critical to a company's success. The ability to make customers feel safe with their purchase online can help sell more, and build closer ties with them during uncertain times.
Smooth the transition to becoming an online store with ManyChat. It's free to get started.
O conteúdo deste blog foi preparado de forma independente e destina-se apenas a fins informativos. As opiniões expressas são de responsabilidade do autor e não refletem necessariamente a posição do ManyChat ou de qualquer outra parte. Os resultados individuais podem variar.