How to Use ManyChat's Live Chat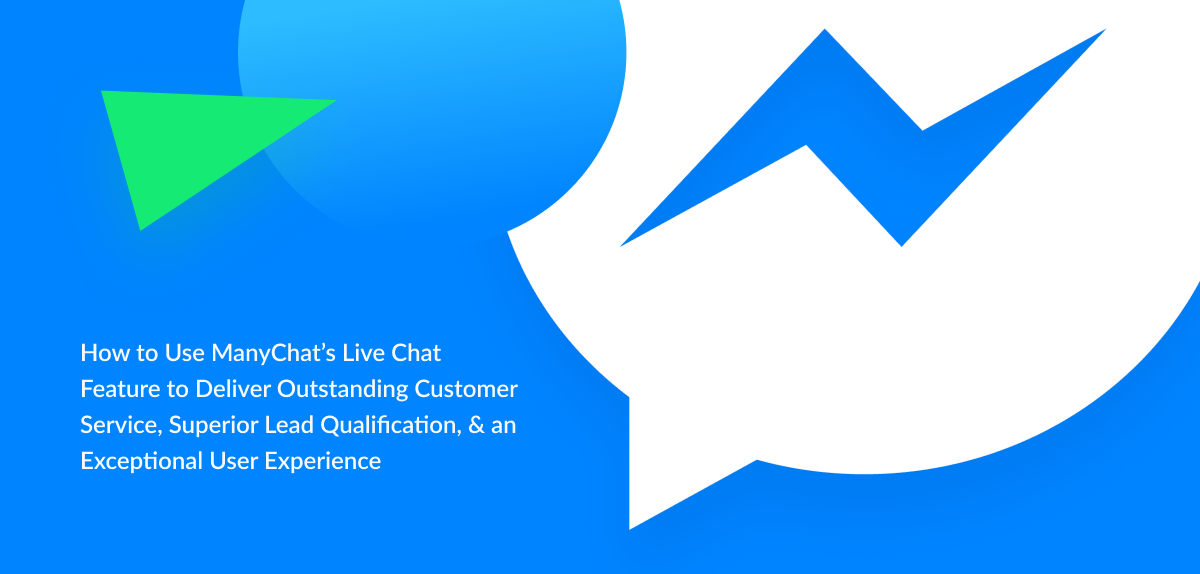 When most people think about chatbots, they immediately envision an automated Messenger bot that works entirely on its own—fully hands-off, responding to questions and comments with intelligent pre-written responses.
And that, of course, is a HUGE part of chatbots and Chat Marketing.
But the fact is that you can't automate a chatbot to respond to every possible question. When you start utilizing Chat Marketing, sooner or later you (or someone at your company) is going to need to respond to some messages personally.
Chances are you've probably done this in the past using your Facebook Business Page Inbox, which looks like this: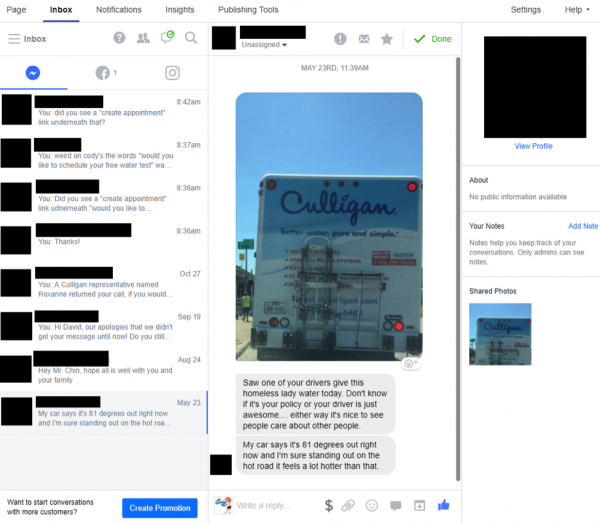 The problem with handling your messages inside Facebook is that it can be a pretty clunky interface—especially if you have to manage dozens or even hundreds of conversations taking place at once.
That's why we created the "Live Chat" tool in ManyChat, accessible on the left side of your dashboard: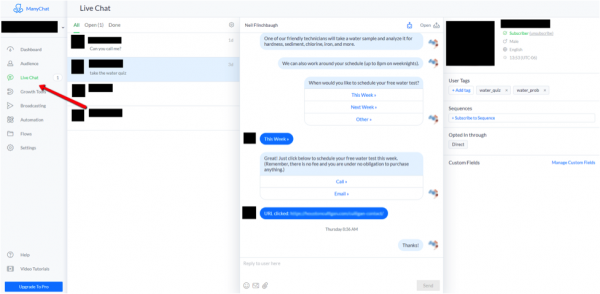 I'll get into the specifics of how to use ManyChat's Live Chat tool in just a minute. First, though, it's important that you understand…
What Is ManyChat Live Chat & How Should You Use It?
Live Chat is a Messenger or SMS conversation taking place in real time between you and the customer.
It's a tool that allows you (or your team) to communicate with your subscribers right in the ManyChat platform, jumping into conversations to answer questions, manage subscribers' data manually (add Tags, subscribe to Sequences, add Custom Field values, etc.), and send them other messages.
Take a moment to think about how powerful this can be.
Most of our other communication channels— email, traditional mail, and even phone calls—are overflowing with unwanted ads and other commercial spam. As a result, we don't really trust or pay attention to messages from these channels as much as we used to.
Email open & click through rates continue to decline as our inboxes get more and more saturated with promotional messages.
We open letters over the trashcan, barely glancing at most direct mail pieces.
And many people are so tired of of telemarketers that they won't even answer a phone call unless it's from a number they recognize.
But Facebook Messenger and SMS are different. It's a trusted place, a safe place. Why? There are a lot of reasons.
Everything is hosted on the Facebook Messenger ecosystem or on their phones, where people already feel comfortable and safe.
All conversations take place through a Facebook account or text inbox, which means we know exactly who is messaging us (and for the most part, they're friends and family members).
Because Facebook has set strict rules around how often promotional messages can be sent, we aren't being bombarded by ads inside of Messenger.
These are just a few of the reasons why these channels are a great place for businesses to connect with their customers.
And it's also a versatile tool! Here are 5 ways you can use Live Chat conversations to reach customers and grow your business:
Use ManyChat's Live Chat Conversation Feature to Qualify Leads & Prospects
I expect Live Chat to become very useful for salespeople, especially if your company is doing high-touch sales and consultative sales.
Why?
Take a look at the right-hand side of this conversation. Notice how many different tags have been applied to this customer.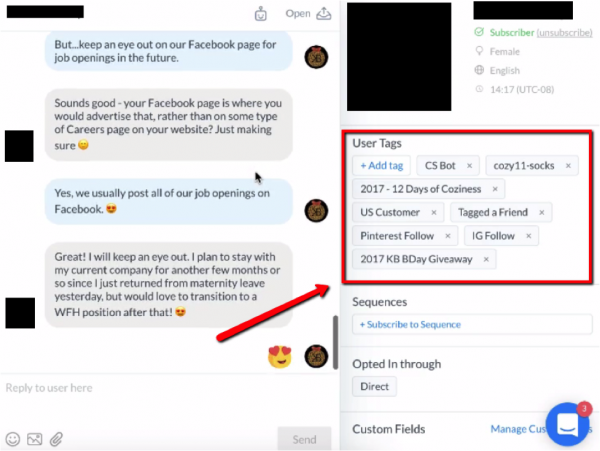 As you can see, the User Panel makes it easy to see all the information your bot has collected during all conversations, allows you to see:
User information (profile picture, full name, status, gender, language, timezone)
Manage Tags
Subscribe and unsubscribe from Sequences
See how this subscriber opted in
Manage Custom User Field values
Unsubscribe this user, download and delete their data (hello, GDPR compliance features!)
How might you use some of these features?
Maybe someone complains that you're sending them too many automated bot sequences. When that happens, you may want to simply unsubscribe them from your chatbot.
Or maybe in the course of your conversation, you learn that the prospect would be a great fit for another product or service. If that's the case, you can tag the user with that interest (such as "b2b_lead") and then subscribe them to a sequence that nurtures them on the benefits of that service.
You can essentially use this tool as a full-blown CRM to keep track of leads & prospects as you guide them through the sales process.
(RELATED: Messenger Marketing + Compliance: What You Need to Know About Engagement Bait and Facebook ToS)
Use ManyChat's Live Chat Feature to Deliver Great Customer Service
Customer service is probably one of the most common uses of Facebook Messenger and SMS for businesses, and for good reason. It's a quick and easy way for your customers to get in touch with your company to get the answers and support they need.
Many people are tired of waiting days for an email response or sitting on hold for long periods of time over the phone. Instead, they would prefer to message your company using a familiar channel where they feel comfortable.
Messenger and SMS give customers an easy way to ask questions about your products or service, such as getting advice on sizing: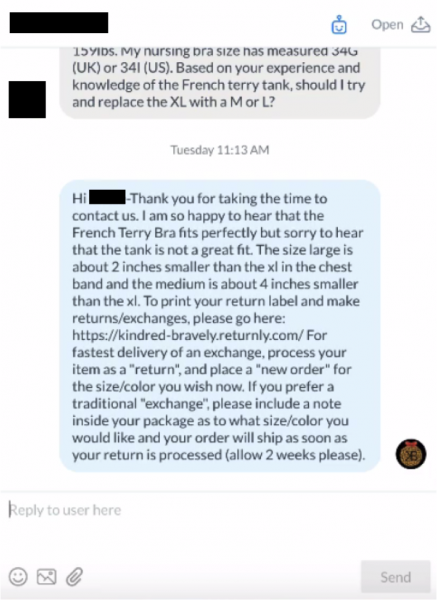 Or to get help with their order, for instance, if their coupon code doesn't seem to be working: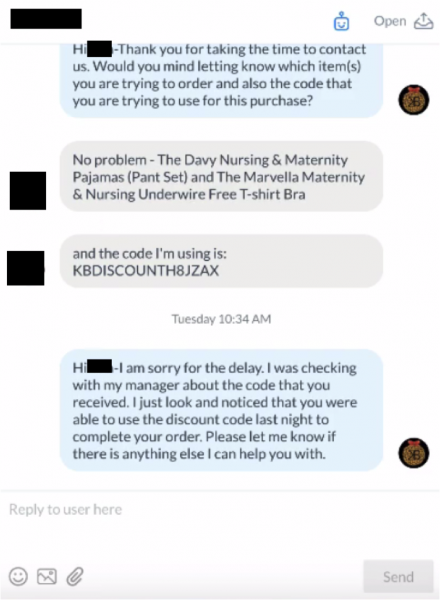 Using Live Chat, you can take better care of your customers by quickly answering their questions and solving their problems.
If you're going to use Live Chat to provide customer service, just make sure you have an adequate number of customer service reps available to respond in a timely fashion. You don't want customers sending you questions that go unanswered for long periods of time. (We'll talk about the new features available in Live Chat in just a second — they'll help with this obstacle in a big way!)
Use ManyChat's Live Feature to Answer Sensitive Questions
One of the things we love about Chat Marketing is that it gives people the immediacy of a phone call combined with the privacy of an email.
And depending on the nature of your business, you can take advantage of this fact to give your customers a way to ask sensitive questions they might be uncomfortable discussing over the phone.
For example, this customer is inquiring about bra sizing information: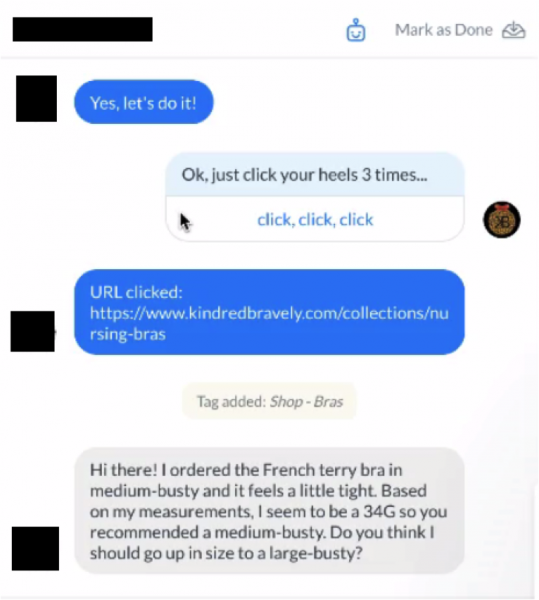 Some people may be uncomfortable discussing topics like this over the phone or in person. So why not give them the opportunity to contact you in a more anonymous fashion?
Use ManyChat's Live Chat Feature to Build Relationships & Rapport with Customers
One of my favorite things about Chat Marketing is how personal it is.
It's not like email blasts, banner ads, or promoted YouTube videos—all of which are examples of "one-to-many" communication. They're mass communications from a company, in which the company is speaking AT people.
Chat Marketing, on the other hand, is a form of "one-to-one" communication. These are personal conversations in which the company is speaking WITH people.
And the personal nature of this communication channel means you have the special opportunity to establish greater trust and rapport with your customers. To develop more meaningful relationships between them and your brand.
It doesn't have to mean much. It could be something as simple as a customer service rep asking the customer if their package arrived: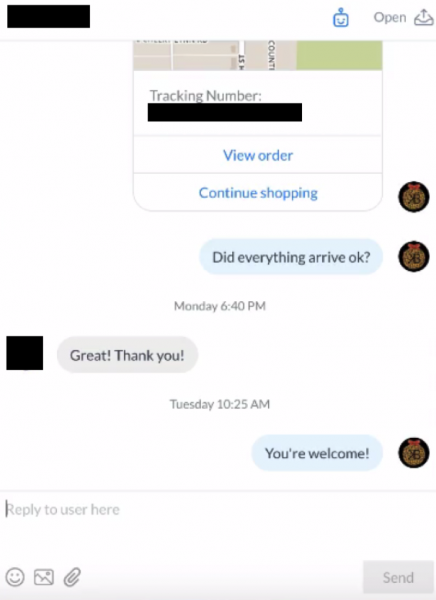 But these little snippets of real-life connection will stand out to your customers, because people will know they're coming from another person who is displaying real concern for them.
(RELATED: Case Study: The Simple 4-Step Messenger Marketing Funnel That Generated $250,000 in Revenue — Without Spending a Dime on Ads)
Use ManyChat's Live Chat Feature to Give the User a Great Experience
We've all had poor experiences with companies in the past. And because of this, many of us have developed pretty low expectations when it comes to customer service.
But there's a silver lining in this cloud: it means you don't have to do much to deliver a superior user experience.
And Live Chat conversation gives you a great opportunity to do just that—to go the extra mile and make sure your customers have a great experience with your brand, helping you to stand out from all the other companies that have disappointed them in the past.
For example, Kindred Bravely empowers its customer service reps to issue refunds for customers who have trouble using a coupon code: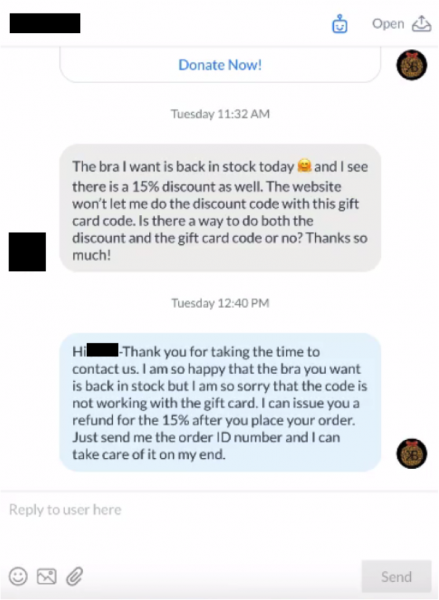 Once again, it's a simple thing—but it makes a big difference to a busy consumer.
ManyChat Live Chat Settings, New Features, and 1 Caveat
Now that you have an idea of how companies are using Live Chat to connect on a deeper level with their customers, here are a few tips to help you get the most out of this tool.
But first I want to mention one caveat. You can only use Live Chat to message a person who has interacted with your page within the past 24 hours…UNLESS that message is responding to a customer service issue that required more than 24 hours to resolve. This is done to ensure that people don't receive unwanted messages.
If you're ever unclear on how that rule works, just hover over the "?" in the Live Chat window: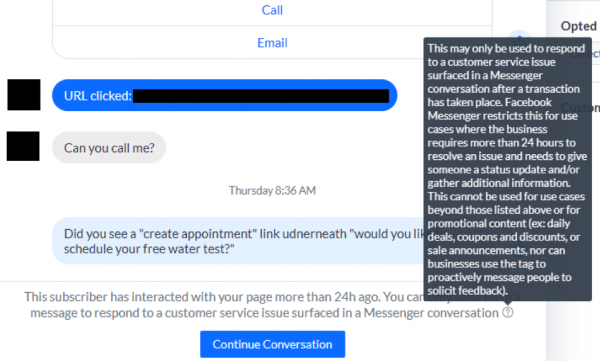 Now that we've got that out of the way, here's a quick overview of two features that can help improve your experience with Live Chat.
Live Chat Behavior Setting
By navigating to the "Live Chat" section of the settings tab, you can change how messages are opened inside of Live Chat.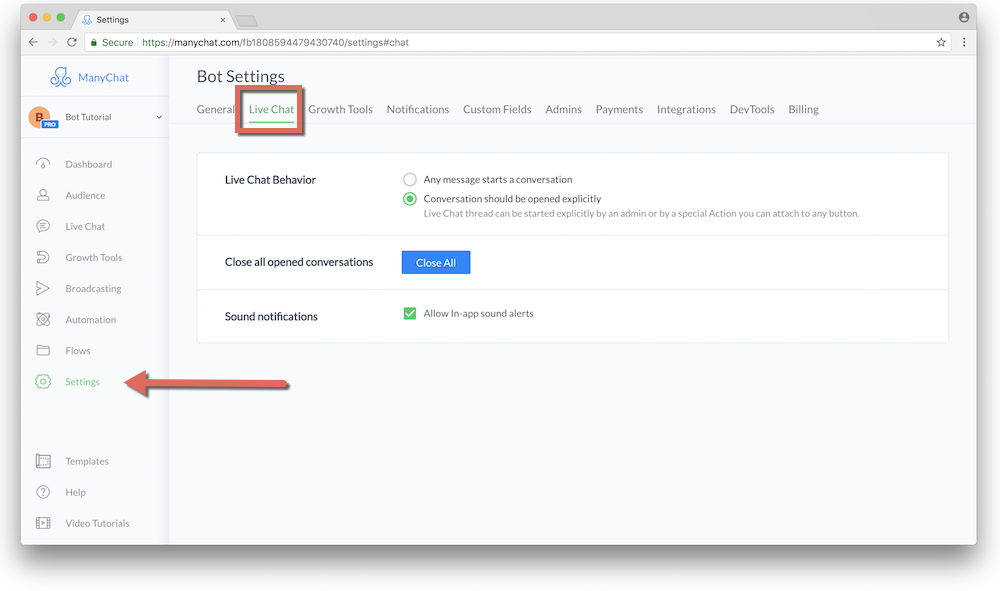 You have two options:
Any message starts a conversation: this means that any engagement with your chatbot will open a Live Chat conversation except for Keywords.
Conversation should be opened explicitly: this means that normal automated bot conversations will be kept out of Live Chat, and a conversation will be opened only if the user clicks a button or uses a keyword that triggers an "Open Conversation" action: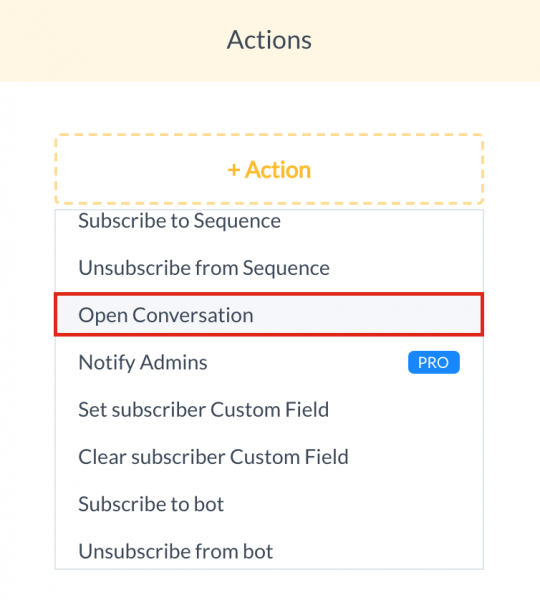 In most cases, I recommend choosing the second option—Conversations should be opened explicitly—unless you're really small and just getting started with Chat Marketing. For anyone using Chat Marketing at scale, the first option is going to result in way too many conversations to manage on your own.
New Live Chat Features for Teams
Assignments
Now you can assign conversations to yourself or to one of your teammates! Track all assignments in a drop-down menu next to the Section header on the top-left of your dashboard, like below: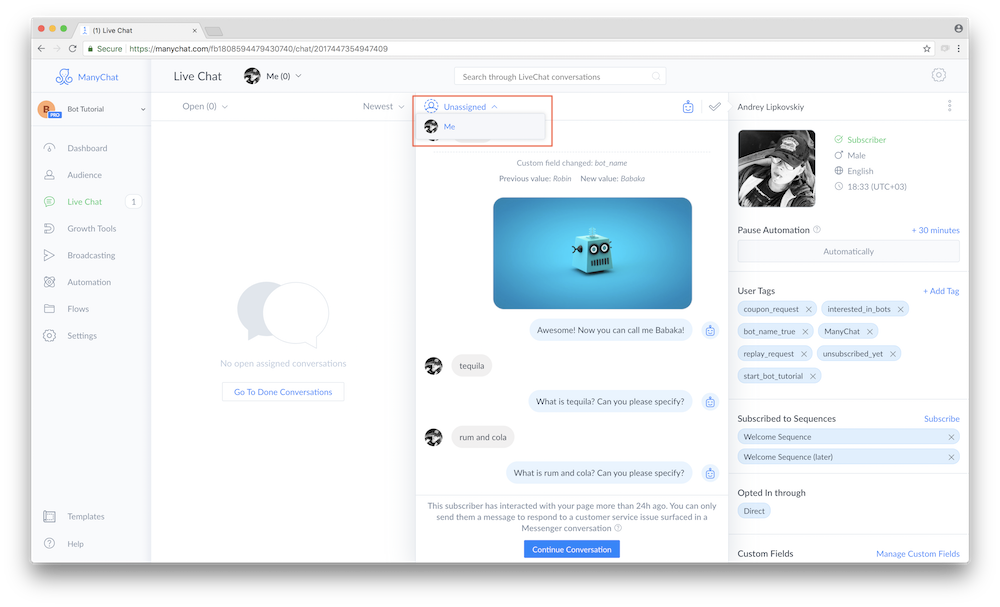 Whether you divide up your teams' responsibilities by product, topic, or just sheer conversation volume, this feature will be massively helpful in making sure that your subscribers are taken care of in a timely manner!
Pause Automation
Silence the noise of all other conversation while you chat with your subscriber 1-1!
The option is helpful for having productive conversations, as it allows you to stop all automated messages for 30 minutes or more. As soon as you message your subscriber back, the 30-minute pause is activated and your subscriber will only receive manually sent messages from an admin.
Keywords won't be triggered during this period, either.
When the pause is on, you'll see the pause icon on the subscriber's profile picture and you'll be able increase the pause duration or disable it whenever you want in the User Panel.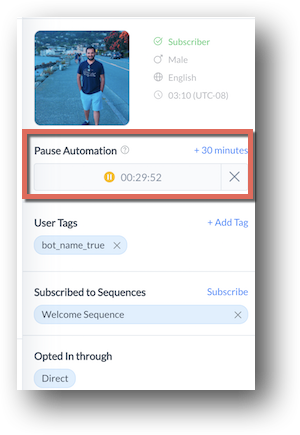 Search
The right subscriber is no longer on the tip of your tongue, as you can now search messages!
You can search through thousands of threads and all conversations to find the exact message you want to see, and search terms can be as few as two characters to start searching.
Unfortunately, special characters aren't supported yet, so focus on the details you want to find and start there, don't worry about the detailed symbols.
Notes
Streamline the details of customer communication by leaving notes for yourself and your team. Notes help you manually mark your subscribers, add descriptions, and share information between teams.
As of now, only Page Admins can see notes, which can be found under the Note tab in the conversation.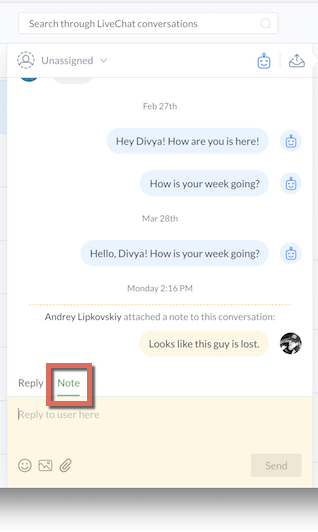 @Mentions in Live Chat Notes
If you're familiar with most messaging software (Facebook Messenger, Slack, Basecamp, Asana, etc.), you know how this works.
Just start typing @ in Live Chat Notes section to mention one of your team members and notify them about a task or note within a customer profile.
Another cool feature? Mention yourself to receive a reminder of your note in Messenger!
Mobile Support
Manage your conversations in a browser wherever you go, as Live Chat is now supported on mobile devices!
Simply access the ManyChat dashboard as you normally would and pick up where you left off in all your conversations.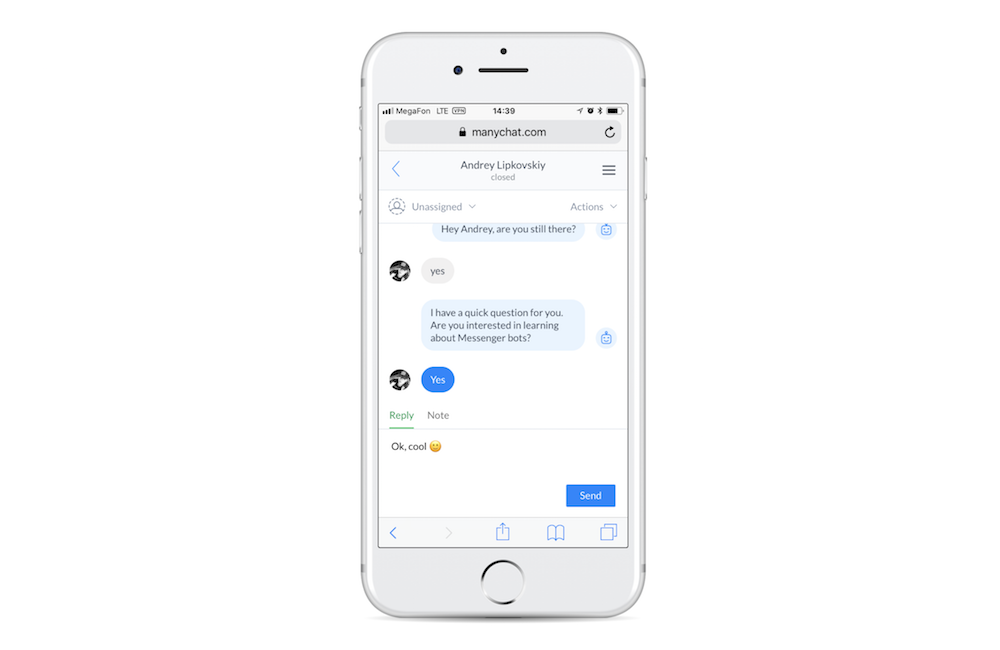 SMS Live Chat
ManyChat lets you have real-time conversations with subscribers via SMS. Product recommendations, fast customer support, up-selling, you can do it all from your dashboard.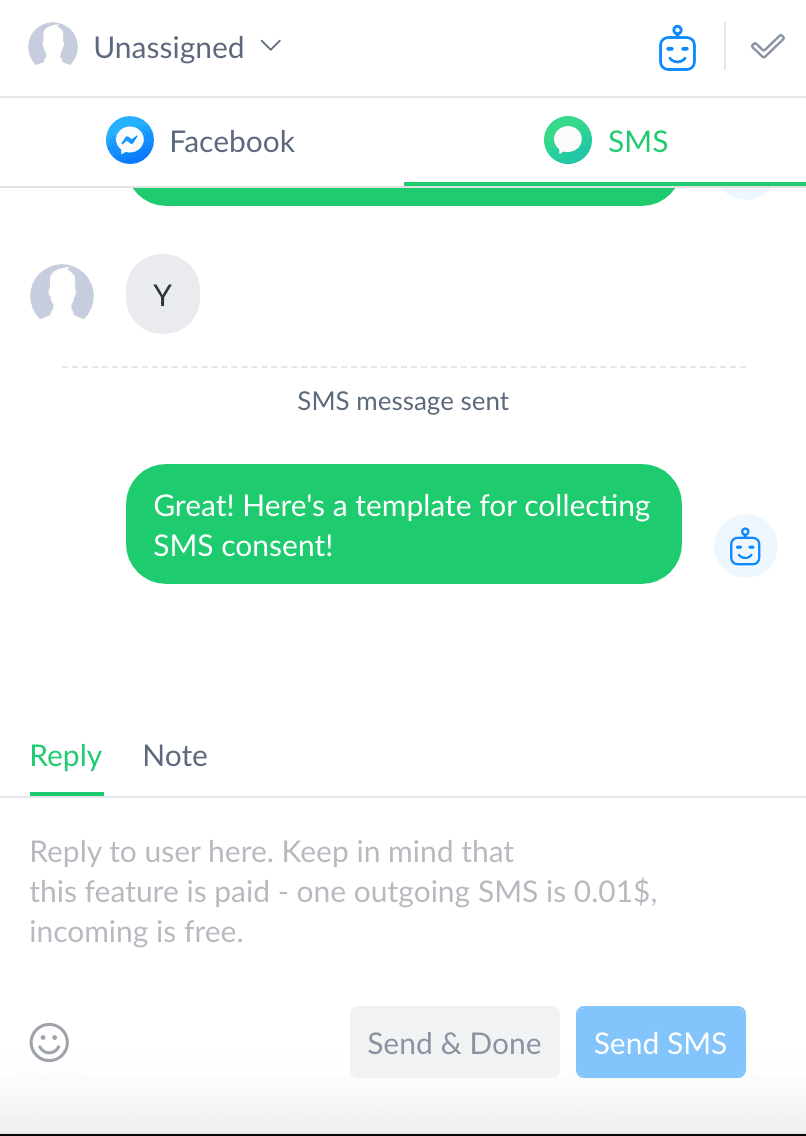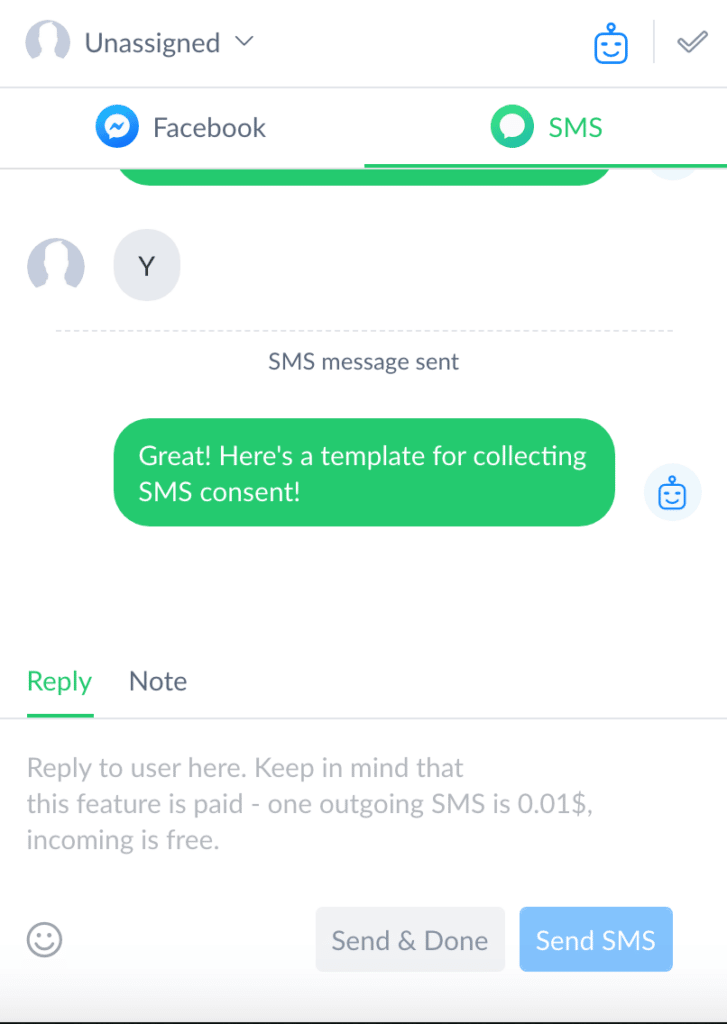 Send users to an existing flow
You can now send Live Chat conversations to a flow of your choice from the chat window. This is ideal to send users down specific product recommendation flows, coupon or discount flows, or another relevant flow that helps them achieve their goal.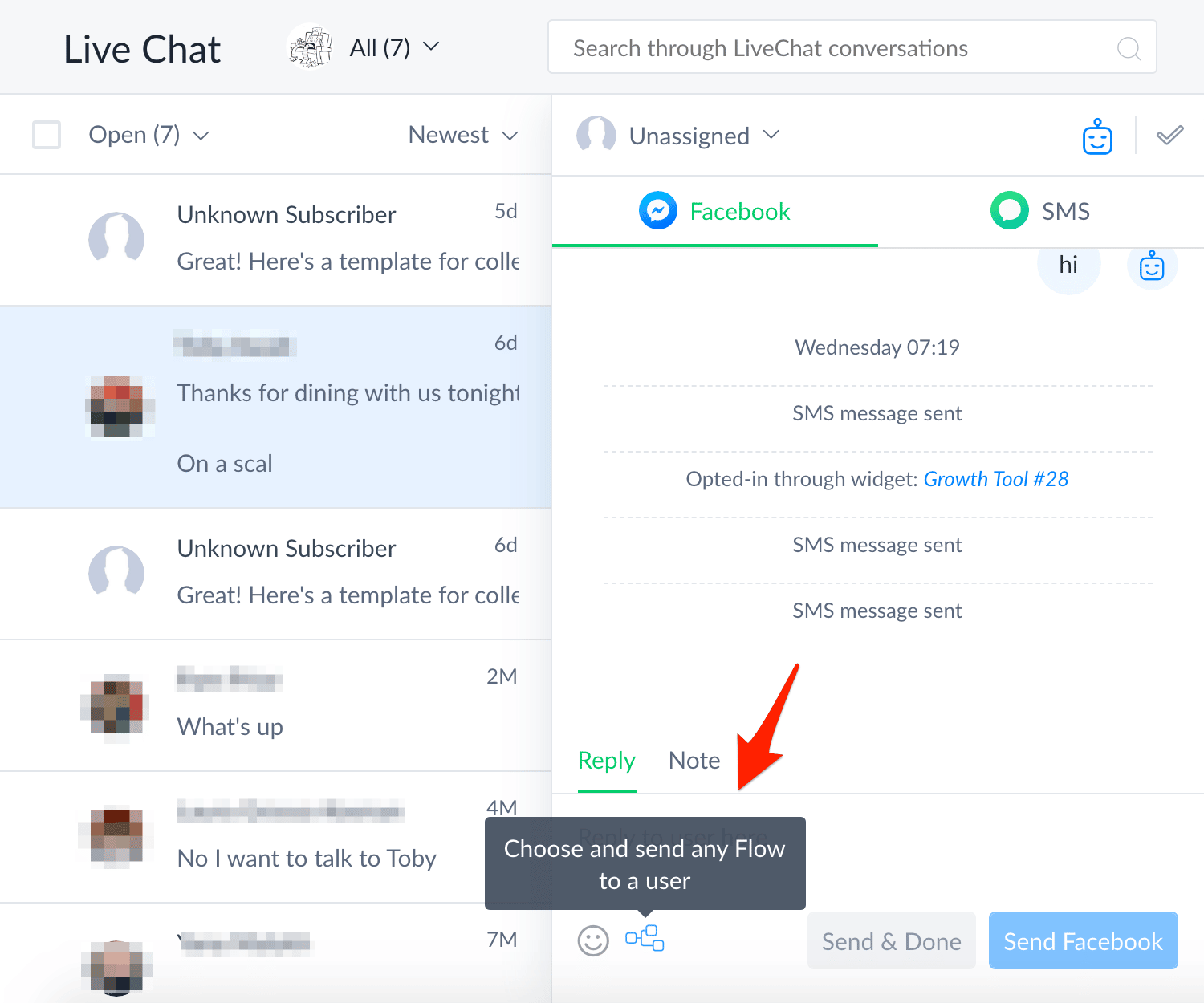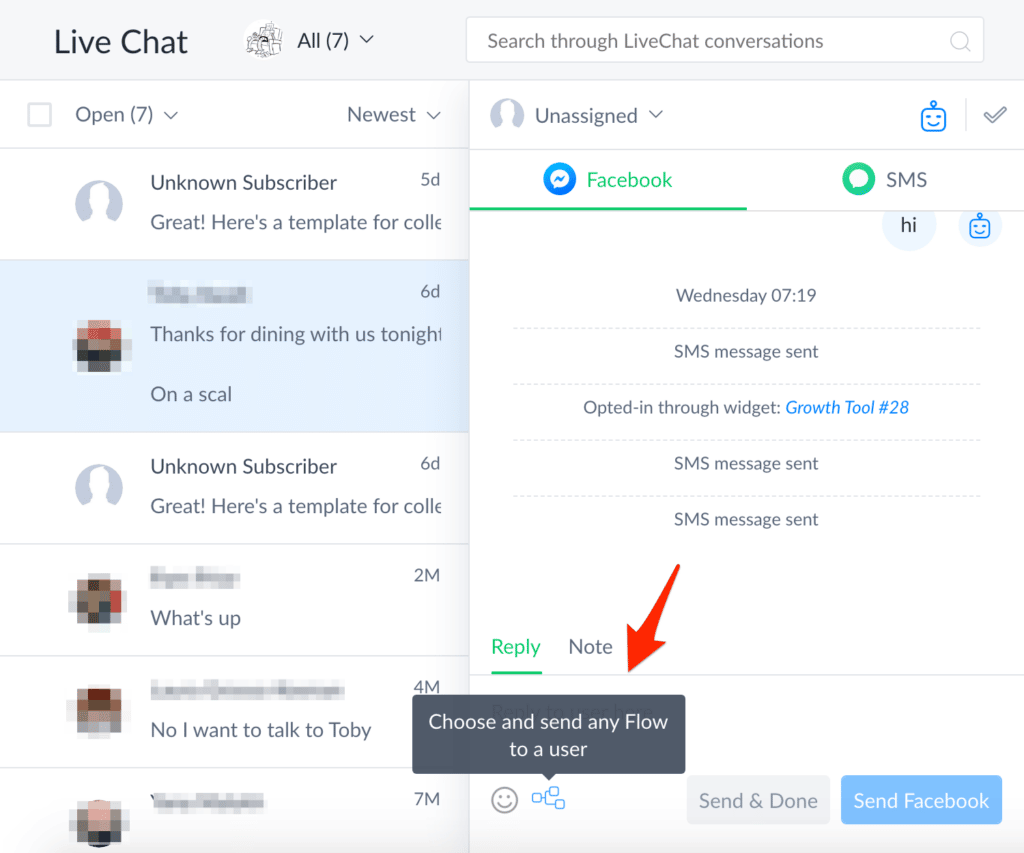 [READ NEXT: The 3 Critical Rules of Leveraging Facebook Messenger Marketing in Your Customer Relationships]
Join the Future of Marketing!
If you're starting to realize the immense potential of Messenger Marketing, I have good news: You can start building your own chatbot for FREE with a new ManyChat account.
With a free account you can build out sequences, flows, keyword responses, and growth tools. Send out unlimited broadcasts to your followers. And, of course, keep touch with your leads and customers with Live Chat.
Get started with a free ManyChat account today.
O conteúdo deste blog foi preparado de forma independente e destina-se apenas a fins informativos. As opiniões expressas são de responsabilidade do autor e não refletem necessariamente a posição do ManyChat ou de qualquer outra parte. Os resultados individuais podem variar.