Turning Likes Into Dollars Online: Social Commerce Explained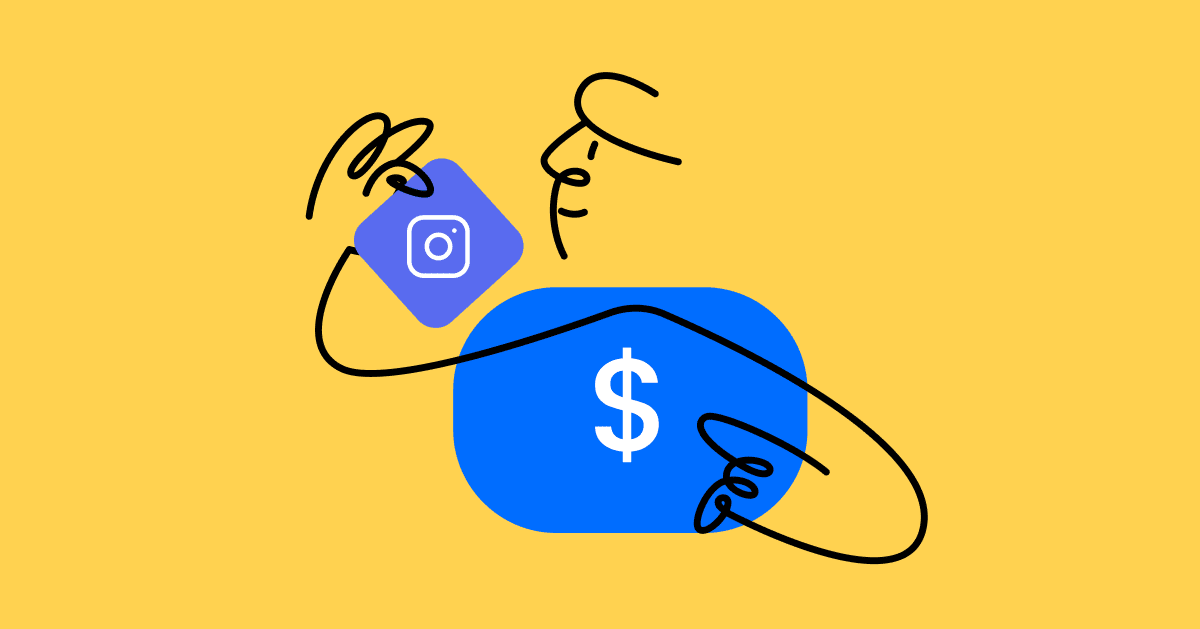 Most brands don't sell on social media because they think people use it only for product discovery and engagement—not for buying things. But as it turns out, turning likes into dollars isn't the obstacle you may think it is.
Social commerce refers to buying and selling goods on a social media platform. It's a new business model that takes social media one step beyond discovery and engagement by encouraging people to buy directly from their preferred apps.
In this guide, we'll cover:
How social commerce works
Social eCommerce (also known as social shopping) is the practice of selling products to consumers directly through social network platforms such as Facebook, Instagram, and TikTok.
Within these apps, businesses can set up "shops" or "storefronts" on the platforms. Customers can browse products inside the shop, or they can follow a link you've included in a post or ad directly to a product information page. Businesses can also set up a checkout using a service such as Facebook Pay, hosting the entire shop experience in a social media app.
Now that businesses are no longer limited to linking to an external product page, customers can purchase products without leaving their preferred apps. This seamless flow reduces purchase friction and greatly improves the online shopping experience.
Social commerce benefits
Speaking of improvements, there are several benefits to incorporating social commerce into your overall business strategy. Here we'll go into the top three, which are particularly helpful for new or small businesses.
Builds social proof
If you're small or just starting out, convincing people to buy your products (let alone leave feedback) is challenging, to say the least.
With social media sites, though, it's easy for customers (and influencers) to share reviews with your brand and their network. They can also tag friends they think would be interested in products tagged in posts, as illustrated in Men of Manual's post below:
As more Instagram users tag each other in a form of electronic word-of-mouth (eWOM!), potential customers can see that multiple people are interested in the products they're shopping for. In some cases, purchasers will leave feedback, which offers the social proof needed to help others make their decisions.
Increases conversions
One of the reasons eCommerce businesses may struggle is because of the huge cart abandonment rates across various industries—an average of 69.80% overall. However, social commerce can resolve many of the top reasons for abandonment.
Social commerce can help minimize cart abandonment because it removes several of the top barriers to purchase (see above), including having to create an account, a long checkout process, and entrusting credit card information to an external site.
If you're already using social media marketing for top-of-funnel content, having a storefront in the social media app itself provides a natural, easy progression from your existing customer engagements to purchase.
Increases potential reach
While eWOM can substantially increase your reach, using social commerce also allows you to set up a store that's available to an existing user base of millions. Facebook shops alone enjoy over 250 million user interactions every month.
Even better, the number of people using social media for product discovery and to buy products increased by 43% and 36%, respectively, from 2019 to 2020 and is set to increase further still in the coming years.
Social commerce sales growth
The social commerce market is growing. Fast. The Social Commerce report by eMarketer suggests that retail sales through social commerce will rise by 34.8% (to $36.09 billion) in 2021, representing 4.3% of all online retail shopping.
Even more promising, the number of social commerce buyers in the U.S has increased by nearly 75% since 2017, to 80.1 million in 2020.
Of course, experts measured previous years using social channels such as Facebook Marketplace, WeChat, and VK Market well before "Shop" features were available on social media.
Seeing as the social commerce platforms available change rapidly, it's worth taking a look at these newer platforms and what they have to offer businesses and consumers.
Types of social commerce platforms
This section will cover the leading shoppable social platforms' features and some of the more technical details involved in creating a shop on their apps.
Facebook Shops
The first social platform we'll look at is Facebook. Facebook released its Shop feature back in May 2020 to help small businesses sell products online without the hassle of building a whole eCommerce site.
At the moment, only stores based in the U.S have access to the in-app checkout feature (featured below in its entirety):
With a Facebook Shop, businesses also have the added bonus of being able to sell from their catalog in Messenger using Facebook Messenger Payments and eCommerce platform integrations. You can funnel potential customers into Messenger by running a ton of fun strategies, like setting up a giveaway or even by going live on Facebook.
Setting up a Shop on Facebook is free if you have a business account. However, there are associated selling fees when people purchase products through your Shop (a flat fee of $0.40 USD for shipments $8 or less; 5% of anything over).
Instagram Shops
Let's move onto another platform in the Facebook ecosystem: Instagram. Technically speaking, Instagram released its shopping functionality (and tagged products) way back in 2016, but it was limited to a few retailers.
However, since its relaunch—coinciding with the release of Facebook Shops and Facebook Pay—anyone can set up a store. The design is virtually identical to a Facebook Shop's layout, with the exception of Instagram branding and colors:
The selling fees and requirements are the same (and the Checkout feature is also currently limited to U.S businesses), which makes sense given that Facebook owns Instagram.
Some key social commerce sales features on Instagram include:
But selling on Instagram is only possible if you build connections with your followers over time. Instagram Automation by ManyChat helps you create critical interactions that will form your Instagram sales funnel and help your customers make the most of their Instagram shopping experience.
With Instagram Automation, eCommerce brands can:
Reply to FAQs on product and shipping quickly and efficiently
Reply to and like followers' comments automatically
Solve customer problems instantly
Provide human support through Live Chat
Respond to Story mentions in seconds
TikTok
Launched in 2016, TikTok is the new kid on the block. However, its 2 billion downloads in 2020 made it one of the fastest-growing apps worldwide and the hottest platform for Gen Z and influencer marketing.
Thanks to its ever-increasing popularity, getting involved in social commerce was inevitable given its significant competition with Facebook, Snapchat, and others
As it's still in the testing phase (with a very limited number of participating stores), it's quite likely there will be changes. For now, it shares many of the same functionalities as Facebook and Instagram Shops, including:
A general catalog view of listed products
Dedicated shop tab in profile
In-app checkout process (comparable to Facebook Pay)
In-post product links that send users directly to the shop
Pinterest
Want to feel inspired? This so-called "visual discovery engine" has been enabling users to effectively create online scrapbooks since 2010. Users create and curate themed "Pins" or "Pinboards" of images and videos from the internet (or ones found in the app) to inspire others and themselves.
When you think about social media platforms, Pinterest may not be the first one that comes to mind, but don't underestimate it. It has all the main features of an addictive social media platform and is well-suited to social commerce.
Seeing as its primary function is to enable collection curation, Pinterest already lends itself well to shop catalogs and product discovery. Here's how it looks:
Since the engine already works to show you "more like this," Pinterest can easily become a powerful social selling tool for any business.
However, before you take the Pinterest world by storm, you'll first need to become a "verified merchant" by applying to join their Verified Merchant Program (you must meet certain guidelines before you can be approved). Once approved, having the shop is free, but you'll get charged for your payment processors, such as Shopify or Apple Pay.
Social commerce examples
Now you know what type of social commerce platforms there are available to you, let's look at some examples of retailers that have successfully leveraged this marketing model.
HYPE.
HYPE is a UK-based clothing retailer and is one of the few brands trialing TikTok shop functionality. Below you can see the shop tab on their profile (next to their feed) which opens up their catalog:
In true social media fashion, the marketers at HYPE have created a TikTok feed of interesting videos. Inside them, they've been able to tag the products featured on the models in the video, like so:
As mentioned earlier, instead of linking out to an external website where customers can complete a purchase, TikTok offers its own checkout experience within the app. When you click the "Shop" button, it leads you to a product information page where you can select your options, provide shipping details, and pay, delivering a smooth customer experience.
The Tiny Tassel
Founded in 2015, The Tiny Tassel is a fashion brand based in South Carolina. It's also the poster store for Facebook Shops and offers a vibrant catalog of clothes and jewelery.
If you search for them on Facebook, you'll be able to hit the "View Shop" button to get to their Facebook Shop (as pictured above). However, if you navigate to their Facebook page, their "Shop Now" button takes you to their external website.
Ashley HomeStore
Pinterest has always been the place to curate home furnishing ideas, and brands like Ashley HomeStore work hard to curate the perfect product pins.
As you can see from the profile image above, the store has organized its products by categories. However, it has gone one step further by offering a "Just for you" tab, which highlights products similar to your search or browsing history.
Ashley HomeStore takes advantage of Pinterest's discoverability by posting a mix of single product photos and curated collections. However, keep this caveat in mind if you're considering using it for your own business. Pinterest's one drawback is the added friction that results from needing to click through to an external website to complete a purchase.
Illumicrate
Last on this list is Illumicrate, a UK-based subscription service for book lovers founded in 2015. Its Instagram shop contains a mix of books and merchandise, and while it has a limited selection, the retailer manages to make the most of what it has by creating ads and organic posts using the product tag feature.
Similar to HYPE's shop link, Illumicrate's call to action link is in the bottom left corner of the post—clicking it takes you to the product detail page in-app. However, since Illumicrate is a UK-based company, it isn't yet eligible for Checkout.
Inspired to build your social commerce shop?
Social commerce is a rapidly growing business model that shows no signs of slowing down. Building a shop on a popular social media platform can expose your business to a wealth of opportunities, including finding new customers and ensuring their experience from ad to sale is as smooth as possible (especially when paired with marketing automation).
With the information from this guide, you'll be able to explore how social selling might be a suitable option for you and could even be a competitive advantage for your business.
Want to automate your Facebook or Instagram sales funnel? Try ManyChat for free today.
O conteúdo deste blog foi preparado de forma independente e destina-se apenas a fins informativos. As opiniões expressas são de responsabilidade do autor e não refletem necessariamente a posição do ManyChat ou de qualquer outra parte. Os resultados individuais podem variar.