ManyChat Sequences: How to Build Automated Follow-Up Campaigns in Facebook Messenger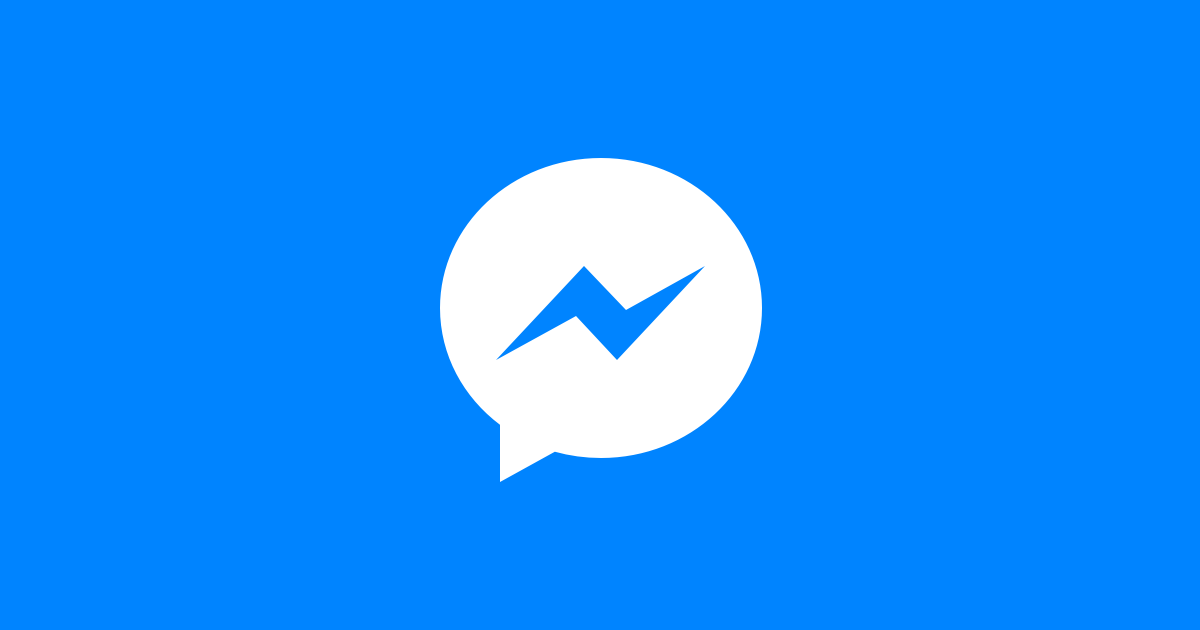 This post originally appeared on The Daily Egg by Daniel Threlfall.
Read the original post here.
The following has been gently edited for clarity and updates by the ManyChat Team. Enjoy!
Do you ever think about how much money you might be wasting on Facebook?
I've done it. And I've hated myself for it.
It happens.
You pour time and money into an ad campaign only for it to fall flat on its face. Often, that's not your fault – it can be difficult to stand out on a site that has billions of users.
At the same time, Facebook is an undeniable marketing juggernaut. Its reach is unlike any other site, and it'd be silly not to use it.
So, there's an important question:
How do you leverage the platform and get more people to pay attention to you?
The newest approach is utilizing Facebook Messenger Marketing.
Businesses everywhere rejoiced when Facebook revamped Messenger to allow users to communicate directly with brands.
More recently, Facebook Messenger chatbots have become the new hot topic in marketing.
Chatbots take most of the work off your hands, and they have serious benefits. You can engage your customers and even qualify your leads with chatbots.
You can also use these chatbots to create Messenger sequences. Think of it as an email autoresponder sequence that happens in Facebook Messenger.
It's an incredible resource to have, and it's not that difficult to set up.
In this article, you'll learn how to create a Messenger sequence of your own using ManyChat. Open up your Facebook, and let's get started!
Get Started With ManyChat Sequences: Sign up for a ManyChat account
ManyChat is completely free, and while it has paid plans, you don't need them to get started.
Head to ManyChat.com and sign up by clicking on the big "Get Started Free" button in the middle of the page.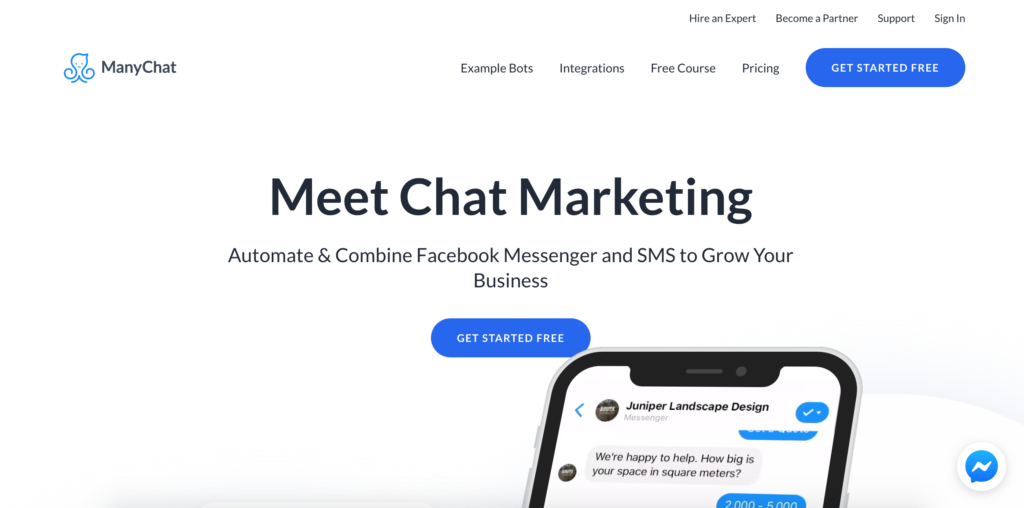 You'll need to sign in with your Facebook account by clicking the blue button.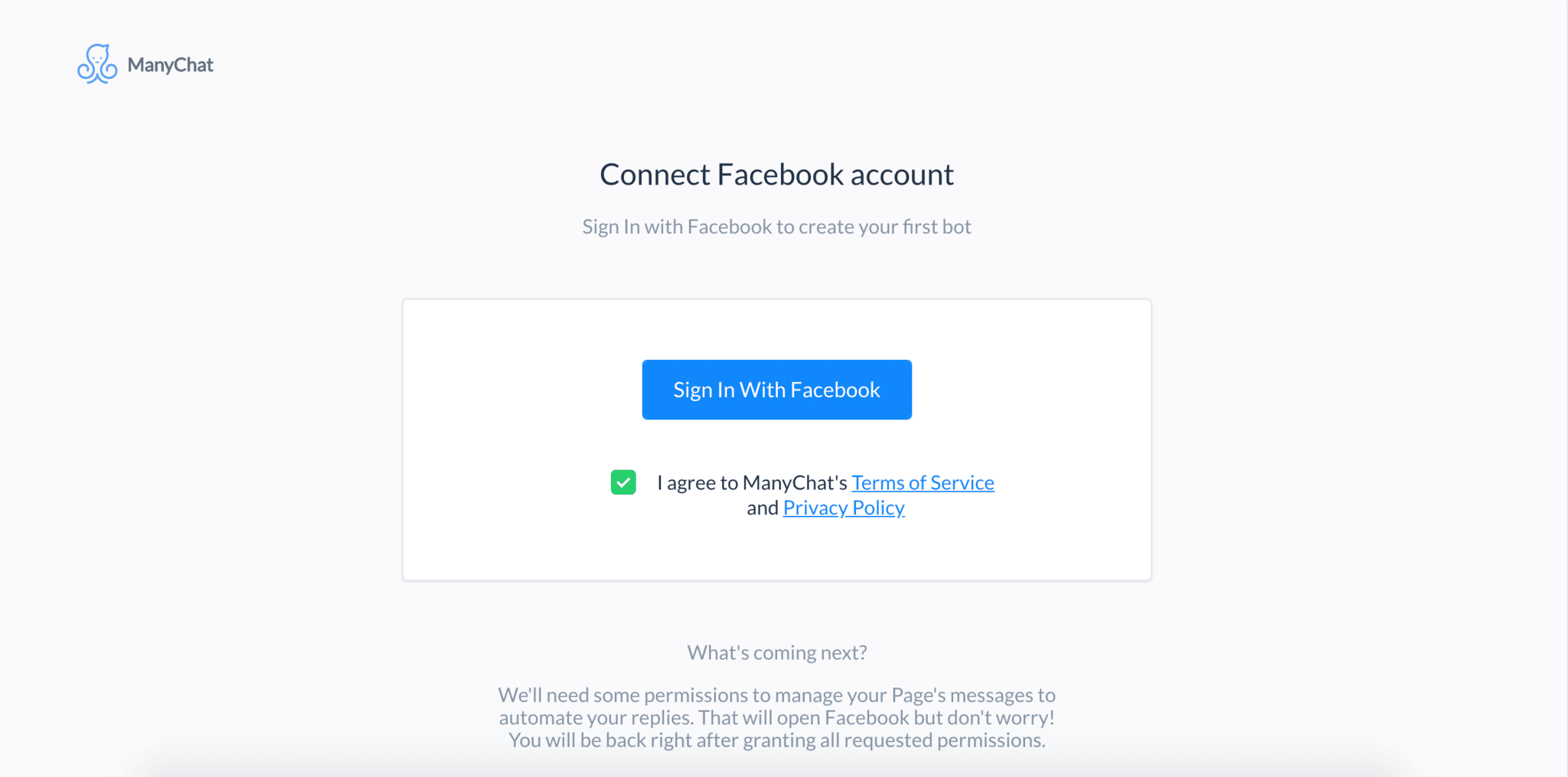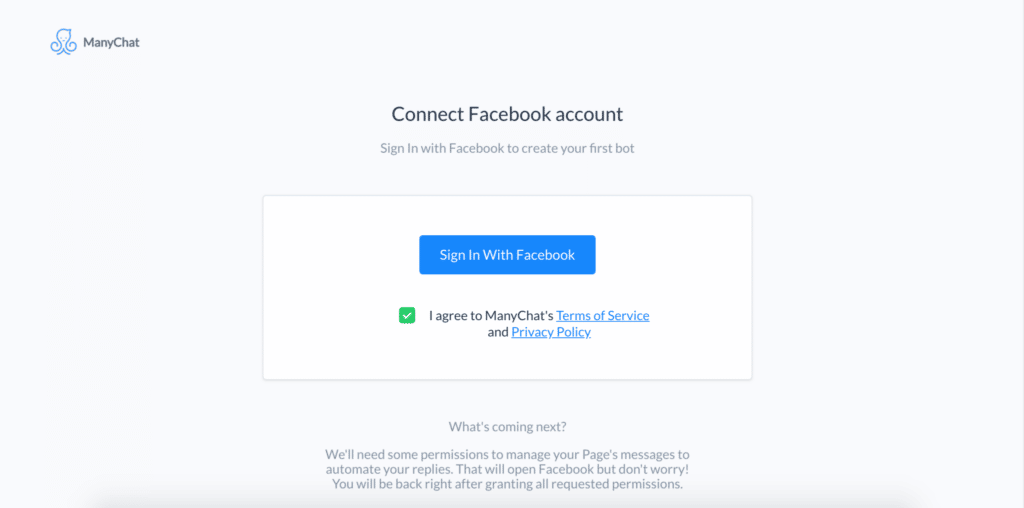 You'll be redirected to Facebook to complete the sign in process.
Next, you'll need to give ManyChat permissions so it can do its thing.
Click "OK."
(Don't worry, it won't violate your privacy in any way. ManyChat just needs these permissions so the bot can send automated messages.)
On the next page, find the Facebook Page you want to use and click "Connect."

Get Started With ManyChat Sequences: Setting Up Your First Sequence
Go to the sidebar on the left side of the page and navigate to Automation > Sequences. Here's what you should see: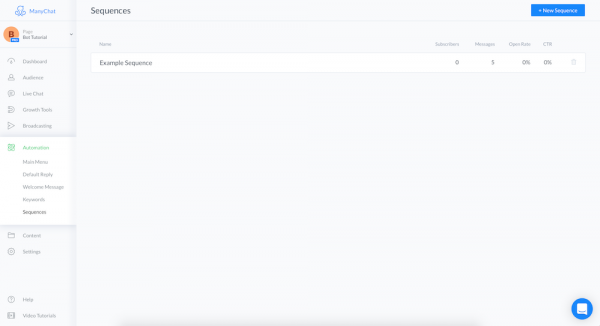 You might be a little confused to see an existing sequence here. ManyChat provides you with one so you can see the different parts of it.
If you click on the "Example Sequence" text, you can see each message within the sequence.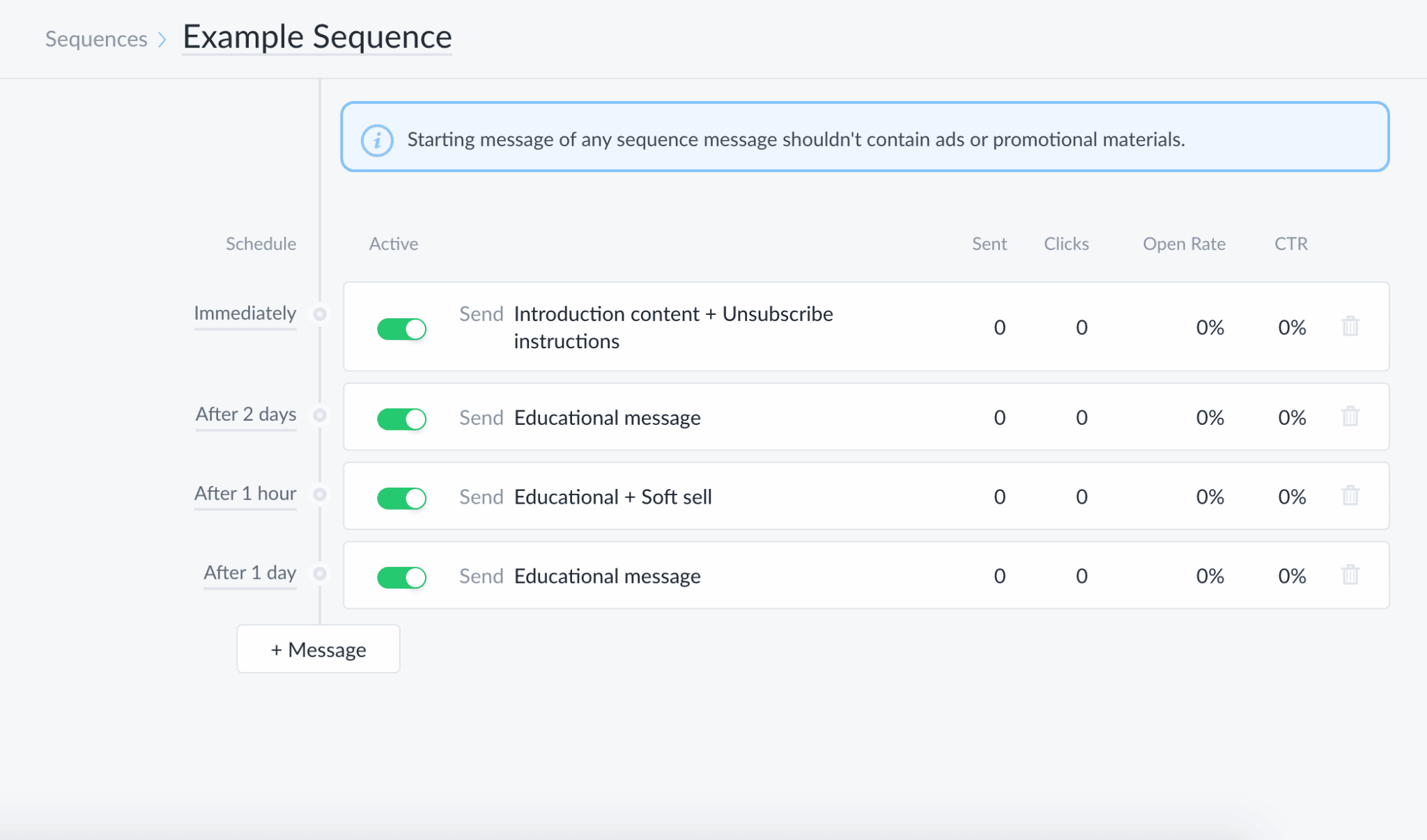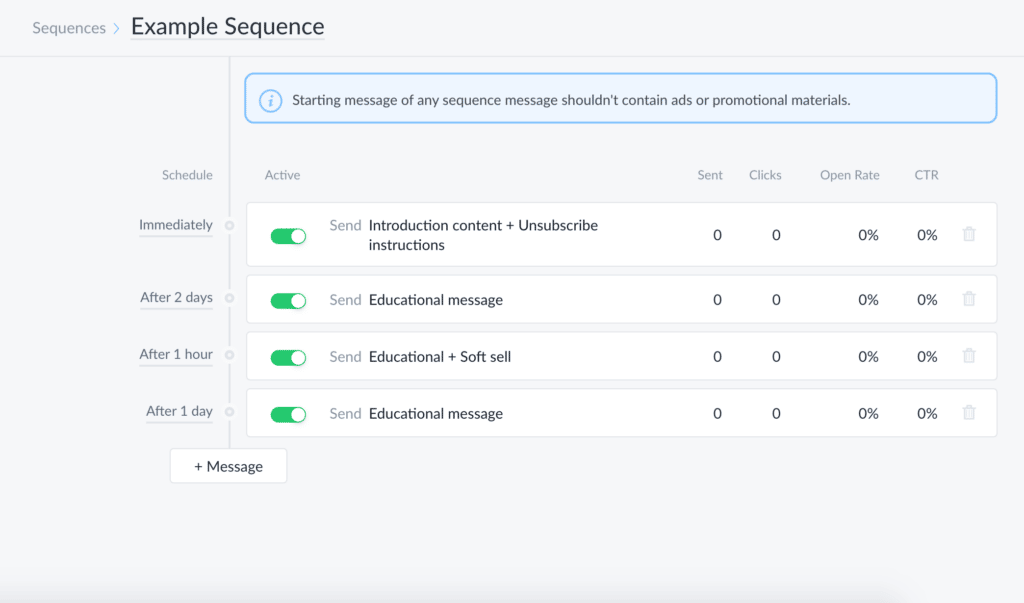 And if you click on the text of each message, you can see the message itself. Let's say you click on "Introduction content + Unsubscribe instructions." You'll see this: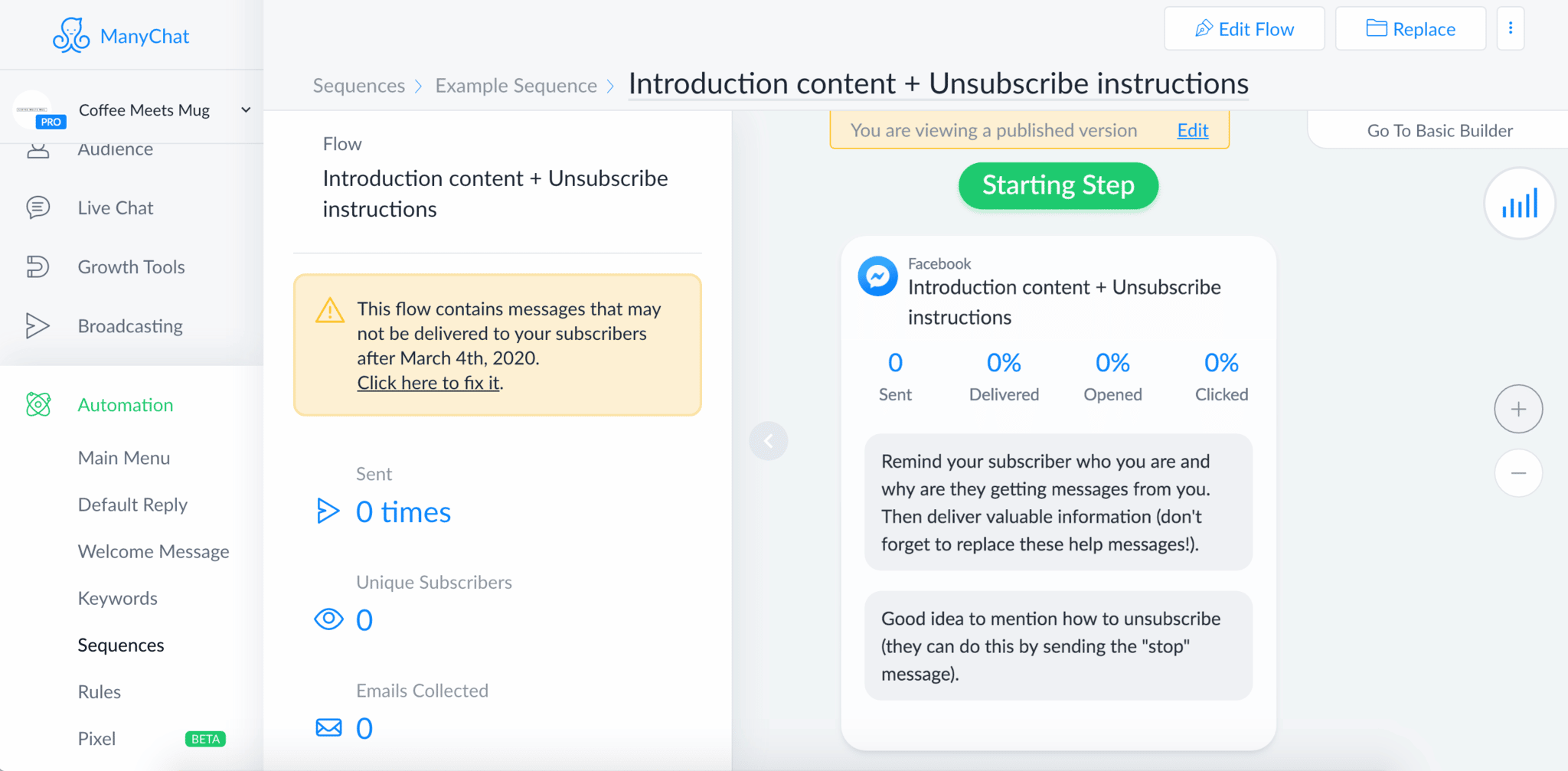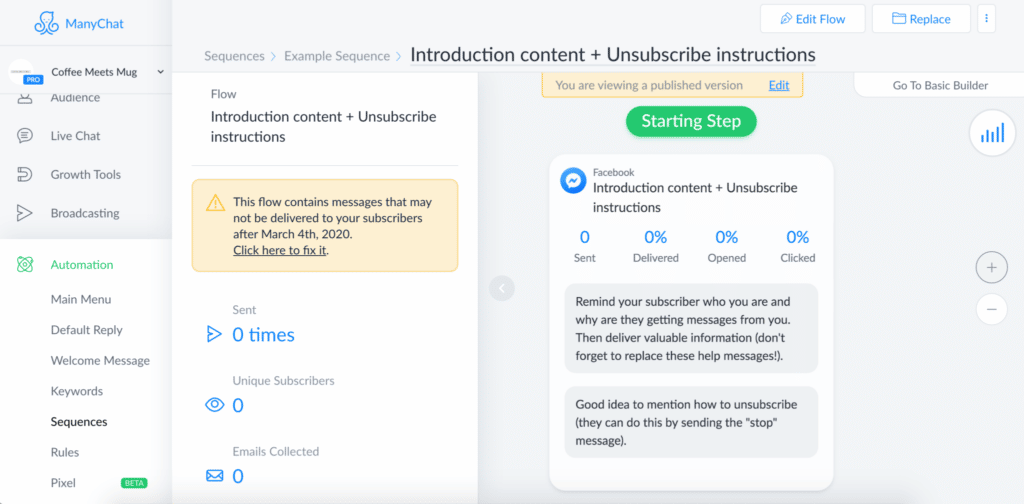 Take some time poking around here to get familiar with the ManyChat interface and the way messages are structured within a sequence.
Now that you know the different parts of the sequence, head back to the main Sequences page.
You can go ahead and delete this example sequence if you want. You can do that by clicking the gray trash can icon on the right side of the bar.
Then head up to the blue "+New Sequence" button and click it to create a new sequence of your own.


Give it a name and hit "Create." For the purposes of this article, we'll call our sequence "The Best Sequence Ever."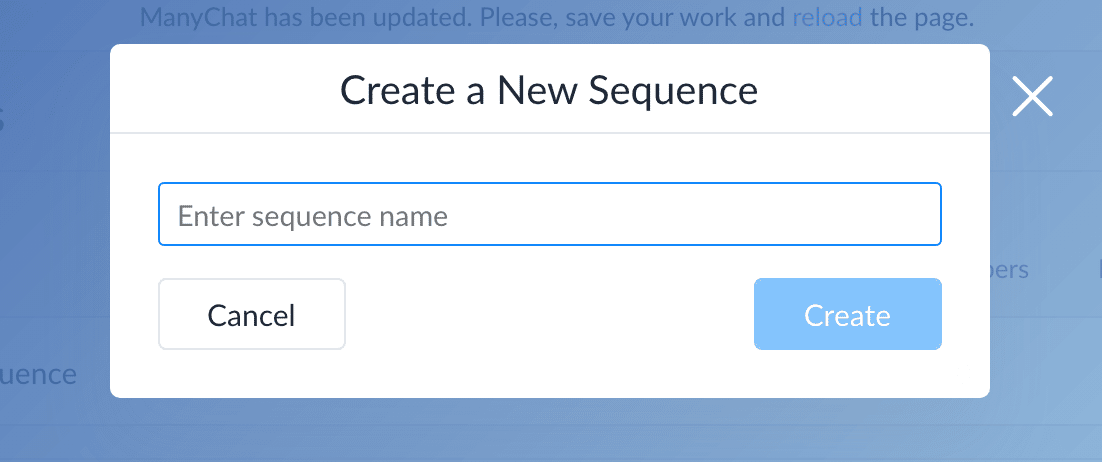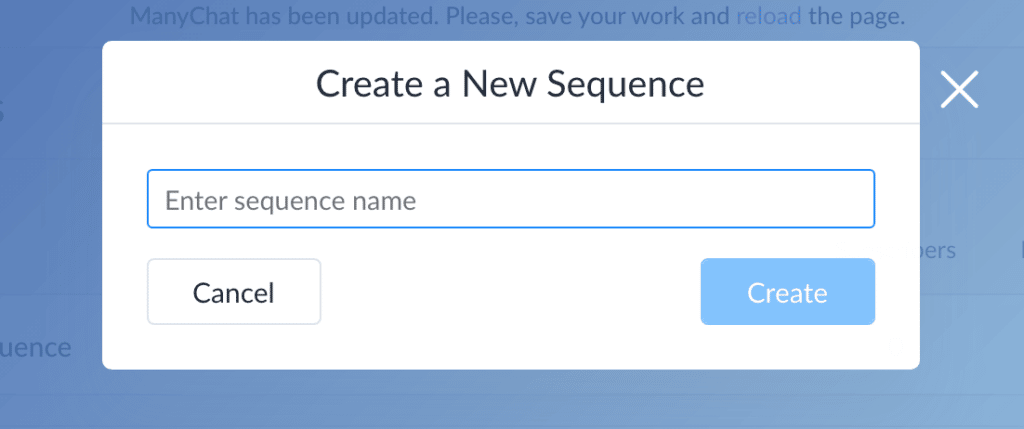 Click "This Button" to create a new message.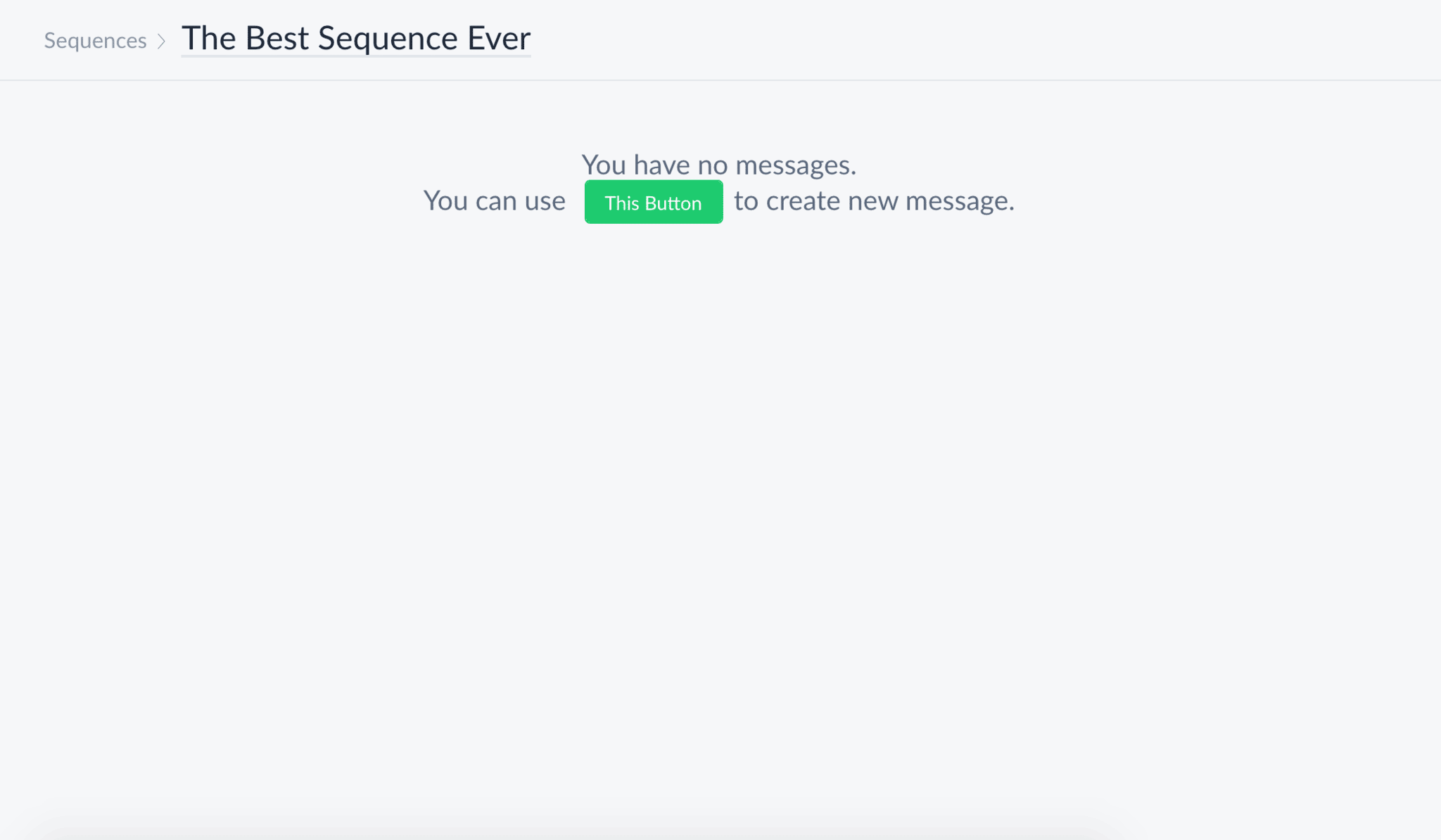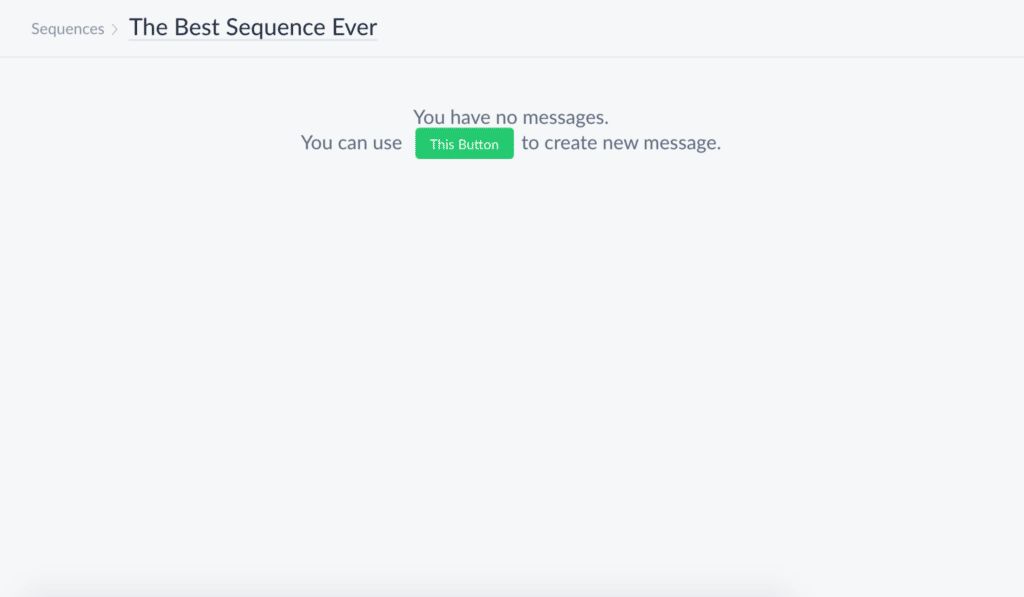 Choose "Create New Reply" on the following screen.


Then create your first message in Flow Builder.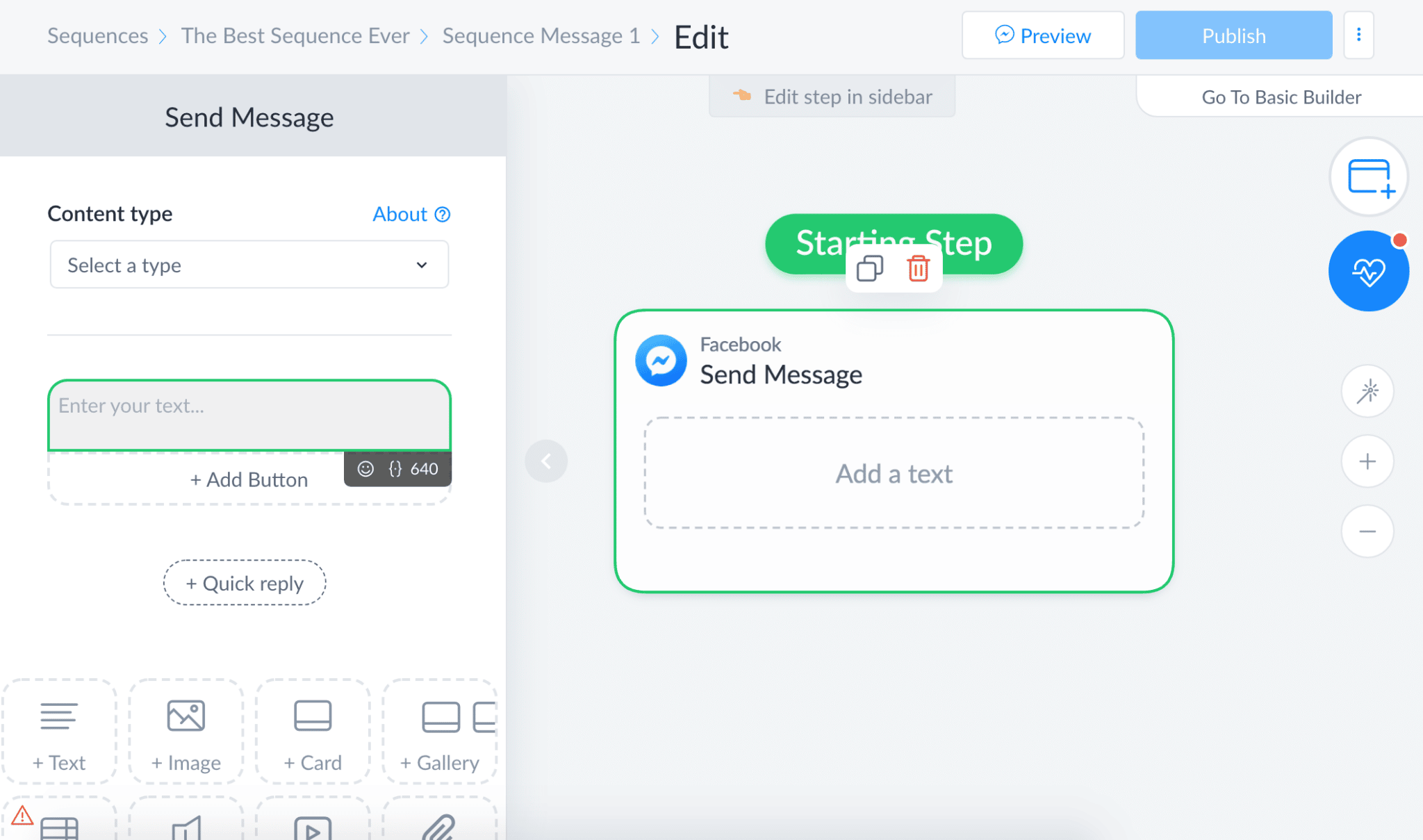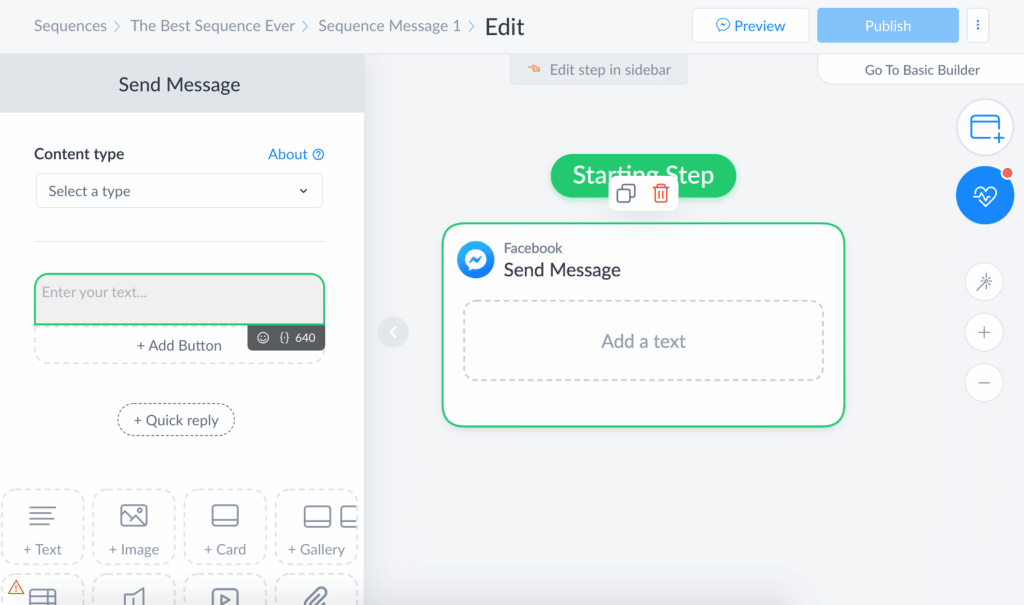 Now you want to add buttons. Buttons are what your users will click to send responses. You create these responses in advance to help guide your user through the ManyChat sequence. It's a lot like a quiz where the user selects from a few options.
To get started with buttons, click on the "+Add Button" text that's right below the gray text box.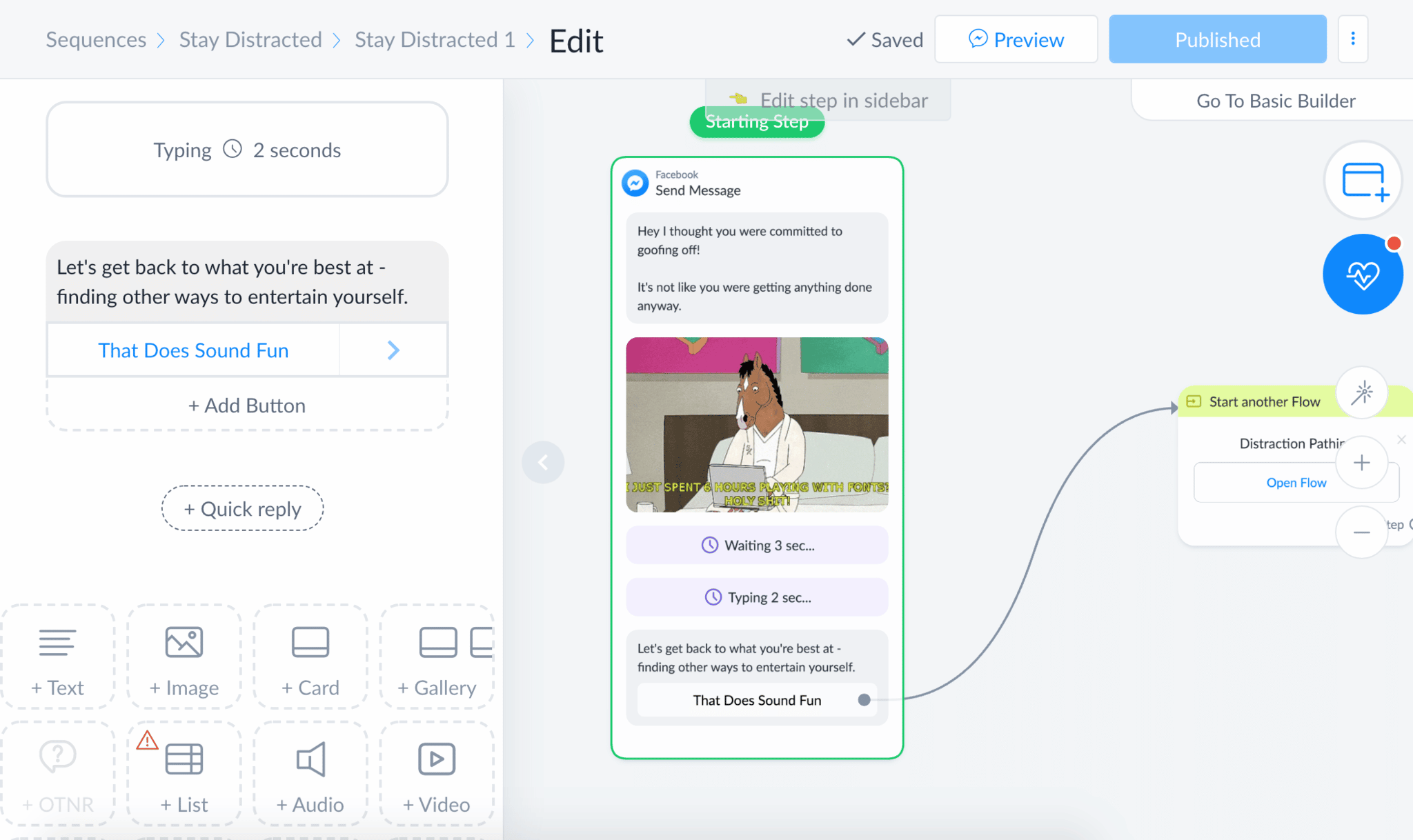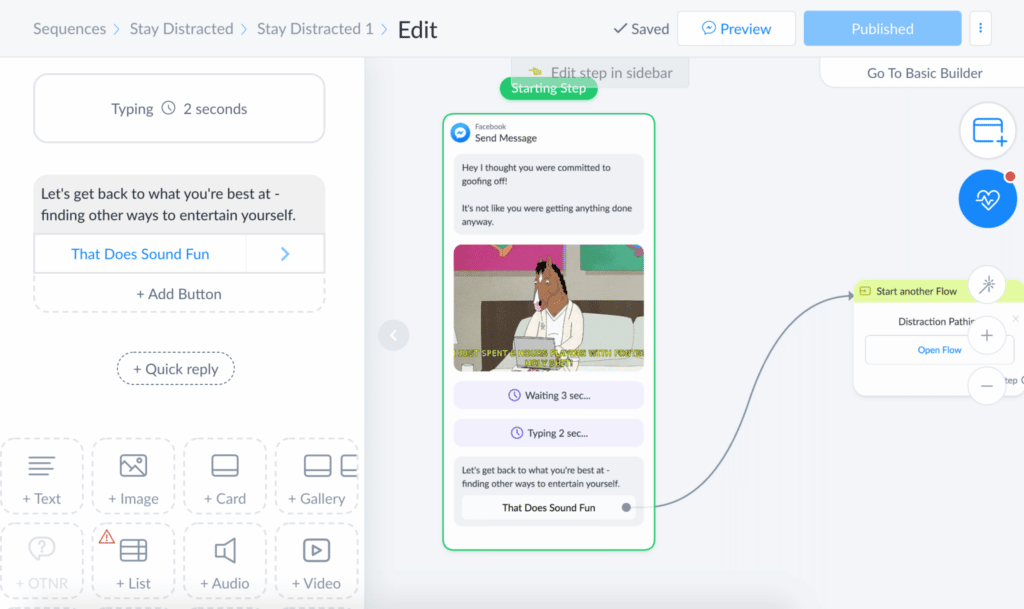 You'll see a pane pop up that has a bunch of options.
Start by changing the button title.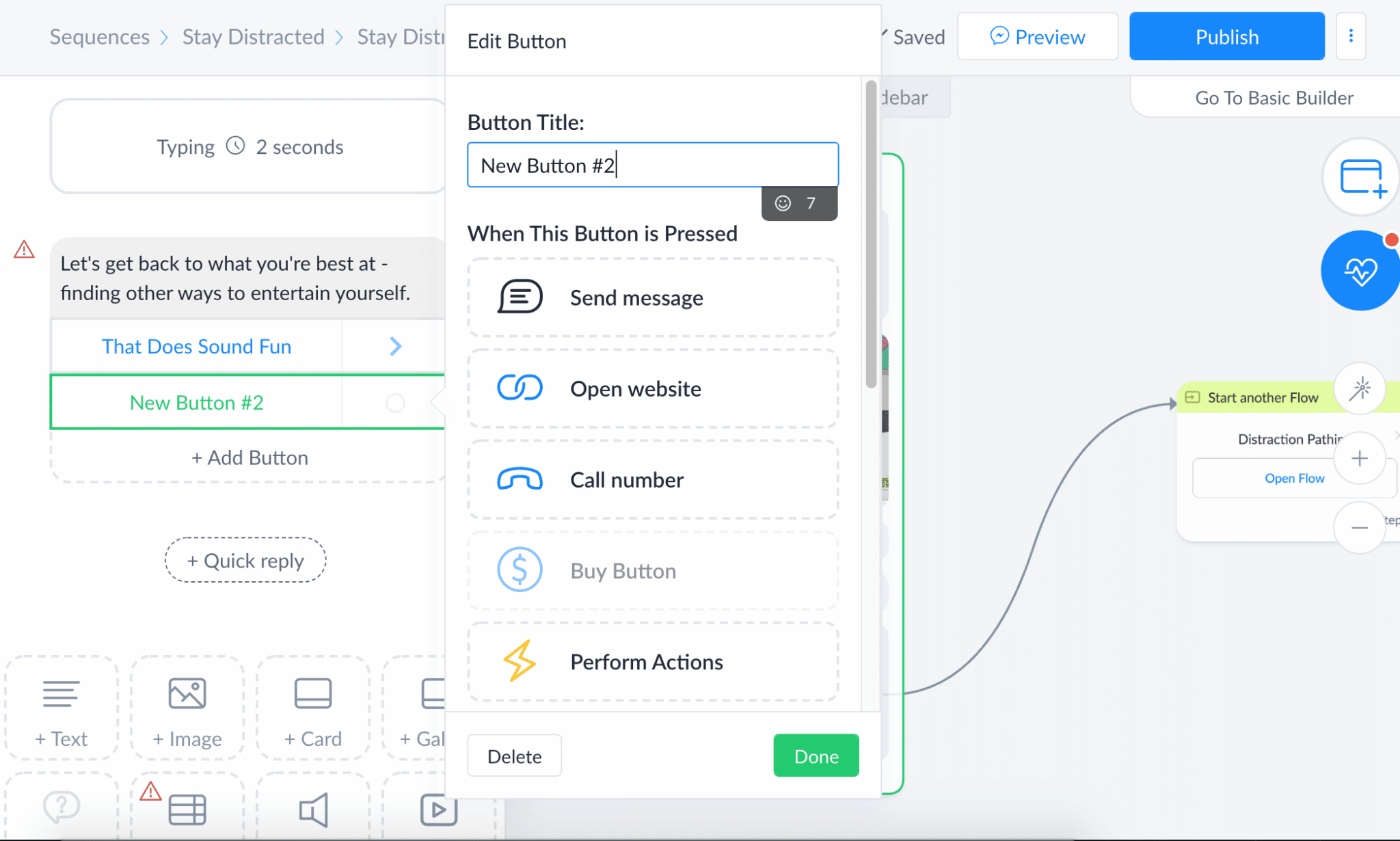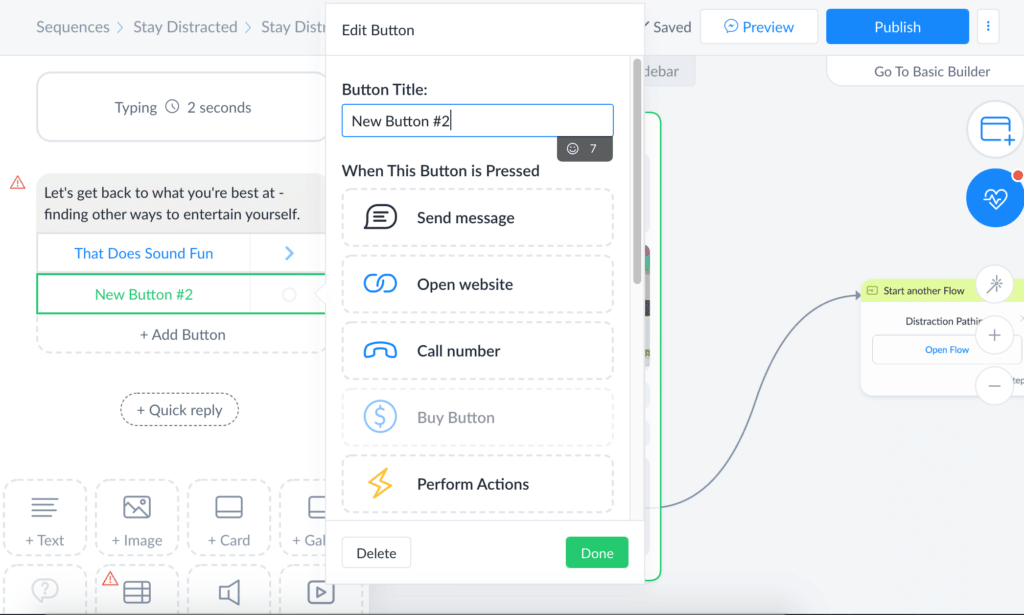 Now you'll decide what happens when the user presses the button. In most cases, you'll want to reply with a message. You could also send the user to another flow or add an SMS or email step to the message.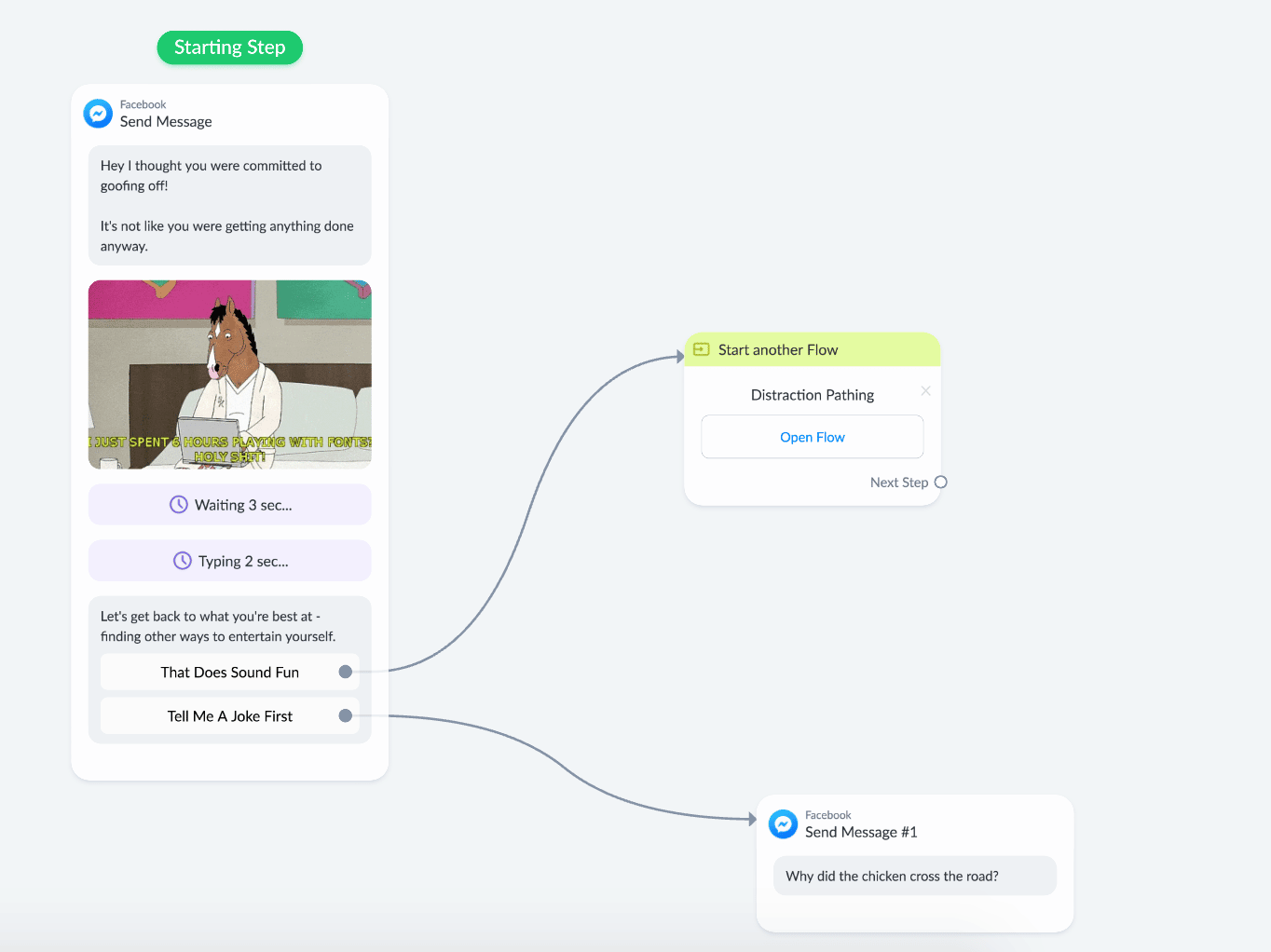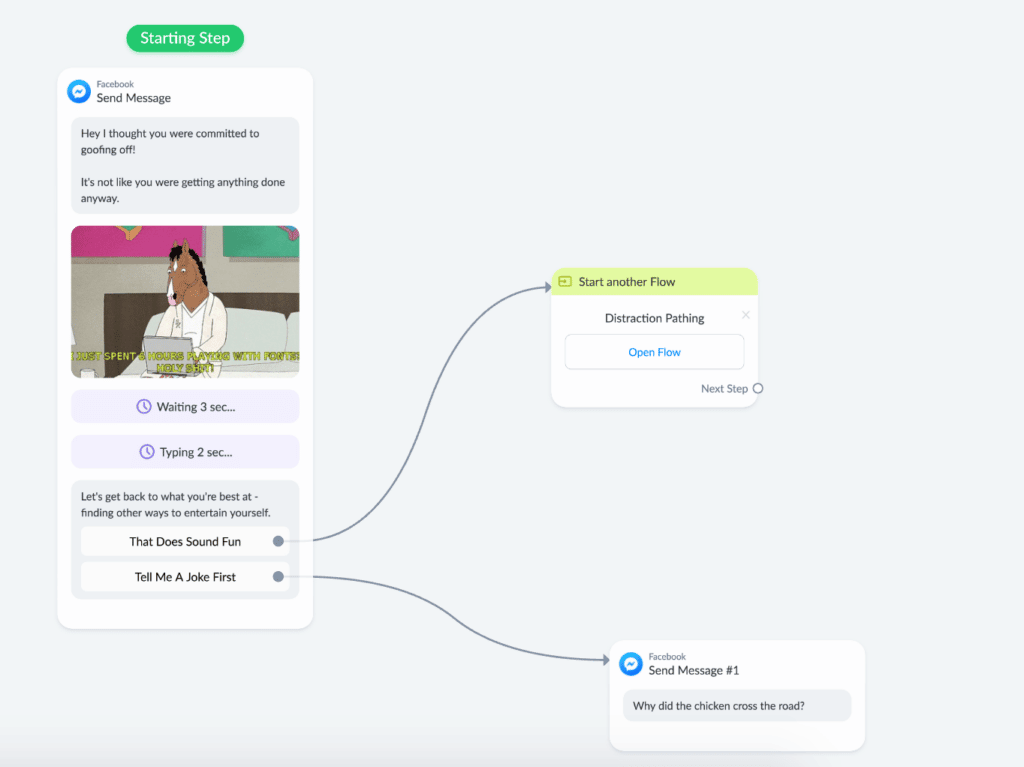 You can edit more, but for now, finish up by clicking the blue "Publish" button in the top right corner.
That's the basics of creating a message in your sequence.
Once you've published it, make sure it's active by going to your sequence page and toggling the button so it turns green.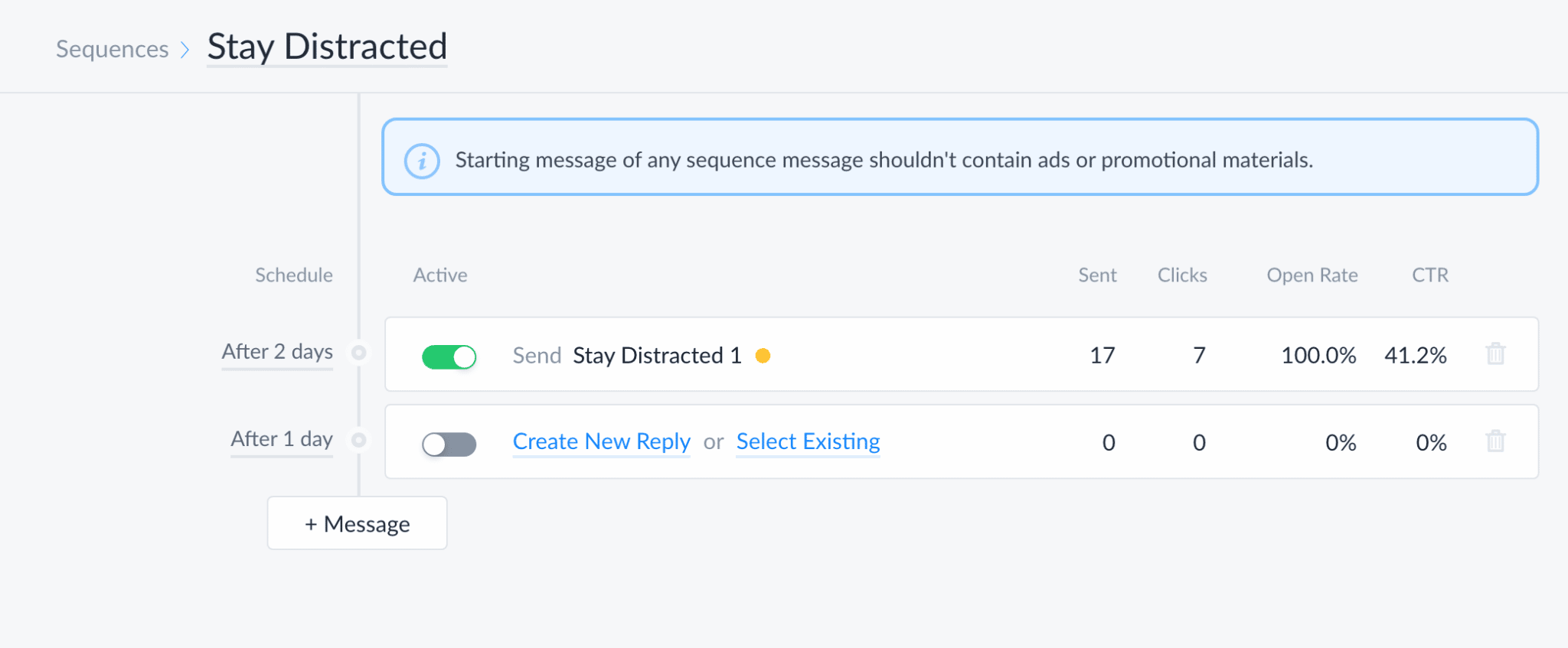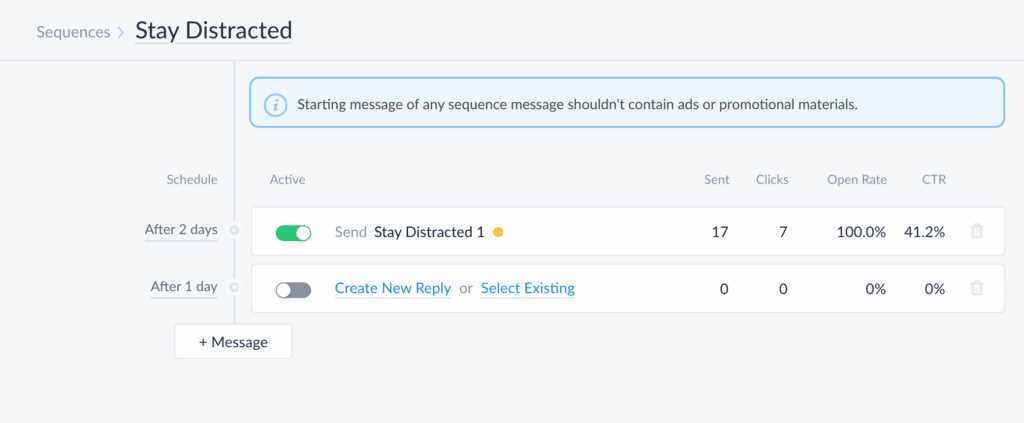 You'll have to do this for every message that you want to use.
Get Started With ManyChat Sequences: Finishing Your Sequence
After your first message is done, you can simply repeat that entire process to create another message.
Head to your sequence page and click on the "+Message" button to add a new message.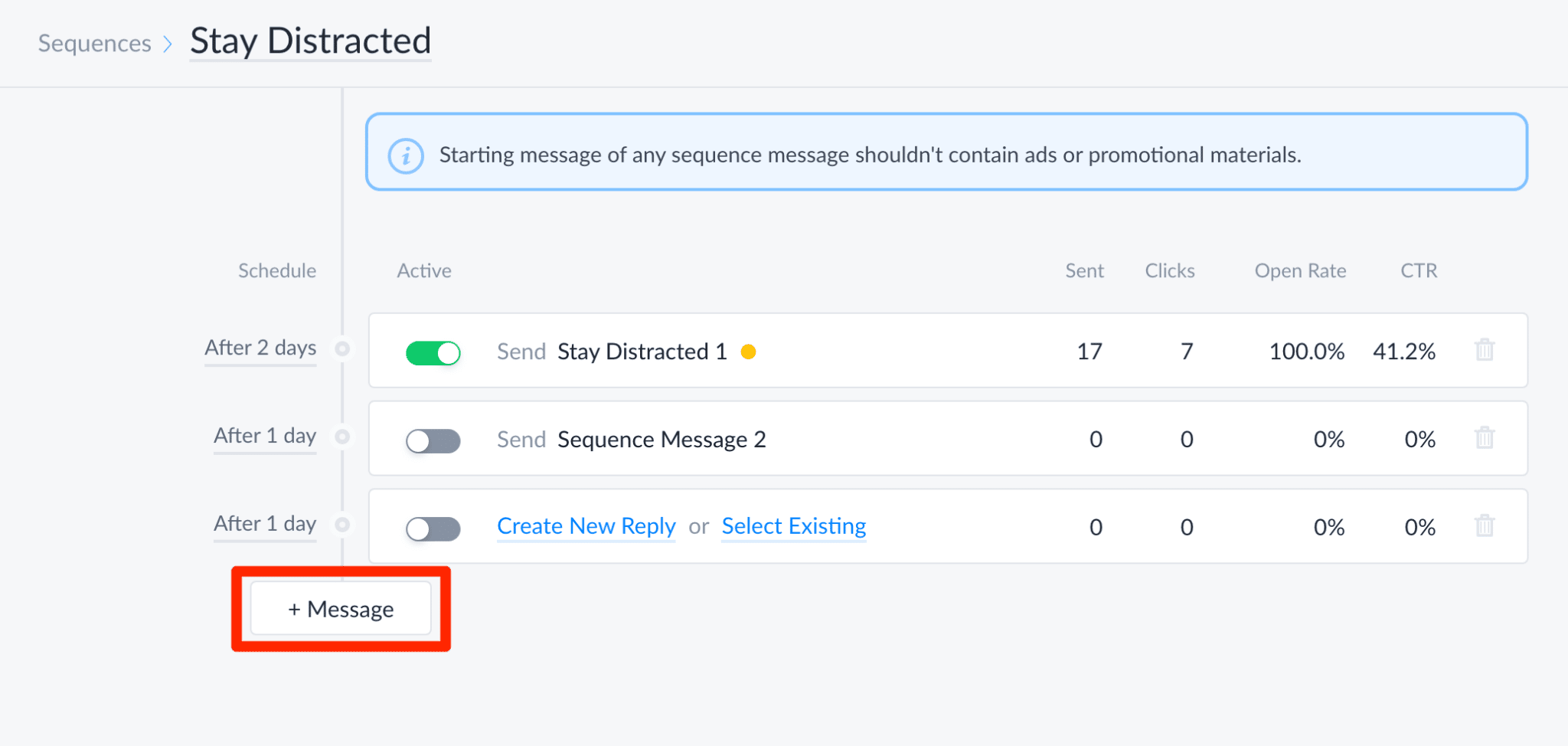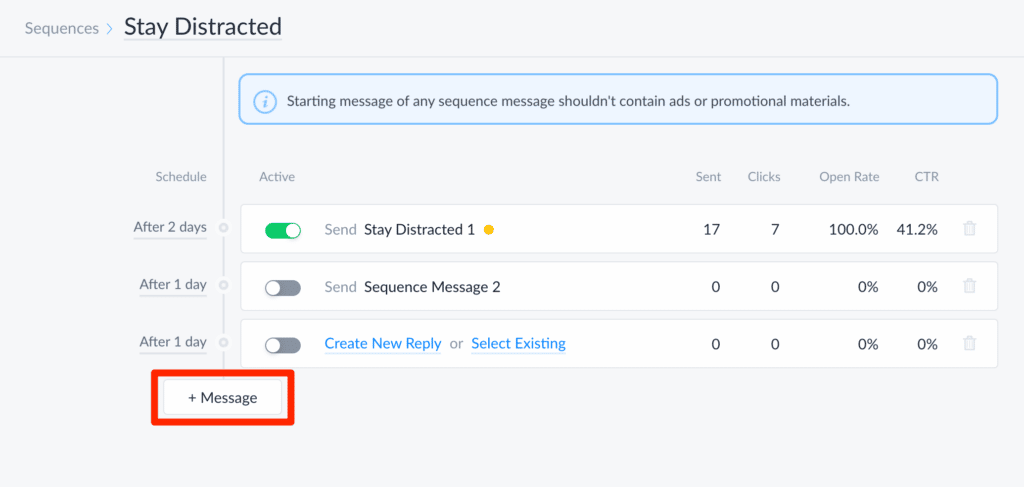 A new message will pop up, and you can edit it by choosing to create a new reply or select an existing one.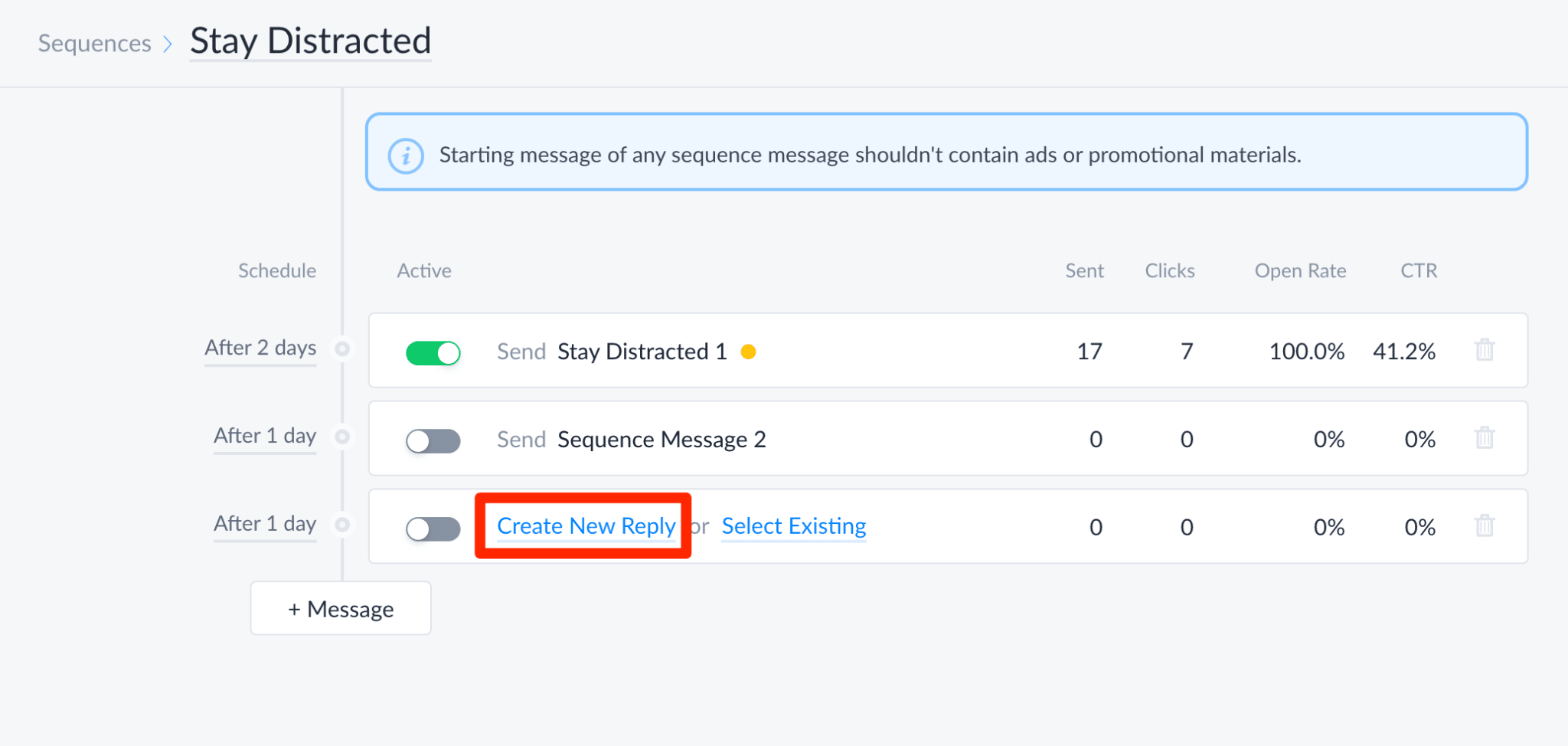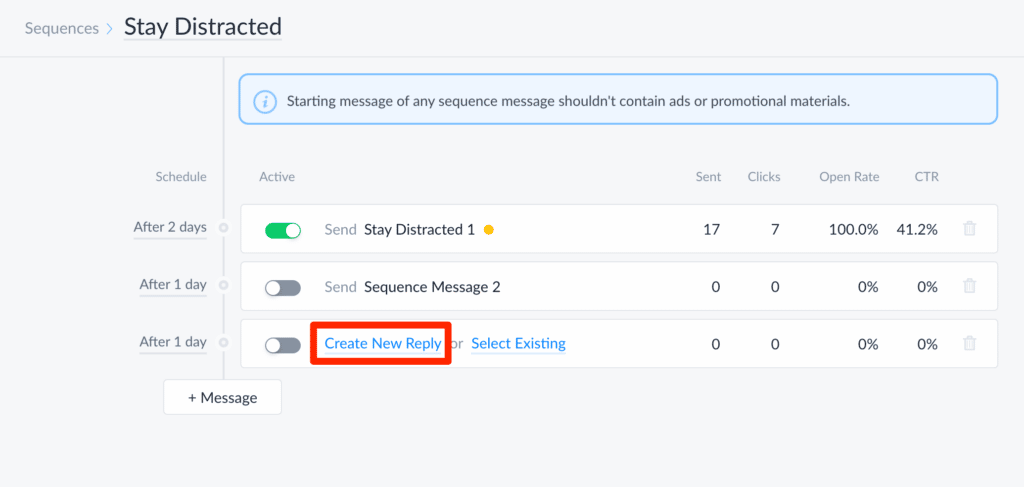 If you click "Create New Reply," you'll be able to create an entirely new message from scratch. "Select Existing" lets you use and tweak a response you've already made.
You can repeat this process until you have all the messages in your sequence that you want.
Since you're familiar with the basics, let's look at some more advanced tips that will give you even more control over your ManyChat sequence.
Get Started With ManyChat Sequences: Tips for Sequence Success
ManyChat Sequence Tip #1: Changing The Time Delay
Every message is delivered after a certain timeframe. You can see these times on your sequence page: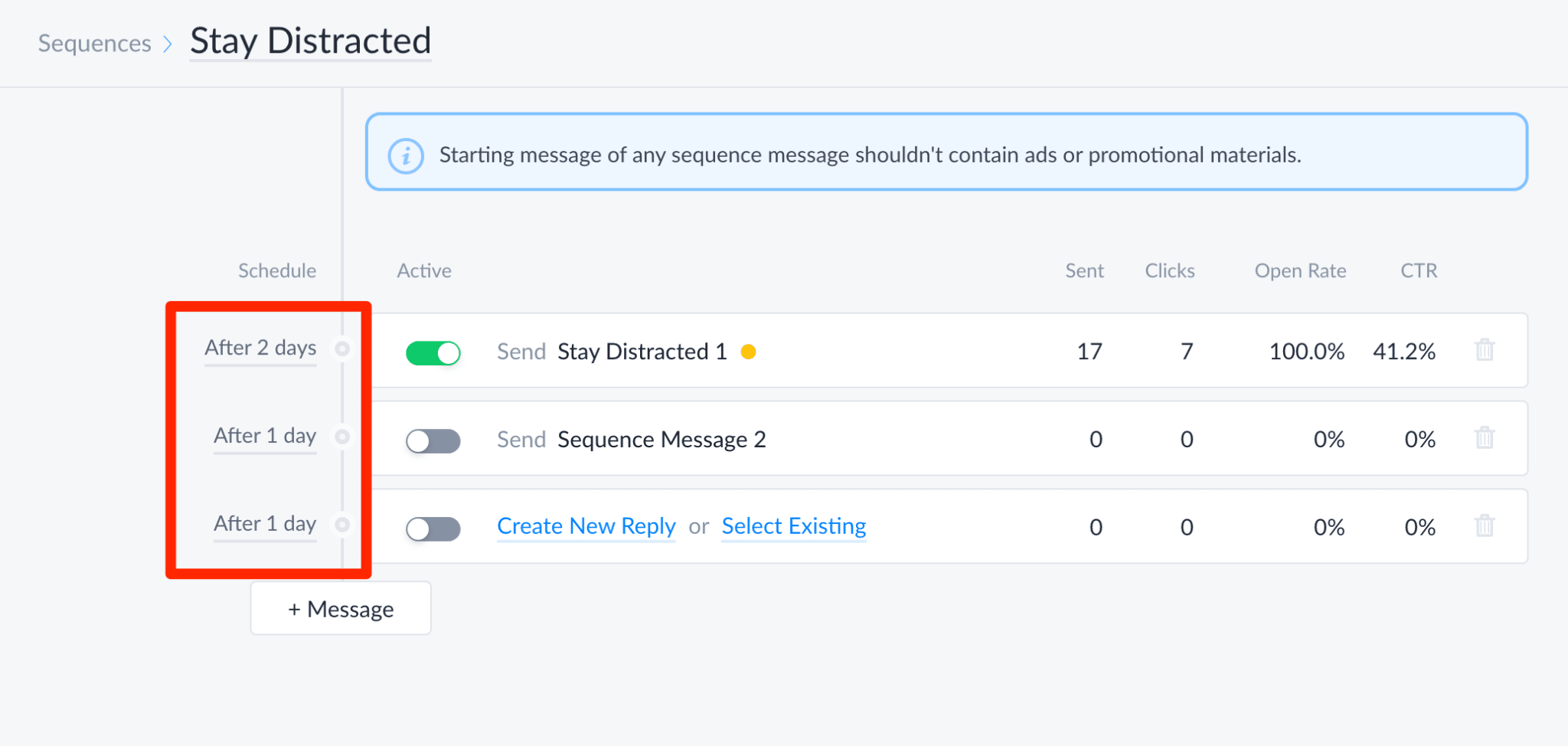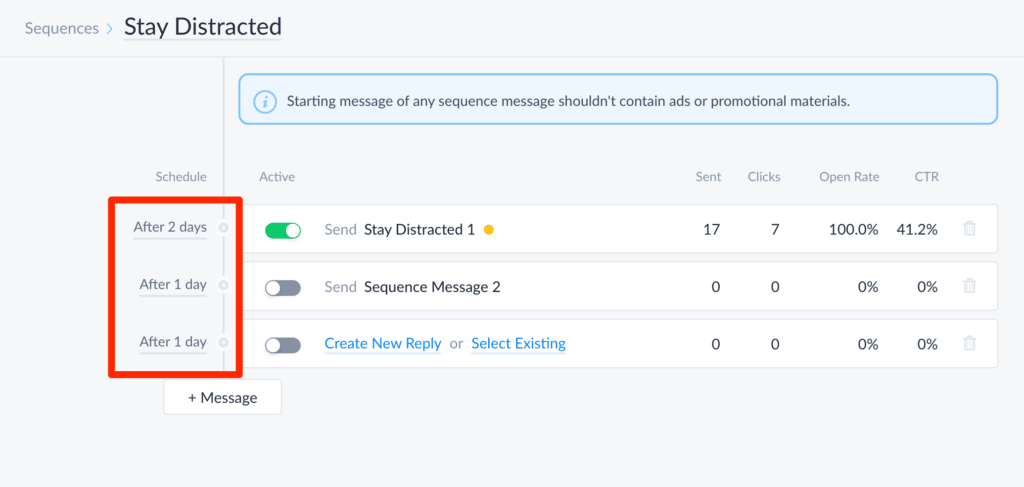 If you want to change the delay of a certain message, simply click on the delay text.
For example, if you wanted to change one of the messages that says "After 1 day," you'd click on "After 1 day." You can then change the delay to whatever you want.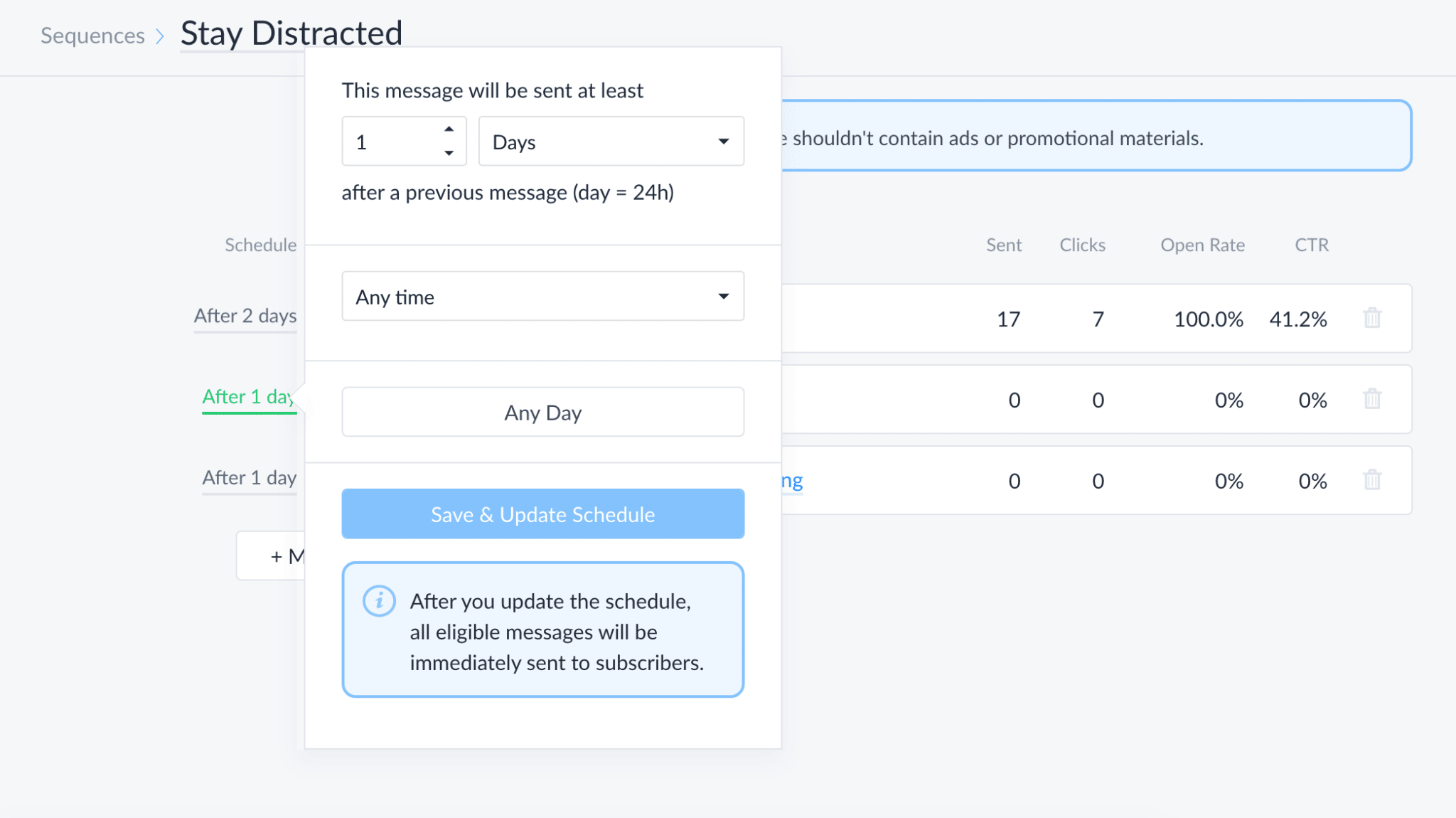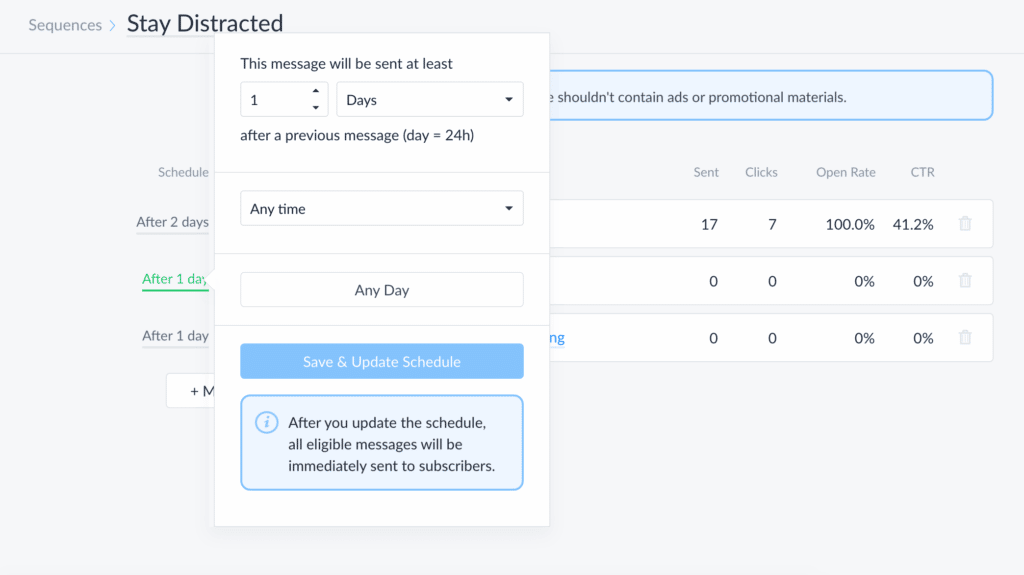 ManyChat Sequence Tip #2: Change Actions
When the user presses a certain button, you may want something to happen besides an automated response.
For example, let's say you want to have a button that says "Call us." When a user presses the button, they dial your business number.
You can make this happen by looking at the Edit Button screen: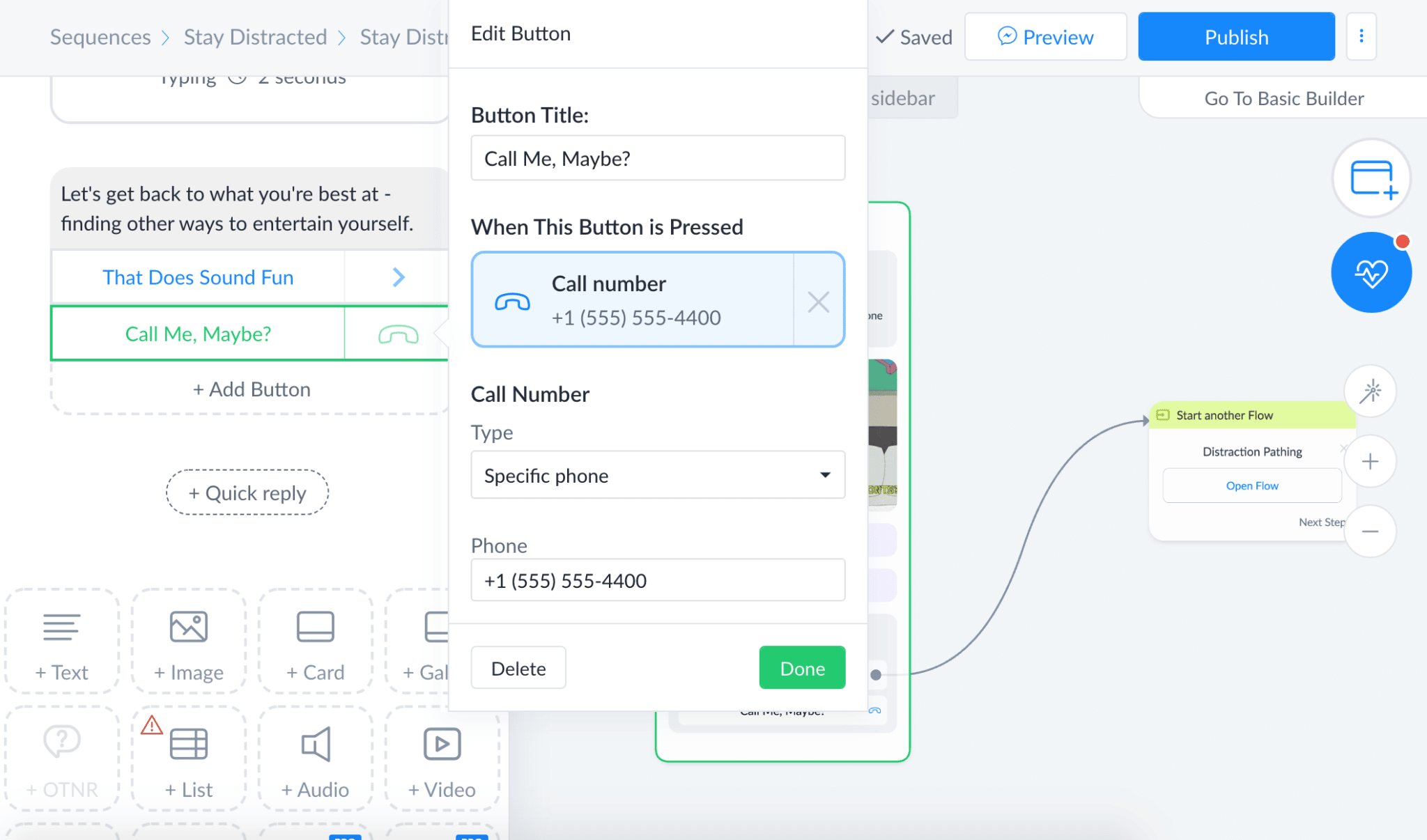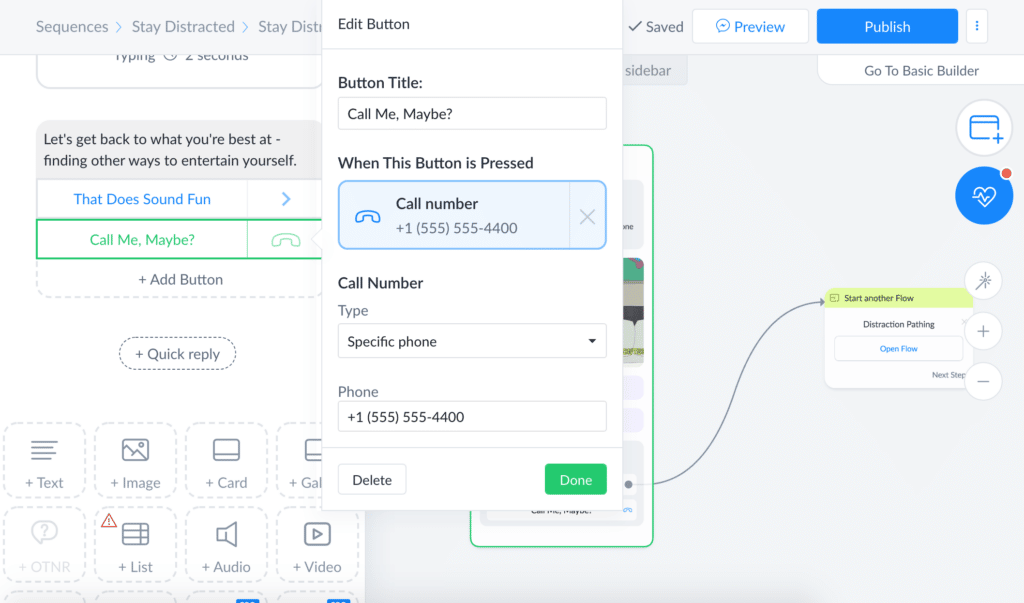 The "Open website" option is similar, allowing you to enter your URL.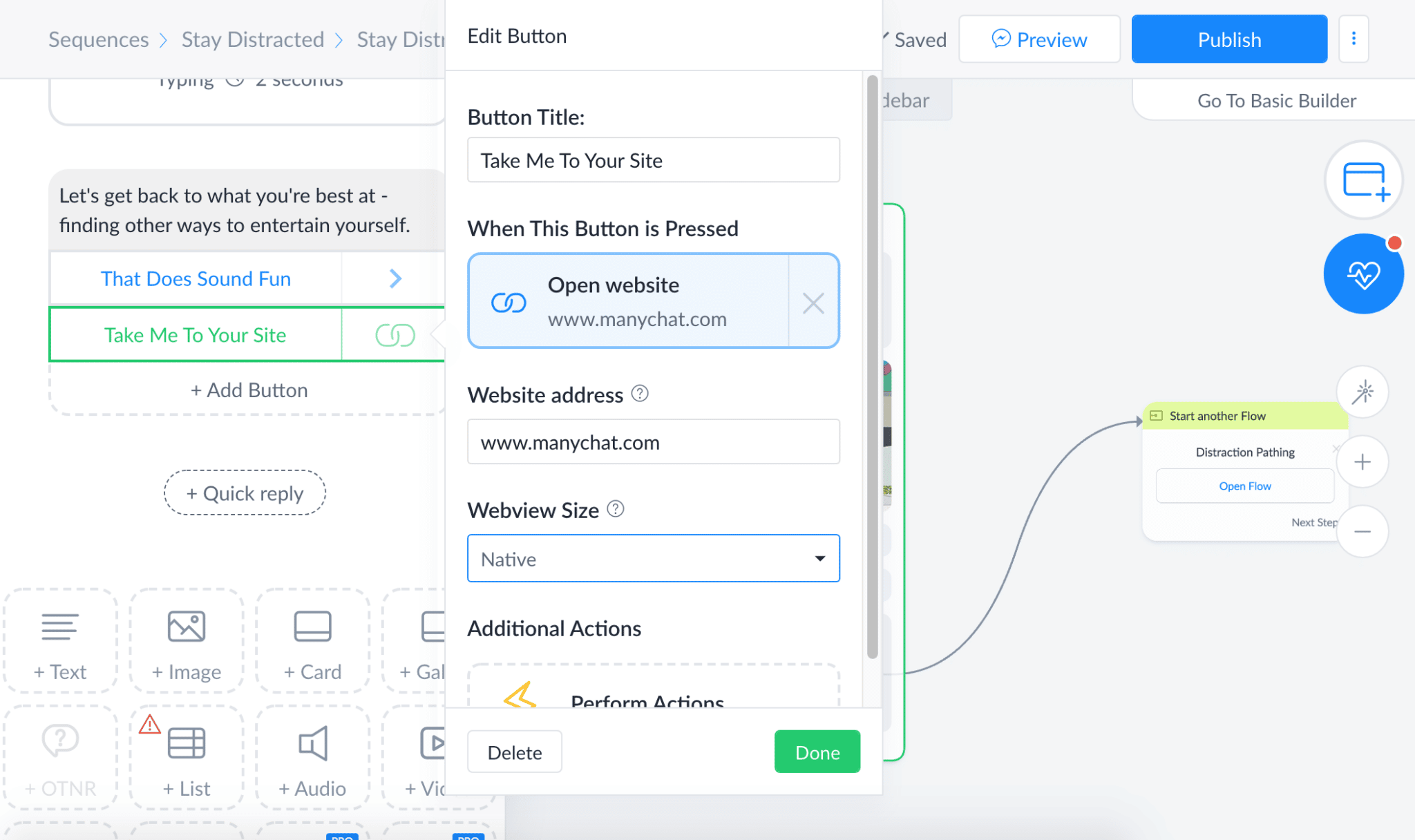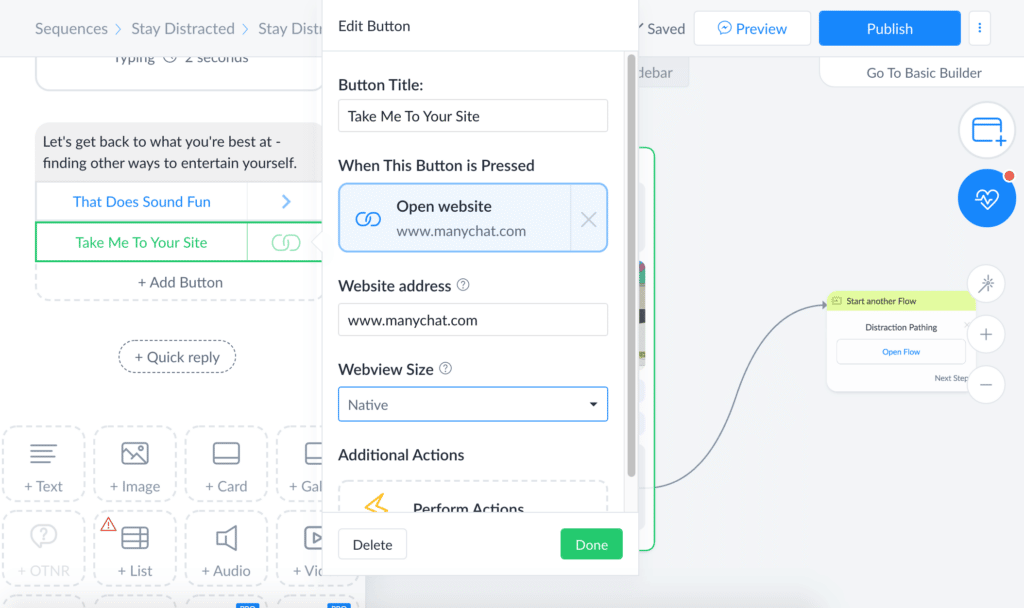 ManyChat Sequence Tip #3: Tell Your Users How to Unsubscribe
Spam still applies to Messenger sequences, so you want to make sure your users know how to opt out if they want to.
There are two ways to do this. First, as ManyChat suggests, you can let your users know they can unsubscribe by sending the word "stop."
The other way is to create an Unsubscribe button.
Go to add a button like you always do and make sure the Button Title says "Unsubscribe" or something similar.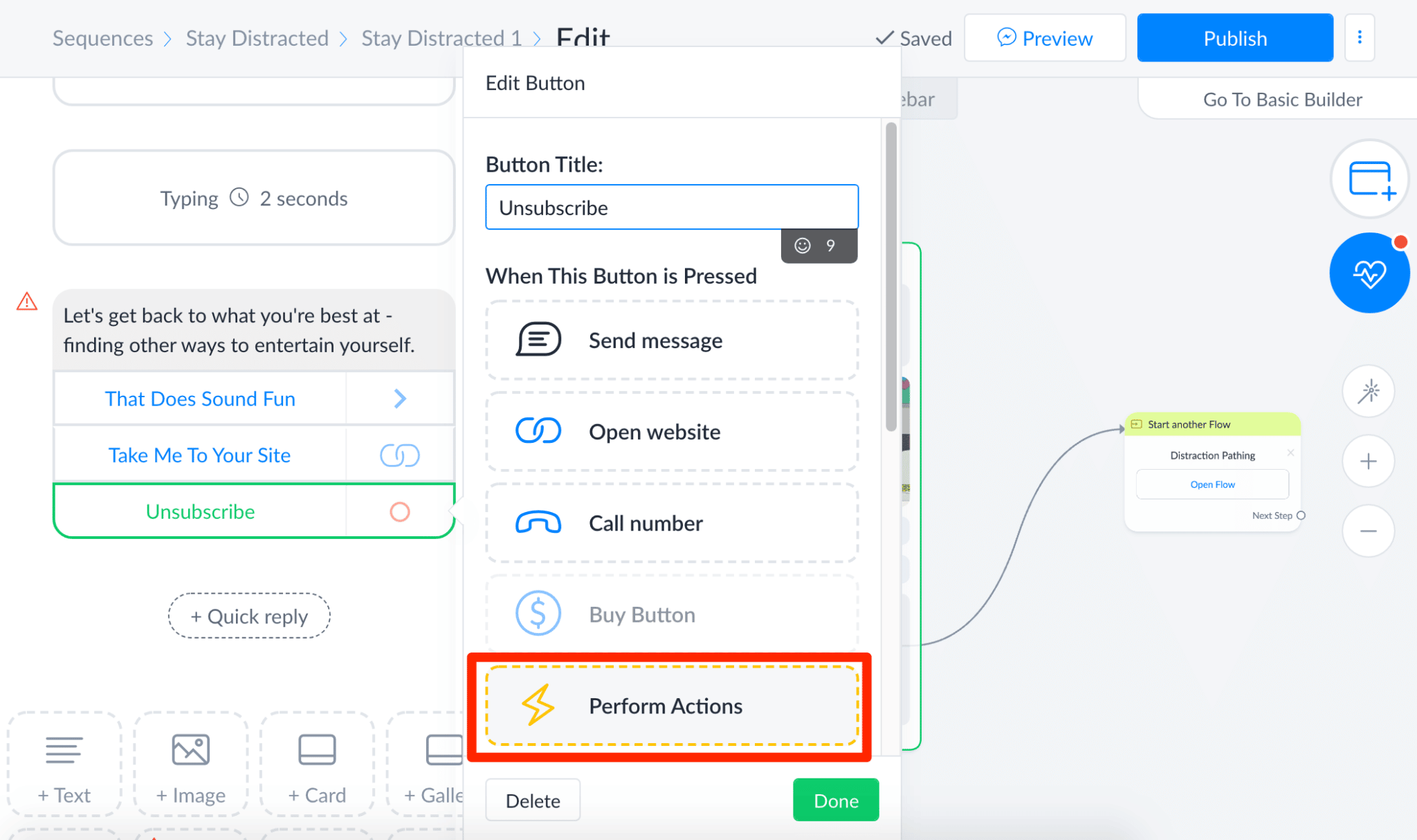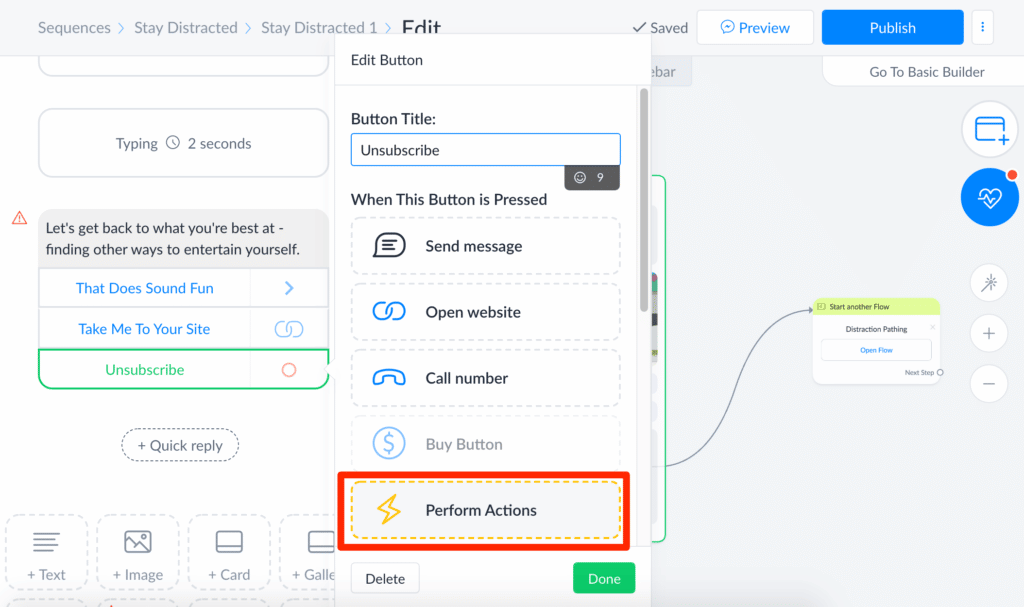 Scroll down and click "Perform Actions". This will create an action block where you can choose "Unsubscribe from bot" to successfully unsubscribe users.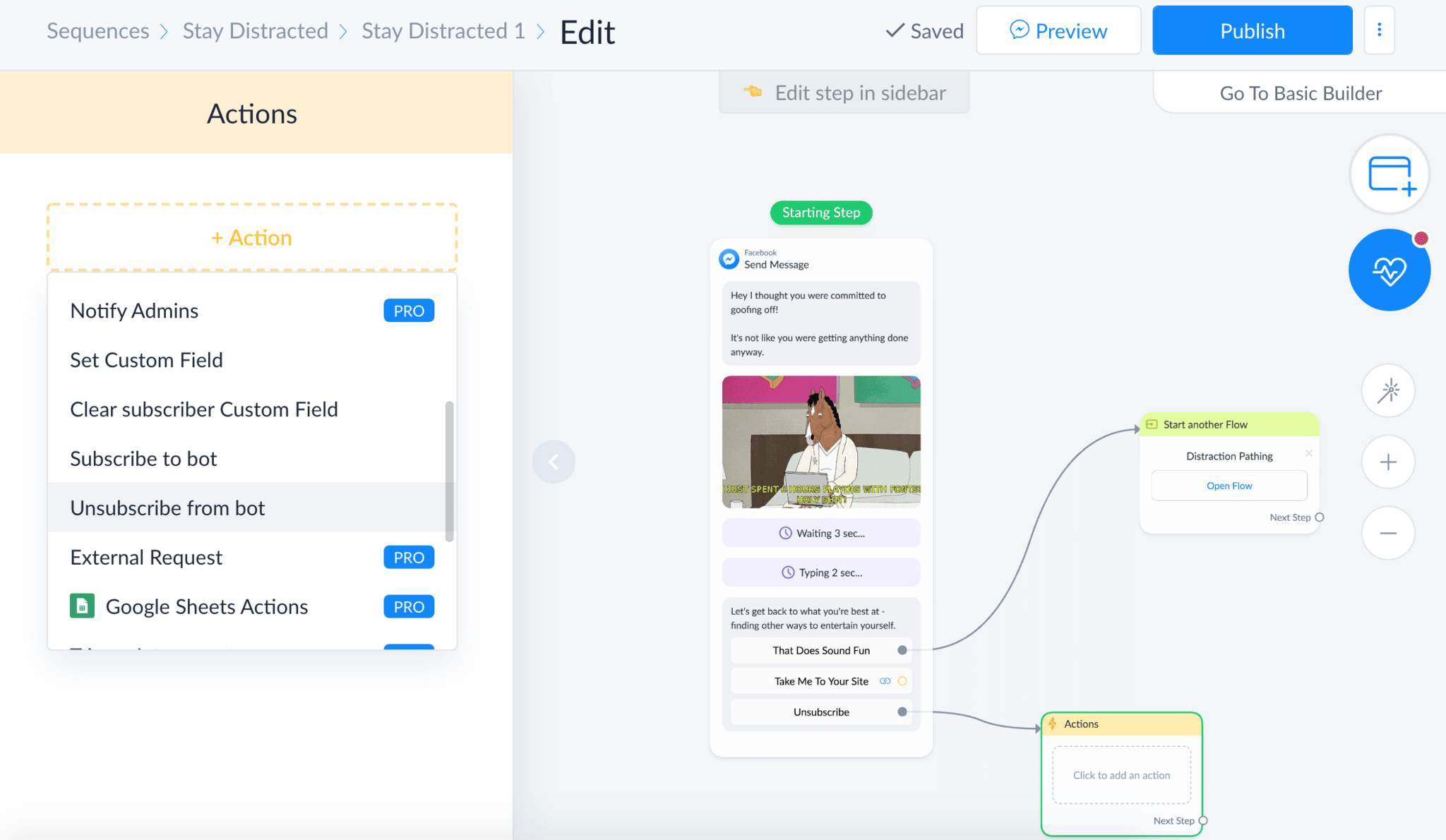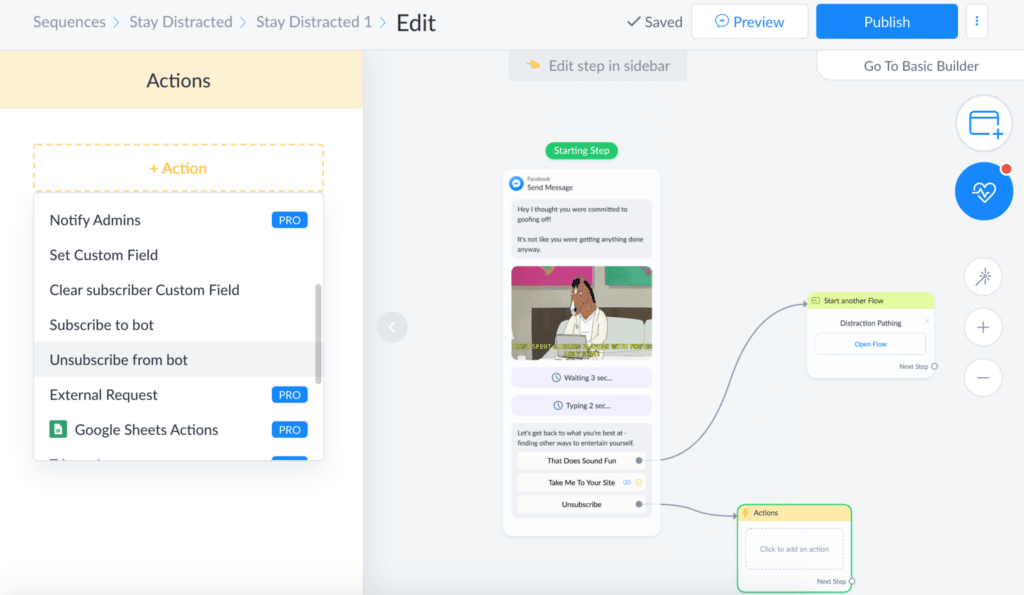 This will unsubscribe the user from the entire bot.
You can add a last message saying something to the effect of "sorry to see you go".


Think you're ready to become a Messenger Marketing pro :)?
(RELATED: How to Build a Simple Facebook Messenger Bot with ManyChat)
The idea of using a Messenger sequence for marketing purposes is simple, but it's a game-changer (and that's not an exaggeration).
Facebook Messenger sequences have exploded in popularity lately and for good reason. Facebook users love them.
They're super convenient for both the user and the brand. The user can get information and value, while brands can automate lead generation.
The sky's the limit with Messenger sequences. You can use them to increase eCommerce sales, get email subscribers, and reduce customer service support costs.
If you make a compelling sequence, your conversion rates will go through the roof, and your customers will be happier than ever.
And you won't waste money.
[READ NEXT: Introducing ManyChat Flow Builder: A Revolutionary Visual Editor for Messenger Marketing]
O conteúdo deste blog foi preparado de forma independente e destina-se apenas a fins informativos. As opiniões expressas são de responsabilidade do autor e não refletem necessariamente a posição do ManyChat ou de qualquer outra parte. Os resultados individuais podem variar.