The Beginner's Guide to eCommerce Fulfillment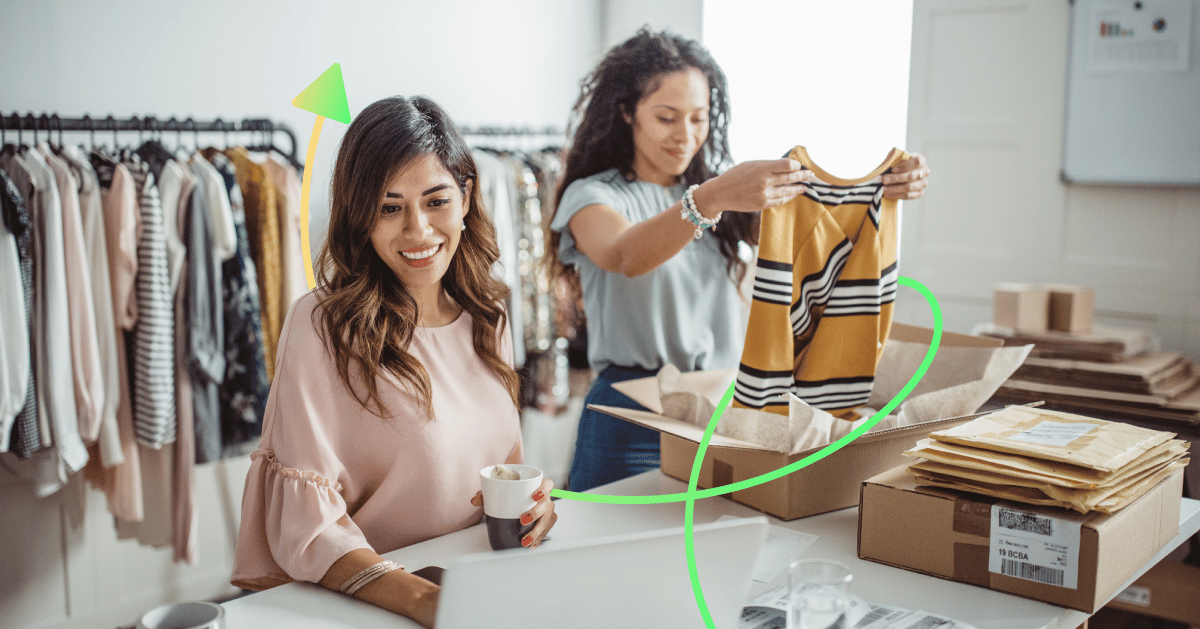 The eCommerce industry is experiencing exponential growth due to COVID-19 and changing consumer behavior. As they acquire more customers and orders, online stores must optimize their fulfillment processes to meet consumer demand and escalating expectations. Two-day shipping is now standard; a slow fulfillment process can severely hamper your eCommerce business growth.
Most eCommerce businesses view fulfillment as a cost center. However, fulfillment can be a growth channel if managed correctly. With an improved fulfillment process, your company can deliver orders faster and more efficiently. Faster deliveries lead to happier customers who are more likely to purchase again from your brand; more efficient deliveries can plump up your margins. Investing time and resources into improving your fulfillment process will help you keep up with direct-to-consumer (D2C) giants like Amazon, Allbirds, Nike, and others.
What is eCommerce fulfillment?
Ecommerce fulfillment refers to the entire process of order fulfillment, from the moment a customer purchases a product online to the final delivery at their doorstep.
What's involved with eCommerce fulfillment?
The eCommerce fulfillment process starts when your customer places an order online. The order is processed and sent to your brand's eCommerce fulfillment services provider (which may be you or your employees if you don't have a partner), kicking off the supply chain. If you do not handle order fulfillment yourself, your service provider stores your products in a warehouse until a customer places an order during the eCommerce fulfillment process.
Order fulfillment
Order fulfillment consists of product selection, packing, and shipping purchases to shoppers. Ecommerce businesses can manage their order fulfillment, and provide a positive customer experience by filling the orders themselves or by employing the services of an order fulfillment company. The entire process ends with a successful delivery.
Order management
Order management involves maintaining a comprehensive view of the fulfillment process. With efficient order management, your business will have visibility into the individual order statuses, order trends, returned or erroneous orders, and incomplete orders with efficient order management.
Inventory management
Inventory management includes storing, ordering, restocking, and forecasting your inventory to prevent stockouts.
In inventory management, be mindful of how much inventory you store. Too much inventory can hamper your cash flow since you need to lease more warehouse space to store everything. Too little, and you run the risk of not being able to meet customer demand. Inventory management is a delicate balancing act that most businesses become better at over time.
Shipping
The shipping process comprises the actual order shipment, delivery options, and the shipping charges paid by your customers. Factors influencing this process include your inventory and warehouse location, customer locations, the types of products you are shipping, the delivery carrier, and country-specific shipping laws. A fulfillment company can take care of the shipping process, and a good third-party logistics provider (3PL) can help you get bulk discounted rates with major shipping carriers (more on this later).
Warehousing
Warehousing, the process of storing your company's inventory, is a critical component of order fulfillment. Warehouses provide you with a safe, secure, and organized storage option where orders can be processed quickly and efficiently.
If your fledgling eCommerce businesses can no longer store inventory in a garage, you may opt to partner with a fulfillment company. A fulfillment partner stores your products in its warehouses and handles the order fulfillment process.
Returns management
Returns management is the process of receiving, assessing, and processing returned products. It's critical to get your return policy right because managing returns is an expensive and labor-intensive process. Inspecting and properly cataloging the returned goods is quite time-consuming.
Some fulfillment providers offer easy return management and even allow for the products to be sent back to the retailer instead of the fulfillment center.
Ecommerce fulfillment models
There are several fulfillment models eCommerce businesses can choose from for a fulfillment strategy, each differing by virtue of their product storage and shipment methods. As such, their efficiencies, order fulfillment timings, and supply chain technologies also vary. Which model works best for you depends heavily on the nature of your business and the types of products you sell.
Do it yourself (DIY)
DIY fulfillment, self-fulfillment, and in-house fulfillment all refer to a retailer managing the order fulfillment process themselves. This fulfillment method places the responsibility for all the inventory storing, product selection, packaging, and product shipping on the business without the benefit of external support. Self-fulfillment allows you complete control over your business operations, but it does have a downside.
Pros
DIY fulfillment enables you to manage the fulfillment process exactly as you want. You can store inventory in your house if your business is small or invest in a warehouse. You can also manage the packing and shipping yourself or hire relevant service providers for some or all of these tasks. Finally, a DIY model may help you save on costs, which is especially important if your business is a small operation with low margins.
Cons
Personally managing order fulfillment can be a challenge, particularly if your business is rapidly expanding. Growing eCommerce stores employing DIY fulfillment methods often make the switch to a different fulfillment model because of the sheer number of orders. Not being linked to a service provider with an established, clear-cut service contract also means that you might have to review all the agreements for each order, which takes up valuable time and resources.
3PL provider
A third-party logistics provider (3PL) lets you outsource your fulfillment process and manages all operations for you. Services include storing your inventory and selecting, packing, and shipping the order to the customer after they place an order. Most 3PLs offer eCommerce software that allows you to see inventory and order statuses, should you need to communicate this information to a customer.
Pros
Ecommerce businesses opt for a 3PL to increase their order fulfillment capacity and efficiency. When you partner with a 3PL company, you don't have to worry about creating your own fulfillment infrastructure, hiring labor, managing operations, investing in equipment and technology, or other workforce-related issues. You're free to focus on other aspects of your business without compromising your order fulfillment's efficiency or accuracy.
Cons
Trusting your customers' orders to a 3PL can be terrifying. Handing over order fulfillment to an external source means that you no longer have control over the delivery process or timing; selecting a poor 3PL provider can result in higher expenditures and reduced order accuracy. Furthermore, order fulfillment hiccups can be hard to solve when you're not directly in a position to do something and can harm your reputation. After all, the customer will blame you, not the 3PL, if their order is wrong, late, or otherwise compromised.
Dropshipping
Dropshipping is when the product manufacturer manages the order fulfillment process. The factory handles the warehousing, product selection, packaging, and shipment to the customer. In a dropshipping model, the eCommerce merchant is the middleman between the customer and the manufacturer.
Pros
Shipping products directly to the customer from a factory can cut down on warehousing costs. Additionally, manufacturers are most likely better suited for handling products that they have made, reducing the likelihood of items incurring damage during delivery.
Cons
In the dropshipping model, eCommerce merchants never directly possess the goods. This makes quality assurance riskier, as you'll need to rely on the factory's word. Poor quality goods can result in bad reviews and lost revenue for the merchant if customers aren't satisfied with the quality of the products they receive. Though you may save on warehouse costs, dropshipping with overseas manufacturers can dramatically increase order fulfillment costs and make the end product more expensive.
Which fulfillment model is best?
The best fulfillment model for you depends on the type of business you're running and your business's maturity. While is there is no one "best" fulfillment model, consider the following suggestions:
If your company is new or small: Self-fulfillment
If your company is rapidly growing: 3PL
If your company is approaching enterprise-level: Self-fulfillment
If your company doesn't want to manage inventory at all: Dropshipping
How to choose a fulfillment provider
All eCommerce brands are rightfully focused on increasing customer satisfaction, reducing costs, and optimizing the fulfillment process. If you're looking to outsource the order fulfillment process to a third-party, how do you pick the right partner to help you achieve these goals? Here are some factors to consider:
Integrations with eCommerce platforms
A suitable eCommerce fulfillment provider should integrate with popular eCommerce platforms so orders can be sent effortlessly to the fulfillment company. A seamless integration reduces communication time delays and immediately initiates the fulfillment process for stores running on eCommerce platforms like Shopify, BigCommerce, WooCommerce, and others.
Two-day shipping service
Thanks to Amazon, customers have come to expect two-day shipping as the norm. If you're not Amazon, however, creating a fulfillment network that can offer two-day shipping is expensive and time-consuming. Such a short delivery timeline can be hard to implement for independent eCommerce businesses. This is where an excellent 3PL provider can really help by providing faster shipping to your customers. So look for a 3PL service that offers express delivery options!
Strategic fulfillment center locations
Having strategic locations for fulfillment centers helps eCommerce businesses save money and reduce delivery timings because orders will be dispatched closer to the delivery areas. Look for a 3PL partner with advantageously placed fulfillment centers, and then select one with locations nearest to the bulk of your customer base.
SLAs for shipping and delivery
A Service Level Agreement (SLA) is a contract between a supplier and client that sets the minimum service to be provided by the supplier. Such an agreement can be formal or informal, and SLAs for shipping and delivery can differ with each 3PL provider. (Amazon, for example, offers two-day delivery to its customers, as do other fulfillment providers.) When researching fulfillment partners, look for details in their SLAs regarding on-time, precise delivery, and order accuracy.
Shipping cost reductions
Shipping costs refer to the amount charged by a 3PL fulfillment company for shipping fulfillment. These costs depend on factors like shipping speed, shipping zones, and product weight and dimensions. Dedicated 3PL fulfillment companies will often offer discounts on shipping costs, thanks to their negotiations with carriers and wide geographical footprint.
Dedicated account management
Ecommerce fulfillment is a very fast-paced operation; the timeline directly affects customer satisfaction and future business revenues. If you're outsourcing your order fulfillment, it's best to choose a fulfillment partner that provides dedicated account management so your business gets the attention it deserves.
Ecommerce fulfillment services
Considering outsourcing your operations to a fulfillment provider? Here are some of the leading 3PLs for eCommerce merchants:
ShipHero
ShipHero is an eCommerce fulfillment company with multiple fulfillment centers across the US. Products are distributed across these centers to maximize transportation efficiency and lower total shipping costs. You can choose a fulfillment center that best suits your needs. ShipHero also gives you the option to monitor inventory and shipment in real-time and provides instant updates on order cancellations. It also tracks billing and payments seamlessly.
ShipBob
ShipBob is another eCommerce 3PL with fulfillment centers across the US. It provides its users with cost-effective shipping rates, thanks to its partnerships with shipping carriers. Ecommerce brands have various fulfillment centers to choose from, which helps to lower transit times and shipping costs.
Shopify Fulfillment Network
The Shopify Fulfillment Network has fulfillment centers throughout the US and Canada. You can store your inventory for fulfillment strategy in the options closest to your customer base to make the shipping process faster and more cost-effective. The Shopify Fulfillment Network allows you to manage all your business data, including customer contact information, shipment tracking, and inventory levels.
Red Stag Fulfillment
Red Stag Fulfillment is a 3PL service with a focus on shipping heavy packages during an eCommerce order fulfillment process. It uses a mix of technology and automation to maximize fulfillment efficiency. Red Stag usually partners with eCommerce businesses specializing in oversized, bulky parcels and products that need some form of assembly before shipment. The brand charges its clients on a month-to-month basis and does not offer long-term contracts.
Rakuten Super Logistics
Rakuten Super Logistics is a supply chain solution for enterprise eCommerce retailers. Their eCommerce fulfillment services include full-service freight management, multichannel order fulfillment, and returns management for online orders.
Amazon FBA
Fulfillment by Amazon (FBA) allows Amazon to handle the entire order fulfillment process for orders placed on its website. Amazon's fulfillment centers store the products and ship out products within two days of order placement.
Ecommerce fulfillment FAQs
Choosing the right fulfillment partner, for an eCommerce order fulfillment process, could be a gamechanger for your eCommerce shop, but make sure to do your homework and research several before choosing one. Here are some questions people often ask about eCommerce fulfillment:
What is a fulfillment partner?
A fulfillment partner manages your business's shipping and fulfillment, which includes order processing, product selection, packing, warehousing, and shipping. Joining forces with a fulfillment partner can help take time-consuming, tedious tasks off your plate, allowing you to focus on driving sales and improving customer satisfaction.
What do fulfillment centers cost?
Fulfillment centers have different fulfillment fees. Some fulfillment centers charge by the hour; others by pallet per unit. The costs depend on the services the fulfillment company provides for inventory storage, packing, and shipment.
What is direct order fulfillment?
Direct order fulfillment is when ordered products are delivered directly to the customer (this helps with satisfying customer expectations) instead of to a retailer's store for pickup. It is the entire process, starting from order placement to product selection, packing, and order shipment. Ecommerce businesses either self-fulfill their orders or partner with an order fulfillment company.
How do fulfillment centers work?
Fulfillment centers complete the entire process for you. They store your brand's inventory in their warehouses and operate the whole supply chain from product selection to delivery.
Conclusion
Many eCommerce businesses are under pressure to offer faster delivery times and exceed customer expectations, while maintaining accurate order fulfillment. Choosing an efficient fulfillment model for your business can result in exceptional company growth, so don't take the decision process lightly.
To improve the customer experience during the shipping and overall post-purchase process, consider using a tool like ManyChat for communication purposes. With ManyChat, merchants can send shipping updates and order confirmations through SMS, email, and Messenger to keep customers in the loop about their order status.
Get started with ManyChat for your eCommerce store today!
O conteúdo deste blog foi preparado de forma independente e destina-se apenas a fins informativos. As opiniões expressas são de responsabilidade do autor e não refletem necessariamente a posição do ManyChat ou de qualquer outra parte. Os resultados individuais podem variar.