A Beginner's Guide to Chat Marketing Automation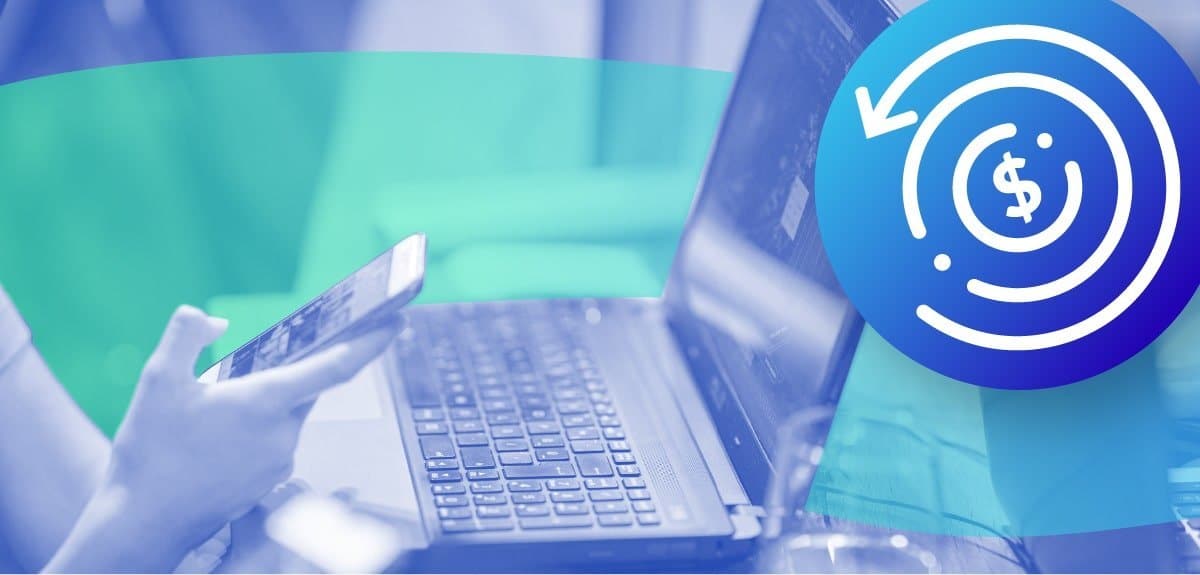 If social media platforms are your biggest sources of leads or customers, then chat marketing automation will be your friend.
Why?
Because automating your chat marketing strategy is like setting up personalized journeys for your customers. Not only will chat automation contribute to positive customer experience but, when done successfully, it can also maximize and streamline the purchasing process.
If you're just dipping your toe into the world of chat marketing automation, don't worry. This handy guide will explore some of the biggest players in chat marketing automation that you have available to you in your ManyChat dashboard:
Let's get started!
1) Setting Up Your Growth Tools
The first area you'll be automating will be your opt-in process.
Without an automated opt-in, you'll have no way of capturing your page's visitors and converting them to subscribers.
In your ManyChat dashboard, you have access to a suite of Growth Tools whose main function is to get site visitors to engage in a chat with your business. Once they do, they're added to your list of subscribers and you can nurture them toward sales.
Choose the Growth Tool automation best suited for your business, and don't be afraid to test different opt-ins. You may find that one is better at capturing subscribers than the other.
2) Using Default Replies
Now that you've set up your opt-ins, it's time to create some automated replies to those that choose to opt-in.
Automated replies are pre-set responses that you can use to interact with your customers. These "Chatbots" (as they're sometimes called) help to engage visitors in conversation without needing a human to manage the conversation. Chatbots take a load off your customer service or sales team by helping answer questions or directing customers where they need to go.
In your ManyChat dashboard, under "Automations", you'll see the "Default Reply" feature. Here is where you'll be able to automatically reply to subscribers and send them to various Flows based on your pre-set "rules," which we'll cover next.
3) Creating Rules
If you've ever delved into the world of automation, you may have heard the term "Trigger" or "Rules." The terms essentially have the same meaning and can be used synonymously. They are predefined by criteria that a business can set and, when met, the action triggers a certain flow or sequence of events. In the case of chat marketing, your "rules" trigger a flow of messages all with an end objective.
In your ManyChat dashboard, under the "Automation" tab, you'll see "Rules." This is where you can set your criteria for automatically triggering certain events.
For example, let's say you have a Growth Tool pop-up that offers your site visitors a 10% discount. You see that you gained a subscriber interested in redeeming that 10% discount, so they engage with that message and they're now a subscriber. You can set a rule that sends new subscribers a "Welcome" series, or a "flow" of messages that encourages that subscriber to shop on your site and use your coupon.
4) Setting Up Your Flows
The trick with setting up your flows is to hit the drawing board before building them.
Most likely, each flow that you create will have a particular marketing or sales objective in mind. Ideally, you'd want to pre-strategize this objective and then work backward when setting up your automation.
Why?
Because the objective of this flow will be the foundation of everything else you set up.
Let's take a look at an example:
Take a 10% discount you want to use as an opt-in incentive. Let's say that the overall objective in that offer is to get your page visitors to convert to customers by using that coupon. With that in mind, you'll want to start by taking a look at that common objective and work backward. Your first milestone will be to get them to your site. How can you do this? By using one message in your flow to ask if they'd like to redeem the coupon before it expires.
Let's keep working backward. Before asking them if they want to redeem the coupon, you'll have to actually give it to them. Are you going to offer them a code? If so, you'll want to include that in your flow.
Keep working backward until you've reached that initial instance where they discover your 10% discount offer. Most likely, it'll be within that automated Growth Tool we covered, initially.
The great thing about the Flow Builder in ManyChat is that it's visual, so you can look at the subscriber's journey and tweak your automated flow as needed.
We've provided you with a range of templates for some of the most commonly used and chat marketing objective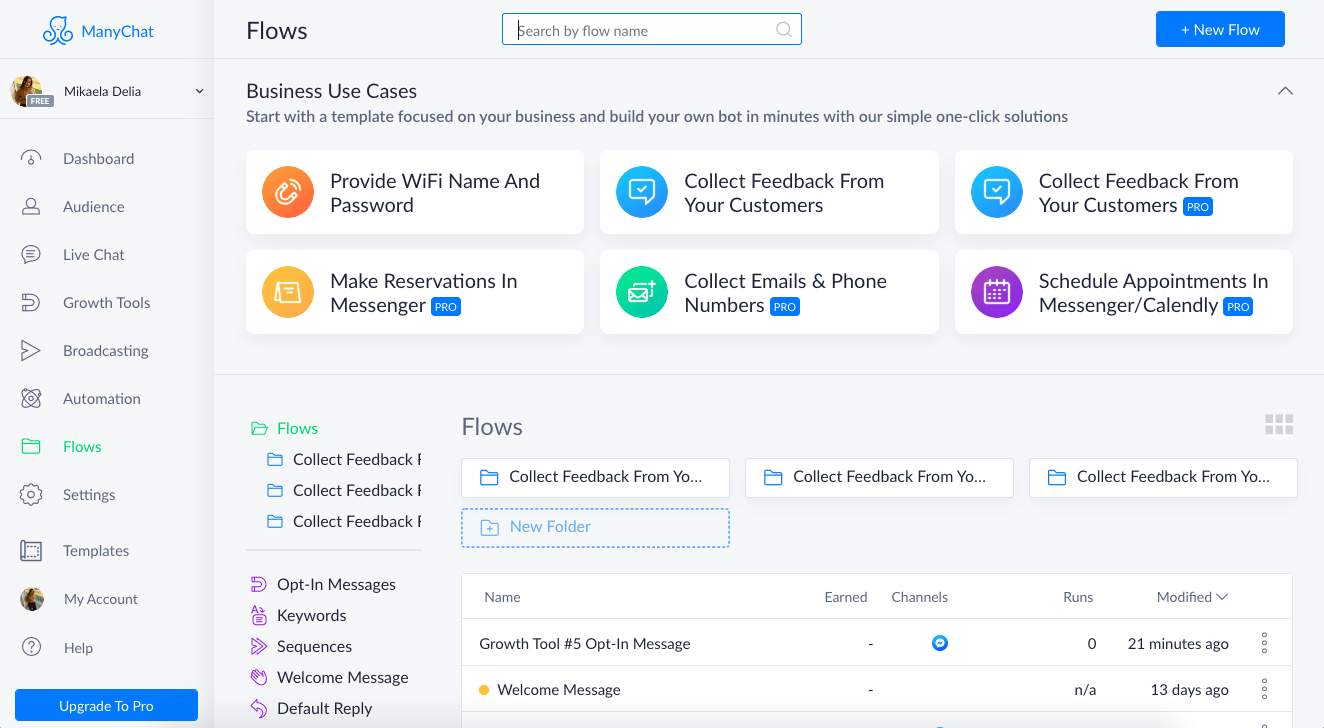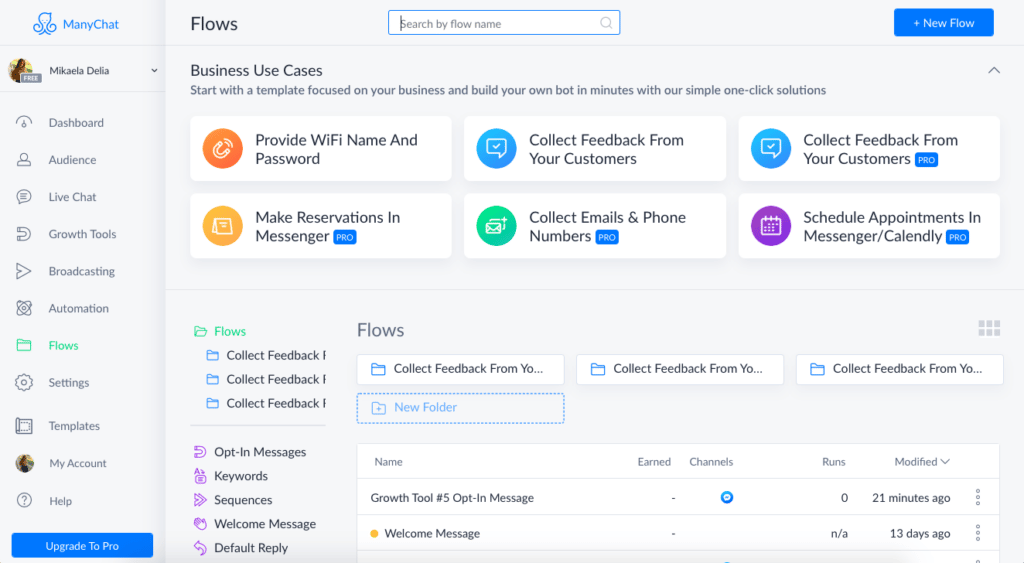 With such an intuitive and easy-to-use platform, at the end of the day, you'll wish you had automated sooner!
O conteúdo deste blog foi preparado de forma independente e destina-se apenas a fins informativos. As opiniões expressas são de responsabilidade do autor e não refletem necessariamente a posição do ManyChat ou de qualquer outra parte. Os resultados individuais podem variar.