The Modern Marketer's Guide to eCommerce Chatbots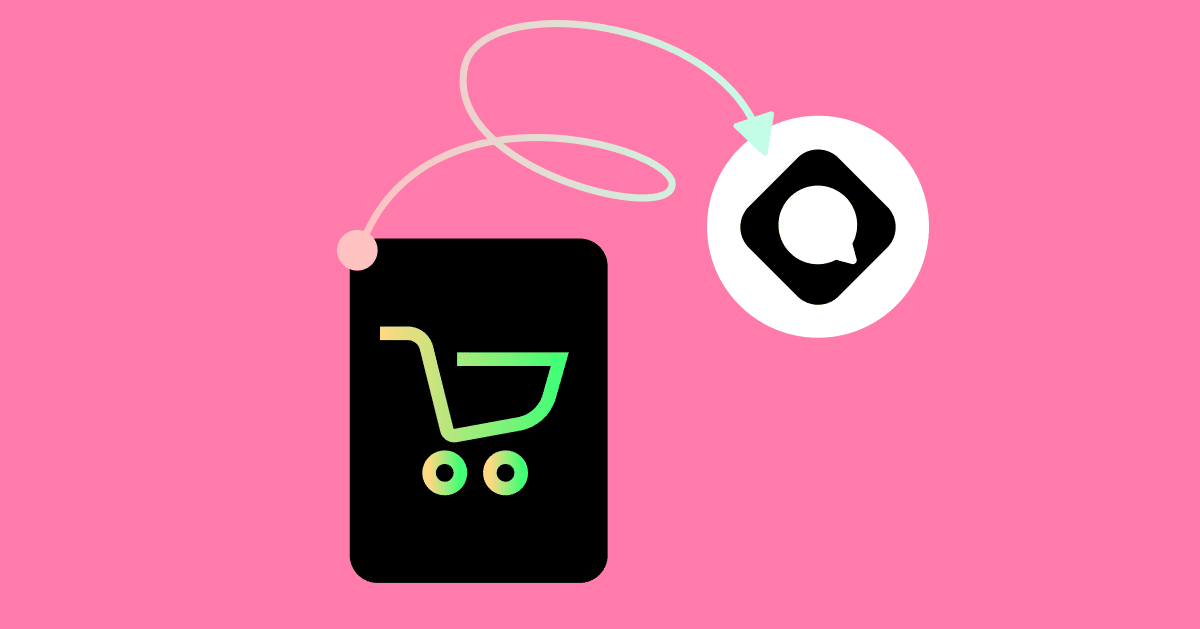 Running an online store is not easy.
Considering online retail sales are expected to reach $6.5 trillion worldwide by 2023, the competition is more fierce than ever.
If you're like many eCommerce businesses, you want to separate yourself from the pack and find ways to be more efficient and productive.
Problem is, your to-do list keeps growing…
Send that abandoned cart message
Jump into chat to answer a customer's product question
Broadcast that coupon
Optimize your product pages
A million other tasks that crop up
If only your sales were ballooning along with that list!
What if there was an easier way to drive more eCommerce sales with less manual work?
Spoiler alert: There is.
Meet your new best friend: a chatbot. An eCommerce chatbot can help turn your online store into an interactive salesperson. One who helps with customer support, qualifies leads, and generates sales 24/7 (no overtime pay required).
If you want to break away from the pack and increase online sales fast, here's everything you need to know about eCommerce chatbots.
Are chatbots successful?
In a word, yes. Chatbots are becoming the most popular way to digitally communicate with customers around the world.
Chatbots also make it easier to improve sales by:
Chatting with customers to aid buying decisions
Decreasing abandoned carts
Sending personalized broadcast messages
Driving more repeat orders
Winning back customers
They also give you the tools to make your store more successful. When you employ the tactics discussed in this article, you'll be able to enjoy lower customer acquisition costs, higher repurchase rates, and healthier margins for your store.
Best eCommerce chatbot examples
Let's look at the top eCommerce chatbot examples to understand how these assistants work:
hideAWAY Handmade
hideAWAY Handmade is an Australian online retailer that sells a signature range of handcrafted body products. The brand uses a Facebook Messenger chatbot to acquire new leads, collect contact information, and create fun experiences that drive sales.
Along with Stephen Bradeen, founder of chatbot marketing agency Chat Blender, hideAway Handmade built an eCommerce chatbot around fitness influencer Ashy Bines. The brand adopted her tone of voice and personality for its chatbot to create a more human-like experience for shoppers.
The company also created an interactive quiz that offered product recommendations based on shoppers' input. The personality-based quiz helped acquaint first-time visitors with the brand and steer them towards their first product.
Combining of the quiz and other lead generation tactics helped hideAWAY convert more visitors for a lower cost. In just six weeks, this campaign generated over $133,000 in revenue and 68,000+ subscribers across email, SMS, and Messenger channels.
Read more: How hideAWAY Handmade Used ManyChat to Generate Over $100K in One Month
Nikmit
Nikmit is a rapidly growing eCommerce marketplace in Macedonia. Like Amazon, it enables consumers to purchase a variety of items online, including apparel, electronics, kitchen supplies, and more. The brand used an eCommerce chatbot to help surface new products to shoppers and reach new audiences.
To achieve this, the brand:
Ran Facebook ads that opened Messenger after a user clicked on them
Used a chatbot to nurture and segment leads
Sent promotional sponsored messages to contacts
Took payment for products inside Messenger
This eCommerce chatbot helped drive new sales for the retailer, resulting in:
$24,000+ in additional revenue
A 20x return on ad spend
An estimated cost of $.09 per opened sponsored message
Read more: How Nikmit Used ManyChat to Surface New Products and Drive $24,200 in Additional Sales
The Dream Workshop
The Dream Workshop repairs and builds personalized beds for customers in Costa Rica. Unfortunately, the coronavirus pandemic forced them to close their retail store and move online. Led by Trilce Jiron, founder of The Bot Shop (TBS) Marketing, the company created an eCommerce chatbot to guide shoppers through the shopping experience. The bot displayed products, deals, and answered commonly asked questions to put customers at ease and encourage a sale.
In a country where only 5% of sales happen online, The Dream Workshop's eCommerce bot delivered:
USD $43,800 in online sales
An incredible 438% return on ad spend
Read more: How the Dream Workshop Shifted to Online Retail During COVID-19
Zinvo Watches
Zinvo Watches is a global timepiece maker and online retailer. The brand has sold over 245,000 watches in 130 countries, and its products reflect the modern lifestyle of stylish Millennials. Zinvo teamed up with Dillon Ceglio, founder of Logic Bot, to build a chatbot funnel that drove more conversions for a lower cost.
The team ran targeted Facebook ads to various customer segments. The bot would segment new leads based on their responses to a short quiz. It analyzed the shoppers' answers and sent curated product offers to drive conversions and encourage sales.
Read more: How Zinvo Watches Uses Curated Offerings to Drive Conversions with ManyChat
Ecommerce chatbot use cases
Now that you've got a better understanding of how eCommerce chatbots can help supercharge your sales, let's look at some core use cases:
Collect contact information
Ecommerce chatbots make it easy to grow your customer list from your website, Instagram profile, Facebook ad, or anywhere else you might attach a bot. With ManyChat, you can even customize your flows and showcase your brand's personality. Add images, emojis, customize user input fields, and quickly make adjustments, all from Flow Builder.
Grow your eCommerce business with ManyChat. Start free today.
Encourage action with coupons
Did you know that the number of people using digital coupons is expected to hit 145.3 million by the end of 2021?
Using digital coupons is a great way to incentivize customers to return to your store and remember your brand when they need something.
If you're not convinced to start couponing yet, here are some additional stats to consider:
A whopping 97% of consumers look for deals when they shop
Almost one-third of shoppers prefer to get coupons on their smartphone
More than 30% of shoppers redeem coupons within 24 hours
All good reasons why you should include them in your chatbot sales strategy!
Here's an example of how you can use quizzes and coupons together to drive sales:
Welcome new customers
A full 75% of consumers prefer brands that personalize messaging, offers, and experiences.
That's not to say a generic message will be unappreciated, however. Why not thank new customers for making a purchase? In doing so, you'll make them feel valued and welcomed.
You've already overcome the hard part and sold your product the first time. The only thing left to do is turn them into a repeat customer.
In a time where relevance and personalization drive the consumer experience—even when it comes from a chatbot—it seems obvious that saying "thank you" or sending a special message to your customers is a no-brainer.
Start conversations from comments
Uses leave over 5 billion comments on Facebook Pages every month, and those who comment on a business Page expect a response in under 24 hours.
There's a lot of competition for all the active and engaged users on Facebook. Even if a user expects a response within 24 hours, why not talk with them right away, before a competitor can scoop them up?
Start by identifying the context of the comment. You want to write different messaging sequences for a comment on a paid compared to an organic post.
Once you have a user engaged with your bot, give them something that qualifies them as a lead.
You can offer a coupon, a quiz to reveal their style, or recommend products based on what they commented on.
You can continue to build a relationship with your customers over time. As you learn more about them, show them more personalized products, blog posts, and more, depending on what they share with you.
Get to know customers with a quiz
Quizzes went from fad to fab real quick, becoming one of the most beloved and shared interactive pieces of content on the web.
You might already know that. But if not, we'll list a few top benefits of hosting quizzes right here.
Quizzes are the most engaging type of content. Why? Because people like to talk about themselves.
Customers automatically become subscribers when they take a quiz.
They effortlessly deliver personalized content and messaging.
Another great thing about quizzes is that they can be quirky and unique to your brand. For example, you can ask customers what they put in their coffee. Or what type of yoga pose they are.
Use their answers to send them specific content, curated offerings, and relevant promotions.
Upsell and cross-sell
Upsells and cross-sells are responsible for between 10-30% of eCommerce revenues for several reasons.
For one thing, they're similar or relevant to products your customers have already purchased. Plus, if you serve it up to them, customers don't have to search for a product they may need. Sometimes convenience is what makes the sale!
Both upselling and cross-selling are at the core of customer retention.
Why? Convince and Convert, a global customer acquisition and retention firm, shares:
Cross-selling accessories and the like can only take you so far, but by showing clients similar but more expensive options, it's easier to persuade them to upgrade to a service they're already satisfied with to something even better.
Facebook chatbots can send highly personalized product recommendations by leveraging all the intel you've gathered about your customers. This data includes quiz answers, conversations, and other interactions, along with actions like purchase history and engagement.
Prevent shopping cart abandonment
This may come as a bit of a shock, but did you know that 75.4% of shoppers worldwide abandon their carts without a second thought?
For eCommerce stores, every abandoned cart is a missed opportunity to generate a sale.
For example, say you have 50,000 monthly visitors to your site, your average transaction is $40, and your conversion rate is 1% (around 500 customers).
If you increase your conversion rate by a mere .25%, you could earn an extra $5,000 per month—or $60,000 per year.
Now imagine this change is facilitated by your chatbot, with no effort on your part.
One study found that abandoned cart reminders sent by Messenger recover 13%-20% of lost sales and generate 4–10x more revenue than email. These are numbers you should take advantage of.
Overall, Messenger cart abandonment messages:
Enjoy higher open rates than email messages.
Get more people to click without leaving Messenger.
Offer customers a personal way of communicating with your brand. Plus, maybe you can find out why they abandoned the cart and hopefully reverse their decision.
Always get delivered, thanks to the lack of spam or promotion folders. Chatbot messages go straight to Messenger and customers typically see all of them.
Don't stop with just Messenger. With ManyChat, you can also reduce cart abandonment with SMS and email, all from one dashboard.
Assist customers with live chat
Why not turn your shopping chatbot into a tour guide for your online store?
Customers don't always know where to find the information they need, which gives you the perfect opening to strike up a conversation when they need help. It's an easy way to drive sales you might otherwise miss out on.
A full 83% of digital shoppers need help completing an order, and most expect help in minutes. And if they can't get help, where do you think they'll go?
Yup, straight to your competitors—diminishing hard-won brand loyalty and customer lifetime value you've built up until this point.
By offering a live chat option (whether you're explaining product benefits or answering concerns), you can give customers the information they need right away. This immediate help is bound to help boost sales and drive customer loyalty (for being proactive in assisting them).
With ManyChat, you can add our Live Chat to your site through our Customer Chat widget or SMS.
Qualify leads from Facebook ads
Ecommerce chatbots not only help generate new leads but can also qualify them in Messenger or SMS. People can simply chat with your bot and answer predefined questions. With just a few taps, they'll get the information they need, and you get a qualified lead for your business.
Ecommerce chatbot templates
Whether you're selling pet supplies online or are a budding jewelry designer with dreams of a online business, ManyChat has endless eCommerce chatbot templates to help you sell online. Start by signing up for a free ManyChat account, then choose from a selection of use cases including:
Welcoming new customers
Automated customer support
Collecting contact information
Nurturing customers with product offers
Each template is customizable. You can use our workflow builder to shape your templates by adding images, emojis, and other branded assets. You can even supplement your eCommerce chatbot with apps from the ManyChat App Store to help with SMS marketing, email marketing, Amazon sales, and more.
Create your eCommerce bot today
There's no doubt that having an eCommerce chatbot isn't just a "nice to have" anymore. As we head into 2021, online businesses need automation that will meet their business goals, whether it's lead generation, customer service, sales, or retention.
Start building your eCommerce chatbot today with ManyChat to take advantage of this opportunity. It'll bump your marketing efforts to the next level and drive revenue for your business in no time.
Want to grow your eCommerce business? Start with ManyChat free today.
Los contenidos de este blog han sido elaborados de forma independiente y sólo tienen fines informativos. Las opiniones expresadas son las del autor y no reflejan necesariamente los puntos de vista de ManyChat o de cualquier otra parte. Los resultados individuales pueden variar.