The 7 Best Free Email Services and Accounts in 2021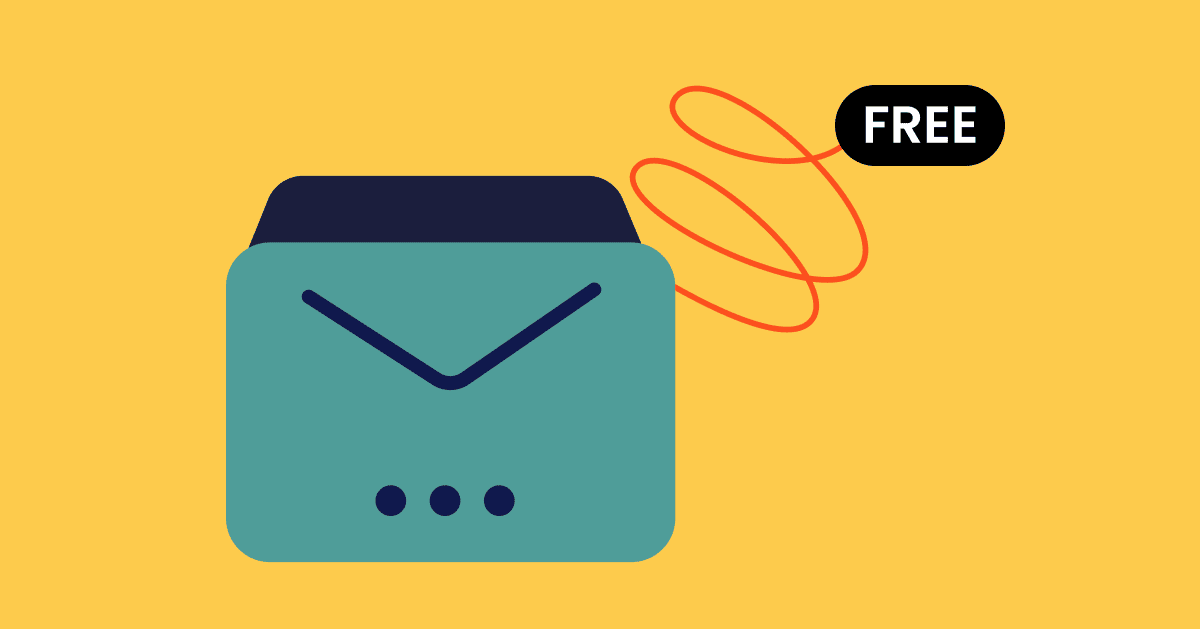 Email is one of those things we take for granted in our day-to-day lives. According to Statista, it's one of the most popular services in the world, with over 3.9 billion users worldwide. That's half the world's population! 
While email is an essential part of our personal and professional lives, not all email accounts are created equal, and not all are free to use. If you've found yourself thinking about exploring new options for free email service providers, look no further than this guide!
It's also worth noting that while most of these services are web-based, many also have iOS or Android mobile apps, which can be more convenient to use.
Best free email services and accounts
To make it a little easier to identify which account or provider might be the best option for you, we've evaluated several email providers using the following key criteria (as well as their unique features):
Setup difficulty: how easy it is to set up a new account and go
Organization: how easy or intuitive it is to organize your emails
Privacy and security: how secure the email provider is and how much personal data they use
Design: is the interface sleek and clean, or a little on the clunky side?
Let's take a look at the following mail service providers:
Google's Gmail
Setup difficulty (out of 5 👍): 👍👍👍👍
Organization (out of 5 📁): 📁📁📁📁
Privacy and security (out of 5 🔒) : 🔒🔒🔒
Design (out of 5 🎨): 🎨🎨🎨🎨🎨
Google's free email service, Gmail, is a must-have for millions of people. Its popularity surpassed that of Apple's iPhone email client in 2019, boasting a market share of 27.8%. With the sheer number of products one email account (GSuite) provides access to (including YouTube, Google Drive, and Hangouts—if you're still using it in 2021), its substantial market share comes as no surprise. Gmail is sleek, modern, and doesn't clutter the screen with ads or other products. 
If you're an intermediate-to-savvy email user, you can even use Google's automated filter feature (which goes beyond the spam filter) to automatically label and categorize emails from particular senders, newsletters, or on specific topics.
Google's low 2.5/5 score for security and privacy is due to its history of reading and collecting data from its users' emails. Granted, users allow this access as part of the user agreement (which enables personalized ads and predictive text suggestions). But if you're concerned about privacy, it may be better to consider an alternative email provider or take steps to further secure and protect your privacy if you can't break up with Google.
Features:
Access to a whole suite of Google products like YouTube, Docs, Sheets, Slides, and Calendar
Real-time file collaboration on Google productivity apps.
15 GB of online storage (shared across Google services like Gmail, photos, and Drive)
Option to connect or buy a custom domain directly through Google
Mail.com
Setup difficulty (out of 5 👍): 👍👍👍👍
Organization (out of 5 📁): 📁📁📁
Privacy and security (out of 5 🔒) : 🔒🔒🔒
Design (out of 5 🎨): 🎨
When you sign up for an email account with mail.com, you'll notice it looks like they haven't updated the email interface since 1995. It's clunky, and the free version clutters the space with ads. However, it makes up for its lack of aesthetics with an effortless setup and a pretty unique email domain feature.
If you're keen on a side project for your hobby or business, or even if you just want a more exciting email address, it's well worth looking into using one of 200 free email domain names that come with a mail.com account. Beyond this distinctive feature, mail.com also has its own Microsoft Office-like suite built into its interface. If you have numerous documents to store in the cloud, a generous 65GB of cloud storage space may persuade you to cut ties with Google entirely.
Features:
Choose one of 200 domains for your email to give you a professional look without paying for a domain
Free email apps that resemble those of Microsoft Office.
Send attachments up to 30MB
65 GB of storage space.
Up to 10 alias email addresses (think different departments in a small business or side hustles)
AOL
Setup difficulty (out of 5 👍): 👍👍👍
Organization (out of 5 📁): 📁📁📁
Privacy and security (out of 5 🔒) : 🔒🔒🔒🔒
Design (out of 5 🎨): 🎨🎨🎨
Ah, AOL. Older Millennials and previous generations will likely recall the iconic "You've got mail!" voice notification (which you can still enable, by the way). AOL (and AIM) accounts may have fallen out of fashion, but the AOL email account is still going strong. Setting up an AOL account is not as easy as some others due to two-step verification, but on the flip side, this extra step increases its security rating above average. 
The other refreshing difference with AOL is its transparency on how the company uses your data. When you sign up, you'll immediately see an easy-to-read (not written in indecipherable legalese) privacy notice, as well as the ability to configure your privacy settings right off the bat—a smart move in today's privacy-first-obsessed world.
Other than having a news-based front page, a nice calendar, and a to-do widget, AOL mail's most distinctive feature is its virtually unlimited 1TB storage space (that's 1000 GB's!). If you're one of many people who never delete emails for various reasons, you can rack up over 13 million emails in your free account and still have space to spare (if the average email is 75KB). That's a lot of cat memes from your college friends. 
Features:
Virtually unlimited 1TB storage space
Simple, customizable interface
Ability to import contacts from a CSV file
The iconic "You've got mail" notification
Outlook
Setup difficulty (out of 5 👍): 👍👍👍👍
Organization (out of 5 📁): 📁📁📁📁
Privacy and security (out of 5 🔒) : 🔒🔒🔒
Design (out of 5 🎨): 🎨🎨🎨🎨
Widely used by businesses, educational institutes, and everyday people, Outlook.com (the provider of the legendary 'Hotmail' email domain) is Microsoft's email services offering.
It's slightly above average in most respects thanks to a relatively straightforward setup, robust folder management, modern design, and integration with other Microsoft products. A free Microsoft account also includes 5GB of storage in OneDrive. 
If you're a big fan of Microsoft products like Office, Skype, To-Do, or use a computer or phone with a Microsoft operating system, this option is a great choice to keep everything synced up in a single ecosystem. You can also embed video in email easily to share content with friends, colleagues, or clients.
The only area where Outlook falls a little short is privacy and security. As a massive company, Microsoft is no stranger to hackers targeting its customers' data. The Outlook system's Achilles heel lies in its choice of encryption, which uses S/MIME (Secure/Multipurpose Internet Mail Extensions) and Office 365 message encryption. This means the person receiving the emails must also have this same encryption level for it to work as intended. 
Features:
15 GB of storage space
OneDrive 5 GB free storage for files using Microsoft Office online suite
Integration with other Microsoft products like To Do, Skype, and Outlook Calendar
Yahoo! Mail
Setup difficulty (out of 5 👍): 👍👍👍
Organization (out of 5 📁): 📁📁📁📁
Privacy and security (out of 5 🔒) : 🔒🔒🔒🔒
Design (out of 5 🎨): 🎨🎨🎨🎨🎨
In the past, when conversations turned to Yahoo!, used to provoke laughter from those who used service providers like Gmail or Outlook. However, Yahoo! Mail isn't as much of a relic as you might think, and it is certainly worth considering for your email services.
Yahoo! Mail shares the same parent company as AOL (Verizon Media, in case you're wondering). So if you're familiar with AOL, Yahoo! Mail is very similar, but better-looking and devotes less space to ads. The interface is customizable, and you can multitask in separate tabs within the email viewing window.
Another great feature is the ability to have up to 500 disposable email addresses on the free plan, which you can use to sign up for third-party newsletters or temporary email verifications. When you don't want to receive those emails anymore, you can simply delete the address associated with them. Say good-bye to spam clogging your primary inbox!
Features:
Highly customizable theme and layout
Up to 500 disposable email addresses
Photos and document history search
Massive 1TB storage
ProtonMail
Setup difficulty (out of 5 👍): 👍👍👍👍👍
Organization (out of 5 📁): 📁📁
Privacy and security (out of 5 🔒) : 🔒🔒🔒🔒🔒
Design (out of 5 🎨): 🎨🎨🎨🎨
Like Tutanota (another super-encrypted email provider used by CERN scientists in Switzerland back in 2014), ProtonMail boasts security features in spades. Its mission is to safeguard online security and privacy as fundamental human rights. If privacy and security are your number one priority, ProtonMail is an excellentchoice for ad-free, secure email.
The organization takes privacy so seriously that it doesn't even ask you for personal information when you sign up for an account. The email encryption is so hardcore even ProtonMail developers can't read your emails. Also, since you don't have as many fields to fill in as other providers, setting up the account is super easy. However, there are a couple of significant drawbacks.
With the free service, you only get 500MB of email storage and 150 messages per day (note to email hoarders: you'll need to level up your inbox zero skills). They limit you to three folders or labels and don't allow for custom filters. So if the ability to store and organize emails is crucial for you, you might want to look elsewhere.
Features:
No requirement for personal details
Two-factor authentication
Access log to see who accessed the account, where, and when
Donate or subscribe to paid plans to fund their mission
CERN scientist-level end-to-end encryption
iCloud Mail
Setup difficulty (out of 5 👍): 👍👍👍👍👍
Organization (out of 5 📁): 📁📁📁
Privacy and security (out of 5 🔒) : 🔒🔒🔒🔒
Design (out of 5 🎨): 🎨🎨🎨🎨
This list wouldn't be complete without including the other big tech giant's email platform, Apple's iCloud Mail. In recent years Apple has turned its attention towards privacy and security. However, iCloud Mail really shines in its setup ease.
There are two routes to setting up an iCloud.com email. First, technically speaking, you can use the Mail app for either iOS or macOS without having an iCloud Mail (you can link the app to another email provider). However, i you're an Apple user, you may have been prompted to use iCloud when you first set up your Apple ID on your Apple device or Mac.
On the other hand, if you used an email address from another provider to set up your Apple ID, you can still get an iCloud email by going into your iCloud settings and switching on the Mail toggle.
After you toggle this option, a box will pop up to create the iCloud address. Input what you want your email to be, and you're done!
Features:
Access to other iCloud linked apps via Desktop
5 GB of storage across iCloud (with upgradable paid plans through Apple)
Label senders as VIPs to give them separate inboxes
Two-factor authentication with the location of the attempted sign-in
Choosing the best email service for you
Now you're up to date on some of the best email service providers on the market today. Whether you're one of the 580 million new email users coming online in the next few years, shopping around for another provider, or just curious about what other free email account features are out there, we hope this list has helped you out!
The fun doesn't stop there. Once you've created a new email account with your chosen provider, see if there are intermediate steps you can take to really get the most out of your email experience. Try creating email groups in Gmail or even test out automating some of your email workflows. 
If you're looking for more business and marketing functionality, you could also look into other email providers such as ManyChat or Mailchimp. But regardless of what email provider you choose, know you always have plenty of alternatives for future accounts.
Want to give ManyChat's marketing automation a shot? Sign up free below.
Los contenidos de este blog han sido elaborados de forma independiente y sólo tienen fines informativos. Las opiniones expresadas son las del autor y no reflejan necesariamente los puntos de vista de ManyChat o de cualquier otra parte. Los resultados individuales pueden variar.