Email Automation Workflows: Key Concepts and 5 Ideas to Try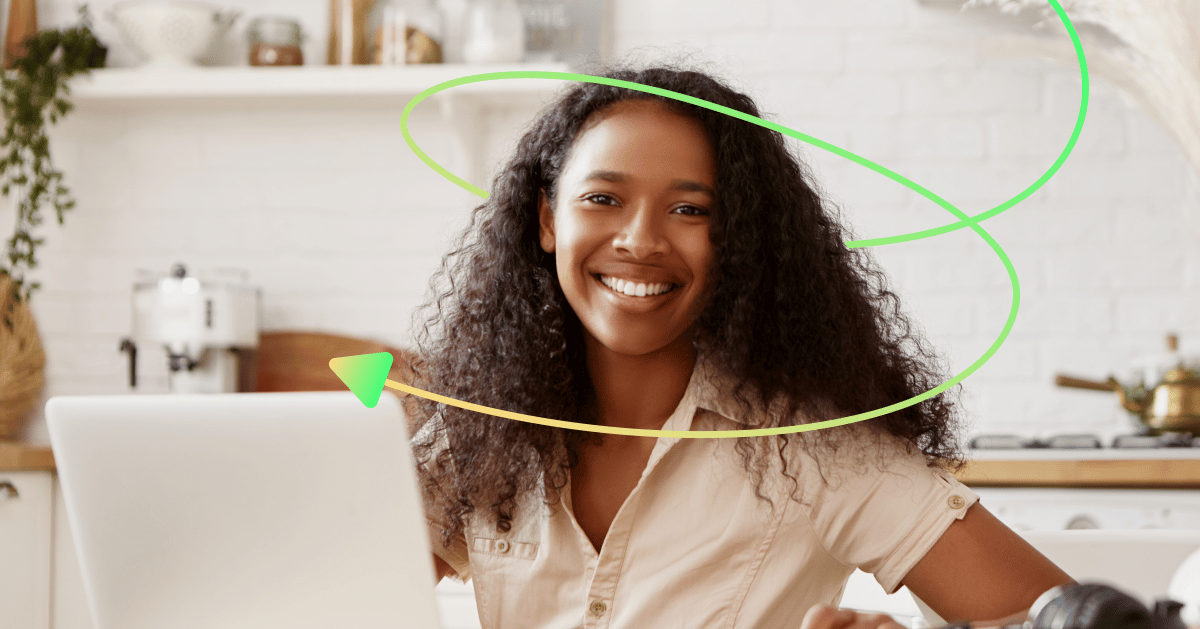 When your business grows, so too does the need to communicate with your audience. But it can be a challenge to keep up with the various forms of communication used to provide value to your customer, prospect, and subscriber base.
One solution is to build more automation workflows into your business. Rather than engage with customers and prospects manually, use marketing technology to send personalized and situationally relevant messages. Email workflows make it possible to create guided, goal-oriented experiences through simple outreach.
Here are some important tips, along with workflow ideas, to implement automation workflows into your strategy.
Email automation basics
Customer relationships are the heart and soul of any company. But often, communication logistics can be complex and sometimes challenging.
Let's say,, that a potential customer emails you a question about your product or service. Answering that question may take 10 minutes of your time. No big deal, right?
As your business scales, however, so will the amount of time spent on certain tasks, like responding to an inquiry. And those 10 minutes it takes to answer a question can easily become overwhelming when, say, 100 potential customers ask the same thing.
All of a sudden, you're spending two full work days responding to emails; and the questions keep coming.
Imagine, for a moment, how much time you're most likely wasting in the day-to-day of your business without even realizing it, with things like:.
Answering the same questions over and over.

Copying and pasting content from one email to another.

Running marketing campaigns manually.

Making typos in your communications

Reaching out to different audiences with variations of the same messaging.

Lacking access to data to help you make more informed decisions.
According to the Salesforce Pardot team, marketing automation enables businesses to do three key things: behavioral tracking based on an individual's interactions with a brand's marketing; using data to automate personalized marketing experiences; and connecting those outcomes to revenue opportunities for the business.
The following video elaborates more on this concept:

The role of automation in your business
The topics of marketing, automation, and revenue growth go hand in hand, and the math is simple. When you build a marketing campaign that performs well, it makes sense to automate the grunt work; when you spend less time on repetitive, manual tasks, your business becomes more profitable. With automated workflows in place, you can focus more on growth-oriented initiatives such as building your contact list, researching the right narratives for your market, shortening transactional paths, and optimizing your messaging.
Automation is equal parts strategic planning and tactical execution. With regards to strategic planning, it's important to develop a campaign that communicates the right messages at the right time. With a well-developed plan and foundation in place, you can use software to build, launch, and manage the logistical aspects of your campaign.
With less administrative overhead, your team can devote more attention to your customers by building trust, empathy, and familiarity through your brand experience.
The importance of email workflows
Email is a particularly powerful channel for building automation campaigns. That's because inboxes play a central, anchoring role in people's lives. When individuals seek information, they turn to social media, search engines, and customer reviews for insights. But with wandering eyes and attention spans, customers and prospects may be using multiple devices including their phones, tablets, and laptops, to make decisions. Email is what connects the dots between all of these different, and somewhat fragmented, user experiences.
Consider the following micro-moments framework, coined by Think with Google, when developing your strategy.
"Empowered by mobile, today's consumers can get exactly what they want, instantly and effortlessly," wrote Google's research team in 2018. "As a result, they are more curious, demanding, and impatient than ever before. For marketers, this means these consumers are also tougher to reach and tougher to please."
Since email is a «permissioned channel,» which means subscribers choose to receive communications from a business, the intent-filled action of giving permission indicates a certain level of commitment to your business. And if that isn't convincing enough, take a look at the following data points on the power of email automation in driving business growth:
Key concepts to know
Automation technology has the potential to "radically shift your approach to marketing," wrote the Salesforce Pardot team for the American Marketing Association. Before you start building and launching campaign workflows, though, it's helpful to understand some simple terminology.
Opt in: An "opt in" refers to the action of someone becoming a subscriber to your email list. When a person signs up to receive email communications, they are "opting in." Many global data privacy laws require opt ins as the first step in an automated marketing workflow. To remain compliant, your audiences need to give express consent that they are interested in becoming subscribers. Read more about email compliance, here.
Double opt in:

This term means that a subscriber gives their permission twice: first when signing up to receive emails, and a second time after confirming receipt of the first email. According to research from Litmus, brands that use double opt ins generate an ROI that's

13% higher

than brands that generate single opt ins. This trend confirms the importance of intent as a user engagement signal.

Database:

A centralized data set provides marketers with a single source of information, which companies can use to create a more seamless communication experience with customers. A database is a vital software tool, especially as marketers launch more ambitious campaigns.

Lead scoring:

Based on actions that your audience takes, your marketing automation system can set up rules to

score the quality of each lead

before storing these numbers in a database. These scores can help determine what kind of messaging to send , how often, and when.

Lead nurturing:

Marketing automation is about building relationships with people over time. The term "lead nurturing" captures the process of establishing this rapport, which usually takes place over a series of multiple email campaigns. When people subscribe to your email list, they may not be ready to make a purchase, but a nurturing campaign can help bridge this gap by providing continued education that supports decision-making.

Drip campaign:

Unlike a general lead nurturing sequence, drip campaigns have defined start and end dates; an example of which might be a week-long mini course or free product trial.

Trigger:

A trigger is an event, such as an opt in to a mailing list, that initiates an automated email workflow. A "trigger" communicates instructions to your software to execute a series of steps based on the defined event.



An email automation workflow connects all of these terms and concepts into an integrated strategy. An opt-in process means that a person becomes a lead in your database, which triggers your subscriber to receive an email.
Over time, your marketing automation system will score these leads, which you can nurture into a loyal customer. Along the way, reporting from your marketing automation system will help you plan, structure, and build upon your marketing campaign.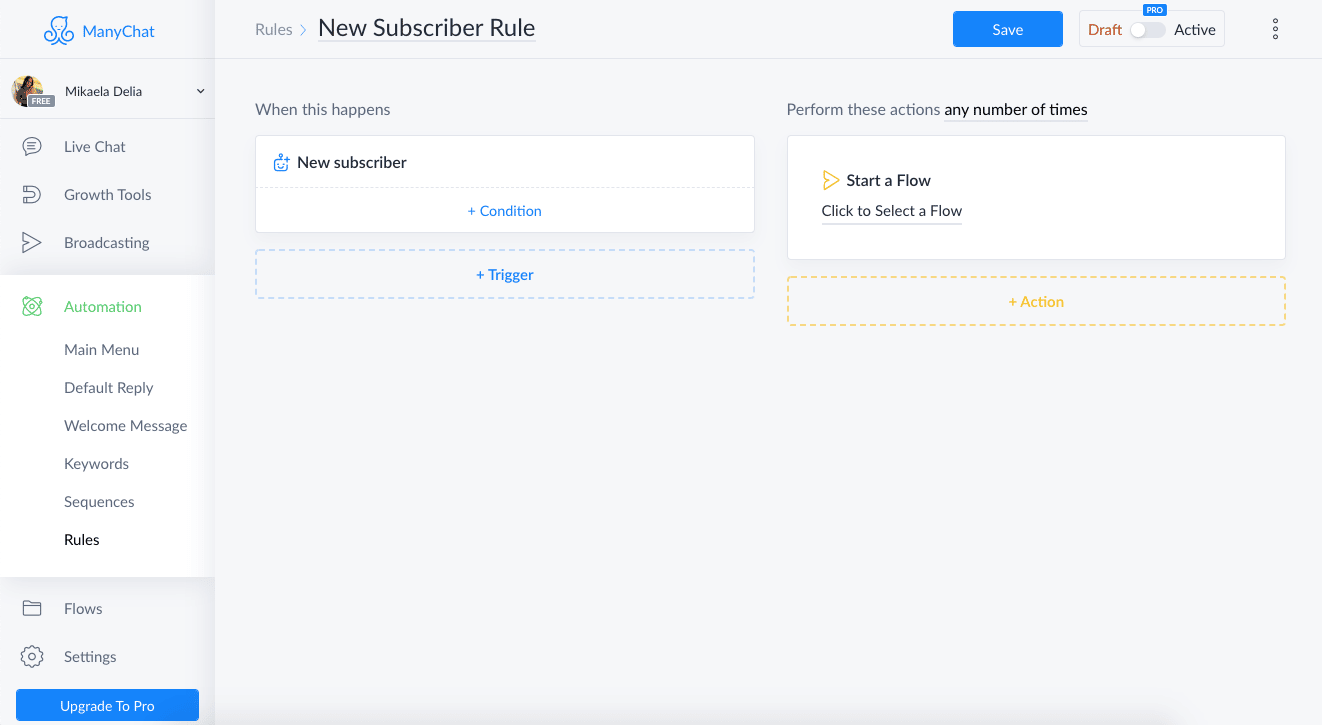 "Some people think marketing automation is complicated and difficult—but in reality, it's the opposite," wrote the Salesforce Pardot team. "The best marketing automation solutions are intuitive and can help marketers deliver ROI quickly … marketing automation is meant to grow with your business."
Email workflows to try
If you're looking to get started with automated email workflows, there's no need to reinvent the wheel. The marketing automation software industry is expected to be worth $16.87 billion by 2025 at a compound annual growth rate (CAGR) of 19.2%.
One way to look at this data point is to recognize that you're not alone, and if you're experiencing a marketing automation challenge in your business, it may have already been solved.
While 75% of marketers say they currently use at least one type of marketing automation tool, according to Social Media Today, more than 43% of them struggle to deliver personalized content and integrate their marketing systems.
Email automation workflows are a natural next step for streamlining your outreach and communications with audiences. Here are three to try.

Chatbot → email opt-in workflow
If you have a chatbot up and running for traffic acquisition, a natural next step is to move this discussion to email. When someone opts in to your list to become a subscriber, they are explicitly giving you permission to reach out with information. When you cross this conversational bridge, you can more effectively collect data, enrich your database with behavioral signals, build valuable lead nurturing campaigns, increase your lead scores, and adapt to user-defined triggers.
The content team at ManyChat uses its own chatbot and marketing automation platform to increase its subscriber base to its newsletter "The Chat." You can see what the user experience looks like, below:

Step one, from the chatbot, is to gather opt ins to communicate with audiences over email. Step two involves re-engaging that audience with the content that they've requested via email. Behind the scenes, a series of workflows make this campaign possible. On the front end, subscribers see a connected, cohesive communication experience.
This particular workflow gives ManyChat the ability to see what topics its subscribers are reading about, which then makes it possible for the company to personalize emails for customer segments based on reading history and interests. The campaign resulted in a 50% increase in its newsletter subscriber base.
Chatbot → omnichannel loyalty workflow
These days, everyone could use a little gratitude and appreciation. One way to show customers that you care is to create a loyalty program for your business. With marketing automation, you can keep subscribers engaged while also preventing churn.
Proactively reach out with an offer that helps keep your business top of mind. A simple birthday or holiday promotion could form the basis of a loyalty program, where you encourage sign-ups by asking audiences to share their birthday.
ManyChat Agency Partner Jesper Vig Troelsen recently helped his restaurant client create a loyalty campaign with personalized birthday cards. The workflow was as follows:
Troelsen used targeted Facebook ads to attract new audiences with upcoming birthdays, offering subscribers a 10% discount and birthday promotion for a free meal.

New subscribers used a platform called Walletly to redeem this offer, which helped the restaurant build a customer profile for its database.

Walletly was able to take the entire campaign one step further with push notifications. Once a customer synced the coupon to their mobile app, Wallet could send customers messages based on their proximity to the restaurant.
The campaign generated 1,500 Messenger subscribers, saw a 29% conversion rate, and generated over $19,000 in sales with $135 in ad spend.
New subscriber workflow
Think of this workflow as an onboarding or "getting to know you" process for your brand. So, someone signs up for your email list. What happens next?
Rather than asking subscribers to wait for further contact, you can kick off a simple three to five part introduction cadence, like Uberflip did.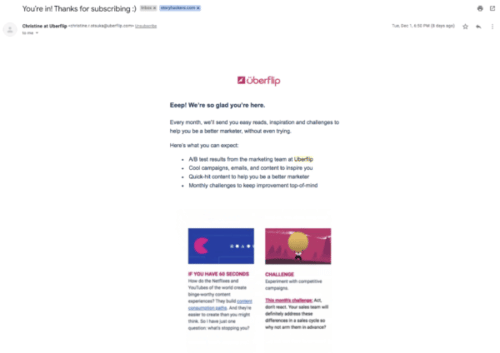 "New subscribers to the Uberflip Hub receive a sequence of emails that includes a 'thank you for subscribing' note, an introduction to content experience, a few pieces of our top-performing content, and so on," said Christine Otsuka, director of content at Uberflip. "With this workflow in place, we hope to show our new subscribers how to get the most out of their subscription instead of simply dumping them into a stream of our latest content."
The following workflow sets expectations and builds rapport:
Make it easy for audiences to learn what your business does and what value you offer.

Share some details about the content that you plan to send over email.

Explain the channels through which you're open to communicating or providing service.

Provide contact details for your customer success or sales team.
New subscribers are approaching your brand with a fresh perspective, and a well-defined workflow can help set subscriber expectations.
Nurture workflow
Even when potential audiences become mailing list subscribers, they may not be interested in engaging with your brand, transactionally. There may be a "warm up" or "getting to know you" period, or, they may never do business with your company at all. In both situations, it's important to leave a positive and lasting impression. A nurture workflow can help.
Nurture campaigns break down into four categories:
New customer campaigns that build a relationship between the business and potential customer.

Post-purchase campaigns that share promotions, how-tos, and opportunities to leave product reviews.

Repeat customer campaigns that target a high-value segment of customers to encourage repeat purchases.

Re-engagement campaigns that engage with customers who may be likely to churn.
What nurture campaigns share in common is high-quality, interesting content. Rather than pushing a sale, send subscribers a series of helpful and personable resources like the example from Ariana Friedlander, an entrepreneur who specializes in innovation and communications consulting for large businesses.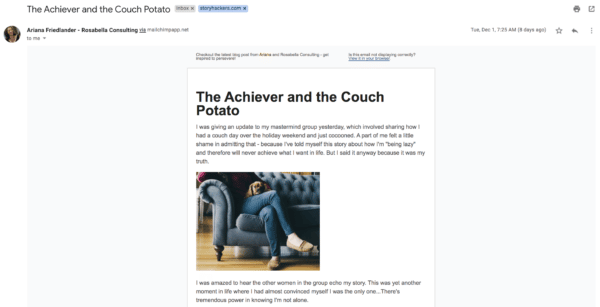 Read more: How to Write a Product Launch Email (+Examples)
Shopping cart abandonment workflow
In March 2020, 88.05% of online shopping carts were abandoned. If you have an eCommerce business, one of the lowest-hanging opportunities for revenue is to decrease your shopping cart abandonment rate. This process may be as simple as developing a marketing automation workflow by sending people simple reminders that an item is sitting in their online cart.
Depending on your subscriber's opt-in preferences, you can send them a notification on multiple channels: SMS, Messenger, and email. To give shoppers an extra push to complete their purchases, it may be helpful to include a workflow to increase checkouts.
This guide from ManyChat will help you set up a simple abandoned cart campaign, using a Shopify integration, as well as help you determine the ideal timing for your follow-up and outreach.
Choosing your focus
Automation is about working smarter, scaling communications, and freeing up headspace to focus on business-consumer relationships and connections.
If you're not sure where to focus, think about the biggest challenges in your business. If you're having trouble converting prospects into leads, a nurturing campaign will help. If you're seeking to build a list for the first time, it's invaluable to set up your new subscriber workflows right away. If you communicate with audiences using a chatbot, it may make sense to reach them using more than one channel.
Beyond implementing tactics, make sure that your decisions reflect a clear goal for your business. If you need to hit a sales quota without bombarding your customers, reach out to your most engaged repeat buyers.
Over time, your email list has the potential to strengthen your business, and marketing automation workflows will help ensure that your communications scale sustainably while remaining personalized, engaging, and relevant.
Want to give email list building and marketing automation a try with your chatbot? Sign up for a demo with ManyChat.
Los contenidos de este blog han sido elaborados de forma independiente y sólo tienen fines informativos. Las opiniones expresadas son las del autor y no reflejan necesariamente los puntos de vista de ManyChat o de cualquier otra parte. Los resultados individuales pueden variar.