5 Easy Ways to Increase Your Add-to-Cart Rate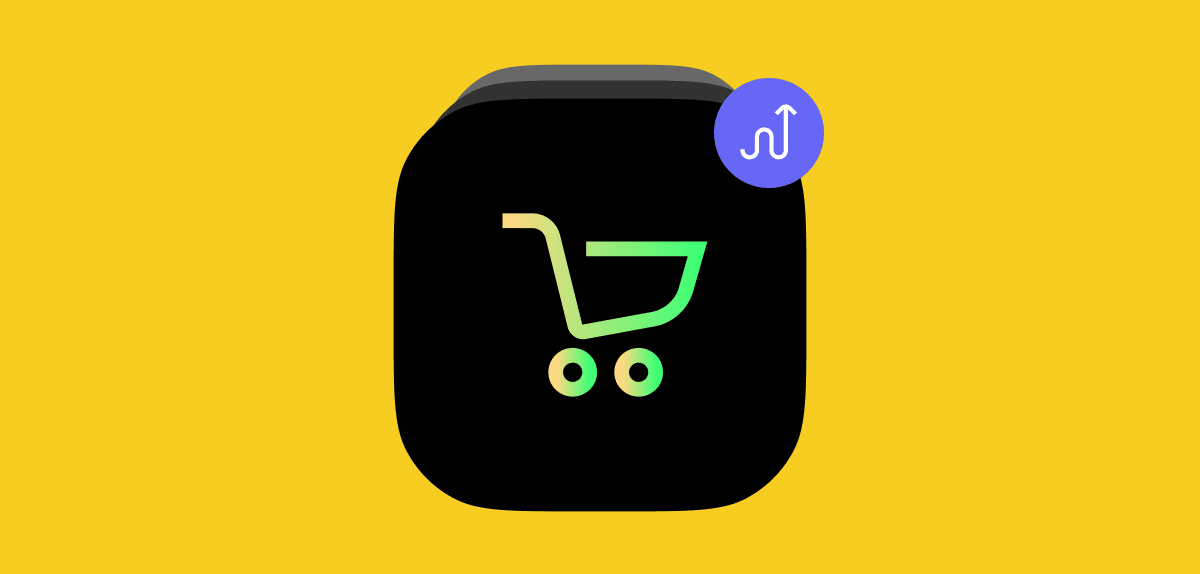 There are tons of metrics to track when running an eCommerce website: revenue, customer acquisition cost, average order value, shopping cart abandonment rate…the list is endless.
But one that doesn't always make the list is add-to-cart rate, which tracks how often people add products to their cart in your store.
Sounds like a good one to know, right? It's even better understanding how to increase it.
Here are easy ways to increase your add-to-cart rate and drive more sales for your business.
What is an add to cart rate?
Let's start with the basics. Add-to-cart rate is the percentage of people who add at least one item to their cart during a visit to your site. It's a crucial metric because it helps businesses evaluate the success of their marketing efforts, product selection, and site usability.
An essential part of running an eCommerce store is ensuring that the tactics you choose are helping your bottom line. To do that, you need to know how to calculate your add-to-cart rate.
Here's an example of the add-to-cart rate formula:
You can calculate your add-to-cart rate by dividing the number of sessions during which a user added a product to their cart by the total number of website sessions in a given period. Then multiply that number by 100. For example, if you had 300 add-to-cart sessions and 12,000 total website sessions in a month, your add-to-cart rate is 2.5%.
That's a decent add to cart rate! Based on a recent survey by Databox, eCommerce professionals claimed their average add-to-cart rate hovers between 3 – 4%.
Even if your rate is high, there's always room for improvement. Let's look at some ways you can optimize your add-to-cart buttons to improve your eCommerce conversion rate.
How do I increase my add-to-cart rate?
There are many ways you can increase your add-to-cart rate. As you start to brainstorm how to accomplish this, consider the following five techniques that have proven time and again to convince people to take action.
Offer free shipping
No matter what you sell, you need to understand shoppers' needs and expectations to motivate them. The rise of free delivery as a standard practice has changed consumer behavior when buying online—customers now expect retailers to offer it. And if you don't? Well, your conversion rate could suffer.
With the vast majority (95%) of consumers confirming that shipping costs impact their shopping decisions, free shipping is a great incentive to boost your add-to-cart rate.
But can you afford to offer free shipping? To find out, determine a minimum order value for which covering shipping costs makes financial sense.
Look at your average order value and work from there. For example, if your average customer purchase tops out at $40, offering free delivery on orders over $50 can encourage people to buy more than they had originally planned, improving your average order value and add-to-cart rate.
A tiered free shipping strategy also works for retailers both large and small. Kylie Cosmetics, a global beauty brand, offers free shipping on domestic orders over $40 and international orders over $60. They advertise it above the site's navigation bar so visitors can't miss it.
Once a shopper adds an item to their cart, a sidebar shopping cart appears on the site, which achieves three things:
Continues to highlight the free shipping threshold (Add $24.00 more for FREE SHIPPING)
Upsells relevant products (they appear in the sidebar shopping cart automagically) to raise average order value
Allows the shopper to continue browsing uninterrupted
Figure out a minimum order price that allows you to turn a profit and promote it throughout your online store, checkout process, and shopping cart.
Optimize your product pages
Product pages, much like ad or Messenger marketing campaigns, are more effective when they include information relevant to your audience. These pages are often where shoppers make the decision to add products to their cart, so you'll want to put effort into getting it right. Here are some tips to optimize your product pages:
Place your add-to-cart button above the fold: Make buttons bright, clear, and sizable, so they're easy to see and click.
Promote big, high-resolution 360-degree images: Help shoppers envision using your products by featuring large, crisp images on a white background.
Write convincing product descriptions: Include product specs and unique benefits that set your product apart from its competition.
Include social proof and testimonials. The average consumer reads 10 reviews before buying a product. Include star ratings and testimonials to address customer doubts and improve your conversion rates.
Learning how to build a product page may require some trial and error. Start by adding these four elements to your pages to boost your add-to-cart rate quickly, then read 7 Product Page Best Practices to Get More Conversions for more tactics to try.
Send abandoned cart messages
Did you know that 88% of people who add items to an online cart never end up buying them? Abandoned cart messages send reminders to these would-be customers after they leave the checkout page. This approach, which consists of well-timed SMS, Messenger, and email messages, can recover nearly $11 of revenue per recipient.
This recovered revenue is largely due to the nature of abandoned cart reminders, which frequently offer discounts or coupons for abandoned items. Shoppers can take advantage of the deal and check out right away. These messages are also a prime opportunity to upsell and cross-sell other products to improve your add-to-cart rate.
Here's an example of a cart abandonment Messenger reminder at work:
You can also reduce cart abandonment using SMS by including catchy images and coupon codes:
Both these options offer retailers the chance to interact with customers in real time through live chat. If someone has a question about their items, they can receive an answer in minutes rather than waiting for a support email, which could take longer to arrive than a customer is willing to wait. By the time they receive a response, the shopper may have moved on and purchased something else.
Additional Resources:
Want to reduce abandoned cart in your online store? Start free with ManyChat today.
Add a customer chat window
Shoppers aren't able to physically ask an associate about products when they're browsing online. They rely on customer support tools to ask questions and get answers fast, so they can decide whether or not to buy.
A customer chat window lets you have real-time conversations with your website visitors. It lives at the bottom-right corner of a shopper's screen and shows a pop-up to encourage them to interact with your brand.
When someone enters the chat, you can direct them to an automated FAQ chat sequence or let them talk to a human if you have a support team.
A customer chat window can also help:
Improve customer service by bringing any website conversation into Messenger
Offer instant and automated answers based on keywords or pre-built sequences
Subscribe visitors to a Messenger, email, or SMS newsletter
Deliver lead magnets or provide useful content to browsers
Surface new products and offer recommendations for curious shoppers
Resources:
Use an exit intent pop-up
Exit pop-ups get a bad rep because they can be intrusive, but the benefits can outweigh this minor concern. These pop-ups track mouse movement on specific pages—when a visitor attempts to leave the page, it triggers an overlay on the screen.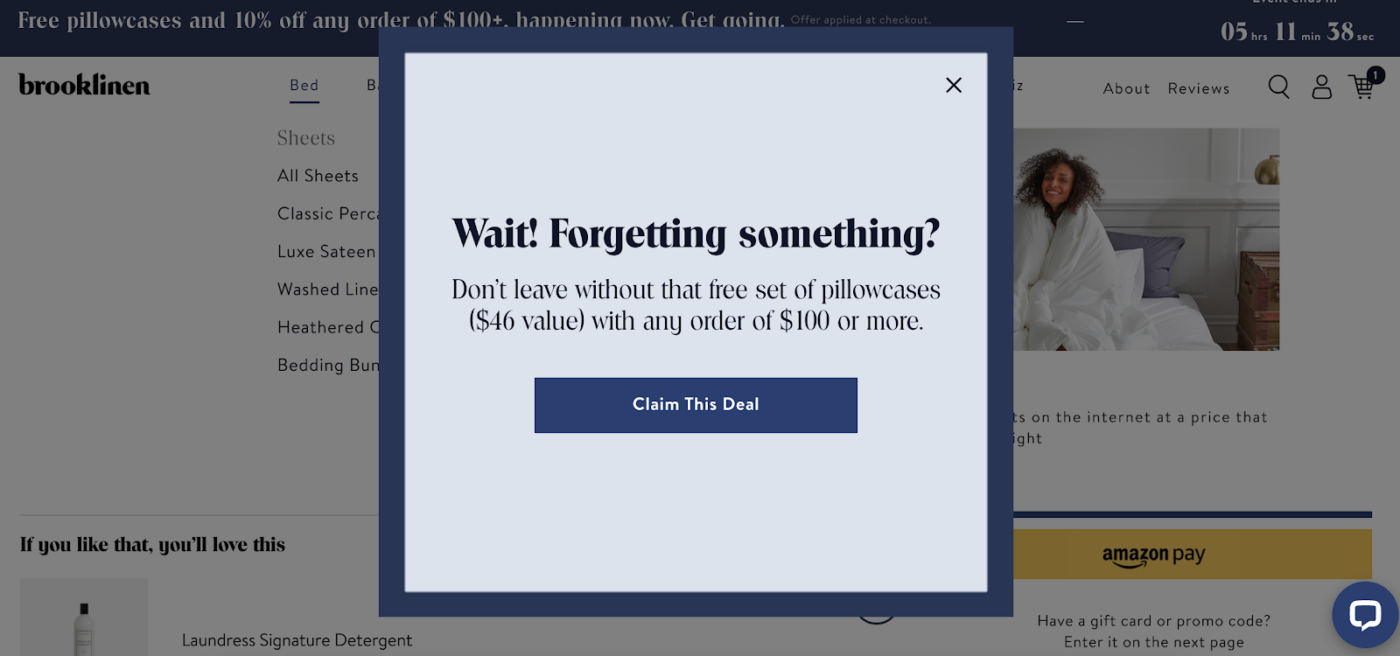 Marketers will frequently offer a discount, promotion, or free shipping in exchange for a marketing list sign-up. Even if the customer doesn't end up buying anything, you'll still be able to market to them.
If they do purchase an item or two, you'll have initiated a virtuous cycle: once a customer makes a purchase, you can sell more to them through your owned channels, like SMS and Messenger, and increase your add-to-cart and purchase rates.
For examples and tutorials on how to create your own exit intent pop-ups, read How to Reduce Abandoned Carts with Exit Intent Pop-ups.
Increase your add to cart rate with these tactics
Every retailer should work to increase their add-to-cart rate—whether you're a seven-figure brand or a newer start-up. As more people add products to their cart, your chances to boost sales for your business will rise exponentially.
Start testing some of these tactics we've shared in this guide. You'll soon see your add-to-cart rate increase across your collection and product pages. Once it starts to improve, you can focus on different ways to reduce cart abandonment and conversion rates in your eCommerce store.
Reduce your abandon cart rate and drive sales with ManyChat. Start free today.
Los contenidos de este blog han sido elaborados de forma independiente y sólo tienen fines informativos. Las opiniones expresadas son las del autor y no reflejan necesariamente los puntos de vista de ManyChat o de cualquier otra parte. Los resultados individuales pueden variar.