7 Smart Workflow Automation Tactics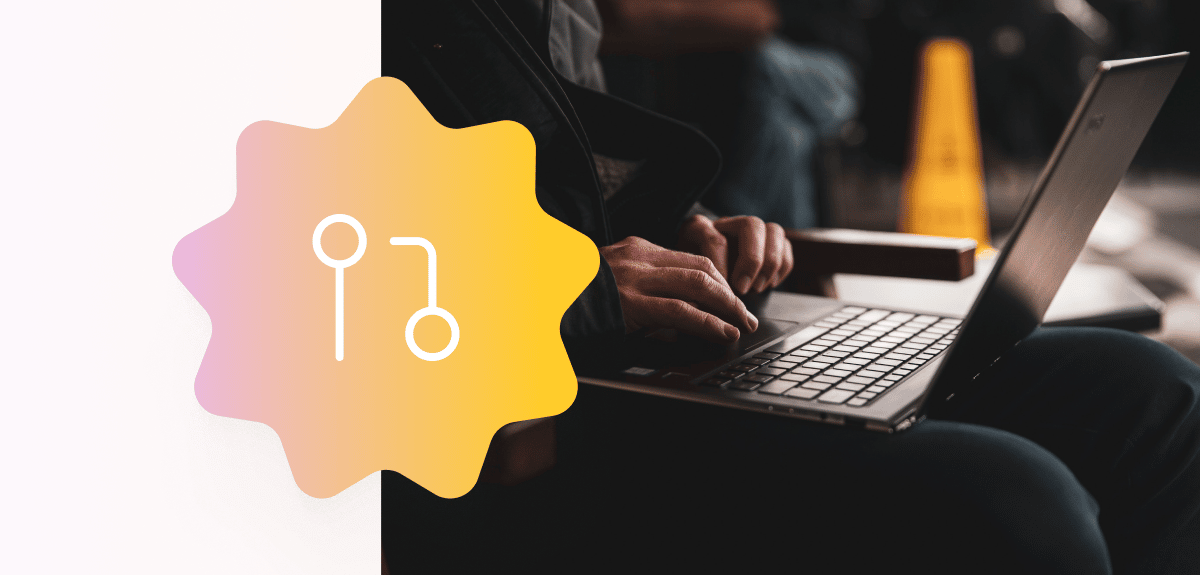 Here's a fun fact: The average worker spends roughly 22% of their time doing repetitive tasks.
Redundancy can eat into your budget and kill any efficiency in your business process. So, what's the secret sauce to maximize time and value? Workflow automation.
Over the last few years there's been significant growth in workflow automation, becoming one of the most effective ways to boost efficiency and save time.
With some software and best practices implementation, you can take your business to the next level—without repetition.
So, take the time to set your business up for success with these seven workflow automation tactics.
What is workflow automation?
Workflow automation refers to when you create and optimize a business processes to work with little human intervention. Workflow rules route tasks like lead nurturing and data entry to help eliminate manual work, boosting productivity and saving businesses time and money.
The benefits of workflow and process automation
Whether you're an eCommerce store owner or marketing agency, workflow automation can bring the following benefits:
Boost efficiency. Task automation reduces human error and redundancies, which helps improve efficiency for your business.
Improve customer experience. With an automated process, you can give leads and customers the information they want quickly and easily.
Better resource allocation. Automation takes care of mundane tasks so teams can do higher-value work.
Gain Insight. You can gain deeper understanding into your processes and make better decisions with workflow automation software.
Less wasted time and resources. Workflow automation results in cost savings by getting rid of time-sucking tasks.
Increase Transparency. Automation provides a clear understanding of how your process works who is responsible for what.
Improve scalability. You can't scale a company with manual processes. Automation software can help manage increased workloads and sophisticated processes in your business.
Read more: The 9 Best Marketing Software to Automate Your Agency
Top 7 workflow automation tactics
There is no single formula for designing workflow automation. Regardless of how you choose to design your process, the following elements should always be considered.
1. Build automated Messenger bot sequences
A Messenger bot sequence is a series of messages sent automatically to a group of people. When you subscribe someone to a sequence, they will receive a message based on the time delay you set.
Sequences allow you to build various touchpoints to engage with subscribers, deliver value through content, share relevant information, and build trust with your audience. Your goal is to help move potential customers through their buying journey and convert more subscribers into qualified leads.
You can use sequences to create a number of different automated campaigns such as:
7-day course
Welcome series
Follow-ups
Fun fact, you can also build SMS and email into your sequences in ManyChat to send the right message, at the right time, on the right platform.
Sequences will help you automate some of the subscriber interaction, so you can make time for more meaningful work. You may have to jump in a Live Chat from time to time if someone has an unprecedented question. And remember, sequences are not for promotions and discounts. They exist to help you provide valuable content and build relationships with your subscribers.
For more on how to create a sequence, read the ManyChat Sequences Tutorial.
2. Automate your lead generation process
If you've run omnichannel marketing campaigns, you know how important an integrated workflow is. Manage each text, email, and Messenger conversation in one place — no need to app hop and deal with data from various platforms.
With everything in one place, you can put lead nurturing on autopilot with omnichannel drip-style campaigns.
Using Flow Builder, you can create targeted workflows without the headache and move people down the sales funnel to get more qualified leads. You can build emails, texts, and Messenger conversations without any coding. And choose from different triggers, conditions, and actions to send the right message at the right time.
The visual editor makes it easy to create workflows in real-time, whether it's a simple follow-up or complex, multi-phase journeys with multiple messages. Use ManyChat segments and logic to determine who enters which flow and when. Then personalize the message for each person using the information you collect from your contact list in ManyChat.
An automated lead generation process like this helps you:
Gather contact information from subscribers
Qualify new subscribers
Educate people about your products and company
Re-engage cold subscribers
Send more relevant content to build customer relationships
3. Send automated follow-ups
Sales often don't come after your first interaction with a customer. It requires consistent communication and follow-ups. When you send follow-ups manually, you risk sending them after it's too late or never sending them at all.
How do you fix this?
Send relevant follow-ups without lifting a finger. Three key follow-up messages you can automate are:
Cart abandonment
If you're a Shopify store using ManyChat, you can create automation to remind people what they left behind. Send messages through Messenger, SMS, and email to help reach the right inbox. You can also add a gallery of the products left behind to grab their attention.
Customer feedback
ManyChat works as an automation tool to collect customer feedback and get product reviews, while speeding up the process. For example, if someone leaves positive feedback in your bot, you can build an intelligent workflow that sends them to leave reviews on sites like Amazon, Yelp, TripAdvisor, G2, etc. If feedback is negative, you can put a customer in touch with your support team and collect their contact info.
Get the reviews workflow template for your bot.
Any Messenger message before 24-hours
Maybe you want to improve process automation for Facebook ads. Or message that new subscriber in Messenger before the 24-hour window closes. Regardless, you can use a Smart Delay in your flow to automatically follow-up with a potential customer.
Whether someone comes into your bot from an ad or opt-in widget and doesn't complete an action, you can set a smart delay to follow up a few hours later with a reason for them to click.
Want to create smarter workflows? Sign up for ManyChat now. It's free to get started.
4. Set default replies
Default replies are pre-build responses you can use to interact with subscribers. It triggers when someone asks a question your bot doesn't recognize — meaning it doesn't match a keyword, rule, or sequence. Basically, your bot doesn't know what to do.
These help continue a conversation with visitors without a human to manage it. You can use default replies to automate customer service or sales team queries by letting your bot answer questions and direct customers where they need to go.
In your ManyChat dashboard, head to Automations and click Default Reply. Then set an automated reply to subscribers. You can send subscribers to different flows or sequences based on your rules.
Best practices when using default replies are:
Enable your default reply for once every 24 hours.
Create a menu of options to help people get back to the right place in your bot.
Notify admins in case a subscriber needs help in Live Chat.
5. Designate keywords
Keywords are an effective way to automate conversations inside Messenger and stay in touch with subscribers. Without keywords in place, your bot won't be able to understand when people ask things outside of the flows you've built.
Here's how to set up keywords in your ManyChat account.
"I use keywords for every one of my client accounts," Trilce Jiron, founder of TBS Marketing explains, "start small and go for the simplest keywords first: such as 'contact' or 'opening hours' and look into your commonly asked questions."
Once you have a list of keywords in your dashboard, create a flow that corresponds to the keyword and answers the subscribers query. This will save your team time responding to the same queries over and over again, and let them focus on more productive work.
6. Set rules in your workflow
You'll find "rules", "triggers" and "actions" in the best practices for a lot of workflow automation blogs, and the same is true for ManyChat automations. Rules are instructions for a bot to do something (Action) when an event happens (Triggers). When an action happens, you can send the user to a specific flow or sequence with an end goal.
You can create a rule around the following triggers:
Date/time
Tag applied
Tag removed
Subscribed to sequence
Unsubscribed from sequence
Custom Field value change
New subscriber
In your ManyChat dashboard, under the Automation tab, you'll see Rules. This is where you can set your criteria for triggering certain events.
For example, say someone opts in from a Growth Tool pop-up. They got their 10% discount. They subscribed to the bot. They are happy. To jump on the excitement, you can set a rule that sends new subscribers an automated Welcome Series that encourages them to shop on your site and use the discount.
In addition,you can set rules for engaging subscribers on their birthday, notifying a live agent when someone's lead score reaches a certain level, or even re-engage people who haven't interacted with your business over the last thirty days.
7. Integrate all your favorite automation software
If you want to make this type of workflow management easier, connect all your systems to eliminate repetitive tasks and manual processes.
The ManyChat marketing integration ecosystem includes many of your favorite marketing and automation tools. You can integrate with Google Sheets, Shopify, Zapier, Hubspot, ActiveCampaign, and many more workflow automation software to simplify your business process. 
When you start to connect with ManyChat, it's a simple plug-n-play set up so you can start sharing data and building an automated workflow solution with confidence and efficiency.
Boost efficiency in your business with workflow automation
If you're still not confident in your workflow automation skills, there's no wrong in testing it out. With these powerful workflow tactics above, you'll be able to build a business process that gets new leads, improves conversions, and boosts efficiency across all your departments.
Work smarter, not harder with ManyChat.
O conteúdo deste blog foi preparado de forma independente e destina-se apenas a fins informativos. As opiniões expressas são de responsabilidade do autor e não refletem necessariamente a posição do ManyChat ou de qualquer outra parte. Os resultados individuais podem variar.