Top 9 Social Media Marketing Tips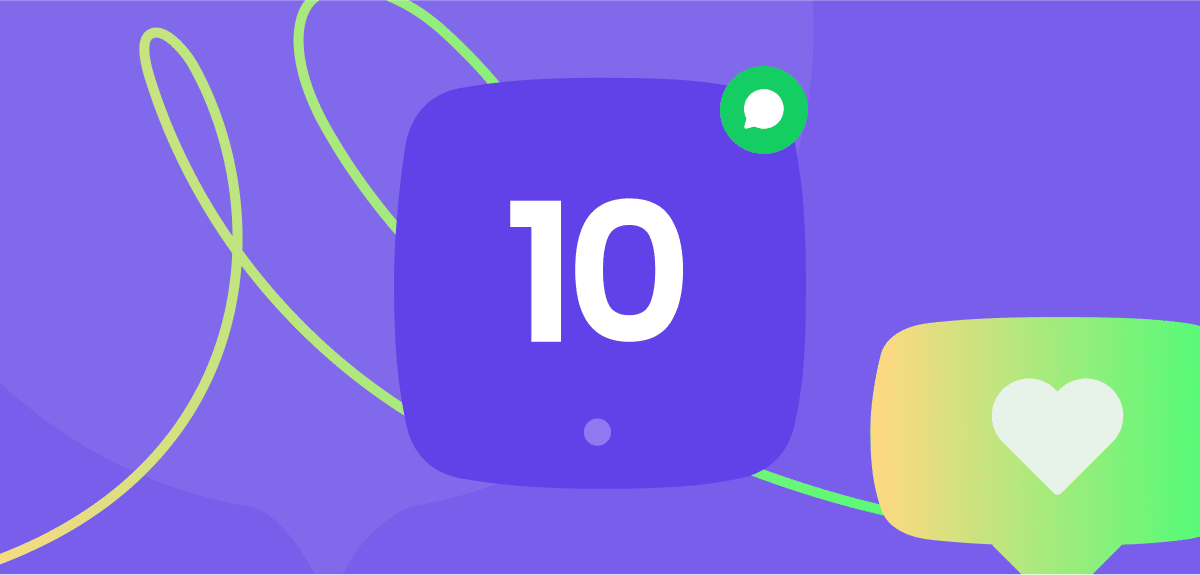 The average person spends three hours every day using social media. Chances are, that's more than they spend watching TV, or commuting to work listening to the radio.
Social media marketing provides a unique opportunity to capture people where they're hanging out online—be that Facebook, Twitter, or LinkedIn. It's an essential marketing strategy for those learning how to start a successful business and integrates well with a Messenger Marketing strategy
The only problem? Social media is a noisy world. Research shows 91% of brands are publishing content regularly, and advertising platforms are becoming a crutch for them… Not to mention the constant stream of updates your target customers' friends and family are posting.
It can be tricky to overcome that information overload and actually reach the audience you've worked hard to build.
In this guide, we'll share 9 unusual social media marketing tips to help your business stand out:
1. View your social media analytics
You have a buyer persona for every marketing campaign. These are the people you're trying to attract; your ideal customers.
It's a waste of your time by using platforms your buyer persona isn't.
Luckily, the majority of channels offer a social media analytics tool to help figure this out. This allows you to dive deeper into the actions happening on your profile, and figure out who your audience is, such as:
Look at specific things about the typical person following you on each platform, such as their:
Age
Gender
Location
Interests
Time online
You can use this information to post content they're most likely to be interested in. People engage with content they enjoy—something they'll need to experience before becoming a customer.
For example, if your audience is based in the UK, it makes sense to show your products with GBP pricing. Or, if they're females aged between 18-30, share content geared towards topics they'd likely be interested in.
2. Put more time into your highest-performing media networks
When using digital marketing for your business, you might feel overwhelmed with the number of social media accounts you need to post on.
The good news? You probably don't need to put time into all of them.
There are only a certain number of hours in the day. Even if you spent an hour creating content for each platform, that's five hours of creating social media content—when the truth is: You just need to focus on platforms your target audience are using.
(After all, it doesn't make sense to use a platform if your audience isn't using it, too.)
You can find the social platforms your business should be focusing on by diving into your analytics from the previous step. Do the demographics fit your buyer persona? If not, it's unlikely you'll gain a ton of customers from that channel.
Let's put that into practice and say you have a makeup brand. Twitter Analytics shows your audience have an interest in cars, and 55% are male… Yet your typical customer is female. Your Facebook Page's demographic fits the bill. So, it makes sense to prioritize Facebook over Twitter for this business.
3. Take advantage of user-generated content
We all know the power of influencer marketing. Almost half of the consumers depend on them for purchasing decisions, hence why it has a $5.20 return for every dollar invested. For this reason, this is a useful social media strategy that can help you promote your business in a way that's native to the platform.
User-generated content (UGC)—images, videos, or reviews posted by your customers— might beat it. That's because consumers find UGC 9.8x more impactful than influencer content when making a purchasing decision.
Think about it: You see a social media post of a brand telling you how awesome their product is… But you don't believe it. It seems biased since they're the people who created it.
Yet when you read a customer review for the same item, your mindset changes. It's come from a third-party, unbiased person who is likely similar to yourself. You trust the product more because of it—potentially convincing you to purchase it because if they found it valuable, you might, too.
Take this tweet from Coca-Cola, for example:
You instantly trust it more because it's not written by Coca-Cola, right?
Social media allows you to have this impact on your own audience. Dig through your customer feedback surveys, or type your brand name in social media search bars. Can you repurpose any of that user-generated content for your own profile?
4. Reply to comments on your social posts
It can be easy to get caught up in a social media storm—especially if you're posting content daily to several social media networks.
As tempting as it can be to skip a few messages, it's important to reply to any messages that directly (or indirectly) talk about your brand.
Research shows that 42% of consumers expect a response on social media within 60 minutes. You could be alienating a huge portion of your audience if you're not on top of your messages.
To do this, you can use social listening like Mention or Agorapulse. Both scan the internet and find the content you're mentioned in—even if the original poster didn't tag you in it:
You can also search your brand name in the search bar of the main social media channels.
Respond to whatever you find—even if it's a negative comment. It can go a long way in solving customer complaints, and publicly proving to other potential customers that you care enough to respond.
5. Create interactive content
The goal of social media is to get your followers engaged, right?
Likes, comments, and retweets show that people are finding your content interesting: something all customers will need to feel before hitting purchase.
A superb way to do this is through interactive content. It encourages your social media followers to do something, as opposed to scroll past. That's why 93% of marketers agreed that interactive content is effective in educating its buyers (versus just 70% for static content.)
Take this example from WhoWhatWear's Instagram Story. It asks their audience to vote in a poll, then visit their website for the answer:
Interactive can take many forms, including:
Polls on Instagram stories
Snapchat filters
Twitter polls
Facebook Live questions
The easiest way to get started is by asking a question. Use one of the above formats to get your audience engaged, then direct them to a special page on your website that shares the answer (or some more information.)
Read more: Top Instagram Marketing Tips for Brands
6. Use emojis in your content
Did you know that 92% of the world's population uses emojis?
Not only that, but Instagram posts containing emojis have an interaction rate of 2.21%. Compare that to 1.77% for posts without content, and it makes sense to start including a handful of emojis in your social media content.
However, there's a fine line with emoji usage. You want to take advantage of using them, but you don't want to overload your posts that make it impossible to understand the content itself. (The latter would make the entire post pointless.)
It makes sense to add 1-3 relevant emojis to content you're already planning on publishing, depending on the length of it.
This Facebook post by Starling Bank, for example, which uses two relevant emojis at the end of a short sentence. Notice how it makes the content feel more human and less corporate:
Bonus: Why not take emoji usage a step further and incorporate this with your interactive content using polls? You could pop a quick survey onto your Instagram stories, and ask people to reply with emoji code. Or, use emojis for a product related to your business, and invite people to decode it. Both are bound to get your audience engaged.
7. Use add-on tools to manage your social calendar
It can be tricky to manage content you're posting to each of your social media accounts.
Not only that, but your notifications can quickly become a danger zone if you're not keeping on top of them.
You can solve this problem with software like Tweetdeck. It shows the main Twitter pages—home, notifications, messages, and lists—all on one page. There's less chance of you missing something important.
Plus, 85% of businesses use third-party tools like Buffer or Hootsuite to help manage their social media presence. Both can schedule content in advance, meaning you don't need to set reminders to publish content on each platform:
These tools offer more than scheduling content, though.
They collect data from your social platforms to judge the best days and times to publish—like Thursdays and Tuesdays at 2pm, for example. These kind of marketing efforts boost your chances of the content being seen because you're publishing when your audience is active.
8. Use social ecommerce features to support sales
It'll come as no surprise to learn that social media usage is set to rise even further this year, with 3.8 billion people already having a profile on at least one platform.
What might be surprising is the fact 87% of eCommerce shoppers believe social media helps them make a shopping decision. Your ideal customers are likely to use social media networks like Facebook, Instagram, and LinkedIn to find products that solve their pain points.
So, how can you use social commerce to your advantage? Here are some examples to add to your marketing strategy:
Instagram Checkout: Brands can tag their products in a post, and direct users to a checkout page to purchase that product. It solves the problem of only having one way to send people to your website via the link on your profile page.
Pinterest Shopping Cart: Some 83% of weekly Pinners have made a purchase based on the content they saw from brands on Pinterest. They can do this through the shopping cart—a feature which allows them to add items to a Pinterest cart, and purchase from several retailers without leaving the platform.
Facebook Messenger bots: These tools answer questions from your Facebook followers using artificial intelligence. It can give real-time customer support, and answer pre-purchase questions. Here's an example:
9. Make a premade post for happy customers to share
Glowing testimonials from happy customers are one of a business' best marketing tools.
Not only does it prove that you're trustworthy, but it helps people relate to your brand if they can see somebody similar to themselves enjoying your product.
The bad news? Just 75% of consumers will share a positive experience with a brand. The good news: you can boost the chances of collecting feedback with a simple nudge.
The easiest way to do this is by creating a premade post for happy customers to share, like:
I love my new [product]! Thanks [@brand] for sending this ❤️
Include the link with a click-to-share button in your purchase confirmation emails. That way, you're giving people an easy way to share their feedback publicly—and you can reach their network as a result of the post.
Start making the most out of your posts
There's no doubt social media is a valuable marketing strategy for small businesses. Yet with adverts overpowering your audience's feed, and the fact almost every business is using a social platform, you need to find unique ways to stand out.
Start by diving into your analytics and understanding who is following you. Then, take advantage of content your customers are handing to you—be that reviews, videos, or testimonials. The goal is to get your audience engaged. When they like, retweet, or comment on your content, they're genuinely interested in it. Directing those lukewarm leads to your website will soon become one of your most important traffic acquisition channels.
Get more leads and sales from your social media marketing with ManyChat. It's free to get started.
O conteúdo deste blog foi preparado de forma independente e destina-se apenas a fins informativos. As opiniões expressas são de responsabilidade do autor e não refletem necessariamente a posição do ManyChat ou de qualquer outra parte. Os resultados individuais podem variar.