The Beginner's Guide To Shopify Shipping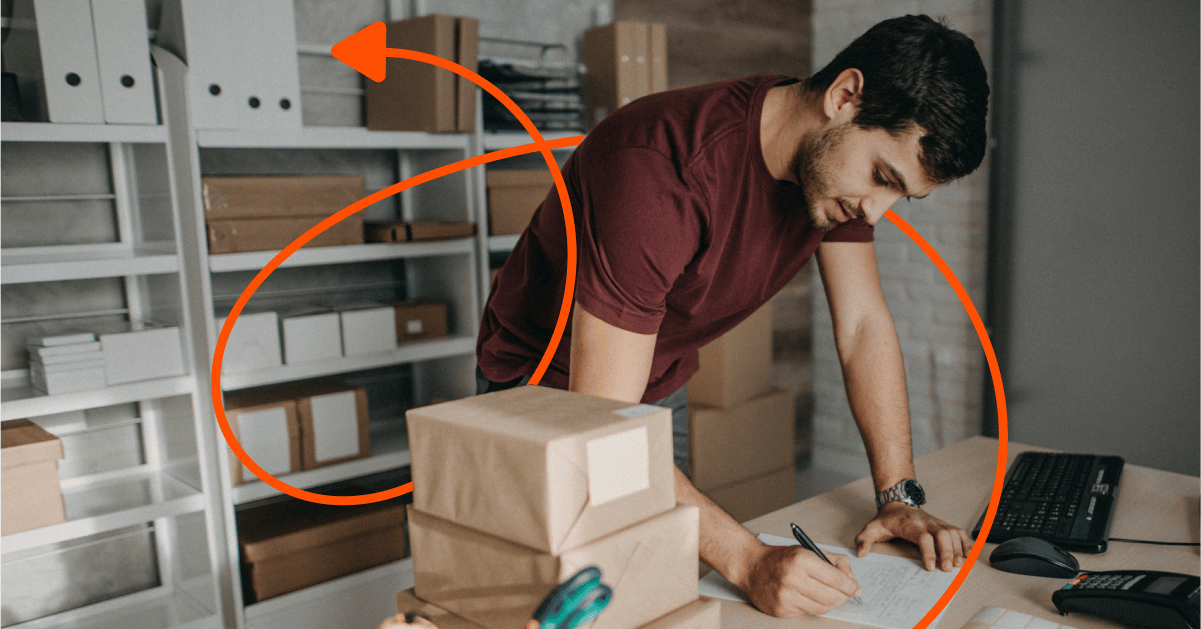 Managing shipping and logistics is one of the most challenging aspects of running a Shopify store or any eCommerce business. Even after working hard to generate orders, you still have to figure out a cost-effective and timely way to get products to your customers. The post-purchase experience is crucial to get right, as it can affect how customers perceive your brand and whether or not they stick around.
Having reliable shipping software can significantly streamline your order fulfillment process; you'll have access to the best shipping services, automated label printing, and discounted printing and shipping rates, among many other benefits.
Unfortunately, most merchants feel the cost and hassle of integrating another third-party software into their business operations is too much to bear. If you run a Shopify store, there's a free shipping software that's already integrated with your shop: Shopify Shipping. This service offers an easy and cost-effective way to manage your fulfillment process while ensuring your customers get the best service.
What is Shopify Shipping?
Shopify Shipping is a pre-integrated shipping software that provides Shopify merchants with the necessary tools to manage virtually all aspects of their shipping process. The service is free for all Shopify users, regardless of their plan; however, it's currently restricted to orders shipped from the United States, Australia, and Canada.
Shopify fulfillment models
To get the most out of Shopify Shipping, it's important to understand the difference between shipping and fulfillment. Shipping explicitly addresses the process of getting goods to the customer. Usually, the service is carried out through shipping carriers like DHL, UPS, FedEx, and USPS. On the other hand, order fulfillment covers everything from warehousing to packaging to shipping to tracking shipments.
Having a reliable order fulfillment solution guarantees that your customer will receive their orders on time, and you'll have less trouble with incorrect postage. Shopify merchants can adopt different fulfillment models, depending on their specific needs, which include:
Self-fulfillment
Self-fulfillment involves handling every aspect of the order fulfillment process yourself. You will be in charge of warehousing the products, packaging, and shipping to your customers. Although this model guarantees you'll be supervising everything yourself, it is not necessarily the most efficient. Moreover, you may be left with very little time to spend on other aspects of your business. If you fulfill more than five orders daily, you should consider other options.
3PL
When you use a third-party logistics (3PL) provider, you're essentially outsourcing all aspects of order fulfillment to experts. This frees up valuable time because you don't have to do the work yourself. You also avoid long-term leases on warehouse space and enjoy reduced shipping costs because 3PL companies typically receive significant discounts from postal carriers.
Dropshipping
Dropshipping is a business model where retailers hold no inventory but ship items to the customer via the manufacturer or wholesaler. If you operate on this model, you'll incur zero costs on warehousing or shipping because you'll pass on the order to the supplier, freeing up more of your time for store marketing and advertising. While this sounds very enticing, the margins are relatively small, and you have little control over customer satisfaction.
Shopify Fulfillment Network
The Shopify Fulfillment Network is another option merchants using the platform can explore to enjoy timely and discounted fulfillment services. The fulfillment centers are fully integrated with Shopify Shipping, and merchants can take advantage of the services you'd typically expect from a 3PL, including customized branding and product packaging, shipping/tracking orders, inventory management, and processing reorders and returns.
Shopify Shipping options
After deciding upon the order fulfillment method that best suits your business, you'll need to select the shipping method and rate that your customers will choose at checkout. Merchants should provide several options available so customers can choose the method that best suits their needs. Below are the standard Shopify Shipping options you can offer your customers:
Flat rate shipping
For flat rate shipping, you set a fee that's applicable for all your products, regardless of size or weight. This method is best for Shopify sellers that deal in a restricted line of products with similar dimensions. You'll be saved the hassle of calculating shipping rates for each item separately, while also eliminating potential errors that may arise from incorrect measurements. Unfortunately, it's virtually impossible to have flat rate shipping if you offer a diverse array of products with varying weights and sizes.
Weight-based shipping
Weight-based shipping calculates shipping costs based on the weight of products. You get to set a predetermined cost for a weight range. Naturally, the higher the weight of the product, the higher the shipping cost. For customers who have multiple items in their shopping cart, the system automatically calculates the items' cumulative weights to determine the shipping cost.
The weight-based shipping option would be ideal, but it doesn't factor in the product's dimensions, as most shipping companies use both weight and dimensions when calculating shipping costs.
Free shipping
Free shipping is the option customers love the most. It's a useful strategy that leads to low cart abandonment rates. Shopify allows you to offer free or discounted shipping based on the products' price or weight range. Plus, you can give your customers discount codes.
However, we all understand that nothing is really free, and you'll have to pay for the shipping cost from your margins. And sometimes, customers who enjoy your shipping discounts will not make a purchase if they have to pay for shipping.
Two-day delivery
You can thank Amazon Prime for this one. Two-day delivery is an express shipping option for customers who need their order urgently, and has basically become the standard shipping option that customers have come to expect.
Often, this service is more expensive than other shipping options. Setting up the logistics network to support two-day shipping is expensive and takes months to implement when doing it on your own. However, most 3PLs now offer two-day shipping capabilities to help merchants compete against the likes of Amazon and other eCommerce powerhouses. Rest assured, the buyers who choose two-day shipping are willing and able to pay, and it's up to you to get your goods out quickly to keep customers satisfied.
How to set up shipping on Shopify
After deciding on your fulfillment model and the shipping options that work best for your customers, the next task is to make the appropriate options available at checkout.
To set up shipping on Shopify, follow the steps below:
Add your shipping address
Add the address you'll be shipping your goods from. The address depends on your business model; for example, add the supplier's address if you're dropshipping.
Choose your shipping carriers and services
The most popular US shipping carriers include USPS, UPS, DHL, FedEx, and others. If your store is in Canada, Canada Post is the most popular option.
Add all product weights
Correctly measuring product weights is essential, especially if you're operating on a weight-based shipping model. Incorrect calculations will affect shipping costs and may lead to significant losses.
Set a default package
Again, your default package will depend on your fulfillment model and shipping options.
Set up your printer
You can find the list of supported label printers here, but Shopify works with most standard desktop printers to print out labels purchased through the platform.
Adjust settings for shipping zones
You can have different settings for different shipping zones to cater to varying shipping costs to each zone.
Shopify Shipping rates
When you use Shopify Shipping, you receive significant discounts on shipments through USPS, DHL Express, UPS, and Canada Post; though specific shipping rates vary by weight, dimensions, and shipping distance.
The discount you get also depends on your plan, with merchants on Shopify's Advanced and Plus plans enjoying the best discounts. Below are example shipping rates for each carrier as sourced from the Shopify website.
USPS
Sample 30-ounce shipment from New York City to Chicago on Shopify plan:
Priority Mail: $7.80 (28% savings)
Priority Mail Express: $36.80 (15% savings)
First-Class Package International Service (New York City to London): $22.80 (6% savings)
UPS
Sample 1 pound shipment for New York City to Chicago on Shopify plan:
UPS Ground: $8.31 (27% savings)
UPS Next Day Air: $37.51 (48% savings)
UPS Standard to Canada (New York City to Toronto): $19.56 (28% savings)
UPS Worldwide Expedited (New York City to London): $39.33 (63% savings)
DHL
Sample 1 pound shipment on Shopify plan:
DHL Express Worldwide (New York City to Toronto): $25.15 (71% savings)
DHL Express Worldwide (New York City to London): $34.47 (69% savings)
DHL Express Worldwide (New York City to Sydney): $38.56 (68% savings)
Shopify shipping apps
Shopify Shipping is not without its limitations. For one thing, it's only available to merchants in the US, Canada, and Australia. Furthermore, people who already have business accounts with USPS, Canada Post, UPS, or FedEx may find it restrictive. To circumvent these hurdles and ensure you offer your customers highly competitive rates through multiple carriers, you may have to explore other Shopify Shipping apps. The popular ones include:
Malomo
Malomo is a shipment tracking platform that helps to generate more engagement, loyalty, and revenue by turning your customers' shipment tracking experience into a full-scale marketing channel. With Malomo, you can turn the typically stale experience of shipment tracking into an avenue for driving customer engagement; and you can do this without sounding overly intrusive or desperate.
Features
Create branded tracking pages to upsell customers who check their delivery status.
Deep integrations with Shopify and Klaviyo.
Proactively notifies customers of shipping delays.
Shippo
Shippo offers discounted shipping rates for popular carriers and services. The shipping platform does not require a monthly subscription, and the service is pay-as-you-go.
Features
Free label printing for domestic orders.
Paperwork automation for international shipping.
Additional insurance coverage options.
Excellent tracking service and returns facilitation.
ShipStation
ShipStation seamlessly automates your shipping management needs, and it provides your most required services in one dashboard. The app offers a free, 30-day trial, after which you'll have to buy any of the six subscription plans.
Features
Powerful shipping rules engine seamlessly automates order processing.
Connects your Shopify account to more than 90 eCommerce apps and courier services.
Range of fast shipping services to choose from.
Allows you to synchronize orders from all your selling channels.
ShipBob
ShipBob is one of the leading 3PL providers for eCommerce businesses. They're a tech-enabled 3PL that makes it easy to improve transit times, shipping costs, and the delivery experience for your customers.
Features
Integrations with leading Shopify apps to help automate shipping and logistics.
Fulfillment centers located worldwide.
Transparent pricing with no hidden fees.
Allows you to offer two-day shipping to your customers.
ShipHero
ShipHero takes pride in being a comprehensive warehouse and inventory management system that provides excellent automation services for store owners. They do not offer a free trial and have a pay-as-you-go model.
Features
Simplifies inventory management.
Covers every aspect of the fulfillment process.
Highly affordable.
Shopify Shipping FAQs
Although many questions have been comprehensively covered above, this section provides summarized answers to some of the most common Shopify Shipping questions.
Does anyone really make money through dropshipping on Shopify?
Yes. Admittedly, the margins are low compared to other models; however, the operating overhead is equally minimal when you dropship on Spotify. All you have to do is follow the right marketing strategies, and you can make it big from dropshipping on Shopify.
Can Shopify ship internationally?
Most major Shopify Shipping service providers, like USPS, FedEx, and UPS, ship internationally. However, the Shopify Shipping service is not available for shipments outside the USA, Australia, and Canada. You'll have to make do with other third-party shipping apps on the Shopify App Store.
How can I find the best Shopify Shipping apps?
Numerous shipping apps are available on the Shopify App Store. You can read reviews from independent platforms to see each app's pros and cons to determine the ones that will work best for you.
How much does UPS charge for shipping?
The specific shipping charge depends on the weight, dimensions, and shipping distance, but you'll enjoy significant savings if you ship via Shopify Shipping or a Shopify partner.
What is the cheapest shipping method?
Currently, Shopify Shipping offers the best discounts, though, it's only available in a select number of countries. Apps such as Shippo or Shipstation can also give you access to enticing discounts with major carriers.
Conclusion
Shopify Shipping is a free tool that can streamline your order fulfillment process and help you enjoy significant discounts on your shipments. Admittedly, the software currently has some limitations that may make third-party apps more enticing, but it's still a great option to explore because it's already a part of your Shopify subscription and quite easy to use.
To improve the customer experience during the shipping and overall post-purchase process, consider using a tool like ManyChat. With ManyChat for Shopify, merchants can send SMS, email, and Messenger updates on shipping and order confirmations to keep customers in the loop with regards to where their products are located.
Get started with ManyChat for your Shopify store today!
O conteúdo deste blog foi preparado de forma independente e destina-se apenas a fins informativos. As opiniões expressas são de responsabilidade do autor e não refletem necessariamente a posição do ManyChat ou de qualquer outra parte. Os resultados individuais podem variar.