How to Increase Your Instagram Followers to 10K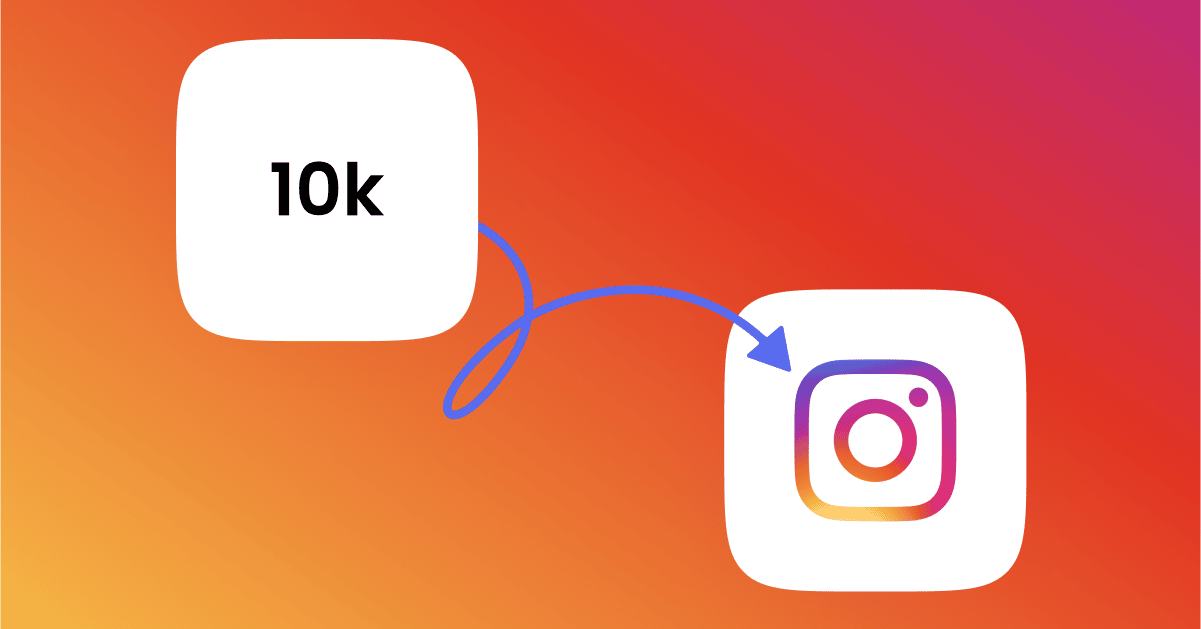 Suppose you're a small business owner or entrepreneur trying to build a customer base or generate hype for your products. In that case, Instagram (IG) s a social media platform that needs to be a part of your social media marketing strategy. With a projection of more than 1.2 billion users by 2023, this social media behemoth is an ideal visual platform for businesses of all types to build their brand, showcase products, and drive sales.
There's just one catch: to achieve these objectives, you need eyeballs on your account to increase Instagram followers. IG followers are the perfect eyeballs to consume and share all the great content you put out. The more dedicated followers you have, the faster you'll be able to reach your business goals—and once you reach 10,000 followers, you'll get some sweet perks for your Instagram account! (More on that later.) Remember to focus on real Instagram followers, and not fake followers, since choosing to buy Instagram followers is unethical.
This post will reveal the top strategies for accumulating real followers who are genuinely interested in your brand—because they're the only ones that matter. Let's dive in!
Create content strategically
Encourage follower engagement
Optimize your Instagram bio
Cross-promote your Instagram profile
Post at optimal times for your brand
Collaborate with influencers and other brands
Create content strategically
Let's get one thing straight: Great content draws dedicated, engaged followers on Instagram. You may be able to generate some shares and likes every once in a while if you're posting unoriginal, humdrum photos or videos, but to acquire a massive IG following, you're going to need to up your content game with each post and Instagram story. So what does that entail?
Embrace authenticity to increase Instagram followers
Savvy users can smell a fake from miles away. Once they get a whiff of something inauthentic, it becomes tough to convince them otherwise, regardless of your Instagram content.
Don't try to emulate other brands; instead, build your voice representing your mission and demonstrating your passion for your products on the social media platform Then keep that voice consistent throughout all your marketing communication, including social media.
Post content that interests your target market
You should already have a decent idea of your ideal customer and target market because you'll have included it as part of your business plan's market analysis (right?) Understanding what type of content appeals to your target market is critical for boosting your Instagram follower base.
Whether it's product sneak peeks, behind-the-scenes interviews, video/photo combos for your Instagram story, or a million other options, identifying (hello, testing!) and consistently posting content that resonates with your followers will elicit more comments and shares, and likes. Try snooping on competitors' Instagram accounts to see what they're doing right (and wrong) and for inspiration for your content to appeal to each Instagram user.
Leverage external trends and events
You can start by incorporating holiday themes into your posts, then build up to grander campaigns that align with newsworthy events (see what's trending on Twitter) or jump on board with viral internet sensations.
Pro tip: If you decide to harness trending social media memes or other overnight frenzies on your Instagram account, make sure that they:
a) align with your brand and
b) that the internet has not already moved onto some other new, shiny trend by the time you get your act together.
Nothing is sadder than a brand that's desperately trying to be trendy and ends up a #fail.
Include hashtags and mentions
Hashtags help your post appear in searches and cluster with other content people may find interesting. Mentions (@ plus a username) will immediately draw the attention of the object of the mention and potentially encourage them to share your post. Both these tactics will help increase your posts' reach, potentially garnering more engagement (because you're posting amazing and valuable content, right?).
One caveat to consider regarding hashtags: don't overdo them! If you cram your post full of hashtags, it could appear spammy and inauthentic. Choose your hashtags carefully. They're the sprinkles on the sundae, not the ice cream.
Encourage follower engagement
The more engagement you can generate on your posts with every Instagram user, the more likely the Instagram algorithm will be to pick it up and display it on users' Feeds, increasing your reach. And greater reach will help you acquire more followers. It's a beautiful self-perpetuating circle!
Try embracing content specifically designed for user interaction, like Instagram Stories. You can include all sorts of interactive elements in a Story, such as polling or question stickers, which encourage audience participation.
Polling stickers
With a polling sticker, you can ask questions and share real-time results on how followers have voted. According to an Instagram study, polling stickers not only encourage users to interact with your posts, but they can also boost watch time for your videos. Win-win!
Questions stickers
Questions stickers allow users to ask you questions by tapping the text box on the sticker. When you answer, you can either share their question and your response in a new Story or send them a message directly through Instagram.
Automated conversation starters and comment responses
While Instagram Automation by ManyChat focuses on messaging, it also enables you to automate several other aspects of your marketing strategy for IG, like collecting emails or registering people for events. Here are some ways you can use it to boost your follower count:
Set up a Keyword Trigger function that will enter a user into a conversation straight from a Story when they send you a message consisting of a pre-determined keyword or phrase. Make sure you structure the conversation in a way that encourages them to follow you. For example, you could use it to share details about a contest for which users need to follow you or tag your brand in order to earn chances to win.
Use the Comments Growth Tool to automatically respond to and like people's comments on your IG profile. Fans get excited when brands show an interest in them, and this will encourage people to engage with your Instagram profile even more.
Ensure that anyone who mentions your brand (using the @ symbol and your username) gets an automated response with the Story Mentions Trigger.
If you're keen to try any of these features, sign up to try ManyChat today!
Carousel multi-image posts
The Instagram algorithm is based on how much time people spend interacting with your posts. By design, carousel formats contain more content (you can add up to 10 images or videos) than the average post. As a result, this layout type can encourage people to spend a few extra seconds paging through your post rather than immediately scrolling past.
Instagram Reels
Instagram Reels are a new IG feature that allows you to create TikTok-style 15-second videos that you can share with followers and make available to the IG community at large in Explore. Expanding your content to a larger audience provides ample opportunities for people to discover and follow you; plus, this type of content is a great complement to your Stories!
Optimize your Instagram bio
It may seem like a no-brainer, but it really does pay to optimize your Instagram bio and profile. The majority of people viewing Business Profiles on Instagram don't actually follow those businesses (yet), and your profile could be the first thing they see. It has a surprisingly outsize influence over whether or not they should follow you.
Think of your Instagram bio as your elevator pitch. Make sure it clearly articulates your unique value proposition, as Huda Kattan's does below:
Include targeted keywords
You can add some targeted keywords to Instagrams' Name Field instead of your username. The more searchable, unbranded information you can add to your profile, the better! If you have other brands in your portfolio you want to call out or a branded hashtag, include them (they'll show up as links!).
Use your bio link strategically
Unless you have more than 10k Instagram followers, the only link you'll be able to include in Instagram is in your bio—so make it count! It makes sense to link back to your business website, but make sure to choose an appropriate page. The home page is always a viable option, but some businesses opt to create a landing page specifically for IG that includes reasons to follow them or have a call to action to sign up for emails or SMS texts.
Try ManyChat's Messenger Ref URL
Suppose you're looking to generate conversations with potential and current customers. Try using ManyChat's Messenger Ref URL for your bio link and it will send people into your ManyChat bot as a contact. You can customize the message shown to a person after they click, so if you use it in your IG bio, include a reference to the platform for a consistent user experience.
Cross-promote your Instagram profile
If you have a website, additional social media accounts, a newsletter, or send out other types of marketing communication, you'll want to include a prominent link to your IG profile in all of them. Otherwise, how are people supposed to know your Insta account exists?
This tactic doesn't just apply to Instagram. Cross-promote ALL your social media channels and your website wherever you can. If you're churning out top-quality content, you'll be able to supercharge your follower count and customer acquisition. Remember: the more you can keep your brand top-of-mind, the more likely someone will be to buy from you.
Post at optimal times for your brand
While there is some debate about the universal best times to post on Instagram, you can do some experimenting to see what times work best for your business. Say you are a nutrition consultant, and part of your social media content strategy is posting healthy recipes. It stands to reason you'd want to post-breakfast recipes in the morning, right? Maybe not.
Many people make breakfasts at night for the following day (hello, overnight oats!) to save time when they're rushing around the next morning. Or they make a bunch of frozen breakfasts over the weekend and just heat them up in the morning. The only way to find out when your followers will be most likely to look at Instagram content, and see your posts pop up in their Feed is to experiment with different timing.
Test and experiment
Set up a schedule of posts with similar content (you only want one variable in your "time of day" experiment or else it will muddy your results) and use Instagram Insights to get the results (likes, comments, shares, etc.). Track everything in a spreadsheet, then after a few weeks, conduct your analysis to see what times result in the most engagement.
You can repeat this process using different types of content to learn which ones elicit the most responses (again, only test one variable at a time, so keep your post times the same).
Schedule your posts far in advance
Once you've established the best times to publish your IG content, schedule your posts far in advance using a tool like Buffer or SocialPilot (both of which also provide analytics on your posts).
Collaborate with influencers and other brands
Partnering with other companies and influential people, such as an influencer, to increase brand awareness is a tried-and-true marketing strategy. Social media is the ideal platform to leverage this tactic.
Properly vetted influencers can add credibility to your brand and introduce your products or services to an eager new audience. Try some of these methods to make the most of the relationship:
Have influencers talk up your products and post beautiful photos where users can see someone they admire enjoying them
Co-host a contest where users have to follow your IG account to win
Indulge in a takeover, in which a (trusted) influencer "takes over" your account and posts on your brand's behalf.
Below is Chiara Ferragni's profile; she's one of Instagram's top influencers with more than 23 million followers.
Bonding with other brands
Other brands selling complementary products can become beneficial partners as well. If their target market aligns with yours, your products may appeal to their fans (and vice versa), opening up brand new markets for both parties.
It's key for both partners to feel like they are getting value out of the relationship to forge a successful business partnership. Whether you're architecting cross-promotional posts, contests, user-generated content, or other initiatives, make sure both parties understand what the other will bring to the collaboration.
Always include mentions and branded hashtags
Regardless of how you end up joining forces with an external party, ensure that all your initiatives include consistent mentions (using your IG handle) of your company, your branded hashtags (if appropriate), and continually funnel users back to your Instagram profile. If users don't know where to find you on Instagram, it significantly decreases the value you'll get from a boost in brand awareness.
The newest reason to increase your Instagram follower count
It's pretty obvious why you'd want to boost your IG following. The more genuine fans you have, the more products you'll be able to share and sell to them. They might tag your brand in their posts, introducing friends and other users to your company. Or their engagement with your account might launch your posts into additional Feeds of people who never knew your brand existed.
But did you know that Instagram profiles with 10,000 followers also get access to another amazing benefit? Check this out.
Most IG profiles are only allowed a single link in their bio and Instagram prevents them from including links in their posts. Bummer, right? BUT, the platform offers Instagrammers with over 10,000 followers a sweet deal: they can add a Link Sticker to their Stories that can lead users anywhere they want. 
You can send them to your website, your Instagram Shop, or any other location. Consistently working to increase your Instagram follower count is a solid step towards achieving your business objectives. Just remember to not buy Instagram followers, ignore fake followers, and gain real Instagram followers.
Use the tactics in this guide and a free ManyChat account and you'll be well on your way to hitting that magic 10,000 follower count and beyond!
O conteúdo deste blog foi preparado de forma independente e destina-se apenas a fins informativos. As opiniões expressas são de responsabilidade do autor e não refletem necessariamente a posição do ManyChat ou de qualquer outra parte. Os resultados individuais podem variar.