5 Effective Chatbot Marketing Campaigns That Work in 2020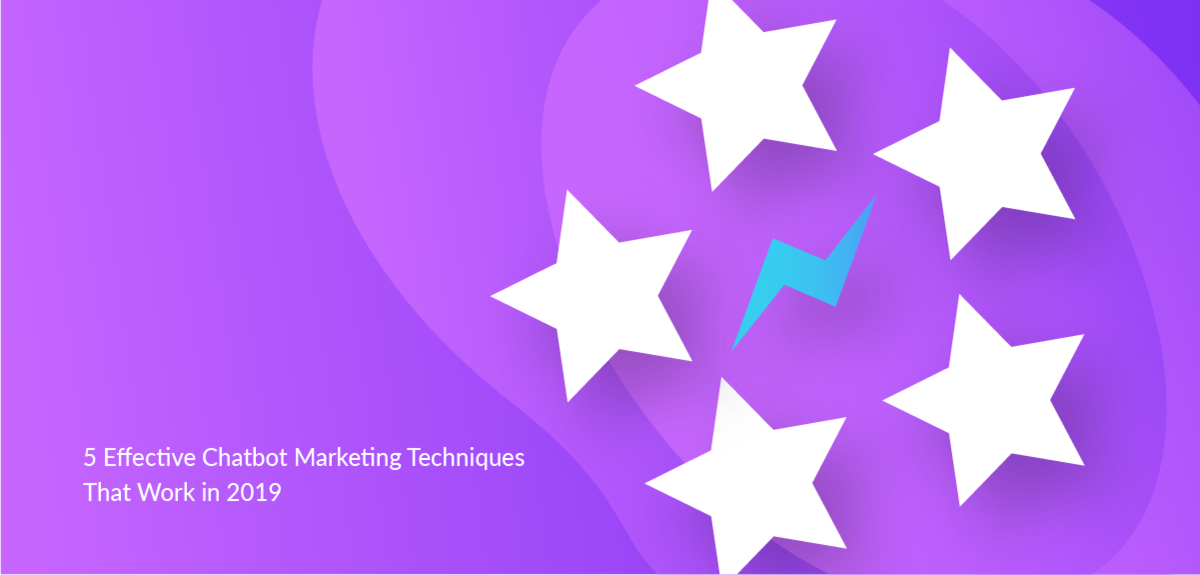 Are you constantly wondering what the best chatbot marketing campaigns are?
If you answered yes to that question, odds are you're struggling to scale your chatbot for marketing purposes. Or you're just getting started and want to create a killer Messenger bot.
Well, you're in the right place.
Using chatbots for marketing isn't the next best trend — it's now become a tool for digital marketers who want to better connect with customers. In fact chatbot marketing is expected to grow at a compound rate of 35.2% until 2021.
This is because people look for quick, customized responses that can quickly get them the answers they want.
Anand Arivukkarasu, Product Growth Manager at Facebook, shared at Conversations Conference audience last week that 64% of people would prefer to message vs. talk on the phone or email a business.
With consumer expectations and Facebook Ad costs on the rise, Messenger bots and software like ManyChat let us tap into this lovable communication channel.
But making a bot and throwing it on your website or Page isn't the answer. You want to build your bot to be less "bot-y" and more chatty. It's all about the conversation and your chatbot to market like a human — not an intrusive robot. This bot needs to build out the marketing funnel by speaking directly to your target audience. This is a form of conversational marketing, a type of marketing strategy that relies on speaking to your target audience on a personal level.
Use these 5 chatbot marketing campaigns below to turn traffic into customers faster. And hey, most of these chatbot marketing techniques are old hat. So it'll feel like your not banging your head repeatedly against a wall.
What is chatbot marketing?
Chatbot marketing is a marketing strategy for getting people interested in your product or service through human-like conversation. A chatbot helps companies stay connected with customers, streamline service processes, and improve profitability.
When people talk about chatbots, they are usually referring to a chatbot platform powered by artificial intelligence and machine learning, a tool that is used for lead generation, sales, productivity, and more. The goal of chatbot marketing is pretty simple: automate customer relationships.
In a Nielsen study commissioned by Facebook, results showed…
63% of users said their messaging with businesses has increased over the last two years
61% like to get personalized messages from businesses
67% expect to message businesses even more over the next two years
Why use chatbots for marketing today?
Chatbots enables a company to strengthen its relationship with prospects and customers in messaging apps like Facebook Messenger. Messenger has over 1.3 billion active monthly users, so you're right on the money if you want to get in the action.
Creating meaningful relationships and keeping track of prospects and customers is essential for acquisition and retention. You can manage customer relationships in one simple dashboard that can show you chat history, Facebook profiles, collected data, and more. But more importantly, you give people added value in a place they already are — and that's powerful.
Business Insider predicts that by 2020, 80% of businesses will have chatbot automation. So if you want your business to last, you need to look ahead. Chatbots are critical to your entire marketing mix.
Chatbot Marketing Campaign #1: Increase Lead Magnets Downloads via Messenger bot
So we won't preach to the choir here. We all know what Facebook Ad looks like. People are shown a targeted post with your content offer, or lead magnet, and are pushed off Facebook and onto your landing page.
Then they meet your impersonal and intrusive request for an email. And we know what you're thinking "ManyChat, why are you telling us this? Can you get to the point?"
Simply put, this approach … is terrible. Users know why you want their digital SSN, I mean, email address. And they won't give it to you unless you give them a reason too.
In fact, as many as 90% of visitors bounce from the average post-click landing page.
In comes the heroic Facebook Messenger bot to save the day.
A good chatbot example is Organifi's ad that offers people a 1-Day Detox Guide. It's got all the goods of your typical Facebook Ad.
But they do one thing different from their competitors. They clearly state that if you click, you will get this totally awesome guide right in Messenger.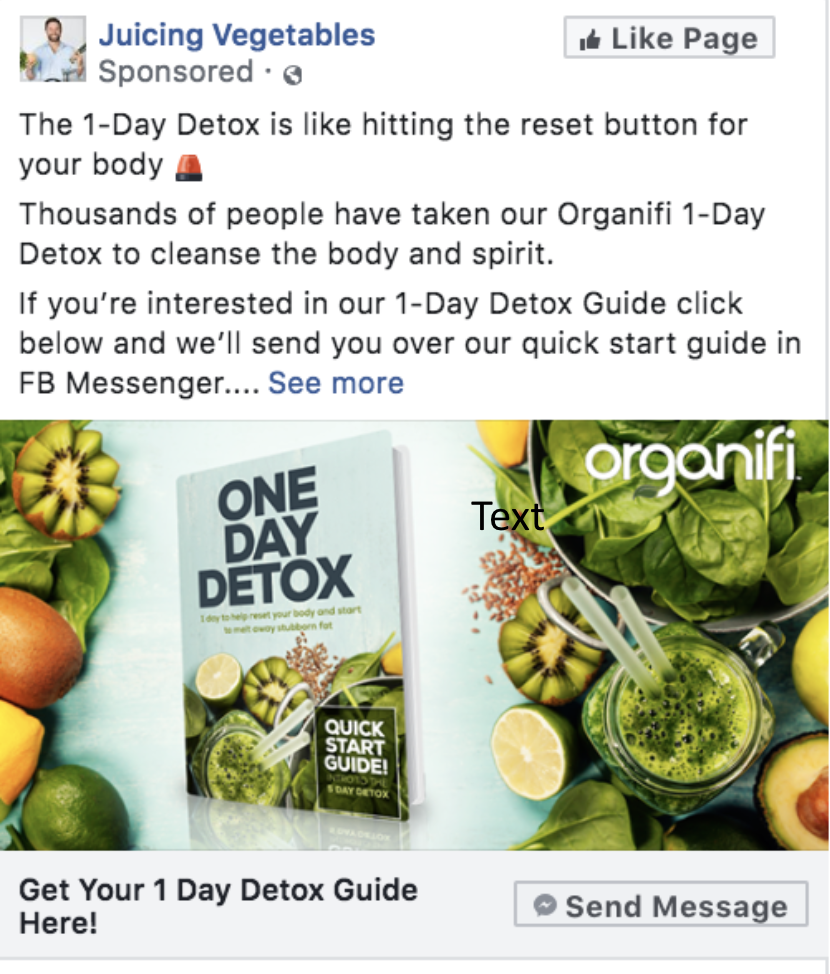 (Hint: you should do this too)
So when someone clicks the ad, you can start a conversation with them directly in Messenger — beautiful. Make sure you add a personal touch to the welcome screen to improve conversion.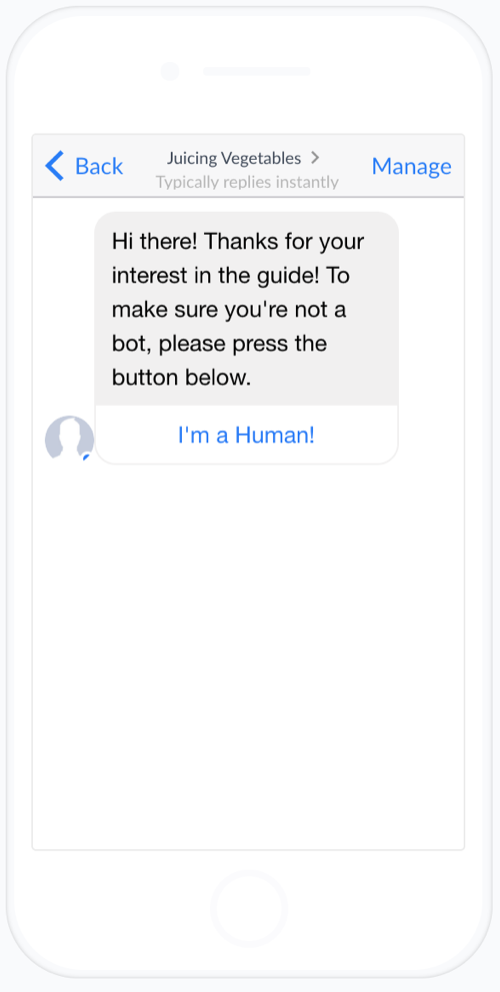 There are three benefits to this approach:
You know this lead is really interested in your content marketing approach
They automatically become Messenger subscribers
You don't waste ad dollars on dead leads
Oh, and you get an email address. But you get it in a more "I'm a human, you're a human" kinda way. Not the "I'm really desperate, please give me your email address" kinda way.
ManyChat lets you create sequences that carry on the conversation and build a relationship while collecting information. Sequences flip traditional advertising on its head by taking a balanced approach to information exchange. It's easy for both you and your target user.
Plus, ManyChat will cross-reference their given email with their Facebook email, so you don't have to worry about weeding out fakes later on.
Here's what a marketing chatbot looks like on the backend in ManyChat.

Any questions you ask in Messenger are tagged and logged in your dashboard — similar to a CRM. You can add custom responses that fit a specific user, and the conversation changes as a result. This helps you better qualify leads for future outreach and sales processes.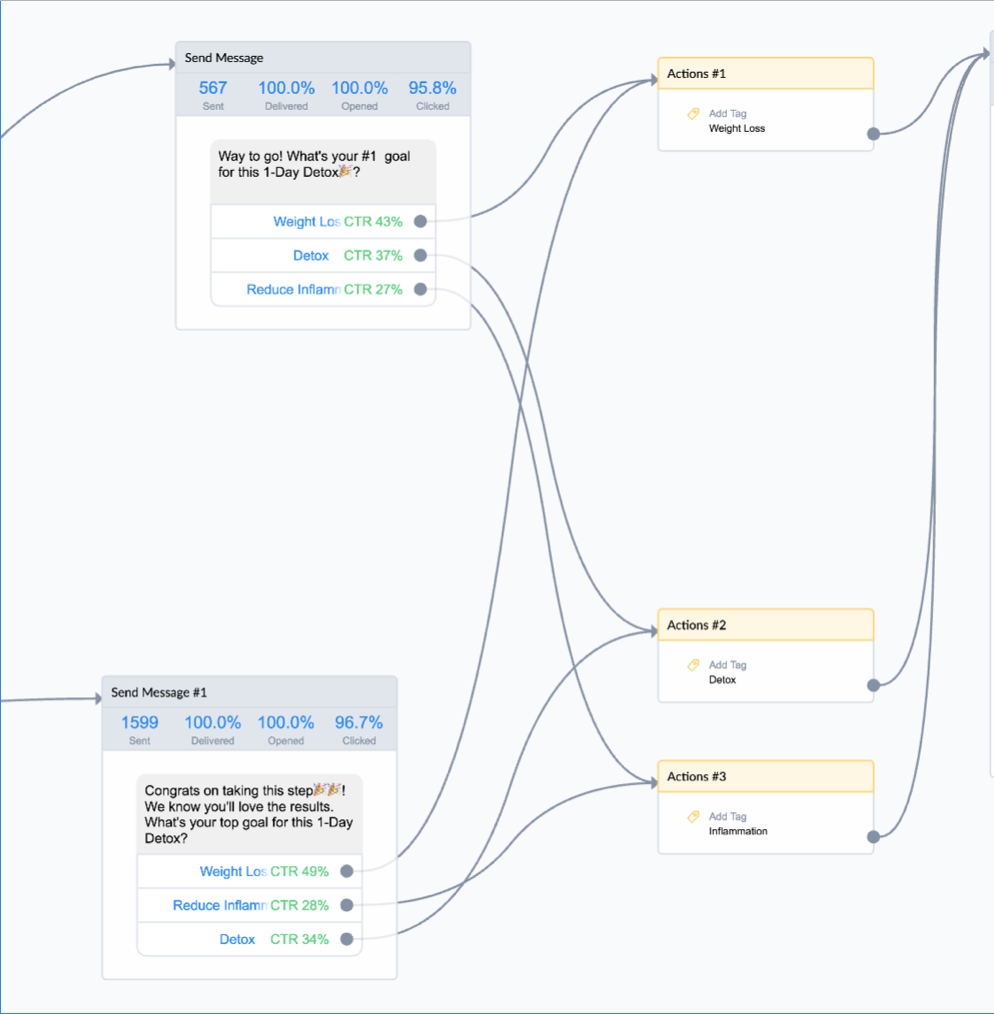 While your ultimate goal is to sell the products or services, you want to avoid being promotional. Instead, help them continually achieve their goals with different offerings along the way. Remember, conversations before conversions.

We're keeping the conversation and traffic in Facebook Messenger itself: leading to a decrease in cost per lead, while offering significantly more personalized service.
Keeping the conversation in Messenger decreases cost per lead and achieves more engaged subscribers, better-qualified lead generation, and makes marketing lovable again.
(RELATED: [DOWNLOAD] Use These 5 Chatbot Blueprints to Generate Leads, Customers, and Subscribers With ManyChat)
Chatbot Marketing Campaign #2: Customize Your Contact Form
Local businesses, agencies and service providers, rejoice!
You know that impersonal "contact us" form? Well, here's an easy fix you can start using today. It lets prospects or customers fill out their information right in Messenger.
A fresh example of this marketing tactic comes from eCommerce ad agency Tier 11. Their problem? They wanted more qualified applicants to apply for jobs at an event they were going to. They knew there was a way to send traffic to Messenger for people to apply. So they used a ManyChat bot to create 10 different entry points for people to apply for an open role.
They created a Messenger code below.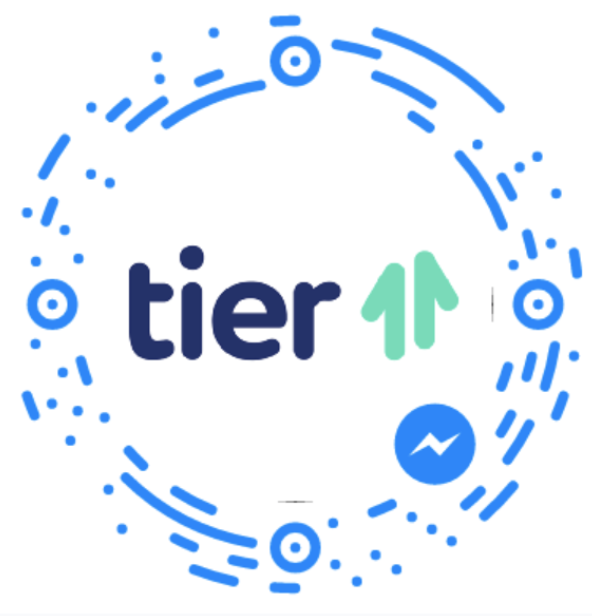 … which when scanned opened up the job application in Messenger. Applicants would simply scan the Messenger code, fill out the job application, and start a conversation with the agency.
Here's what that flow looks like: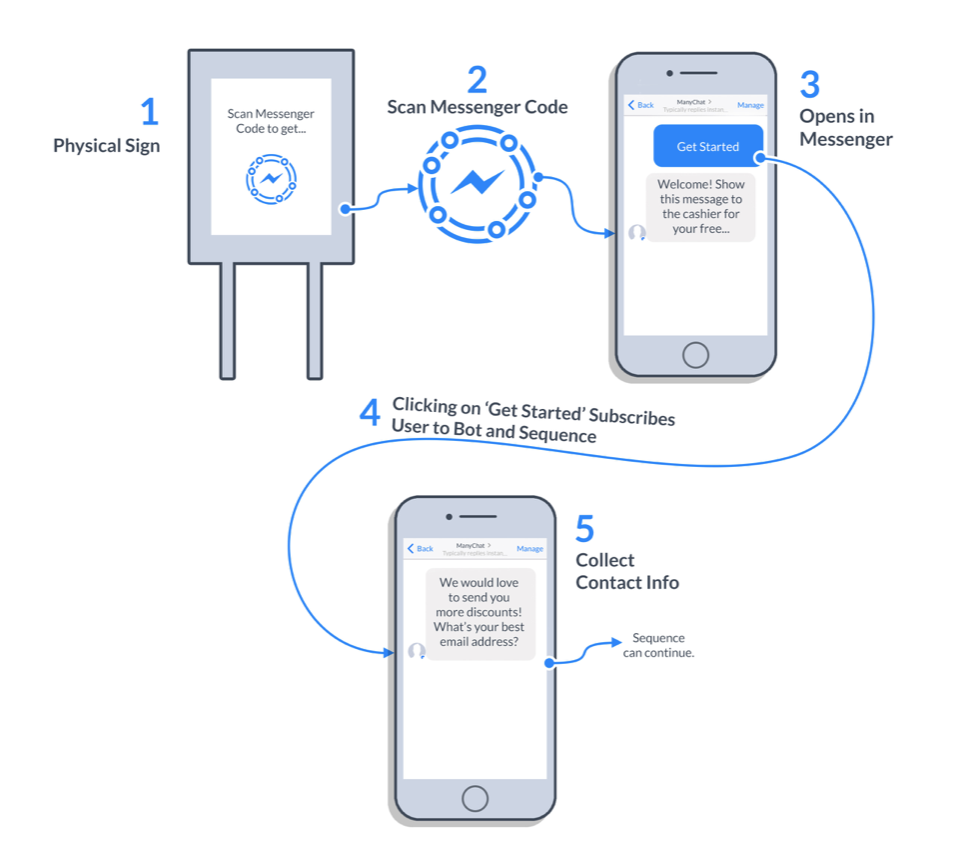 Users can quickly answer questions with a chatbot, bypassing tedious web forms completely and better helping ensure they're an ideal candidate, or if they've contacted you because they're interested in doing business – like I show below.
Chatbots ask users targeted questions so no one has to fill out a form. Tier 11's approach made hiring better applicants easier by using a chatbot for their HR marketing.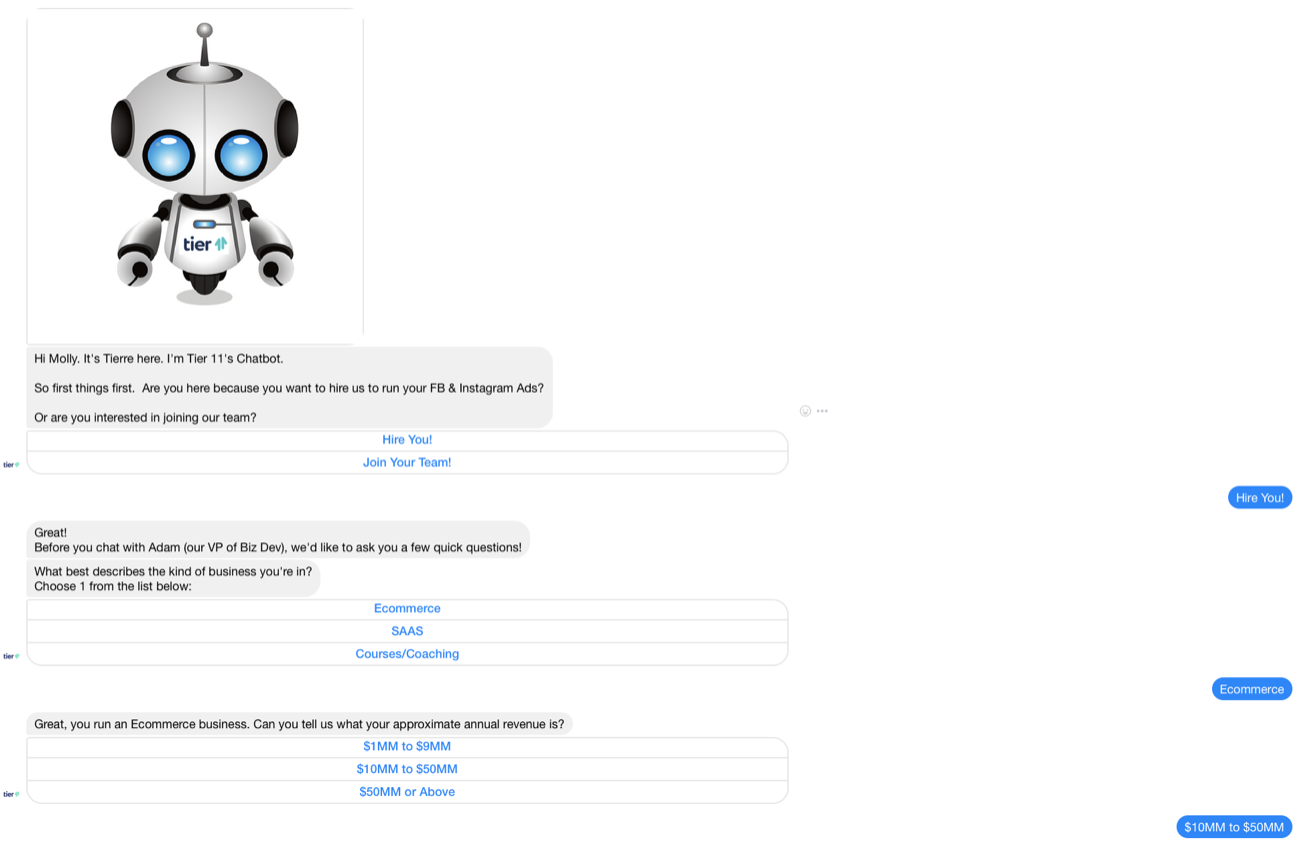 And if an applicant trails off, a team member can jump in and take over with ManyChat's Live Chat feature.
Chatbot Marketing Campaign #3: Create Viral Comment-to-Message Ads to Improve Engagement
One of our favorite ManyChat features is the Comment-to-Message Growth Tool. It allows you to create personalized conversations when a person comments on an ad or post.
The idea is simple. Ask your audience a question, then give them the answer in Messenger. Here's an example: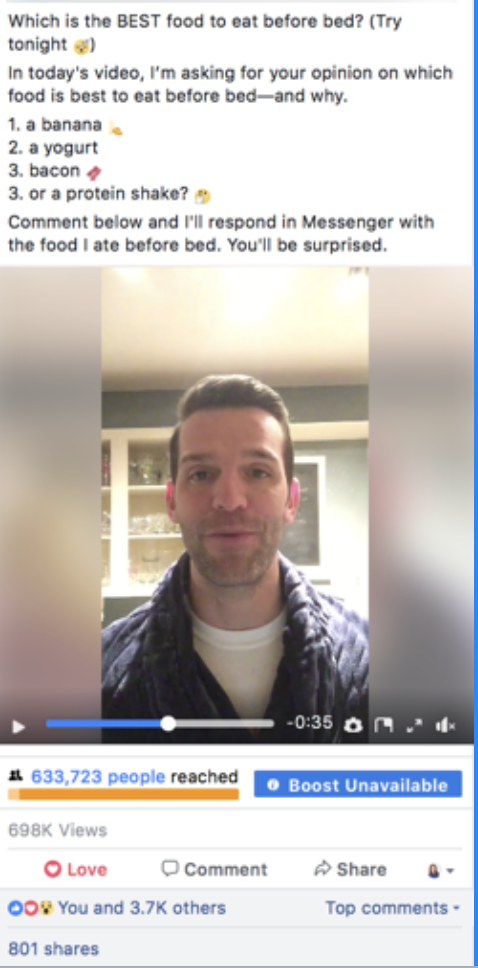 Health and Fitness company Biotrust operates in a crowded and competitive space. They use comment-to-message ads to help cut through the noise and decrease cost per lead.
In the example above, they ask their audience the question: Which is the best food to eat before bed? It's a great question because it avoids different types of engagement bait that Facebook bans.
The goal is to sell their protein powder. So naturally, the correct answer to their question is option 3: a protein shake!
When users comment their guess, they receive an answer in the app. It's important to note that you can be promotional in this type of messenger sequence. Notice how Biotrust offers a free container of protein powder. Sweet!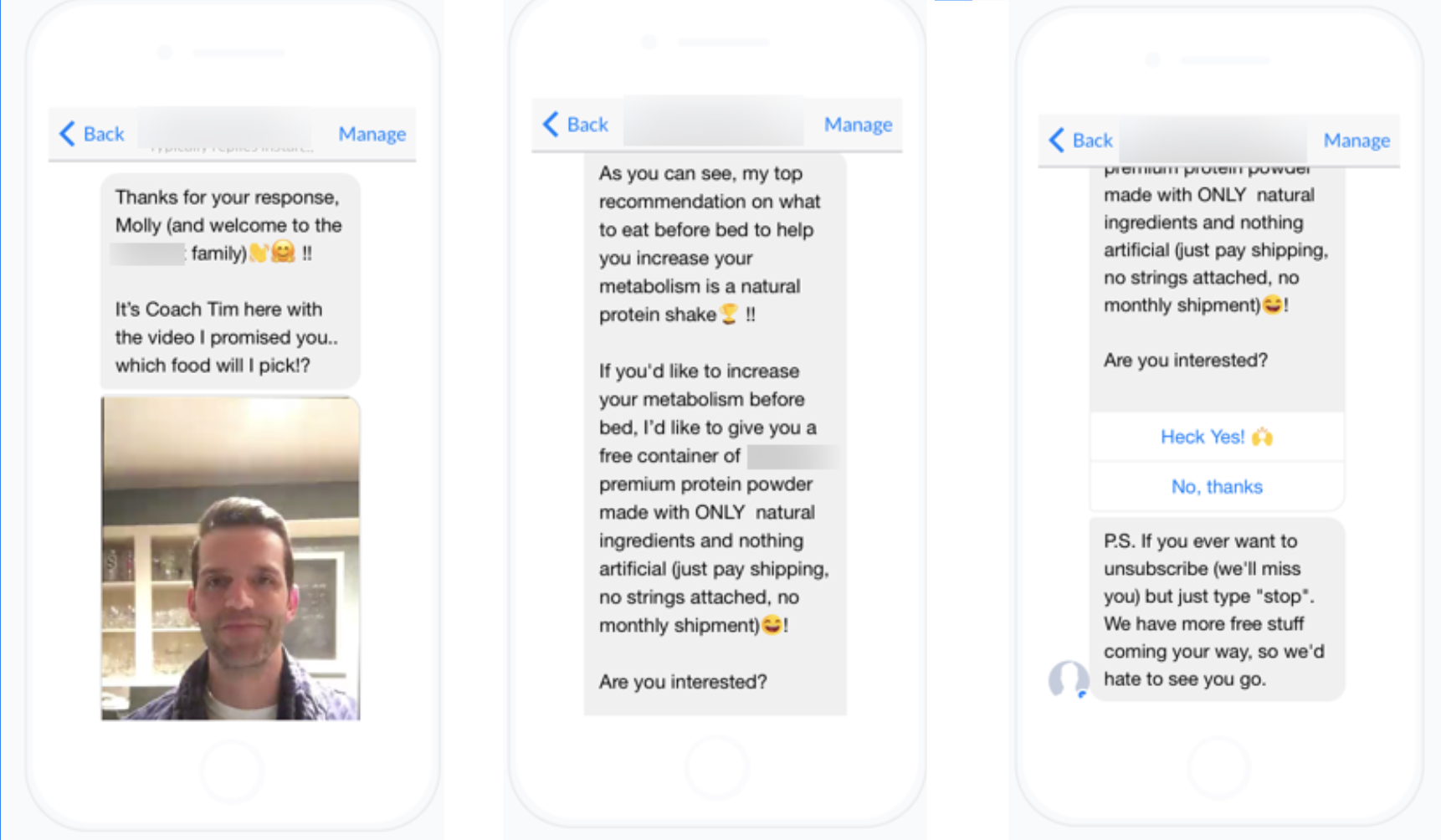 Comment-to-Message is a powerful tool for digital marketers in so many ways. First, Facebook loves quality experiences for users.
With this strategy, and really, all chatbot marketing strategies, your goal isn't to blast subscribers with follow-up sales messages. It's to start conversations and build relationships with people.
And if you do it right, Facebook will push your ad to more people for greater reach. Plus, it's cheaper because you're only optimizing for engagement.
Takeaways for you:
Ask a question that incites your audience to take action
Don't ask yes or no questions — you could get banned by Facebook
Provide a novel experience where people can express themselves
Give subscribers the option to unsub during the sequence. Not everyone knows they're subscribing to a bot
If a person says Stop, ManyChat will immediately remove them from your list
Chatbot Marketing Campaign #4: Get More Views and Conversions on Your Videos
With the help of messaging apps, you can deliver videos with ease — no inbox required. Say you have a killer educational series that'll help your audience solve a problem. You can deploy a Messenger bot to get the view and conversions you need.
Brian Moran, Co-Founder of SamCart, gives an example of how this works.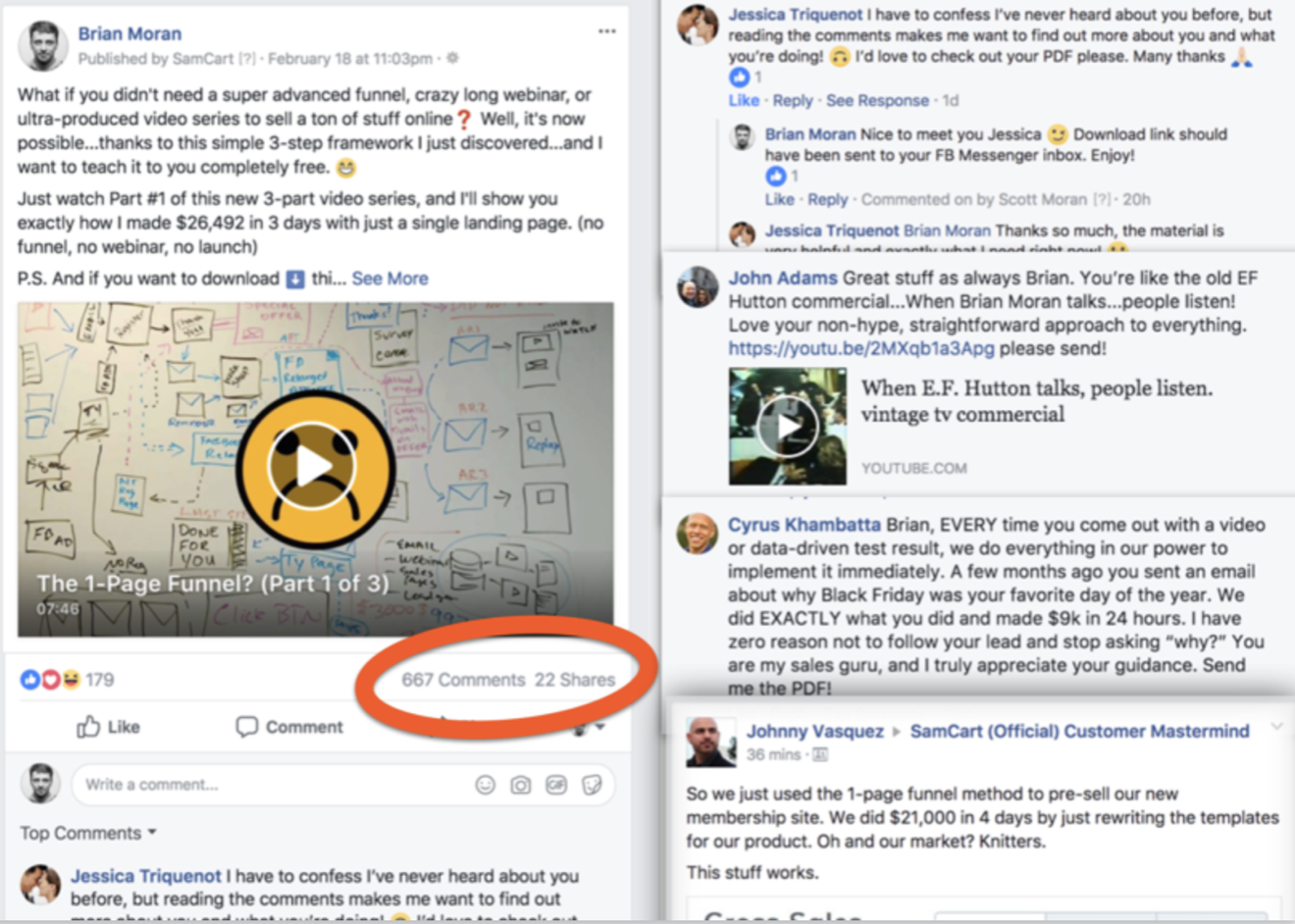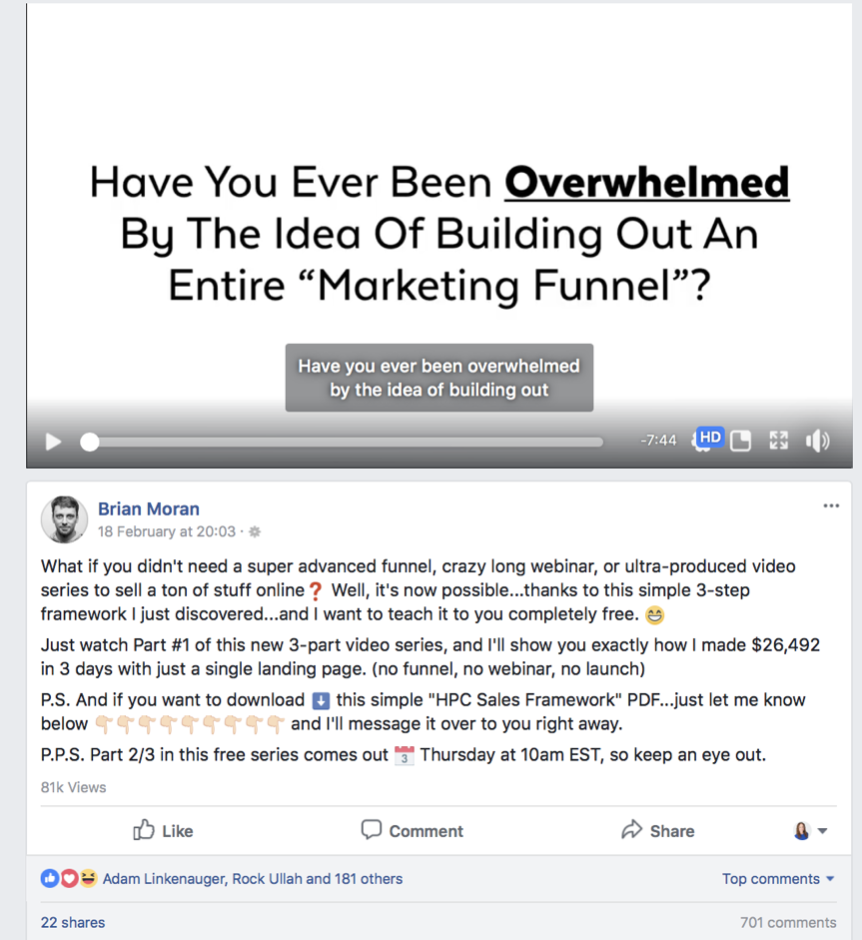 You see, Brian first asks users if they are interested in the challenge or series. He clearly points out that everything will be sent in Messenger. They click, become a subscriber. And from there your marketing automation sequence does the rest.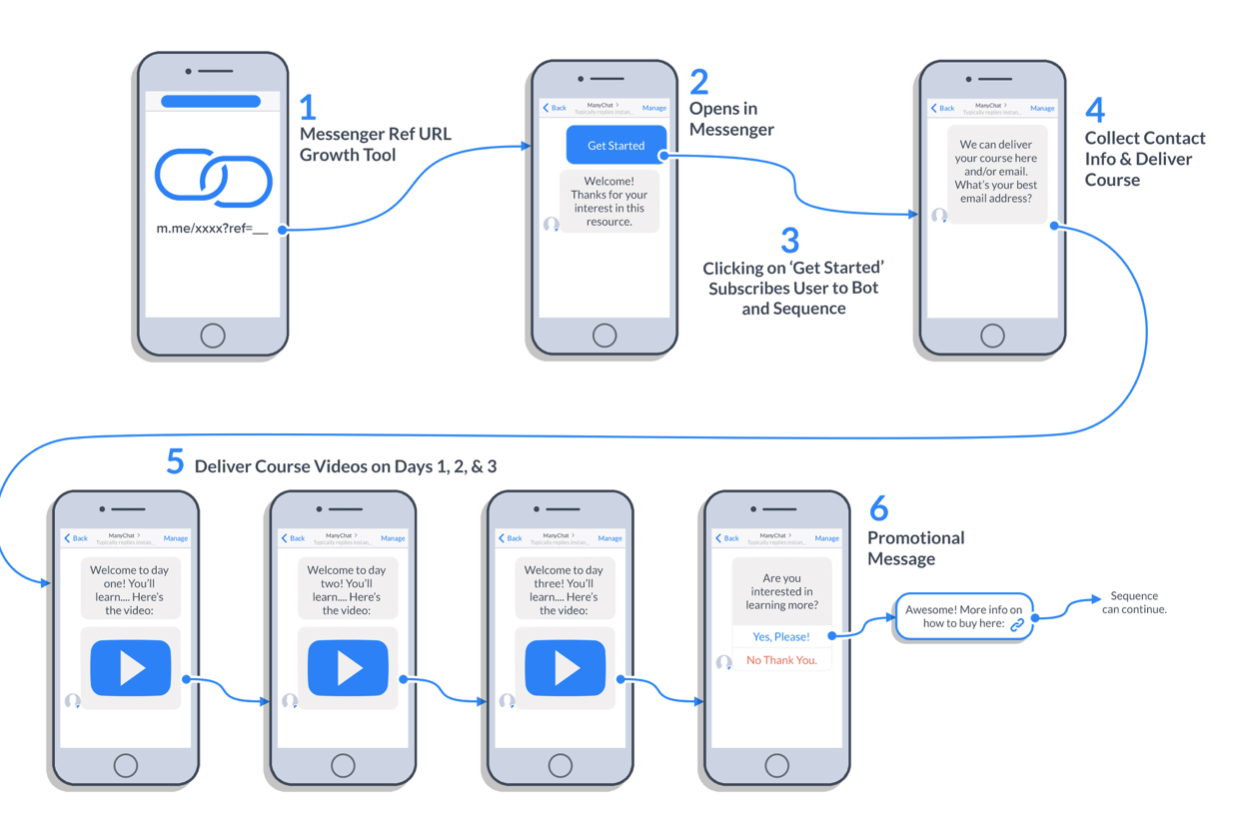 Chatbot Marketing Campaign #5: Improve Webinar Attendance with your chatbot
Perhaps your business is big on webinars to qualify leads. Or you struggle with conversion and show up rates with your current marketing methods.
Marketing chatbots provide a scalable way to interact with webinar leads. And the benefits for you include:
Better post-webinar engagement rates
Time for some chatbot marketing examples.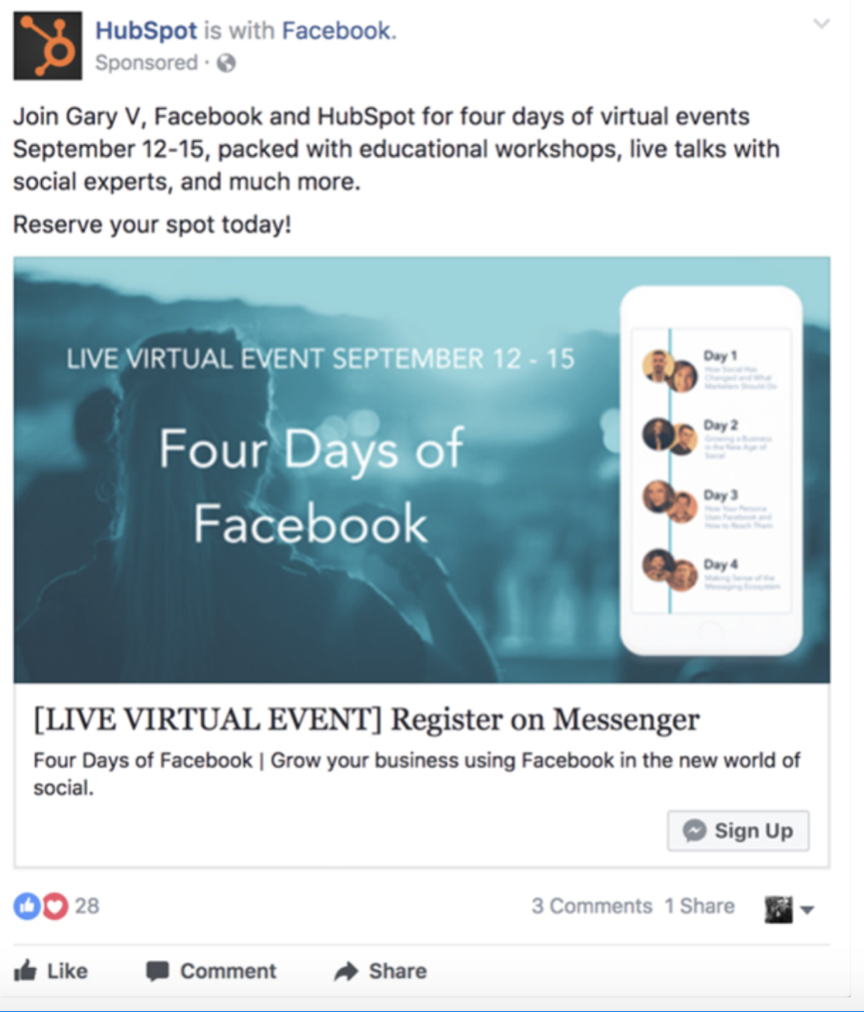 The challenge of getting attendees to sign up isn't a technical one. Your job is to make the sign-up process easy for your audience. Then, use your digital marketing chatbot in a way that gets people excited about coming to your event.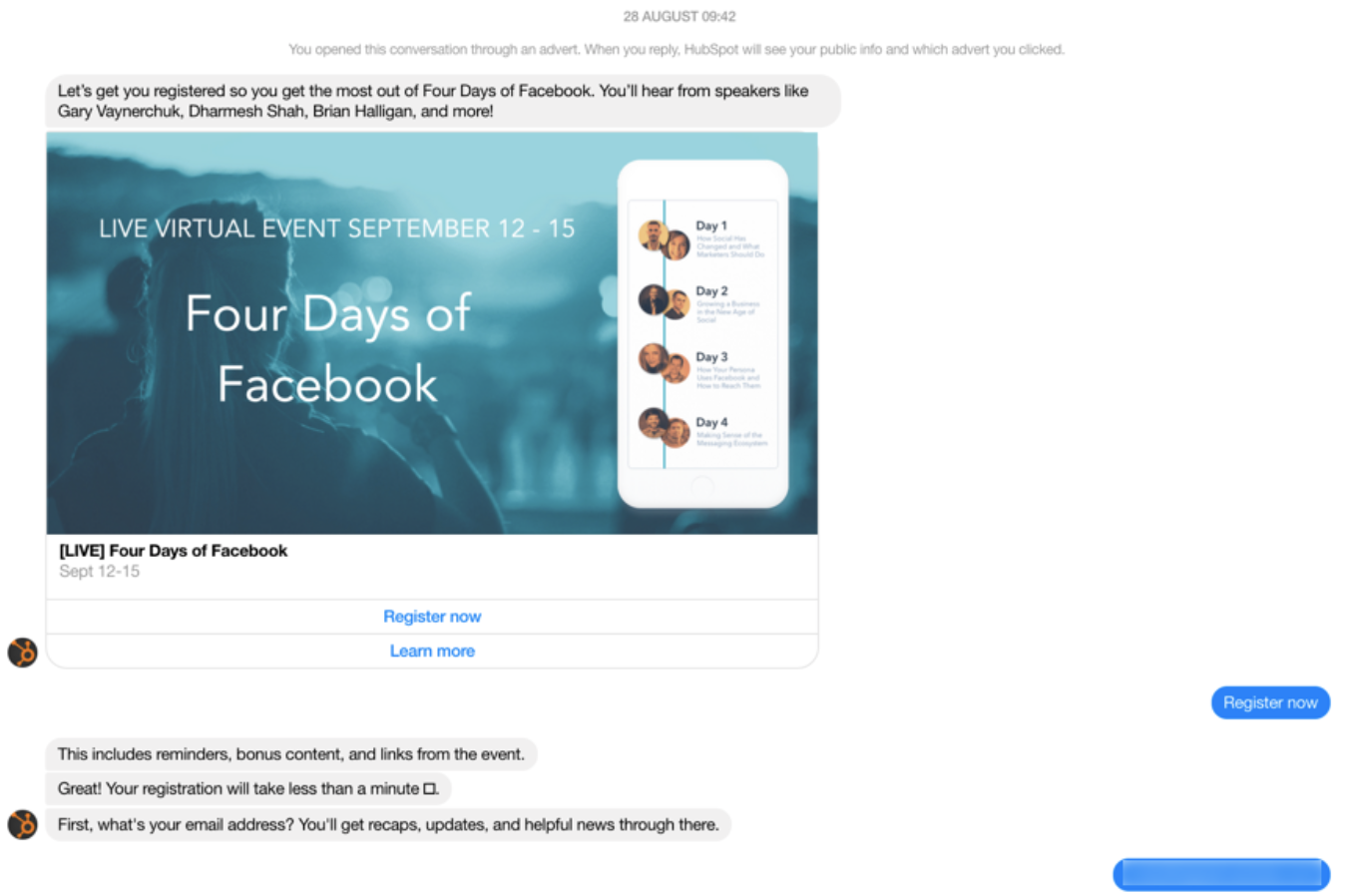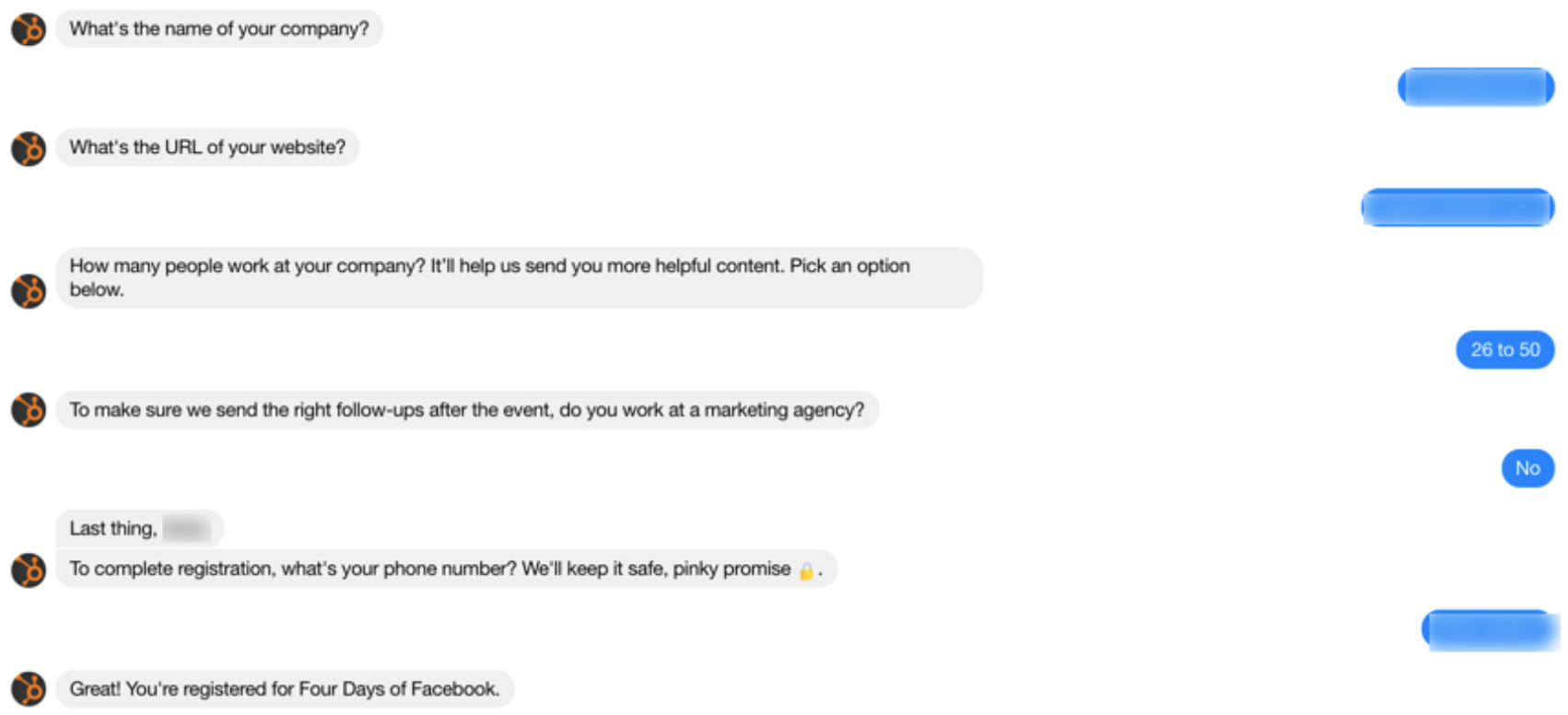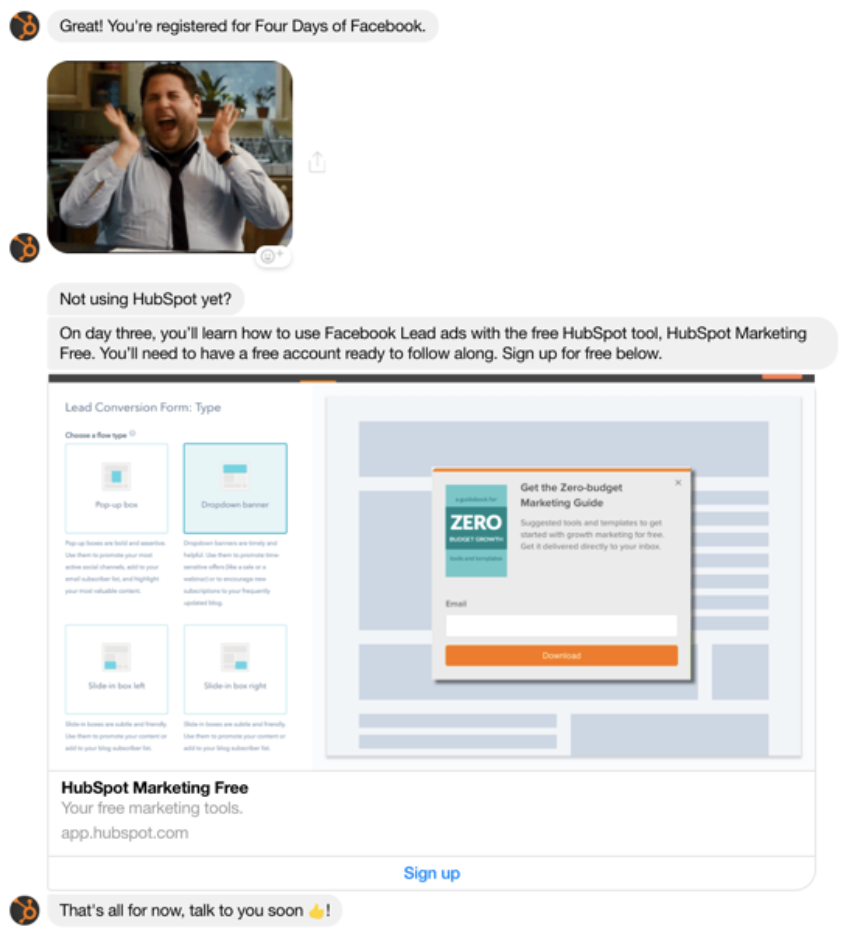 The possibilities are near endless. Since it's your mission is to make sure people come to your event, and get sales-ready leads, your focus should be on qualification.
The best bots ask simple questions to keep people engaged and offer opportunities to help. You can collect information, send GIFS, and follow-up with registered folks to put your event in their calendar. Oh, and of course reminders that the event is near.

Final Thoughts
Chatbot marketing is growing at a rapid pace, with creative new tactics constantly emerging and Facebook changing their compliance guidelines. Business owners and marketers have to adapt fast, but it's still possible to give your chatbot the edge it needs to build authentic relationships with consumers.
Remember to keep it conversational. All too often companies focus on launching a bot and wait for the magic to happen. It doesn't happen like that. It happens by using the conversations people are already having with your brand, then plugging it into your Messenger bot.
Using chatbots for marketing doesn't have to be impossible — it just requires you to think a little different about tactics you already use.
Want to use these Messenger Marketing tactics to grow your business? It's easy with ManyChat, and getting started is free.
O conteúdo deste blog foi preparado de forma independente e destina-se apenas a fins informativos. As opiniões expressas são de responsabilidade do autor e não refletem necessariamente a posição do ManyChat ou de qualquer outra parte. Os resultados individuais podem variar.