Get More Engagement: The Best Times to Post on Instagram (2021)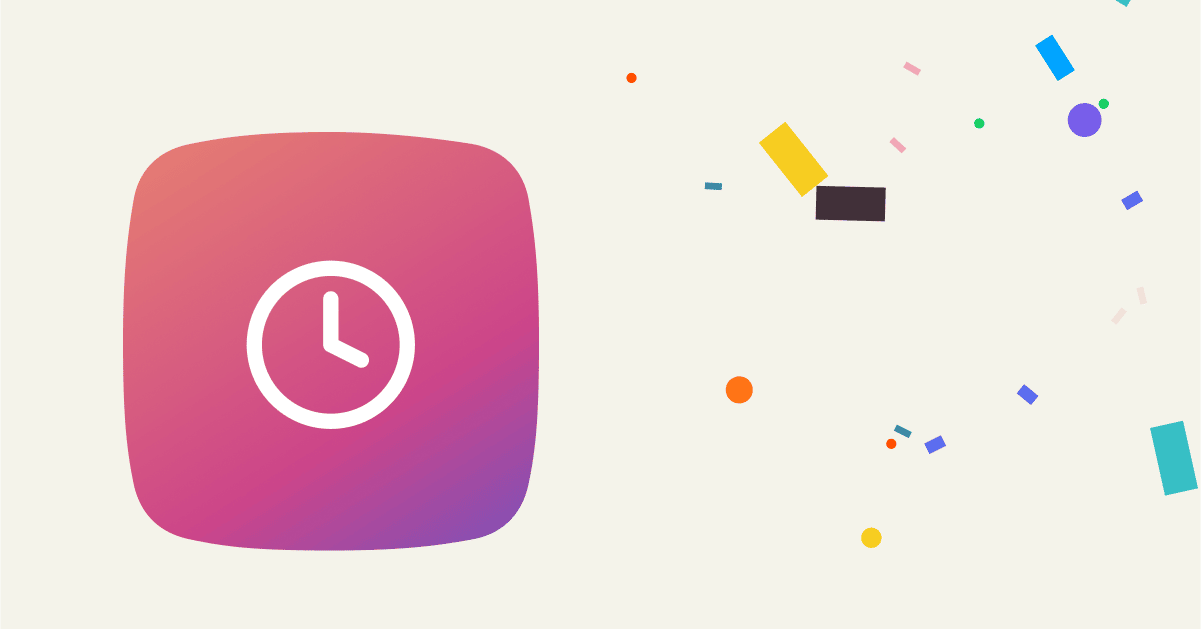 Low engagement is the silent killer of any Instagram marketing strategy, or Facebook and Twitter, strategy.
You can create the best content around. Write compelling captions. Post engaging videos and Stories to your feed that would dazzle millions. But if you're not posting at the right times for your audience, the right people may never see your work.
Maybe you want to get new Instagram followers, and reach a new audience. Or maybe you want to test a new organic Instagram growth strategy. Either way, you'll want to make sure your content gets seen.
Truth is: The time you choose to post can significantly affect user engagement.
When's the best time to post on Instagram?
Recent research by Later, a social media scheduling platform, revealed that the best time to post on Instagram is between 9 am and 11 am Eastern Standard Time (EST) on a Wednesday. Later based its conclusion on over 12 million Instagram posts. But as you'll see later on in this post, the debate about the best time of day and day of the week to post is far from over.
The real answer to this question is hard to determine because there are so many factors that impact the optimal times to post for Instagram users. Some factors include the day of the week, your time zone, and the Instagram audience you're targeting.
We'll walk you through some ideas to find the best time for you and your business. But first, let's review what research says about each day of the week.
Best times to post on Instagram each day (according to research)
Before the Covid-19 pandemic, a handful of top social media firms agreed that the best times to post were just before lunchtime (12 pm EST/11 am CT) on Wednesdays and Fridays (see data from Sprout Social; Oberlo). Sunday was considered the worst day to post.
However, with people spending more time at home and online during the pandemic, social media usage behavior has changed and there was updated Instagram insight. There appears to be no clear consensus among the top researchers we studied.
Sprout Social analyzed data from 20,000 of their customers; Later examined 12 million Instagram posts presented as a global aggregate. The third expert on the matter, Brand Mentions, analyzed 2.2 million posts over a few years (including 2020).
We'll present each set of post-Covid results from Later, Sprout Social, and Brand Mentions to compare, and you can decide which samples provide the most relevant information for you.
First, here's an overview of the Sprout Social study:
The above infographic is from Sprout Social's study on the topic. Note that the highlighted areas are the recommended best times for an Instagram post—but this doesn't mean that other times of the day are worse for engagement for any brand in particular.
Later's infographic contains more information and supports the theory that the best times to post to get high Instagram engagement are early in the day and in the evening.
The Brand Mentions study tells a different story. It found that the best times to post on Instagram are during the late afternoon and evening in the CDT time zone.
To make it easier to digest, we created an infographic showing all their results in one image:
However, if text is more helpful to you than visual data, here's a day-by-day breakdown of the results in EST.
Monday
The studies showed a slight overlap for the best times to post on Mondays, with 12 pm and 10 pm appearing in both Later and Brand Mentions' results.
Later: 6 am, 10 am, and 10 pm
Brand Mentions: 12 pm, 10 pm, 11 pm
Tuesday
Tuesdays are a whole other ball game with no consensus whatsoever. Each study contradicts the others here: Later recommends early morning, Sprout Social endorses the afternoon, and Brand Mentions advocates for late evening.
Later: 2 am, 4 am, and 9 am
Sprout Social: 12 pm, 3 pm
Brand Mentions: 6 pm, 9 pm, and 10 pm
Wednesday
Though social media marketing experts have long considered Wednesdays to be the best day for engagement with Instagram users, conflicting results for the time of day make it challenging to determine the optimal time. The only common slot (in two of the three studies) is 11 pm.
Later: 7 am, 8 am, and 11 pm
Brand Mentions: 6 pm, 10 pm, and 11 pm
Thursday
Similar to Wednesday's results, there seems to be just one overlapping time of the day between the studies. In this case, it appears to be Later and Sprout Social's recommendation of 12 pm.
Later: 9 am, 12 pm, and 7 pm
Sprout Social: no best time listed in the post-Covid study, but its previous study suggested a time frame between 11 am and 1 pm
Brand Mentions: 5 pm, 8 pm, and 11 pm
Friday
Friday's results mirror Tuesday's in that there appears to be no overlap between the studies, yet 12 pm and 1 pm are pretty close. Brand Mentions' data centers on post-sunset times.
Later: 5 am, 1 pm, and 3 pm.
Sprout Social: 11 am and 12 pm.
Brand Mentions: 7 pm and 11 pm.
Saturday
The weekend data has the most overlap of all the weekdays we've seen so far.
Later and Brand Mentions have 7 pm in common; Later also shares an 11 am recommendation with Sprout Social. Then 4 pm could be considered a common time between Sprout Social and Brand Mentions because of Sprout Social's vague indication that people are "more active on weekends."
Later: 11 am, 7 pm, and 8 pm
Sprout Social: The infographic did not list times, but it states weekends are now "more active, following a workday pattern between 9 am and 5 pm"
Brand Mentions: 4 pm, 7 pm, and 11 pm
Sunday
There are potential decent overlaps (4 pm in all three and 5 pm in two) thanks to Sprout Social's suggestion that people are now more active during the workweek hours than before Covid-19.
Later: 7 am, 8 am, and 4 pm
Sprout Social: Same as above
Brand Mentions: 4 pm, 5 pm, and 10 pm
As you can see, significant discrepancies exist between each of these studies for Instagram insight. The question then becomes, how to decide which source to trust
Instead of selecting times to create an Instagram post based on gathered research, try this: test out a few of the tips below to see what works best for you. The advice can help you make the most out of your Instagram account and achieve higher engagement.
How to find your best time to post on Instagram
Many factors influence your Instagram engagement and the Instagram algorithm— adhering to a posting schedule based on data from multiple industries and business types might not lead to success for you. To achieve consistent engagement for your account, you'll want to get up close and personal with your data, not someone else's.
Learn the Instagram algorithm
Before we get into the tips, it's worth mentioning that according to Later, Instagram's current algorithm seems to push posts into feeds based on six primary factors:
Interest: Every Instagram user's feed is unique. One of the top influencing factors is what the individual finds interesting (which Instagram determines by looking at a user's previous engagements with various posts).

Relationship: Instagram is a social networking platform above all. This means relationships are another critical influence, and Instagram will prioritize posts from your friends and family.

Timeliness: One of the algorithm's most significant changes in recent years was its shift from prioritizing the highest engagement posts to prioritizing the most recent ones. Instagram wants to serve you fresh posts. (Pro tip: don't overdo it, but try to post frequently to take advantage of this.)

Frequency: The previous point notwithstanding, how frequently your audience uses the app also matters. If they use it often, users will see more recent posts; if they don't use it that much, Instagram will prioritize interest-based posts.

Following: If users follow several accounts, they'll see more varied content from different brands and people than if they only followed a few.

Usage. If you spend a long time on Instagram, there's a chance you'll (gasp!) run out of new content to see. At this point, the algorithm will show you posts from new accounts based on the previous factors.
With a better understanding of how the algorithm works (in its current iteration, at least), you can include some details in your Instagram marketing to make it more relevant and learn from the following tips.
Research when your audience is likely to be on Instagram
Conducting basic research on your audience's demographics is essential for figuring out your best time to post.
For example, say your audience consists of middle-management London-based financial sector workers. In this case, you're unlikely to get much engagement if you post at 9 am EST during the workweek, as it's 2 pm (a little after lunchtime) for Londoners.
But don't rely on gut instinct or hypotheses to figure this out. The easiest way to find out what times most of your audience tend to be online is to check your Instagram Insights tab. (You'll have access to the insights page if you register your profile as a Creator or Instagram Business account.) Once you do that, here's what you'll see:
You'll find the Insights tab right on your profile page. Click it to view them, and Instagram will direct you to Instagram analytics tools.
You can find the page pictured above in your Audience tab. As you can see, it will display some key information about your specific audiences, like age, gender, and most active times, that will help you refine your approach to post scheduling. Bear in mind that these insights are based on short-term data, and seasonal boons or a single viral post may skew it.
Analyze your top-performing posts
Along with evaluating your general insights, it's worth taking a look at posts that have already garnered high engagement. You can find general engagement information inside the Instagram app by going to your Insights and checking out the Posts tab.
Many factors may influence the popularity of any one post outside of the specific time you posted (like hashtags and the content itself). However, pairing this information with your initial analysis of your audience insights is a data-driven way to refine your findings.
Consider when your content is most relevant for users
The next step for tailoring Instagram posting times for your audience is thinking about when your content will be most appropriate for them. For example, a typical strategy may entail posting more about shopping and discounts at the end of the month when many people get paid.
Another example comes from the health and fitness industry. Such accounts typically post in the mornings (per their time zone) or around other meal times. This practice encourages their Instagram followers to start the day in a healthy way and keeps the brands on users' minds throughout the day to gain maximum engagement.
When you think about your audience and the type of content you produce (or want to produce), before posting at a generic time, consider if it could be more helpful at another time of day, day of the week, or time of the month.
Run your own experiments
This last tip—taking a scientific approach to your post scheduling—requires the most effort but will net you the best data for your business. Don't worry if you've been posting for months or even years already—you can try this method at any point in your Instagram journey.
To make experimenting and analyzing your results a little easier, you can use social media management or scheduling tools like Hootsuite or Buffer, as well as the tools from the organizations that produced the studies we looked at earlier.
For our example, we've used the data from the studies we looked at earlier, but you can use data from your Instagram insights for your own starting point. For the experiment, you'll want to set up a spreadsheet that looks like this (but using your preferred times):
On each day, post at a specific time and record the metrics. To make it as accurate as possible, you'll want to record results at the same time intervals, e.g., 24 hours after each post. If that's not possible, try to wait at least 24 hours after the last post of the week and then document all the data, bearing in mind Monday's post will have had longer exposure.
Repeat the experiment for a few weeks, varying the times slightly to gather as much information as you can before looking at the results. (Again, try to keep your recording intervals the same every week for the best apples-to-apples comparison!) Once you've finished your experiment, you should be able to determine some of the best and worst times for you to post.
Start growing your Instagram account today
Whether you're just starting out or you already have a decent following on Instagram, there's never a bad time to think about optimizing your posting strategy.
If you're successful enough, at some point you might even find yourself struggling to keep up with the demands of responding to messages or comments from your awesome new followers. If or when that time comes, you may want to consider automating your Instagram account to help you manage them.
If you're not sure what kind of stage you're at with your Instagram marketing, have a look at our guide, "Instagram Checklist: Your Guide for Growth Success."
Grow your Instagram following and make sales with Instagram Automation by ManyChat. See if your business is eligible by applying below.
O conteúdo deste blog foi preparado de forma independente e destina-se apenas a fins informativos. As opiniões expressas são de responsabilidade do autor e não refletem necessariamente a posição do ManyChat ou de qualquer outra parte. Os resultados individuais podem variar.