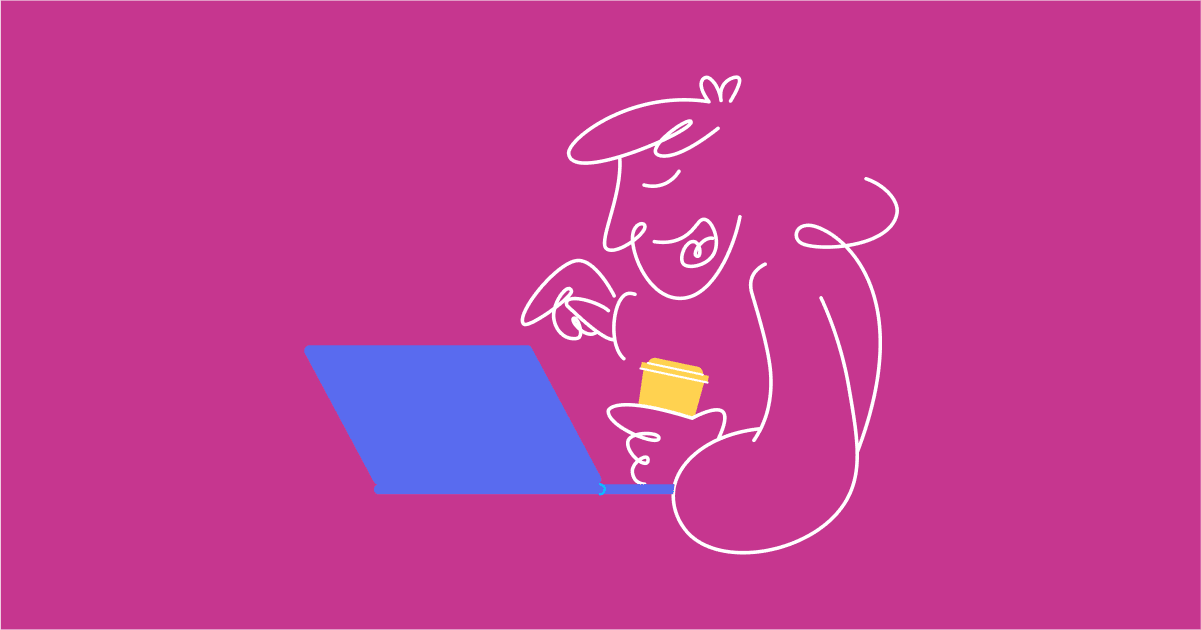 Marketing of any kind needs management. After all, marketing has a lot of moving parts and often requires tracking significant amounts of data and interactions.
Enter customer relationship management (CRM).
Customer relationship management is a specific process a business uses to keep track of its customers. Businesses often have a unique way of managing customer relationships that they tailor to their customers.
For some businesses, customer relationship management may entail checking in with patrons at the local coffee shop. Other companies may rely on a collection of spreadsheets and colorful charts.
As technology has advanced, there are now tools and software options available to assist businesses with their CRM efforts.
A traditional CRM tool helps businesses improve customer relations by aligning their marketing and sales efforts via conventional forms of marketing, such as sales phone calls, emails, and website content.
With as many as 92% of U.S businesses (with 100+ employees) including social media as part of their marketing efforts in 2021, it's no wonder that social CRM solutions—as opposed to traditional CRM solutions—are becoming more popular. Social media serves as a marketing and sales channel for some companies, with a little bit of customer care happening via DMs.
So, what's the big deal about social CRM software? Can a social CRM system decrease the long hours and large budgets often associated with social platforms?
Well, let's take a look!
Introducing: social CRM
Social CRM is the act of building and maintaining customer relationships on social media. Depending on your business, you may have profiles on several different social media platforms, including LinkedIn, Facebook, Instagram, and Twitter, among others.
Managing so many profiles can be challenging, which is where social CRM software comes into play. Generally speaking, social CRM platforms pull everything—scheduling posts, viewing analytics, and managing messages—into one place.
The benefits of social CRM software
You probably can already predict some of the benefits that come from using social CRM software just by reading about its capabilities. But let's take a look at some other reasons you might consider using it.
Centralized control over social profiles
Having access to all of your social media profiles in one place makes it easier to see the bigger picture. With social CRM software, you can see and monitor brand mentions, comments, and messages from a single login and dashboard.
Faster customer service
Your customer service team members can use a social CRM system to improve customer relations and speak directly with potential and current customers who've reached out via social media.
Specific audience targeting
Many social CRM software platforms will help you monitor particular keywords and show you which audiences are best positioned to grow your customer base and build new relationships.
Better understanding of your customers' needs
Use analytics and reporting to see your customer data, including demographics. Demographic information can help you understand your customer's pain points and how you can resolve them, improving customer retention.
Brand image refinement
Social media is a place customers like to interact with brands about their experiences—both good and bad. Accumulating such valuable feedback is critical for providing quality customer service. Use social CRM software to listen to what your customers are saying about your products—and don't forget to take their recommendations to heart!
Social CRM platforms
There are several social CRM platforms on the market, so you'll have to decide which one is right for your business. Read on to learn about their standard features, then consider which ones are most critical for achieving your business goals.
Standard features in social CRM tools
While every social CRM platform has unique capabilities, most offer standard features:
Social listening
Social CRM solutions have built-in tools that monitor the pulse of your customers' online conversations. You can plug in your keywords to learn when people mention specific topics and get alerts every time your brand is discussed or tagged.
Customer profiles
While users all have their own unique social media profiles, a social CRM tool can create a single profile of your potential and existing customers. This curated profile will help you quickly get an idea of their demographics so you can create personalized content. Some CRM solutions will even automatically update the profile in the dashboard when customers change their individual profiles.
Social selling
Social media is a great place to attract potential customers and inform them about your offerings, but ultimately, you want to generate sales. Social CRM tools can push interested customers from a marketing campaign directly to your sales team or online store.
Sentiment analysis
Sentiment analysis—sometimes called emotion AI—helps you understand the meaning behind what your customers are sharing online. It looks at posted comments (both positive and negative), keywords, tone of voice, and overall context to give you an idea of how people perceive your brand.
Profile management
With profile management, you'll be able to see all of your brand's social media profiles in one place using the social CRM dashboard. Depending on the tool, you might even get a view of messages and engagements as well.
As a bonus, most social CRM systems allow you to schedule posts to publish on multiple platforms from this single dashboard.
Metrics
You'll be able to see your social media marketing metrics and key performance indicators (KPIs) via the CRM dashboard, including:
Traffic – How many people visit your profiles, click-through rates on posts, and related conversions
Total followers – Understand who is following you, how active they are online, and who they're connected to
Engagement – Get a breakdown of likes, reposts, shares, comments, and messages to understand how people interact with your brand
Brand mentions – See all of your mentions and tags in a single place
What to look for in a social CRM solution
There are several social CRM tools to choose from, so it's wise to determine what you need out of one before making a decision. Determine your must-have and your "nice to have" features so you can eliminate tools that don't meet the criteria.
Here are a few features you might add to your list:
Aggregated notifications from all social platforms
Integration with other tools so you can respond to messages via one platform
Ability to create potential customer contact records and include automated updates to keep track of your interactions
Sentiment analysis and social listening capabilities
Regardless, any social CRM tool you choose should make it easier to manage social media. Don't choose one with fancy bells and whistles that won't provide you any real benefits just because it's popular!
How social media marketing teams can benefit from a social CRM platform
It's clear how a sales team can take advantage of a social CRM system, but what about those responsible for your social media? Any digital marketing professional would agree that having everything in one place makes things easier.
Social teams will benefit from using social CRM software for many reasons. With such systems in place, they can:
Create efficient, targeted campaigns using customer data and marketing automation
Devote more resources to posting content where their customers are without wasting time guessing
Increase web traffic, search engine rankings, and conversions
Develop meaningful relationships with customers
Engage with potential and current customers in real time
Monitor all channels simultaneously for mentions, trends, questions, etc.
See and resolve issues as they arise
Respond to and reward brand advocates
Depending on how your company is organized, your customer relationship team will likely enjoy at least a few of the benefits from the aforementioned list.
Insights you can gain from social CRM
As you can see, a social CRM tool can allow you to drill down into helpful information, but it can also show you the bigger picture and assist with making informed marketing decisions.
Here are some insights you can acquire from a social CRM:
How customers feel about your brand
Thanks to sentiment analysis and social selling information, a social CRM solution will show you how your customers feel about your brand.
The tool gathers this information by looking at comments (good and bad), questions, and concerns. Understanding why customers love—or don't love—your product will help you improve your offering.
Trends related to buying behavior
Demographics can only tell you so much about your customers; what about their buying behavior?
Social CRM systems can shed light on the buying cycle, purchasing decisions, and how content influences conversions. You can even see how interactions with your sales team help clinch a sale.
Advanced sales intelligence
Your sales team will be able to access all data related to sales and purchasing. Understanding how your typical customer moves throughout the sales funnel and which touchpoints are most effective is critical information for a sales rep.
Lead generation insights
Use all of the data and insights to continuously improve your lead generation funnel. You can also leverage collective data reporting to refine buyer personas and make every step of your funnel effective.
How will social CRM affect my bottom line?
It's easy to see how using a social CRM tool can increase efficiency in many departments, including sales, customer service, and social media. But let's get to the real reason we're here: boosting your bottom line.
Social CRM will affect your bottom line in three ways:
Improved sales
A social CRM tool provides a more comprehensive view of your potential and current customers. Using this detailed information, your team can create content that resonates with customers and results in greater sales.
You can also use customer data to reward loyal shoppers. It's easier—and more cost-effective —to convince existing customers to purchase again than it is to acquire new ones.
Efficient use of marketing dollars
You won't have to rely on trial and error for your marketing campaigns while using a social CRM system. Instead, you can use consumer data to create content and ads that have a better chance of converting shoppers into customers.
You can also devote time to publishing messages on the platforms you know your customers are on instead of posting everywhere, hoping they'll find them.
Increased ROI
The more you know about your customers, the better positioned you'll be to meet their needs and exceed expectations. Highly targeted content—based on valuable data—creates a better customer experience, leading to qualified inbound leads that bring in revenue.
Social CRM strategies
If you're considering implementing a social CRM system, it's essential to consider the strategy you'll utilize from the start.
Start by informing any of your team members who will likely use—or be affected by—the addition of a social CRM platform. These team members may have valuable input for the features the platform should have.
Next, research the social CRM platform that's going to work best for your brand. Look for tools with your must-have features (and maybe a few of those "nice to have" ones, too) and work within your budget.
Finally, set measurable goals for how you'll use the platform to improve your marketing efforts. What data will you focus on, and how will you use it? What current marketing issues will the social CRM platform resolve?
Answering these questions will help you use the tool effectively from the start.
Conclusion
For brands that use social media as a part of their marketing and sales strategies, social CRM systems can provide several benefits. Not only will you be able to get a clearer picture of your customers and how they behave online, but you'll also be able to respond with more intelligent answers and more relevant content.
Use the data from a social CRM tool to target specific audiences, understand customer needs, and ultimately boost your bottom line.
Enhance your CRM with the power of ManyChat's Instagram Automation.
The contents of this blog were independently prepared and are for informational purposes only. The opinions expressed are those of the author and do not necessarily reflect the views of ManyChat or any other party. Individual results may vary.