[Case Study] How WithinTheFlow Used ManyChat To Build An Engaged Facebook Community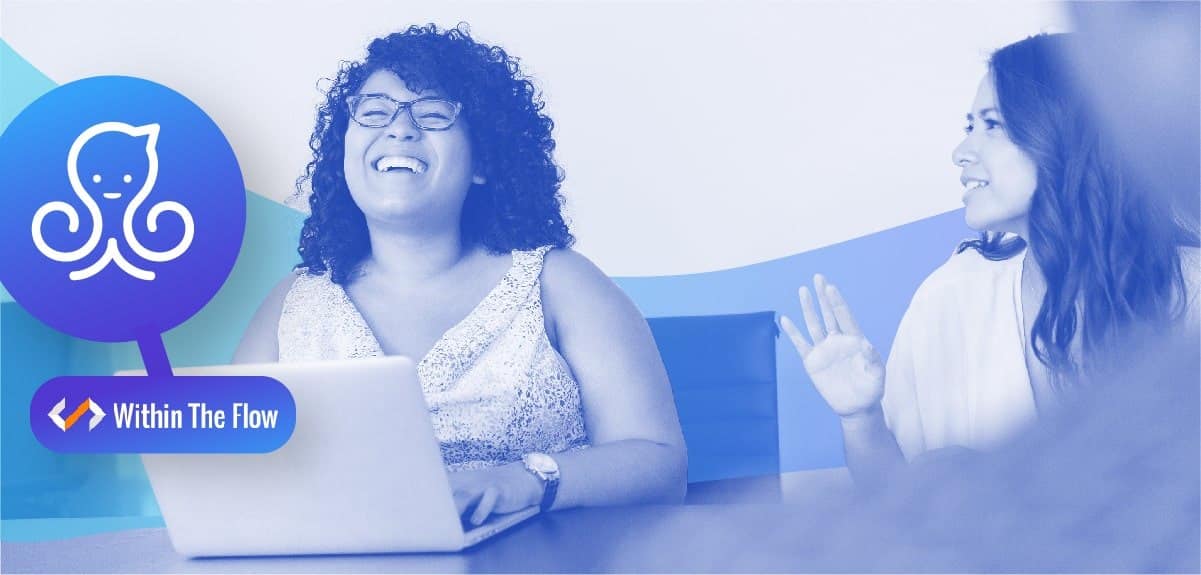 Created by accomplished digital marketing and e-commerce enthusiast Saleem Ahrar, WithinTheFlow is a leading private community for e-commerce entrepreneurs. It aims to help 10,000 online store owners make their first $10,000 by the end of 2020. Content and community engagement are provided through Messenger.
The team at WithinTheFlow set out to change the way group marketing operates. Saleem explains the current state: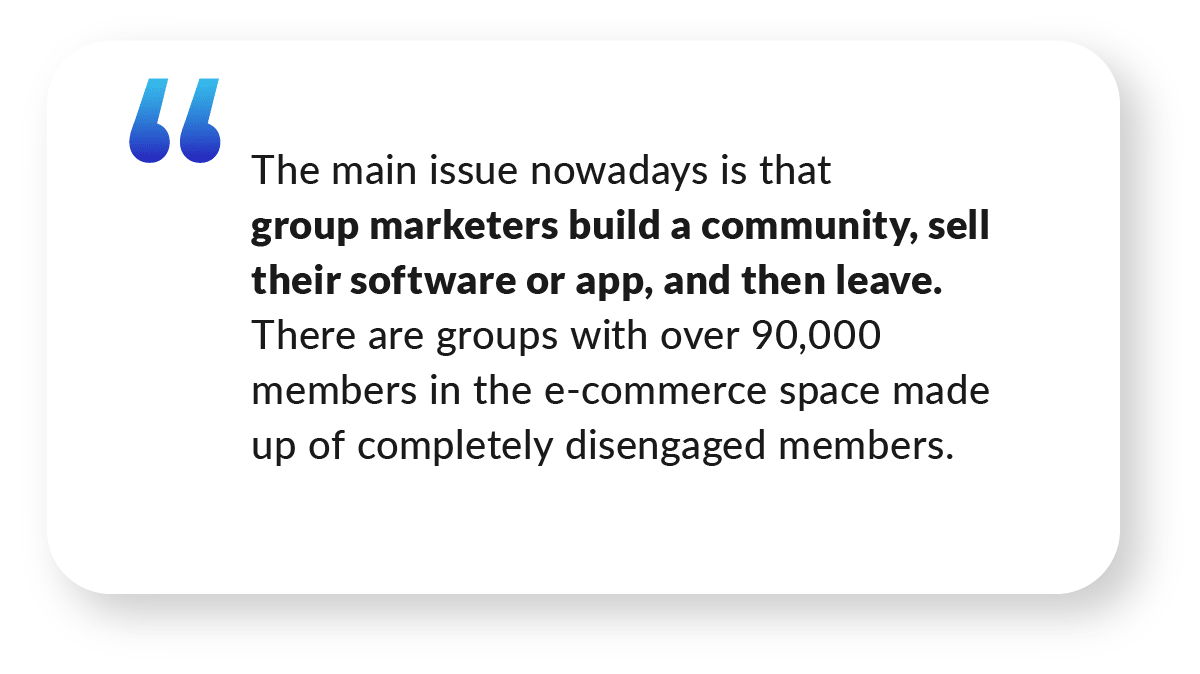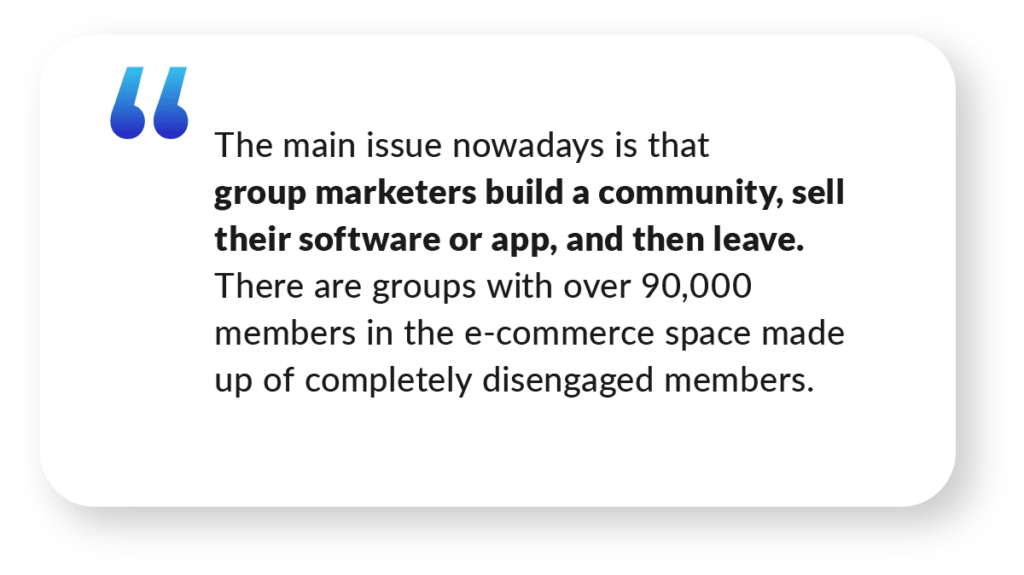 As experienced e-commerce entrepreneurs, the team had faced plenty of challenges when it came to running six-figure stores, many that went unaddressed because there was no active community to support them. So they figured they would come up with a space where they could cater to all types of dropshipping and e-commerce issues.

Saleem and his team gathered the most common problems e-commerce entrepreneurs were having, wrote content around them, and created WithinTheFlow. But building a community is no easy task.

"The problem at the time was that we had no community to share information with. We didn't want to collect email addresses. We were looking for something closer to people. So we adopted ManyChat," Saleem tells us.

WithinTheFlow wanted to attract active community members by encouraging people to download e-books, apply to become a member, and grow their online stores.

Here's their story.
Attracting active community members with a bot for Messenger
To build relationships with potential community members, WithinTheFlow decided to use ManyChat to provide better and faster engagement. After integrating ManyChat as a lead generation tool, WithinTheFlow was able to send messages directly to community members, including tailored articles based on likes and interests, downloadable content to help them grow their stores, and answers to questions about anything and everything e-commerce.

They built the group from scratch, only running organic campaigns to attract potential members. The campaign idea was to build on the brand's new connections with it's growing fan base through content.
WithTheFlow's working theory was that a Messenger bot attached to an e-book lead magnet could filter leads, and help them build deeper ties with engaged and active group members.

First, users would discover the e-book through WithinTheFlow's blog or landing page.

In their e-book, WithinTheFlow touched on highly relevant and troublesome e-commerce topics, which worked to generate interest and clicks. The call-to-action button lets people know they'd receive the e-book in Messenger.

Saleem attached a Messenger Ref URL to the CTA to drive people to their bot. Once someone clicked, the filtering cycle began in the chat window to qualify leads for WithinTheFlow's private community.

In the next phase, Saleem collected user information and segment their audience in ManyChat. This allowed the team to deliver relevant content and build deeper ties with community members, which helped keep click rates in the 90% range and average visit duration on the blog sky-high.

"If you filter and write only for your audience," says Saleem, "they will give you high regards". That strategy is what drove the community to over 5,000 members from all areas of the world, including the U.S., UK, Canada, and Australia.

Want to build a community around your company? Use a ManyChat bot to turn cold customers into engaged fans.
Why ManyChat?
Saleem and his team at WithinTheFlow love ManyChat for three reasons:
Growth tools. ManyChat's range of Growth Tools allowed Saleem to pull in traffic from different organic sources easily.
Simple dashboard interface. After testing a few chatbot providers, Saleem found ManyChat's dashboard intuitive and easy to use. He quickly got comfortable building big, high-converting lead nurturing flows in Flow Builder.
Cost-effective. For community marketers, Saleem felt ManyChat's pricing let him do a lot more with his capital to invest in better content and build WithinTheFlow's community.
WithinTheFlow's success
Sending traffic and filtering leads through a ManyChat bot produced the desired results for WithinTheFlow. More than 5,000 members joined the group, with 2,000 more on their waitlist.
They've generated meaningful conversations with their ManyChat bot, and continue to deliver content and grow their engaged community of e-commerce entrepreneurs. Results include:
98% open rate for messages on average.
90% click-through rate for e-book downloads.
Over 4,800 e-book downloads and counting.
Want to attract and engage leads for your business? It's easy with ManyChat's built-in lead generation tools. Try it today.
O conteúdo deste blog foi preparado de forma independente e destina-se apenas a fins informativos. As opiniões expressas são de responsabilidade do autor e não refletem necessariamente a posição do ManyChat ou de qualquer outra parte. Os resultados individuais podem variar.