What Are Facebook Shops? How To Get Started + Best Practices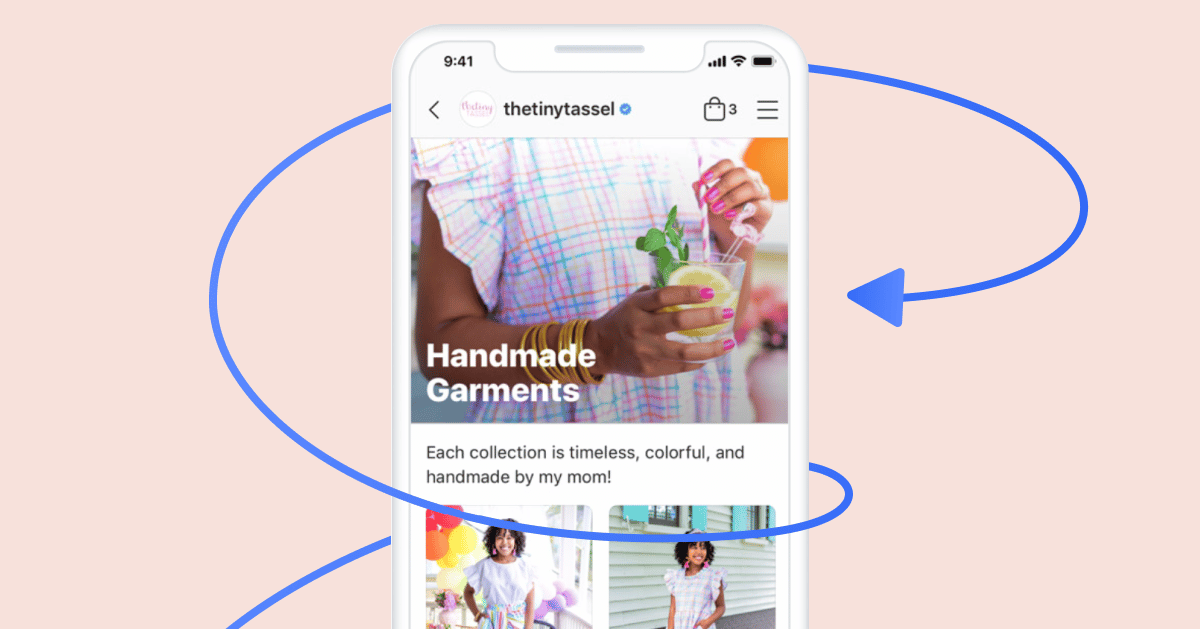 A strong, consistent digital presence across a few platforms is the key to providing a seamless customer experience and achieving high organic growth for your e-commerce business. With 1.7 billion daily users, Facebook is currently the largest social media platform in the world, making it an ideal platform to expand your online footprint.
You can tap into Facebook's large user base and enhance your business through e-commerce tools integrated with Facebook. Their latest venture, The Facebook Shop, makes it easier than ever to sell your products directly through Facebook and Instagram.
In this Facebook Shop guide, you'll learn how Facebook Shops work, how to set them up, and best practices for successful selling on Facebook.
What is a Facebook Shop page?
With Facebook Shops, e-commerce merchants can easily create a free online storefront for their business on Facebook and Instagram.
How do Facebook Shops work?
A Facebook Shop allows you to group your products into different collections from which you can choose items to display to shoppers. These products can be shown on Facebook and Instagram. You can also customize fonts and accent colors for your shop to align with your brand's style. In a nutshell, Facebook Shops provide businesses with a golden opportunity to expedite consumers' purchase process with minimal effort on their part.
Customers interested in a Facebook Shop product have the option to browse related products, save them, share them, or buy the items directly from the app. Shopping is quick and easy for your customers, improving the possibility of a sale! (Note that the in-app checkout feature is limited to the United States for now.)
Even better, a Facebook Shop is linked to Messenger, Instagram Direct, and WhatsApp, allowing you to easily communicate with your customers without requiring external communication apps. In the future, the social media juggernaut plans to incorporate these channels into Facebook Shops for direct order placement.
While you can set up a Facebook Shop for free, Facebook does charge a 5% transaction fee for in-app purchases. This reasonable rate makes Facebook Shops popular with small businesses.
What are the benefits of a Facebook Shop?
Currently, Facebook is helping more than 90 million small businesses connect with a larger audience. With Facebook Shops, brands have access to many special features and accompanying benefits.
Tag products in Facebook posts to boost sales
Facebook Shops allows business owners to tag their products directly on Facebook posts. Viewers can see the product and pricing details of the tagged product on the post by hovering over the related icons and buttons. This feature makes it easier to promote products to your followers since all you need to do is tag a product in your Facebook Page updates.
Leverage Facebook's high social engagement
Brands with a Facebook Shop can tap into Facebook's social engagement features. Your customers can like, share, comment on, and save the displayed products, actions they wouldn't be able to take on your website. With every click, your brand reach will increase exponentially, helping you to reel in new consumers.
Facebook Shops act as a free, organic recommendation engine that will draw potential customers to your shop after they've seen a friend engage with one of your posts,
Enjoy a smoother sales process
Making the purchase process as effortless as possible for customers helps your brand; friction can frustrate potential customers and make it more difficult for your team to succeed. With Facebook Shops, the in-app checkout feature allows consumers to purchase items directly from the app without leaving Facebook or dealing with a third-party.
If you use a Facebook Shop, your business doesn't have to rely on a website to conduct e-commerce sales, lowering the barrier to entry for many small business owners. Furthermore, Facebook Shops don't limit the number of products that brands can display, giving brands unlimited flexibility in terms of digital "shelf space."
How to Set Up a Facebook Shop
Though setting up your Facebook shop is easy, do take pains to follow Facebook's commerce policies carefully. Currently, Facebook Shops only allow for the sale of physical goods through the platform, but digital goods will most likely be allowed soon.
Step 1: Create your store on an e-commerce platform
Facebook Shop partners with major e-commerce platforms like Shopify, Woocommerce, Channel Advisor, CedCommerce, Cafe24, and more. You can get your e-commerce business up and running in no time with any of them.
If you're not using an e-commerce platform that integrates with Facebook, you can start by setting up a Commerce Manager account on Facebook (if you don't already have one). Ta-da! Once you've completed this first step, congratulate yourself on successfully creating a Facebook Shop.
Step 2: Connect your store to your Facebook page
Here's how to connect your Facebook page with your Facebook Shop:
In Commerce Manager, go to the Create Your Shop page
Choose Create a Shop and click Get Started
In the Assets section, click on your shop to upgrade, or click + Create a Shop.
You have two options for setting up a shop: with Commerce Manager or with an e-commerce platform

To use an e-commerce platform, select one from the list
To use Commerce Manager, choose Facebook or Instagram

Complete the following steps to create a Commerce Account:

Provide your Business Information
Add Products to Your Facebook Page and Settings
Set up Payouts
(For Instagram) Submit Instagram Account for Review
Review your business information and make changes as needed
Click Finish Setup when you're done

After you've set up your Commerce Account, you can go to the Commerce Manager to manage your catalog, learn how to use Facebook's selling tools, and assign permissions to your team to manage specific parts of your store
Once submitted, shops have to be approved by Facebook, a process which can take up to two weeks.
Step 3: Choose which products and collections to show on Facebook
You can create product collections for your Facebook Shop through your Commerce Manager account or your e-commerce platform. Once you have established a collection, you can add details like a collection name, relevant description, and images for the products. Take time to be creative and descriptive here, as these details will help you attract attention and intrigue potential customers.
You have to add a minimum of six products to a collection; the maximum is 30. Facebook Shops also require details for all the added products (the name, picture, website link, etc.), as well as the information related to the current price, inventory availability, and shipping costs, among other things. Once you've filled out the necessary fields, you can go ahead and publish your product collection.
Best Practices for selling through your Facebook Shop
Social media marketing can help increase brand awareness—investing time and effort into such promotion can do wonders for your Facebook Shop sales. Fortunately, Facebook Shops already come equipped with plenty of features that, when utilized well, can make your business more successful and well-known. Here are some top tips for effective Facebook advertising:
Make sure inventory is in stock
It may seem obvious, but a tried-and-true way to keep your customers interested in your Facebook Shop is by keeping a well-stocked inventory, especially during the holiday season. Nothing transforms a potential customer into an outspoken critic faster than the dreaded "out of stock" under a product listing. Be sure to keep product availability information in your inventory up to date. For US-based shops, Facebook Commerce Manager even provides an option for adding the exact number of products into the inventory details so you don't accidentally oversell.
Use Facebook and Instagram ads
With Facebook and Instagram ads, you can boost your brand's online presence and introduce your products to a larger, global audience.
Facebook's ad algorithm displays related products every time a customer searches for a particular product, increasing the visibility of your brand's products without you lifting a finger. A good way to start with Facebook advertising is by crafting a solid ad strategy for your business that will attract your target consumer base.
Offer incentives for referrals
Referrals provide an opportunity for businesses to simultaneously acquire new customers and retain the interest of existing ones. Get creative with your incentives! They can be in the form of a coupon, special offer, sale, discount, etc. The referral discount boosts sales and helps grow your customer base.
Engage with customers
Once you've set up your Facebook Shop, customers can access your store and its featured collections through your brand's Facebook business page, Instagram profile, and Instagram story. You can offer customer support through Facebook-related communication channels like Messenger, WhatsApp, and Instagram Direct. It's a pretty sweet ecosystem, all under one platform.
Grow your Facebook Shop with ManyChat
Used by over 1 million businesses and 200,000 marketing agencies worldwide, ManyChat helps businesses like yours engage with millions of new customers through Facebook Messenger, SMS, email, and improves return on investment (ROI) by up to 600%.
Here's how ManyChat can support your Facebook Shop:
Omnichannel marketing: Messenger, SMS, and email
By using an omnichannel strategy, your business can engage with customers at the right time on the channels they prefer to use. ManyChat makes it easy to leverage an omnichannel strategy with support for Messenger, SMS, and email. Use our chatbots for your Facebook Shop to welcome new users, respond to specific queries, schedule timed messages, and send promotional content to targeted shoppers.
Click-to-Messenger Ads
Instead of linking directly to your website, Click-to-Messenger ads direct users into conversations with your Messenger bots. Why send customers to Messenger instead of your website? Click-to-Messenger ads encourage more engagement than traditional ads. Think of them as an online concierge (similar to an associate at a retail store) who can help customers find what they're looking for.
Helpful e-commerce integrations
You can use ManyChat for many of your Facebook Shop's workflows, thanks to its integrations with leading e-commerce platforms like Shopify, Zapier, Klaviyo, and others. Whether it's marketing, customer service, shipping updates, reviews, or another area of your business, ManyChat's integrations have what you need to keep your customers happy.
To sum up
With Facebook Shops, a one-stop shopping experience has never been easier. By leveraging this new and exciting product offering, any business selling online has the opportunity to take advantage of Facebook's vast audience and provide a seamless purchase experience.
Sound good? Click the button below to get started with ManyChat for your Facebook Shop—for free!
O conteúdo deste blog foi preparado de forma independente e destina-se apenas a fins informativos. As opiniões expressas são de responsabilidade do autor e não refletem necessariamente a posição do ManyChat ou de qualquer outra parte. Os resultados individuais podem variar.