How to Write a Real Estate Marketing Plan Step By Step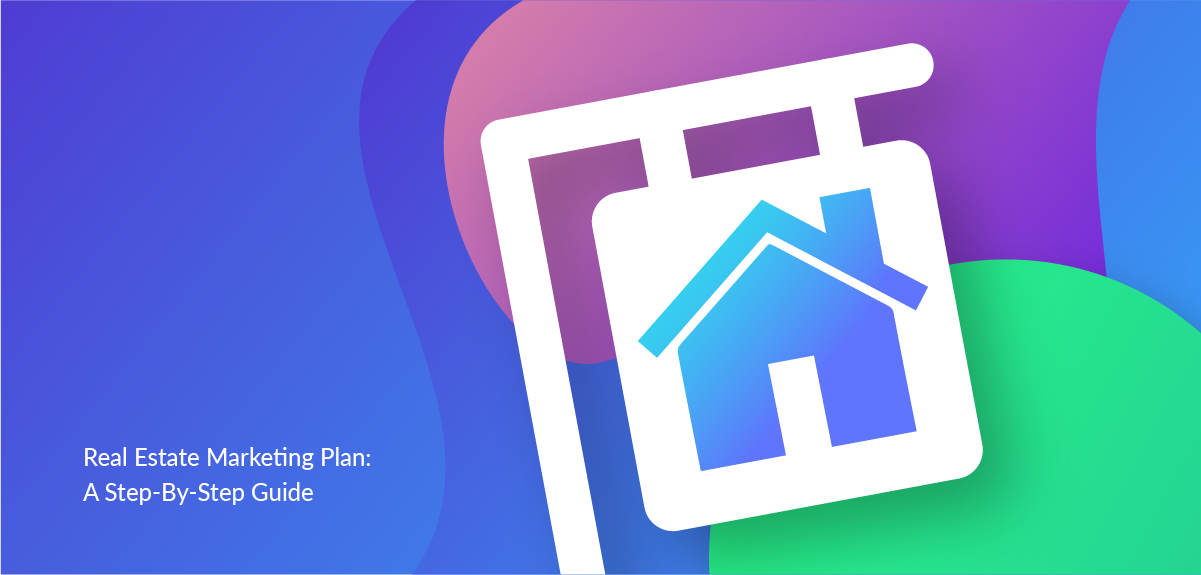 A real estate marketing plan is a comprehensive document that defines your marketing strategy, budget, target audience, and forecasts for the coming year. The goal of a real estate marketing plan is to build a concrete plan of action for your business's marketing efforts.
So, what's the secret to building an effective real estate marketing plan?
It's not an easy thing to answer. You probably notice other real estate pros successfully promoting properties online and in real life.
Ever wonder how they do it? Do they know some real estate agent marketing strategy that you don't?
Spoiler alert: They do!
It's all about having a plan that differentiates you in the market, and making the buying and selling experience accessible for your prospects. Here are nine steps to creating a real estate marketing plan that'll take your business to the next level.
Real estate marketing plan step by step
Step 1: Think over your business objectives
Thinking over your business objectives is the most important part of your real estate marketing plan.

It starts by taking a look at your past numbers, for example, numbers of deals closed, marketing costs, and the like. This helps you set up performance goals for the next year to follow through on.
Heres a simple layout you can use to help better plan your goals for the upcoming year.
Step 2: Layout your local marketing goals
For many real estate agents, local is the name of the game. Most people look for expertise in a hyperlocal area, so you'll get the most value from your marketing efforts if you focus on local neighborhoods.

Setting your marketing goals helps you plan for success, ensuring that you can reach buyers and sellers in your area in a tactical way.

For example, if you want to reduce the number of days on the market, you'll want to invest in Chat Marketing to fast track prospect lists and show properties faster.

Want to get more seller clients? Buy Zillow Premier or Seller Boost ads to generate more leads.

The stronger and more detailed your marketing goals are, the better.
Step 3: Determine who your buyers and sellers are
Having a strong understanding of who your buyers and sellers are is another important (although obvious) part of your real estate agent marketing plan. Use one or two groups to target your marketing efforts.

Define groups big enough to boost your number of sales and listings, and explore different qualities that make up your best prospects.

Ask yourself questions like:
What is the typical age range of my buyer or seller?
What's their gender?
Where do they live?
What's their lifestyle like?
What's their profession or education level?
Knowing your likely buyer helps you craft your message when marketing a listing, and where you put that listing.

People should feel like your listing speaks directly to them.

For example, if a wealthy businesswoman is buying her second home in Florida, she'll likely want to know more about the beautiful beaches around than the local school district.
Step 4: Establish what makes you different in the market
Remember, real estate is a crowded marketplace — in fact, the National Association of Realtors reported a 6% increase in realtors from 2017 to 2018. Considering this, you want to set yourself apart from other agents competing for the same clients.

But how do you figure it out? Focus on what strengths and qualities make you exceptional to prospects. Use your distinct traits as a chance to create a unique value proposition and carve out a place in real estate that's just for you.
Step 5: Learn your geographical farm
Even if you live in your prospects neighborhood, it can be difficult to know every person that lives there, as well as the value of each home.

Learning it helps you target marketing efforts, figure out average income and mortgage qualifiers, plus sell to more specific buyers.

Two great ways to find this information are:
Searching your neighborhood at City-data.com. Simply type in your city name and see all types of information from population to crime rates, news, demographics, and more.
Finding home values on Zillow. Again, a super simple tactic. Just type in your city name and just like that you can find out everything from home value prices to trending rent prices, and more.
Step 6: Consider how you will reach your audience
The way you reach your audience has a big impact on your performance. Your goal should be to use creative ways to start conversations with your target prospects including different types of social media, blog posts, and SMS.

One smart way to do it is by using Messenger Marketing as a big player in your marketing mix.

Messenger Marketing helps real estate professionals increase closings by:
Automatically qualifying leads
Communicating faster with clients
Growing your lists
Booking calls right in chat window
Traditional marketing approaches include fliers and cold outreach, which compared to Facebook Ads and Messenger Marketing, are costly and less effective. By shifting your efforts to more Messenger outreach, you can cut costs on lead generation and expand your reach on social media, and close more deals.
Other places to market yourself include Zillow, your own mobile-friendly website, social media, local community organizations, and more.
Related: How STEEZY.Digital Used ManyChat to Build a Scalable Real Estate Marketing Agency
Step 7: Invest in Local SEO
One real estate marketing idea is to consider improving your Google ranking for prospects. Landing yourself in the Google Maps 3-Pack for local search results can get you more calls, leads, and customers versus an agent who doesn't.
Plus, Google users trust the 3-pack more than paid ads. Your goal is to get yourself there by following these real estate local SEO tips.
Step 8: Set up your budget
Your money is precious, and you want to understand how and where you'll be putting it in the future. Budgeting is a great way to give you a comprehensive, accurate overview of your marketing dollars for the next quarter.
Compile a list of all your suppliers and real estate marketing tools, get their prices, and determine how much money you'll need to put toward each item. This will also help you identify where you can cut costs and ask suppliers for bulk discounts for certain things.
Step 9: Measure the success of your real estate marketing plan
It's not enough to know how a single channel is performing. After all, each one is only one small part of your entire real estate marketing strategy.

As a whole, how is your marketing plan positively influencing your business? Do you need to up your local presence a bit? Or work more on your social media marketing strategy?

Either way, understanding the trends in your real estate marketing efforts is a great way to improve year by year.
Using these real estate marketing plan tips
Setting yourself up for success is easy when you document how you'll tackle it. With this marketing plan, you'll be able to find your niche in the market, close leads faster, and sell more homes.
Become a more profitable real estate business today with ManyChat. It's free to get started.
O conteúdo deste blog foi preparado de forma independente e destina-se apenas a fins informativos. As opiniões expressas são de responsabilidade do autor e não refletem necessariamente a posição do ManyChat ou de qualquer outra parte. Os resultados individuais podem variar.