Marketing Strategies for Gyms to Move Online: an Easy, 3-Step Process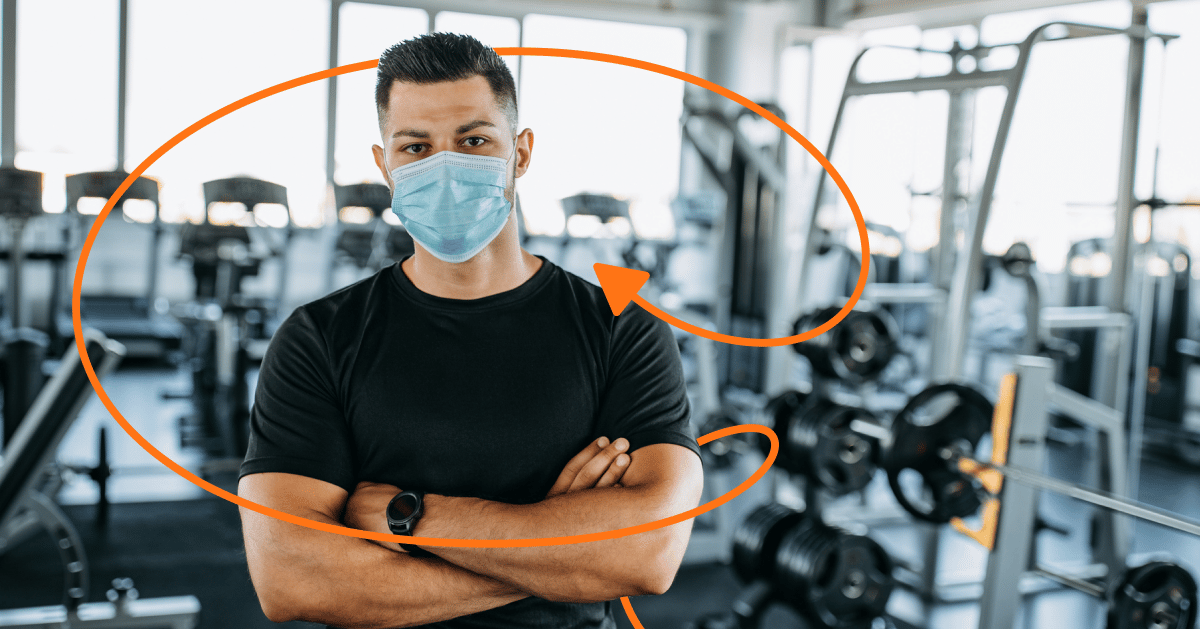 2020 came with its fair share of surprises for small business owners. And since we don't know when things will go back to "normal," moving your gym, personal training business, or fitness studio online is a good judgment call. Beyond strengthening your core business, you can metaphorically open your doors to a global customer base.
One of the outcomes of the COVID-19 pandemic is that people are becoming more accustomed to accessing services online. But there are usually some challenges to becoming a digitally-equipped business. How do you choose the right tools, platforms, and services?
Here's a three-step framework, with examples from fitness businesses, to help simplify your process.
1. Create a clear, differentiated offering
The greatest benefit of launching an online business is also a weakness. Reaching customers around the world means you face an expanded pool of competition. With a physical location, your audience is likely geographically limited. But now, your business is just one option in a sea of many. Plus, you're also competing with free content on YouTube, Instagram, and other platforms.
A critical first step before moving online is to outline your business model and determine what exactly you're selling to your target market. What will you offer that's different from other options available? How will this line of business work alongside your physical location?
Determine the "what" of what you're bringing to your target audience.
Here are a few options to consider:
A personal training program or fitness routine
Offer tailored, individualized solutions to people looking to lead a healthier lifestyle.
Create packages for one-on-one training or develop small group plans such as a fitness club. The key is to provide a service or experience that customers want and love.
Take a look at the following digital fitness offering from Whistler Creek Athletic Club in British Columbia, Canada. For context, Whistler is a world-renown tourist destination for skiers and nature lovers. The region also attracts daytime visitors from nearby Vancouver, which is 90 minutes away.
Over the year, the Whistler-based gym has seen foot traffic from tourists all over the world. With an online personal training offering, it's possible for people who love the Whistler athletic club to work with their favorite trainer, from anywhere.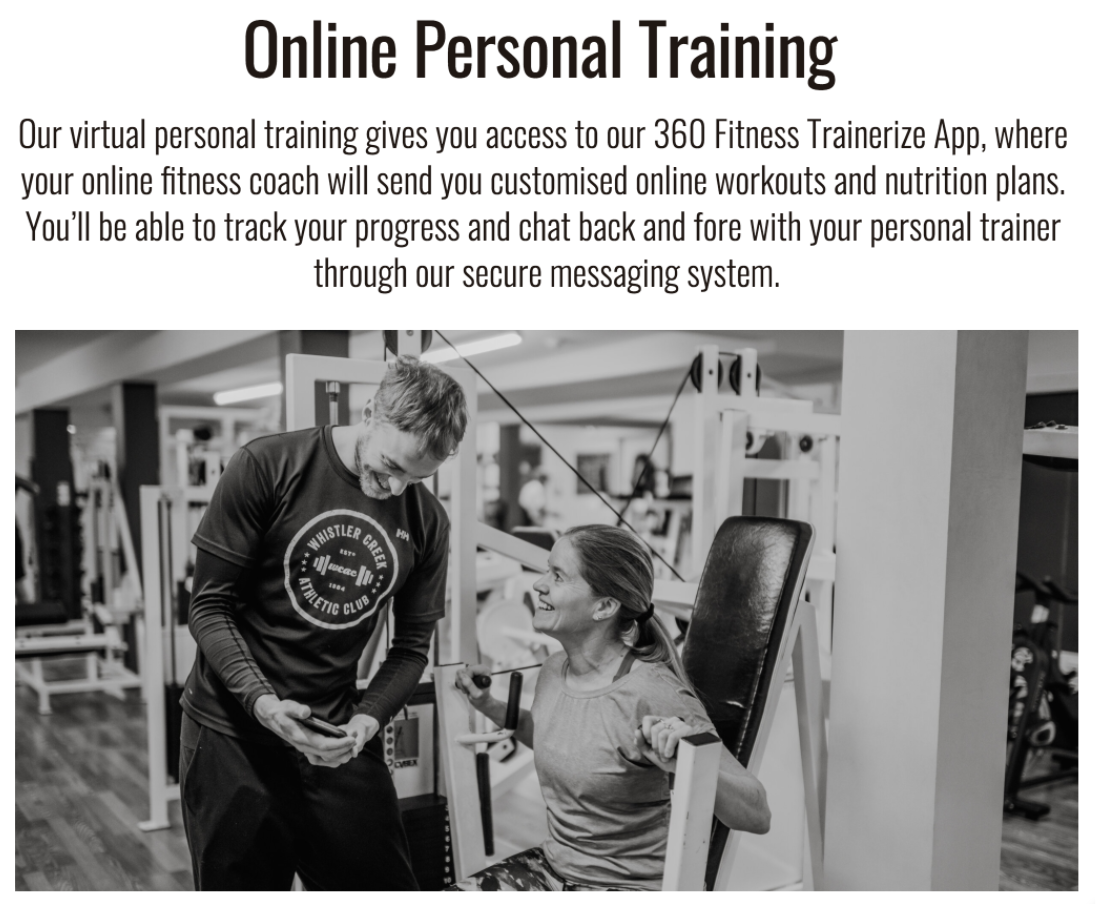 Because the pandemic has effectively shut down gyms, people are seeking virtual pathways to get moving, and a personal training program has a strong value proposition to help improve overall health and well-being.
On-demand classes
Create a library of videos that your customers can access anytime. Using your smartphone, tablet, or computer, you can pre-record videos for people to stream at their convenience.
The on-demand model is both scalable and highly profitable. After setting up your online platform, build a funnel using various marketing channels. You can add more classes over time, and there's no limit to the number of subscriptions you can sell. Not to mention, your target market could be anywhere in the world.
Take a look at Undisputed Boxing Gym in Redwood City, California. The fitness studio offers an online platform with instant access to classes.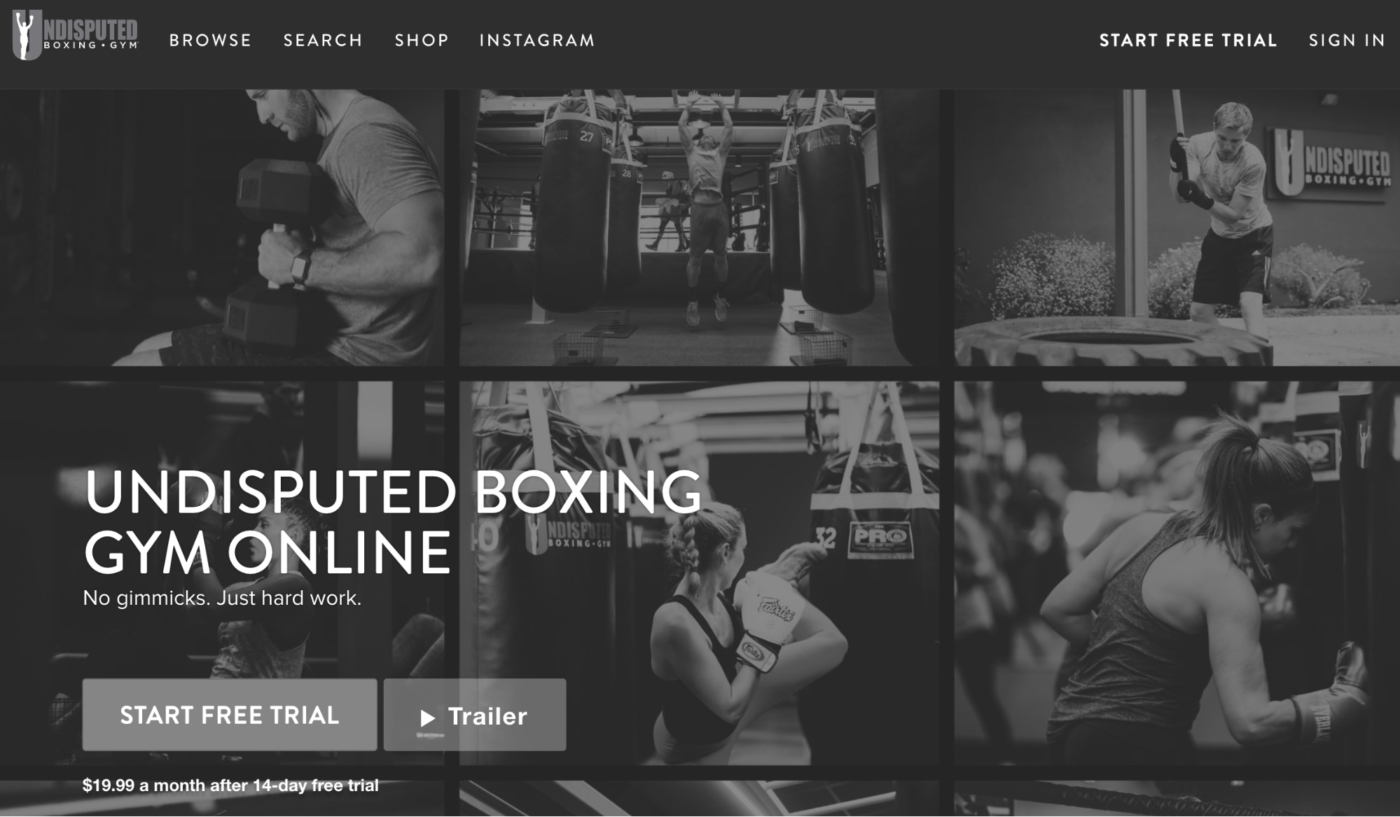 What differentiates Undisputed is the company's reputation and offering. The studio's leadership has more than two decades of teaching experience with a wide variety of workouts, and the website is set up so it's easy for people to purchase fitness products they need to train.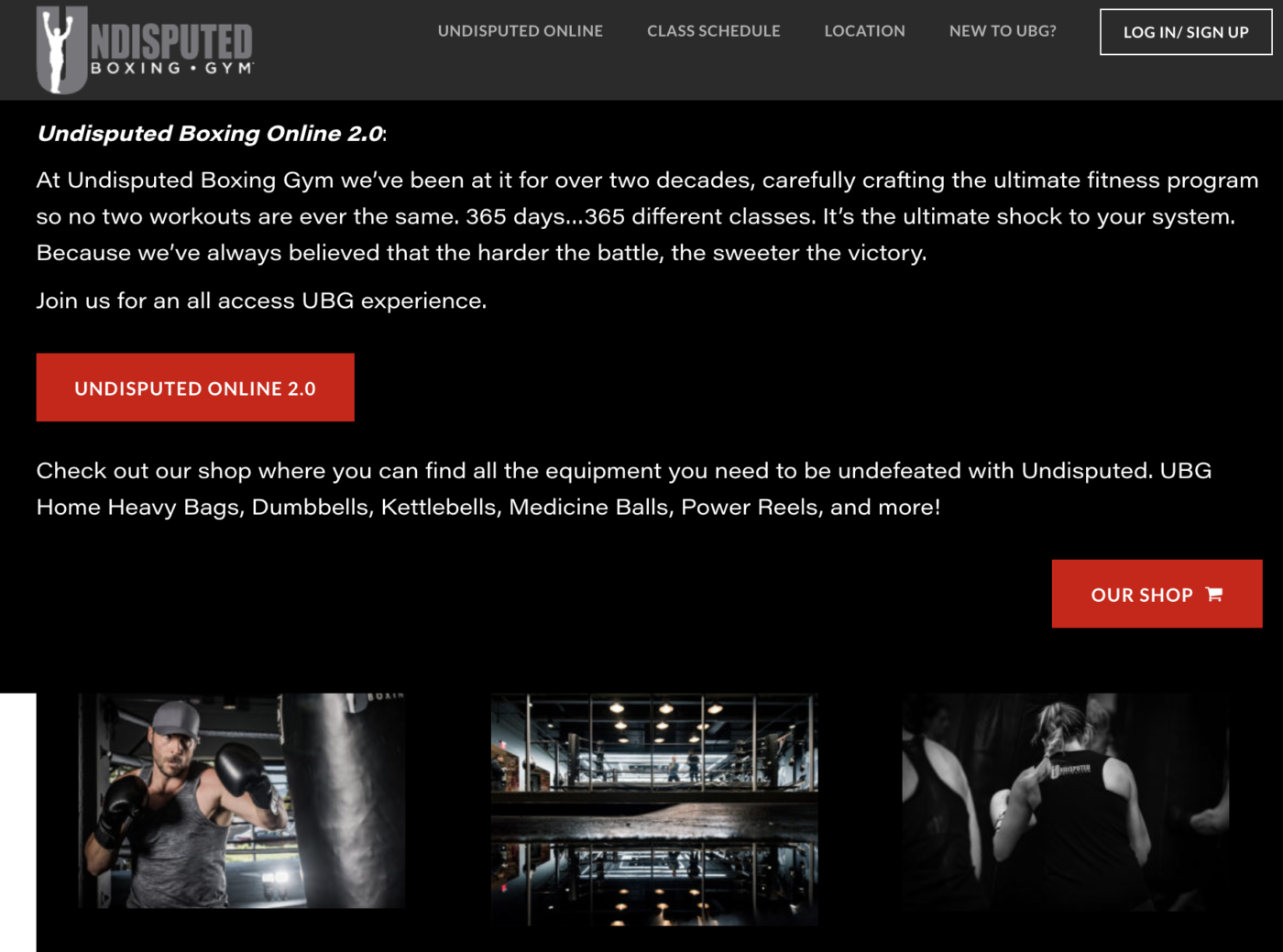 On-demand classes are a valuable way to expand a fitness business; and in addition to reaching a wider target audience, you'll be able to build a customer base of people who were too time-strapped to visit your gym in the first place.
Live instruction
Teach fitness classes online by using a streaming service or video conference platform, and reach a target audience of individuals who enjoy live workouts.
Keep in mind that even if you're leading virtual classes in your gym, potential customers can live anywhere. It's important to remember this since you may not be able to see your class participants while you're teaching, and you need to be extra communicative with plenty of options for modifications.
For inspiration, take a look at Bread & Yoga, a New York-based yoga studio that's also an instructor-owned collective.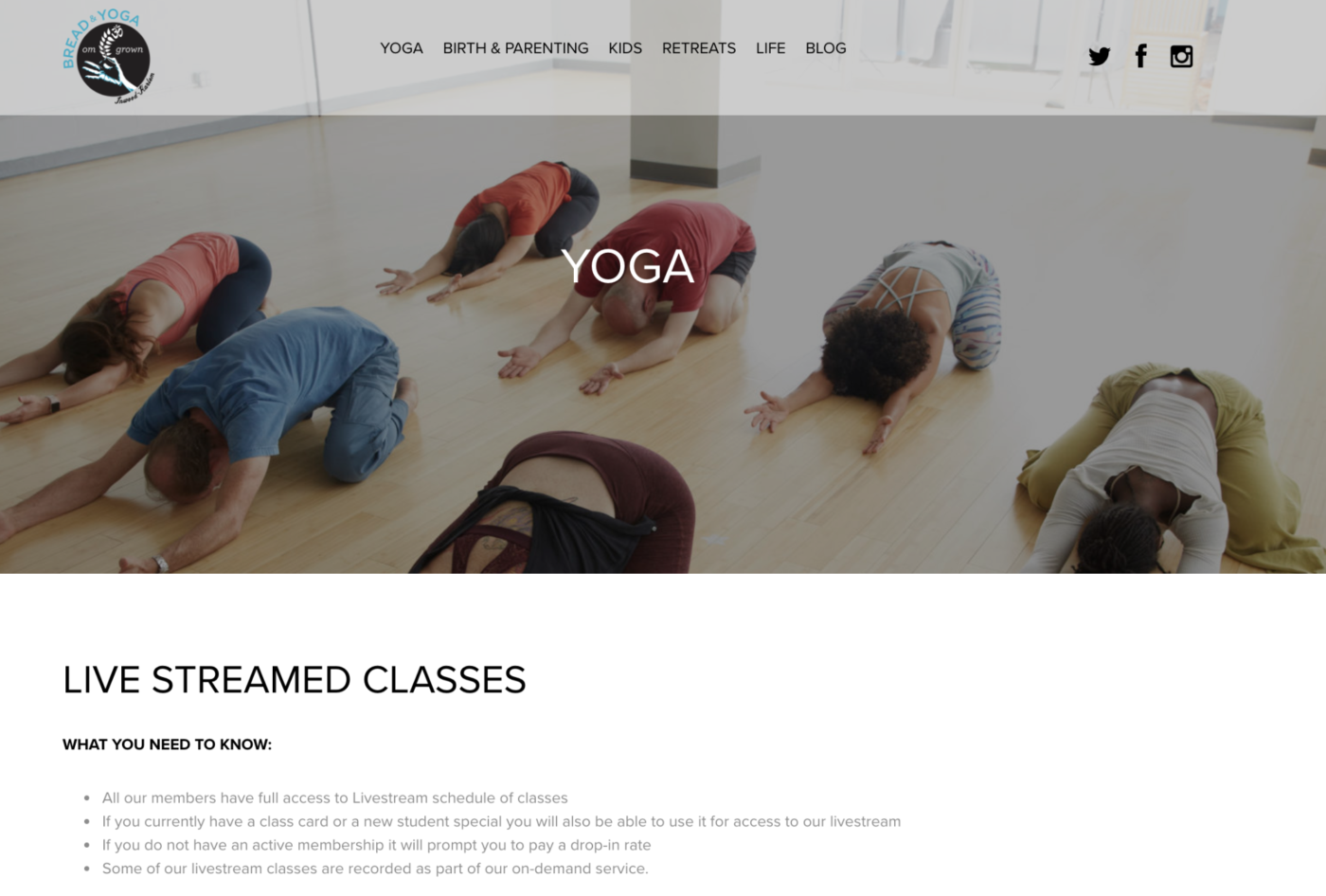 Attendees can sign up for classes just as they would in person. With this system in place, Bread & Yoga can always maintain an online component as an added value to its physical studio.

Time zones are an important consideration for teaching classes online. As your customer base expands, you may decide to offer more classes. With a virtual business, you can expect your target audience to evolve.
Next steps
The first step to define your offering is to seek out inspiration. Use Instagram, YouTube, and Yelp to seek out digital marketing campaigns from gyms and studio owners. Based on what you observe, decide on your own plan.
At this point, you don't need to choose a certain type of technology fto move your gym online. Instead, focus on the core service you want to offer. (You can even write down your ideas in a notebook if that helps get the ideas flowing.)
As you build your product and marketing plan, ask yourself the following questions:
How should I structure my offering?
What is the product that my customer is looking to buy?
What is the value my target audience is looking to gain?
How does this structure align with my business's profitability?
What will my customers need to do on my website?

Watch videos?
Make payments?
Sign up for classes?
Maintain membership information?
Join a community?

Who will likely become my best customers?
What makes my product unique or different from other options?
Remember that a good marketing strategy is only as strong as your product. Clarifying your offering will fuel your strategic planning.
2. Choose your technical components
If you're moving your gym online, there's likely technology for what you want to achieve. Given there are a number of software providers out there, which one is the best for you?
When exploring options for software, it's important to have exact specifications for what you'd like to build. In the previous section, one recommendation was to create a list of what your customers will do online. Or, intech jargon, the goal of this step is to help you identify which features you need.
Most likely, you'll need some combination of the following components:
A membership management system that allows you to keep customer records on their preferences, level of engagement, and payment history.
A payment processor for safe, compliant online transactions that supports multiple currencies.
A contracts management system for you to send contracts and liability waivers to customers.
A content management system to store your content and fitness teaching materials.
A marketing automation system that can help you attract, build, nurture, and retain your target audience.
Video software to help you deliver your curriculum.
Personal training software to manage relationships with private coaching or personal training clients.
A basic website to serve as a hub for your target audience and customers.
An online community that brings your audience together in a shared virtual space.
All-in-one vs. niche platforms
There are a number of all-inclusive platforms that incorporate various features that gyms typically need to get up and running. One example is Namastream, which gives studio business owners the tools they need to move online. Using Namastream, it's possible to teach live, build a library of courses, and manage your marketing from one platform.
The benefit of an all-in-one solution is that there's less software. Rather than piecing together a mix of options, find a platform that curates a straightforward process. Eventually, however, you may begin to outgrow an all-in-one platform and instead need to assemble a suite of components.
For instance, you may use Mindbody for business management, HubSpot for marketing automation, Zoom for video, Teachable to host your courses, Circle to manage your community, and Squarespace to run your website.
The key is to choose technology that is optimal for your unique business model. Keep in mind that you can always upgrade and replace your software.
Navigating compliance
When you move your business online, there are likely new legal requirements you'll need to know about and follow. If you collect customer information, for instance, you'll need to follow compliance laws; or choosing software that is compliant with privacy laws worldwide.
Most popular software is compliant by design, so you'll just need to stay informed and up-to-date. If you're not sure about a particular vendor, all you need to do is ask.
It may also be helpful to work with a lawyer so you can fully understand your liability. There are a number of free and low-cost legal clinics available to entrepreneurs. One way to research these options is to check out local law schools.
For a general discussion around compliance (not legal advice), check out this resource about building an email list, from ManyChat.
Next steps
Create a list of your favorite online fitness studios, sign up for a few classes and try to figure out what software they're using for different components. You don't need to reinvent the wheel here, and can find inspiration from what's already out there.
You can also reach out to multiple software companies' customer support teams, and ask whether these technology providers work with companies like yours and what trends they've observed across their own customer base.
Another option is to join a Facebook group or online community for fellow online fitness instructors. Ask others in your industry what has worked for them and what hasn't.
Don't expect to know everything about the technology you need; you're just getting started and your strategy will evolve over time. If you're not sure where to start, stay simple. At the same time, remember that you're not starting from ground zero, either. Everything you need is likely out there, so keep your eyes and ears open for insights and information.
3. Build a simple growth strategy
Think of your gym platform similar to a physical space. You're still bringing people together in a shared setting, and once you have your virtual environment defined, it's time to start inviting customers over.
A successful marketing strategy starts small. As you continue to build your business, invest in building out your marketing and advertising strategy.
Organic traffic acquisition
Organic traffic are website visitors who come from a $0 marketing budget. The idea is that you can rely on no-cost channels to build awareness around your business, and even if you don't have a budget to spend on acquiring customers, there are still a number of low-hanging steps you can take.
Reach out to your existing customer base. Say "hi," mention that you've moved your business online, and explain your offering.
Create a promotional offering. You might consider including a promotional code for individuals to share with a friend on social media. Consider including additional incentives for people to join your online gym. Examples include a time-sensitive promotion, buy-one-get-one offer, or free trial.
Partner up with another gym. If you don't have an existing customer base, one solution is to collaborate with another business owner. You can work together to offer a joint package or co-promotion to similar target audiences.
Reach out to companies with wellness benefits. A company's human resources or people operations professional may be open to hearing about your business, especially if you can offer a promotion to employees.
Offer to teach a free class to a group or membership association. One way to build awareness around your business is to offer samples. In a digital environment, this process involves teaching to groups. Reach out to an existing community and offer to teach a free class.
Host free public classes. Use platforms like Eventbrite or Hopin to organize and promote your online event within particular geographic areas. By hosting consistent online events, you'll build a following and referral system to your offerings.
Once you gain some momentum for your business, it's time to create your content marketing strategy. Publish a blog, and start writing about topics you know. Use this original content to build your social media presence and distribution strategy on platforms like Instagram, Twitter, and Facebook. Your content marketing strategy can also incorporate free videos on platforms like YouTube, to build awareness around your work.
For inspiration, take a look at Dianne Bondy Yoga, an instructor who is globally known due to her self-made online presence. She maintains a blog to help her audience stay aware of her projects.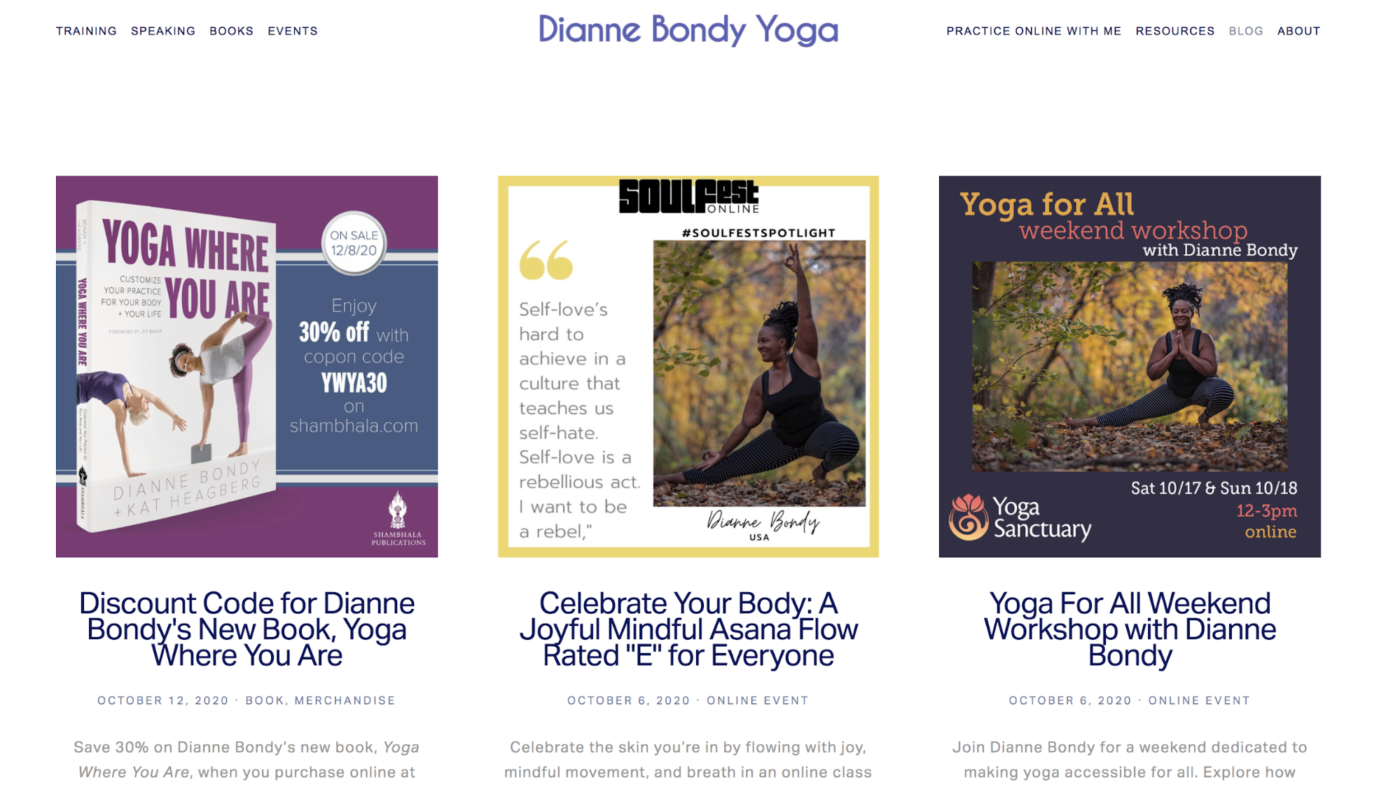 It's easy to keep track of Bondy's offerings by following her blog and seeing what she shares on social media. With this promotional system in place, she can keep her followers up-to-date on her work and offerings, such as her recent book launch.
https://www.instagram.com/p/CJEkpy3Hpdv/
Nurturing flow
When you start publishing, be sure that you set up a nurturing system to keep your audiences engaged. One of the simplest strategies you can use is to create a newsletter with your marketing automation software. (Here's an article that can help you bring your email newsletter program to life.)
Your newsletter needs to be attention grabbing, interesting, and engaging. After all, you're marketing to a human, not a robot. Here are some resources that can help you launch more interesting campaigns:
Paid advertising
After you've built a few organic traffic acquisition channels using a blog, social media, and a newsletter, you'll gain a deeper understanding of your audience and customer base. Use these insights to create paid advertising campaigns on social media channels, including Facebook, Twitter, Instagram, and/or AdWords. The key is to start small with test budgets, see what sticks, and scale your acquisition.
Behind the scenes, social media platforms are built on networks of algorithms. By the time you've launched with a budget, your business is likely robust enough to work with a consultant.
If you're a small business owner, you likely don't have the funds (or time) to waste valuable marketing dollars. A consultant can help you optimize and utilize your advertising spend. This expertise is particularly important if your business competes with larger media budgets for your audience's attention.
Last but not least
In addition to teaching and offering services, keep your eyes peeled for inspiration. Take fitness classes and participate in online programs, yourself. Gain a perspective of what it's like to be in your customer's shoes. A learn-by-doing approach will help you create a value proposition that people value and love.
Level up your marketing messaging with a chatbot for your brand. Sign up for a free trial with ManyChat.
O conteúdo deste blog foi preparado de forma independente e destina-se apenas a fins informativos. As opiniões expressas são de responsabilidade do autor e não refletem necessariamente a posição do ManyChat ou de qualquer outra parte. Os resultados individuais podem variar.