[Case Study] How A Food Cart Boosted Revenue by 30% with SMS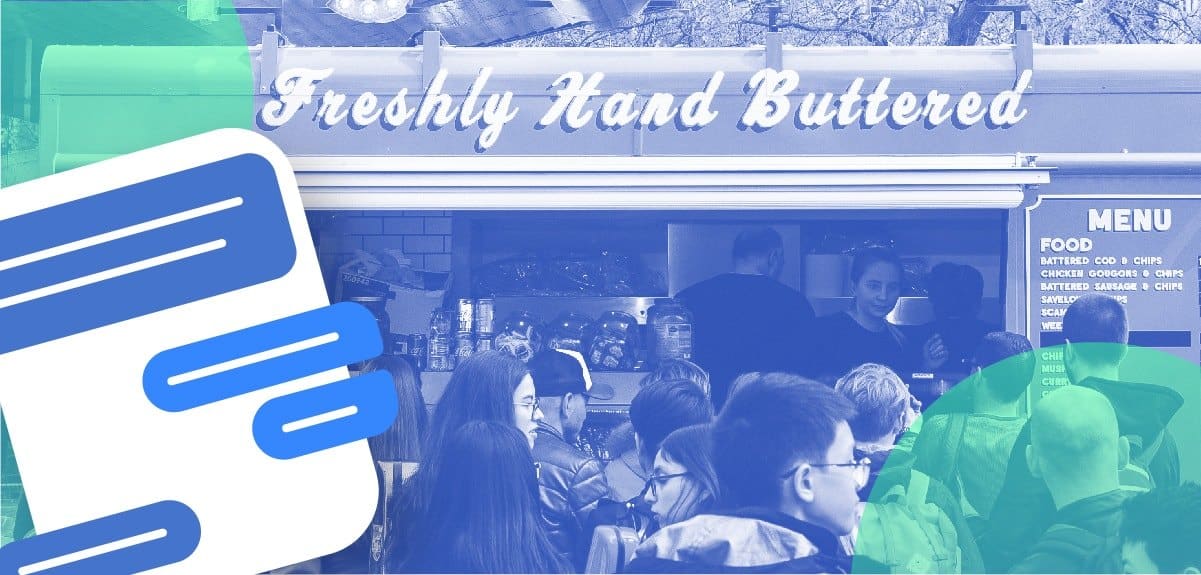 Founded in 2017, the family-owned street food vendor, Don Marler, was struggling to keep up with Facebook Messenger updates. As free broadcasts became a thing of the past, Don didn't have a plan in place to continue to engage with its audience and drive sales.
The food cart is best known for its mouthwatering cheesesteak sandwiches, which are even served breakfast style. Its presence has quickly grown in the St. Louis Missouri area, thanks to Chat Marketing.
Fortunately, Don is a part of Mackensie Liberman's Chatbot Agency Blueprint course and community. As a part of her course, she offers to consult with business owners to help overcome obstacles in their way.
In this case, Don wanted to attract more location-based sales and engage with customers by encouraging them to redeem offers via SMS and Messenger.
Ready to scale your restaurant? Learn how ManyChat can help you succeed.
Leveraging SMS to keep customers informed and drive sales
Before using SMS, Don relied on Messenger broadcasts and organic social media posts to let people know he was coming to their town. Those approaches were helpful, but the vendor struggled with keeping his audience engaged as Facebook began changing their broadcast policy. So he partnered with Mackensie to find a better way.
Mackensie tells us: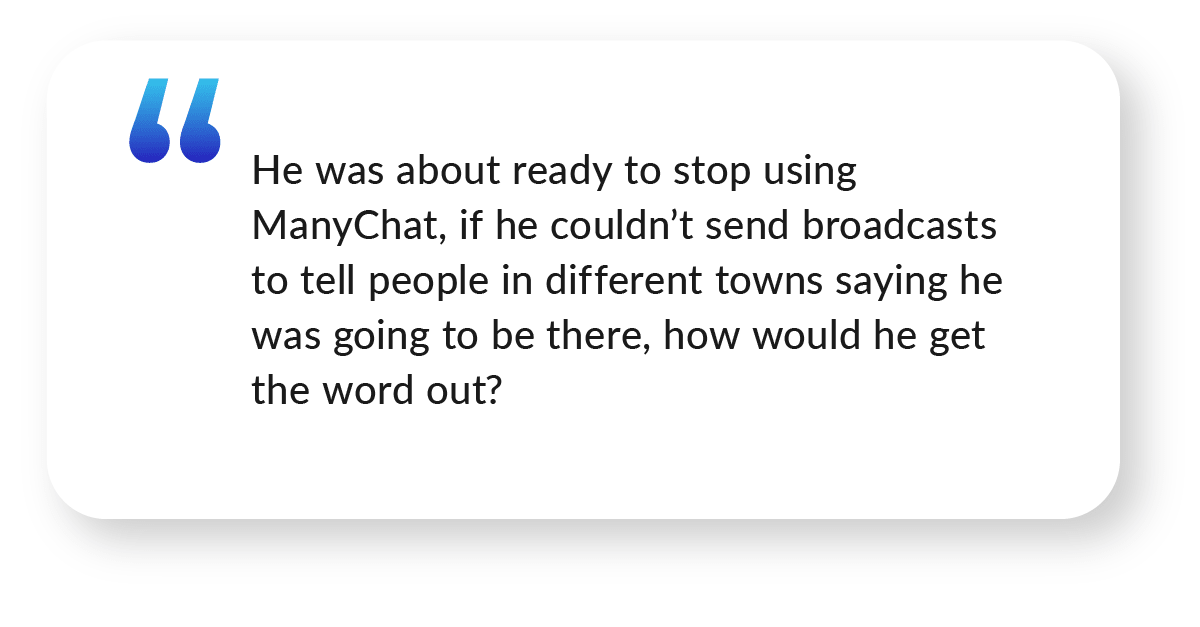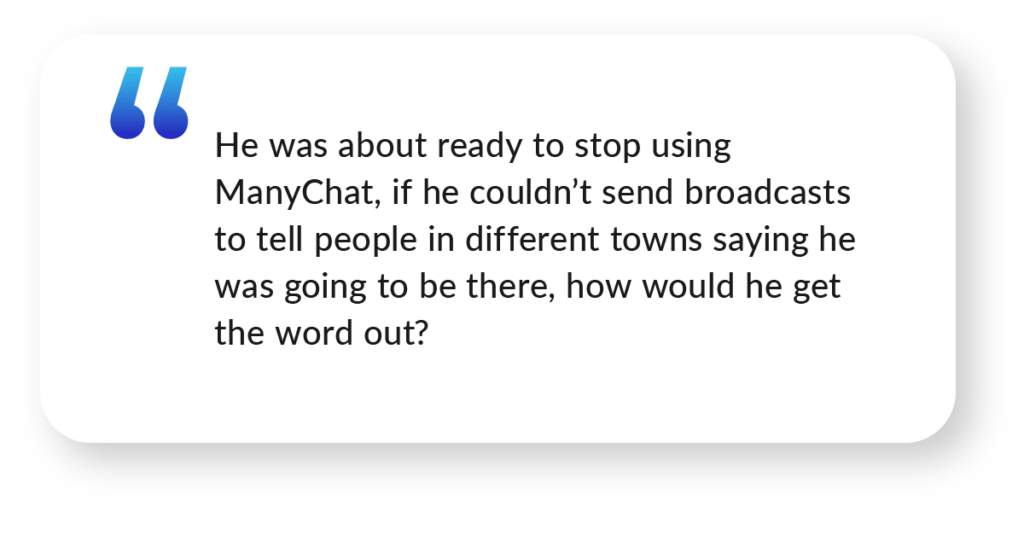 Mackensie, a beta user for ManyChat SMS, decided to help the food cart with a new campaign that would reach people already connected to the cheesesteak vendor through Messenger and drive sales. Together, they chose to focus on text message marketing. They saw this as a cost-effective and engaging way to let diners know when the food cart would be in their area. The text included a link to order beforehand to lock-in sales, and only costs the company a penny per message.
SMS helps businesses build closer ties with their customers by allowing real-time engagement without a 24-hour messaging window. It also acts as an excellent channel for sending promotions to an audience who's interested in your product or service.
"As a big American wrestling fan, he can send out a promotional text saying, 'When you come in, say the word Hulk Hogan, and you'll get two dollars off.'"
It's a fun, yet meaningful way to express his brands' personality through text — which has driven a lot of awareness for his business. The verbal keywords also help Don track how many people see a text and come to the food cart versus Messenger coupon.
Don also uses a multi-channel strategy to connect with his audience. To get people on his SMS list, he uses the following approach:
One organic post on Facebook that lets people know where he'll be the upcoming week
A coupon offer that clicks-through to Messenger
To get the coupon, users' must give their email, phone number, and SMS consent opt-in
Once a user opt-ins to SMS, he segments each subscriber by their location in ManyChat. This allows him to send an SMS to those people whenever he's in their town
A multi-channel approach lets businesses send relevant promotions, offers, or updates directly to subscribers on the platform they're most comfortable on. In this case, Don connected with these people through text messages, video posts on Facebook, and Messenger. He plans to add email to the mix in the upcoming months.
ManyChat's software helped deliver SMS and Messenger conversations. By texting with people who've previously engaged with his Messenger bot, he was able to maximize sales and keep costs low.
How the vendor grew an SMS subscriber list
To work towards its goal of getting more SMS subscribers, Don runs a combination of paid ads and a Comment Growth Tool to get people in his bot. People are directed to a buy-one-get-one-free sequence where they had to enter their phone number and email address to receive the coupon.
He uses a mix of conditions and rules to offer different coupons to already-engaged customers. For example, if someone comments for the second time on a post connected to a Comment Growth Tool, they receive a different coupon. The third time, another coupon — and so on. He offers five in total.
When people come in for the fifth time, he's already built a close relationship with the repeat customer. He can text, send Messenger conversations, or emails, and they are more likely to respond.
Boosting sales and awareness with SMS
Since starting the SMS campaign in September, Don saw a boost in sales that he was seeking. Results were.
Over 90% open rate for text messages
More than $7,000 in additional revenue per month
About 5X return-on-ad spend on average
Increase of 30% total revenue for the business
Learn more about the SMS steps Don took to be successful below.
Ready to scale your restaurant? Learn how ManyChat can help you succeed.
O conteúdo deste blog foi preparado de forma independente e destina-se apenas a fins informativos. As opiniões expressas são de responsabilidade do autor e não refletem necessariamente a posição do ManyChat ou de qualquer outra parte. Os resultados individuais podem variar.