10 Best Shopify Apps to Increase AOV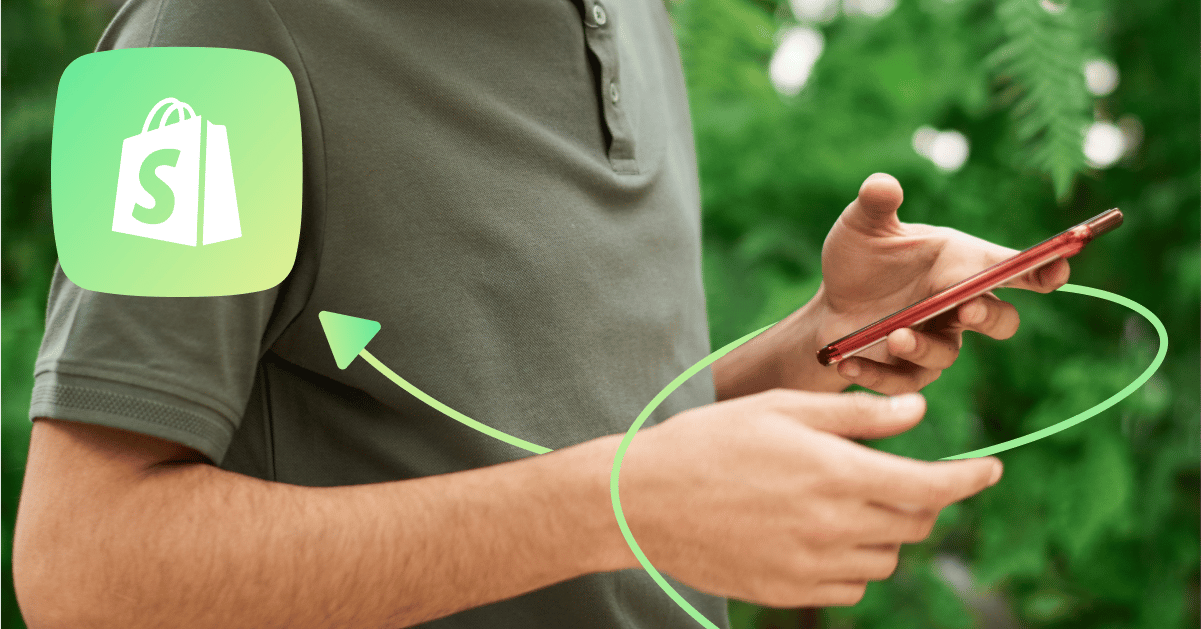 There are hundreds of metrics you'll need to keep an eye on when you're running eCommerce marketing initiatives. .
There are the basics like the number of sales, website visits, and your overall purchase conversion rate.
But one that doesn't usually make the shortlist is Average Order Value (AOV)—a metric that shows how much each individual order is worth, on average.
Sounds handy to know, right?
It's even better to know how to improve it.
In this guide, we'll share why AOV is important, alongside 10 of the best Shopify apps designed to maximize your online shop's AOV, including:
What is Average Order Value (AOV)?
Before we get to the apps, let's be clear on what Average Order Value is.
Your AOV is the average dollar amount your customers spend per order.
It's calculated by dividing the total number of orders by the revenue you've generated. For example: if you receive 100 orders totalling $80,000 in revenue, your AOV is $800.
The average order value for eCommerce stores is $82, but this can vary dramatically based on your industry and the pricing of your stock. Stores with high-ticket items, for example, will have a higher average order value than one that sells products worth less than $10.
It's best to judge whether your AOV is good by comparing it to your average product price.
If your AOV is massively higher than the typical cost for a single product, it shows that most people are buying more than one product.
Why does AOV matter?
The AOV for your eCommerce store is an important metric to keep track of. Here's why.
Tweak pricing strategies
The more products a potential customer buys from your online store, the better.
It means you're offering a selection of products your customer genuinely needs, and also improves your profit margins. You'll only need to pay one customer acquisition cost, and one shipping fee, for an order of several items.
You can compare your AOV to your typical product price to see if people are buying several items.
If so, find out what those bundled products are. Recommending those add-on items through an upsell offer on your product page can increase your overall AOV.
Compare against customer acquisition costs
You don't want to be spending more money acquiring a customer than they'll spend in your online store.
Knowing your AOV helps your marketing and advertising campaigns across social media platforms stay within budget. You can use the metric to get a strong ROI because it tells you what budget you have to spend, based on the profit you'll get from them.
For example: If it costs $50 to acquire a potential customer through Facebook Ads but your AOV is only $30, you're losing $20 for every new customer you bring on board.
What is the best upsell app for Shopify?
Ready to prioritize average order values through your Shopify store?
You don't have to do it alone. Below are 10 of the best upsell apps for Shopify partners which can be used to increase your store's AOV.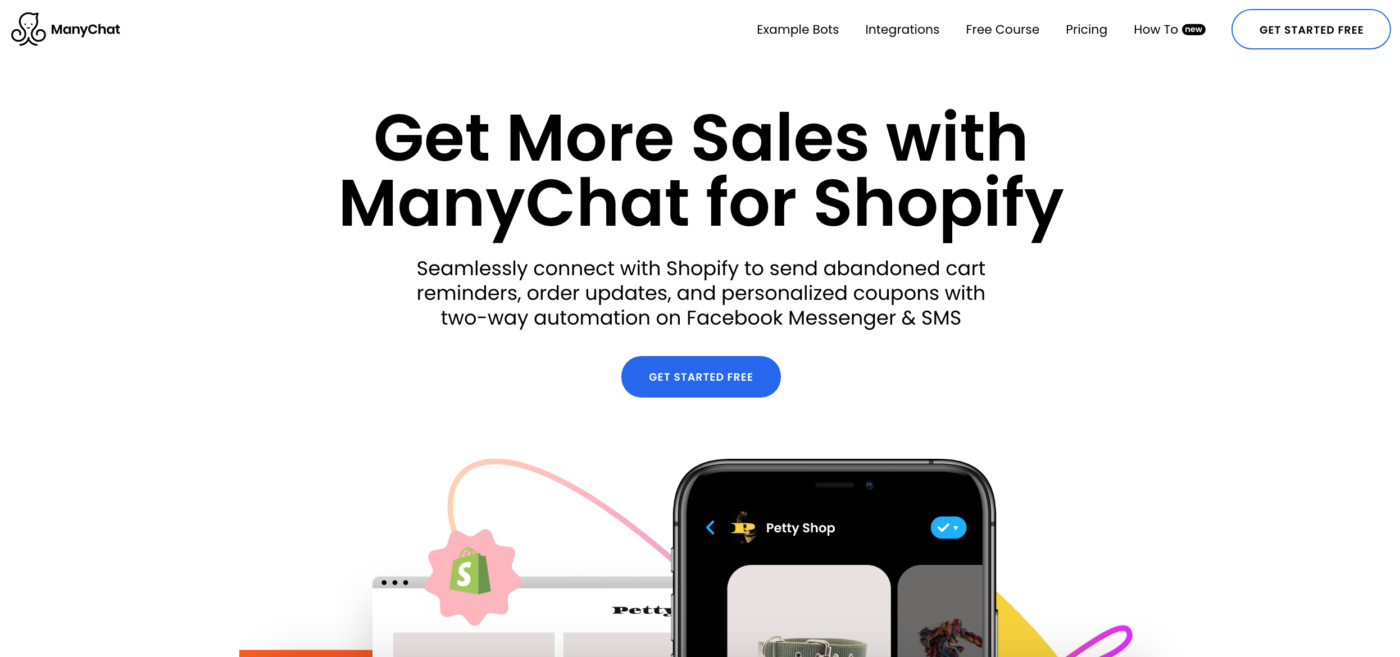 Did you know that 63% of people said they have bought an item that they didn't need just because they had a coupon for it?
With our Shopify integration, you can target people who've visited your Shopify store with ManyChat's Facebook Messenger bot. These personalized discount codes, delivered straight to their Facebook inboxes, can encourage people to spend more—including those already showing an intention to buy.
Plus, with ManyChat's integration, you'll also be able to send SMS reminders and push notifications to people who've added items to their online cart, but not checked out.
Showing several of these products at once makes their order more valuable. For example: if you've added items to your online cart on three different occasions but haven't purchased either of them, getting a text reminder or sales notification on payday will jog your memory—and probably convince you to buy them.
(There are bonus features related to improving your overall user experience with our Shopify integration, too. Things like dynamic photo catalogs and email pop-up widgets are all included, making it a must-have for any Shopify store.)
Increase revenue per customer in your Shopify store with ManyChat's mobile messaging. It's free to get started.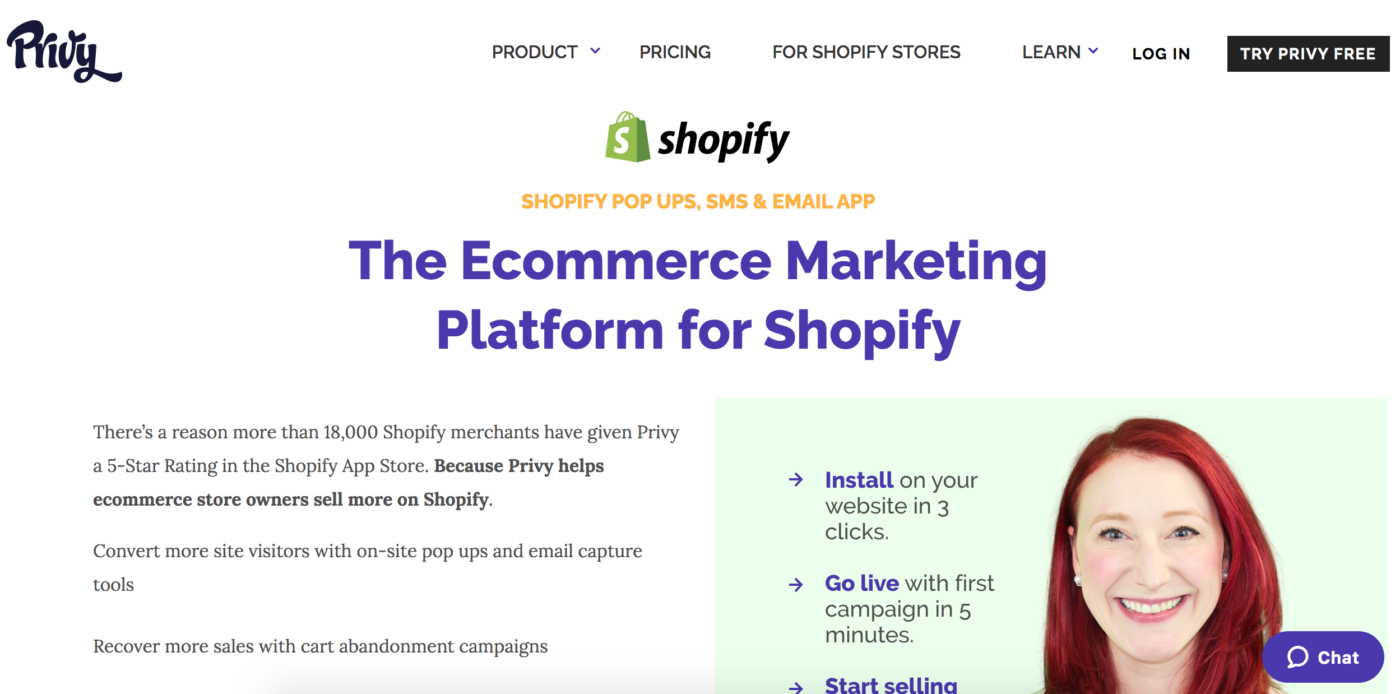 Here's another great Shopify app you can use to boost your average order value.
Privy offers pop-up boxes that encourage people to shop more items at once—such as the option to pick free or next-day delivery. It's reported that orders with free shipping are 30% higher in value, making it a simple app you can use to get more people purchasing several items at once.
You could even take this a step further by using your pop-up boxes to offer free shipping over a certain spend. For example: offering free shipping on orders over $50 entices people to pay for another item, rather than shipping.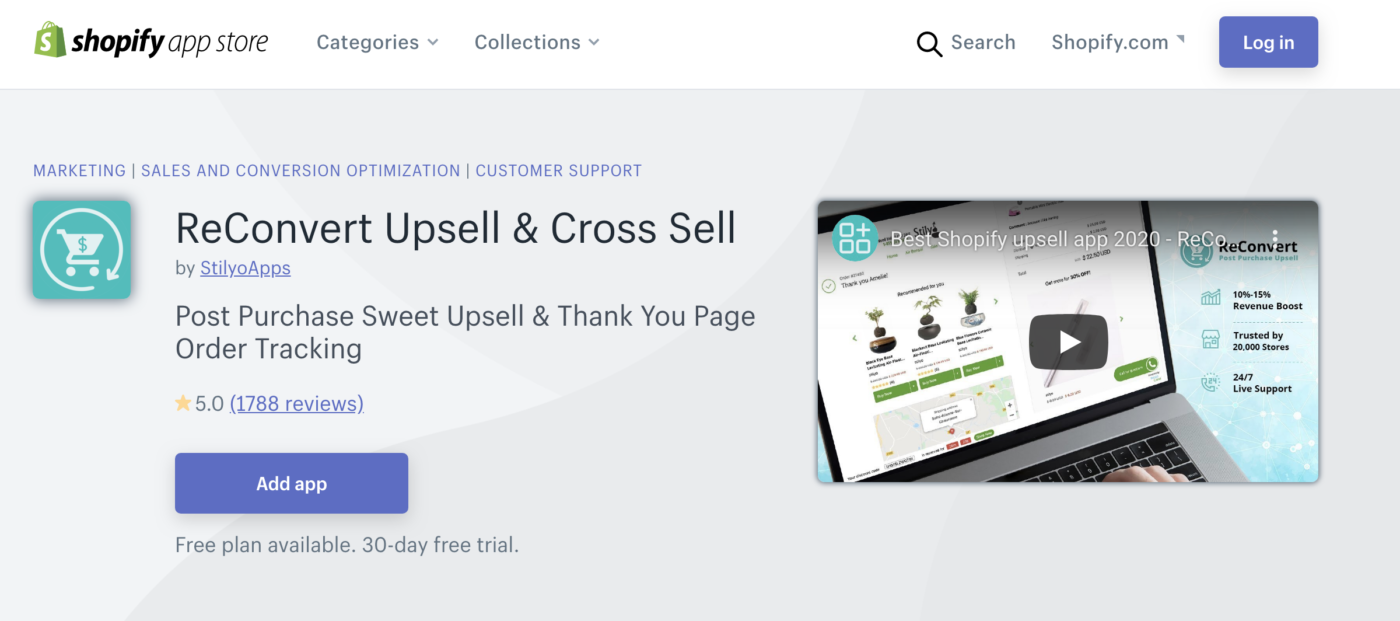 There are two pricing techniques you can use to boost your average order value:
Upselling: promoting a higher ticket item; one better than the item they're viewing
Cross-selling: recommending add-on items similar to the product they're viewing
ReConvert's Shopify app does both.
You can use the upselling feature to nudge people towards a higher-priced item, based on the one they're viewing. For example: if they're on the product page for a $100 desk, showing them a $150 standing desk that has thousands of 5* reviews seems like a sensible upgrade.
Similarly, the cross-sell feature would show add-on product recommendations for the standard $100 desk—such as a matching footstool or drawer inserts.
Neal Taparia of Solitaired explains:
"To increase AOV, upon check out, we always offer a special offer for a related product. For example, if you're selling pizza pans, before checkout, you could offer a special and limited discounted offer for pizza cutters. It's a related purchase, and by using urgency, you can get users to add more to their order."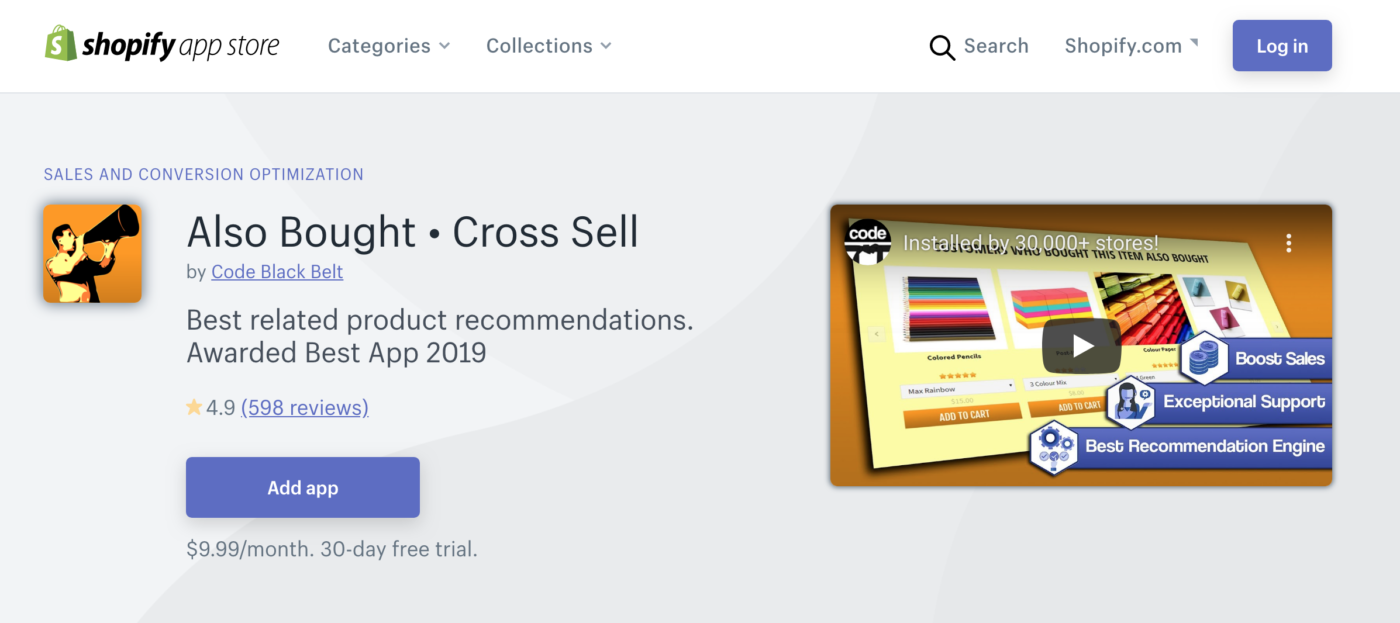 Here's another Shopify app that works on the basis of cross-selling.
However, the beauty of Also Bought's plugin is that it automatically pulls product data, and shows which combinations people typically bought.
Let's say that your customer is viewing a laptop, for example. The plugin recognizes that people shopping for that item tend to buy laptop accessories too. So, the app pulls product data for the most popular accessories and shows it on the product page.
This increases your AOV because people are buying more than the single product they're viewing. This is the beauty of marketing automation.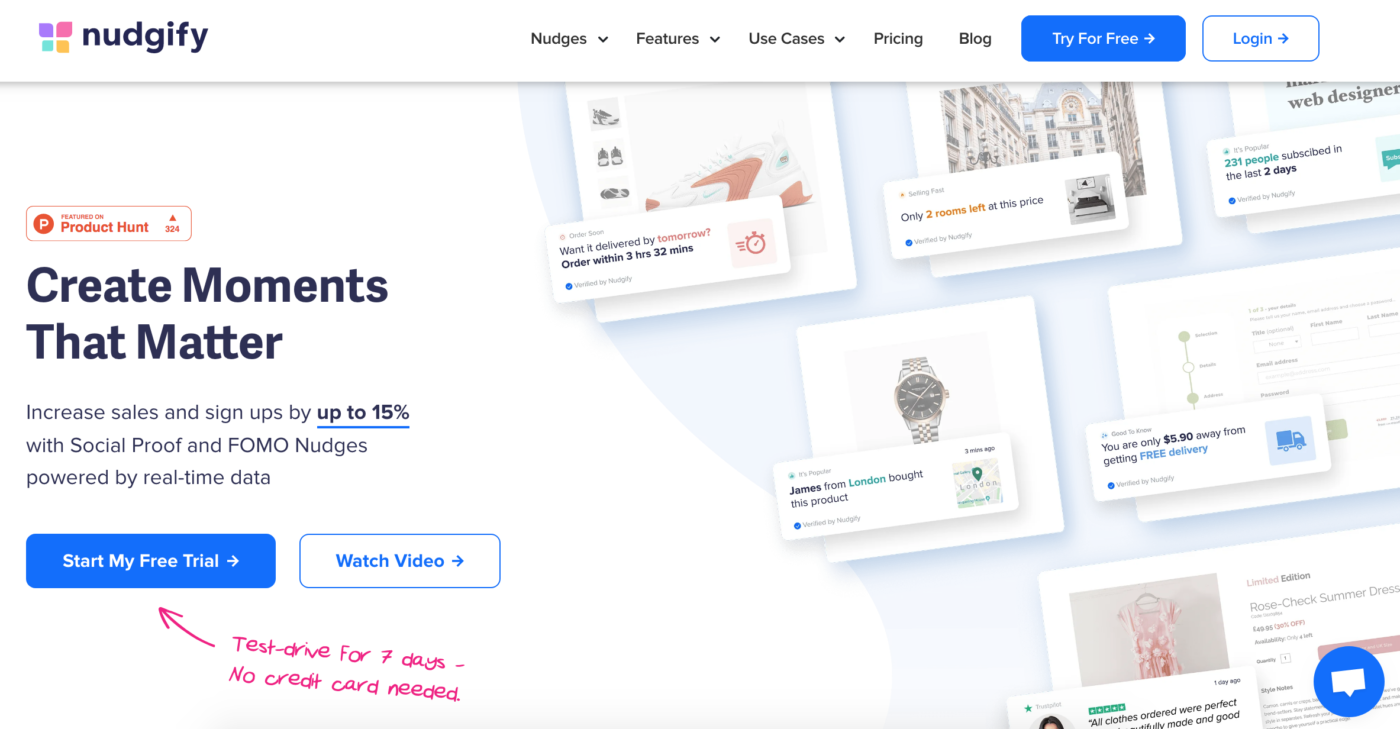 The fear of missing out is a psychological phenomenon that causes 60% of millennial consumers to make reactive purchases.
It plays on the fact that if everyone else has something, you should have it, too.
Nudgify's Shopify app uses social proof combined with pop-up boxes to show how many people have purchased the product you're viewing. This instils the fact that other people have it—and that adding it to your online cart is a smart thing to do.
Overall, this type of social proof builds more trust with your shopper. More trust equals more sales and a higher chance of earning customer loyalty (according to Nudgify, this can be up to 15% more.)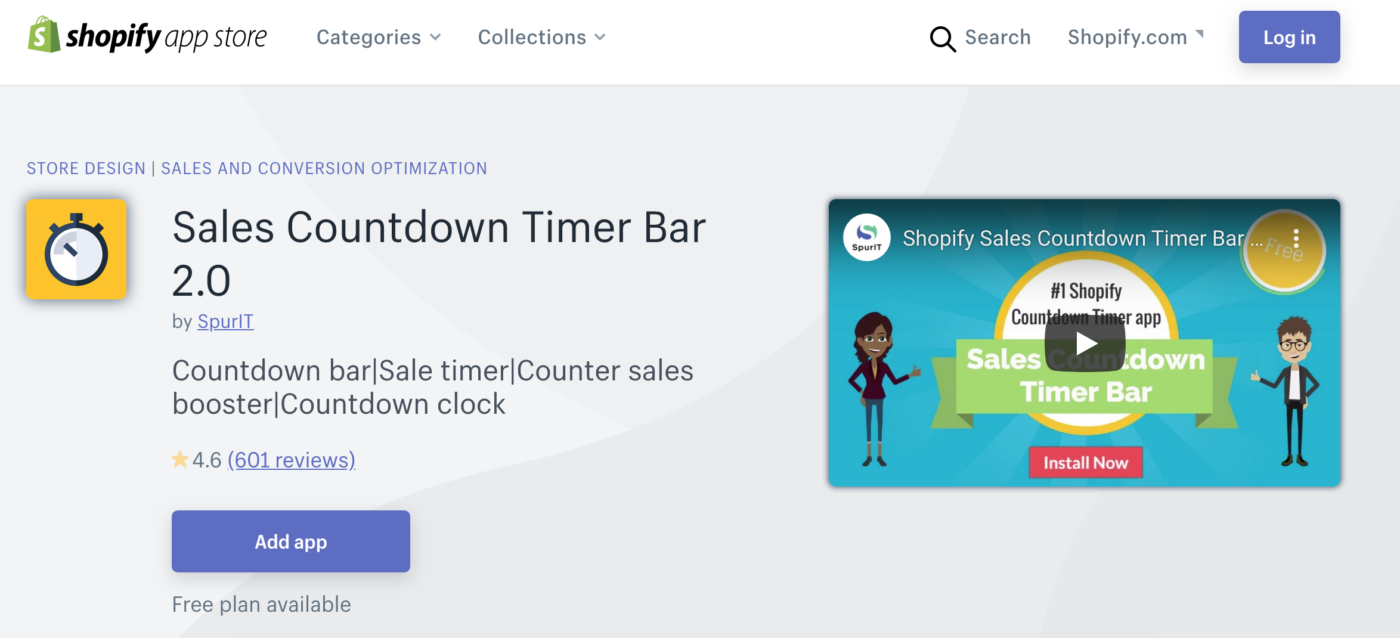 Ever read a marketing message that tells you to buy now, rather than later (when stock could be sold out?) That's a form of urgency—a tactic that's been shown to help eCommerce stores increase sales by 332%.
This Shopify app increases your average order value with urgency: showing a countdown timer.
You could use the timer to offer a 10% discount or free gift with orders over a certain amount if they order with the next two hours. Shoppers need to meet the minimum order value to qualify for the incentive.
Jeff Romero explains how they did this for one of Octiv Digital's clients:
"One of our clients in the home goods industry recently ran into an issue where the AOV was not as high as they wanted it to be. The brand sells decorative lighting fixtures with a variety of price points ranging from $50 to $5,000+, but the AOV was hovering around $350 while they wanted it to be over $500.
To increase the basket size, we introduced a gift with purchase strategy aligned with one of one of their national promotions. We worked with the company's merchandising team to acquire a low cost, high margin item they could give away with qualified purchases (a small desk lamp) without hurting their bottom line.
To qualify and be eligible to receive the gift, customers had to order at least $500 of products with the intention that this would increase the AOV.
The promotion went live with the brand's 4th of July Sale and after reviewing last month's Google Analytics data, we were happy to track a 48% increase in AOV as they saw well over $500 in AOV for the sales period."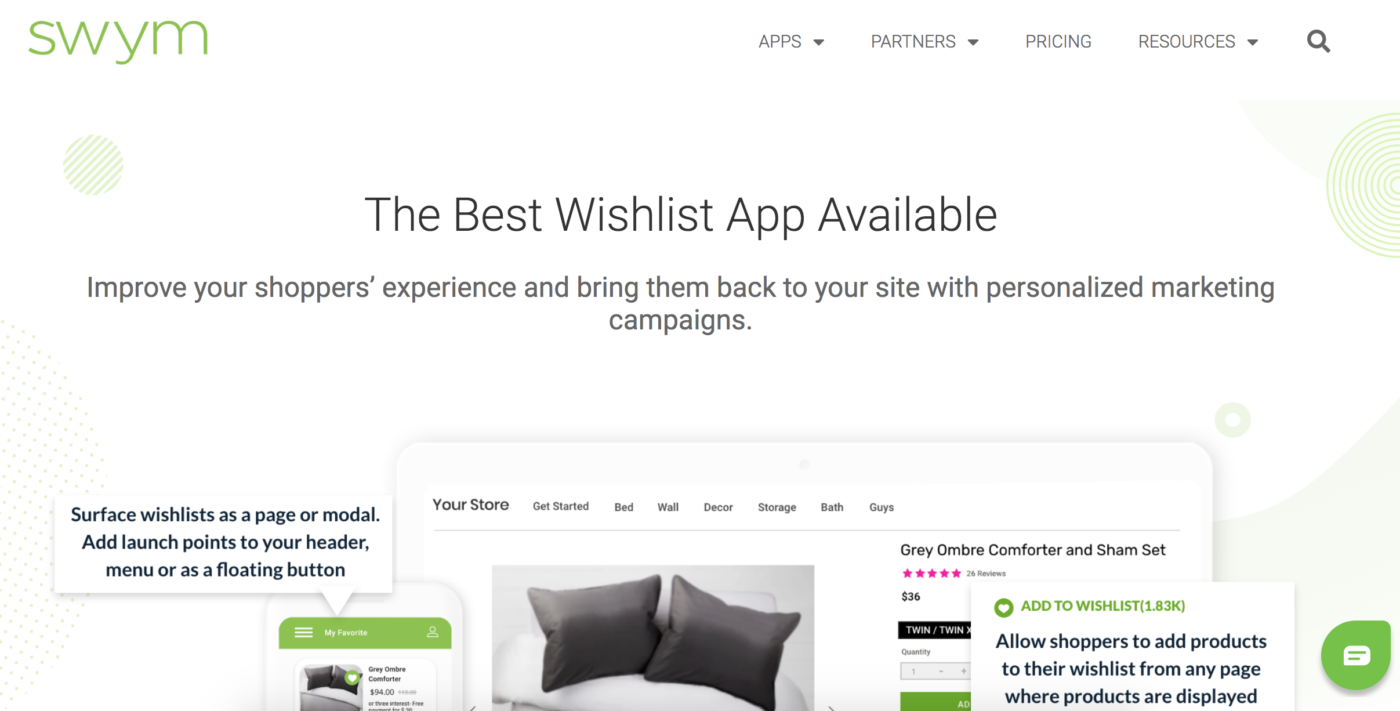 People can make low value orders if they don't have much cash to spare.
That doesn't mean they don't want more expensive items, though.
Wishlist Plus' Shopify app allows customers to make wish lists for products they want to buy. They'll have a list to reference when a special time comes—such as payday, their birthday, or Christmas—which they can share with friends and family.
The end result is that the shopper doesn't make lots of small purchases. Instead, they wait for a special event and make a large order (which pulls up your online shop's overall AOV.)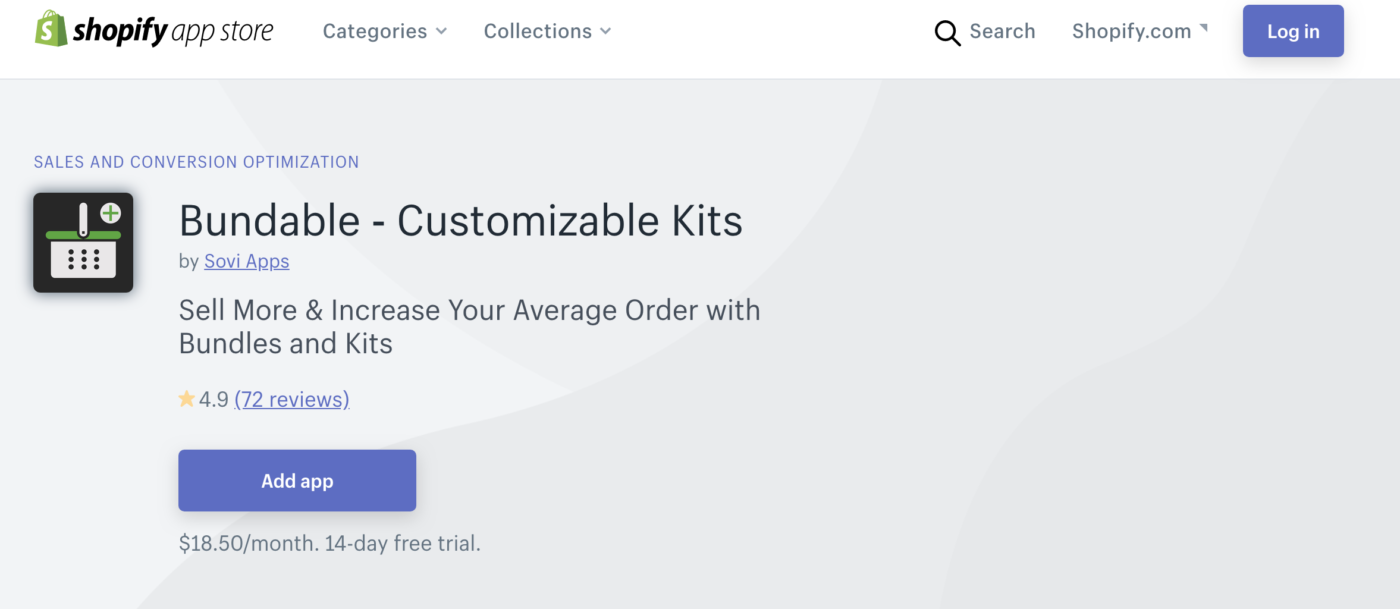 Product bundling lumps related products together and offers them at a discounted rate when ordered together.
For example: you have a $500 laptop for sale, but for $600, they can get a bundle including the laptop, a spare charger, a mouse and keyboard. It makes sense to go for the bundle rather than the single item, right?
This tactic, which you can do through Bundable, increases AOV because a one-item order would have that smaller AOV. Yet if it is bundled with other related items, their order value increases.
That has a bigger impact on the site-wide AOV.
However, Sherry Mae of Tankarium has a word of warning if you're a Shopify store owner using this tactic:
"I don't recommend bundling products meant for one-time purchases because it will severely affect your average customer lifetime value. The lowered value comes from reducing your profit margin.
Use bundle deals on products with a rich history of repeat purchases from satisfied customers, especially those with a cult following. These product types benefit the most from product bundles." Customer retention works hand in hand with every repeat purchase made by loyal customers.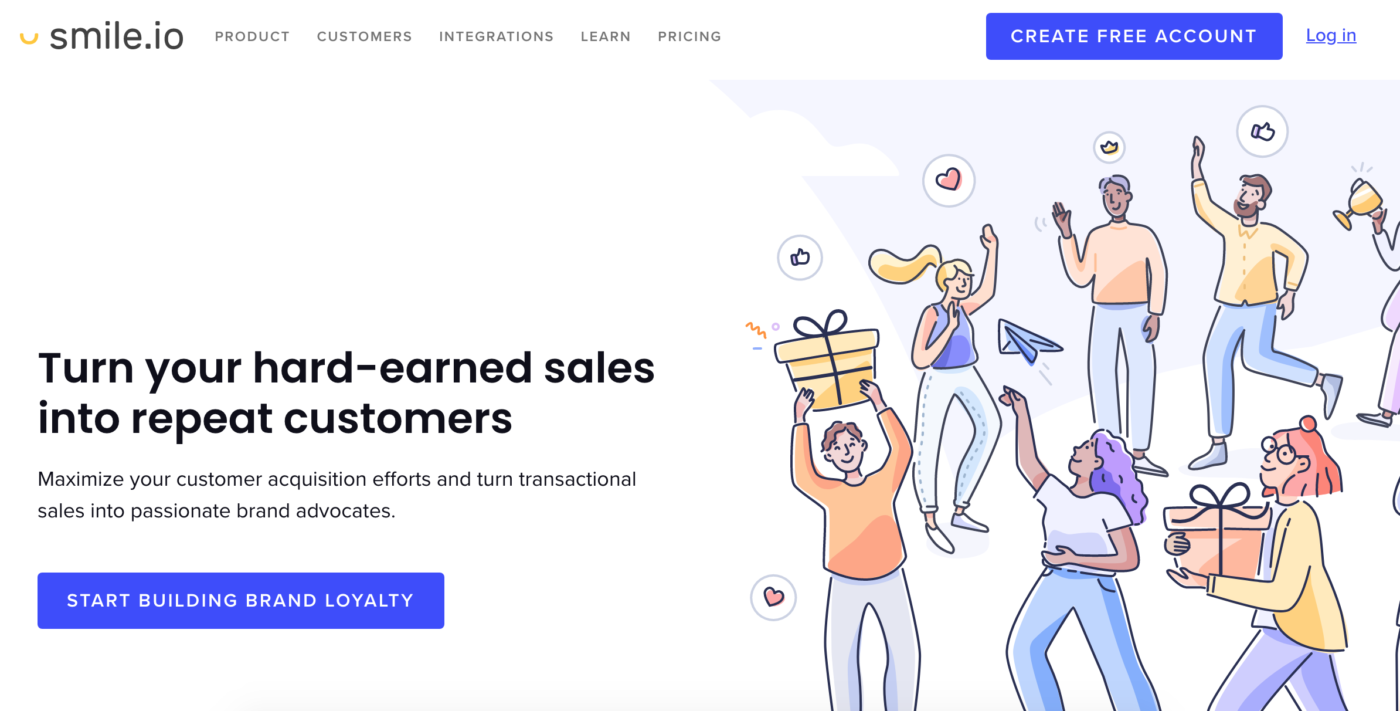 A loyalty program works on the basis that the more a shopper buys from you, the more points or rewards they can redeem on their next purchase at the eCommerce store.
This has a huge impact on your Shopify store's AOV. It's reported that the order value of a shopper that uses a customer loyalty reward in a purchase is 39% higher than the one of a customer who doesn't.
Smile's free Shopify app allows you to create your own loyalty program using points, referrals, and gift cards as rewards. You can even incorporate an Shopify affiliate program into your business strategy to help build brand reputation and expand your existing customer base.
Michael D.Brown of Fresh Results Institute explains why it's so successful:
"Let us say you are selling a product whose retail price is $47, you can readily offer a gift (for free) of $5 for a customer the next time they come to buy from your eCommerce business.
The psychological advantage of this is that the customer impulsively feels they would be saving on their next purchase with you, making them more enthusiastic about returning to buy more."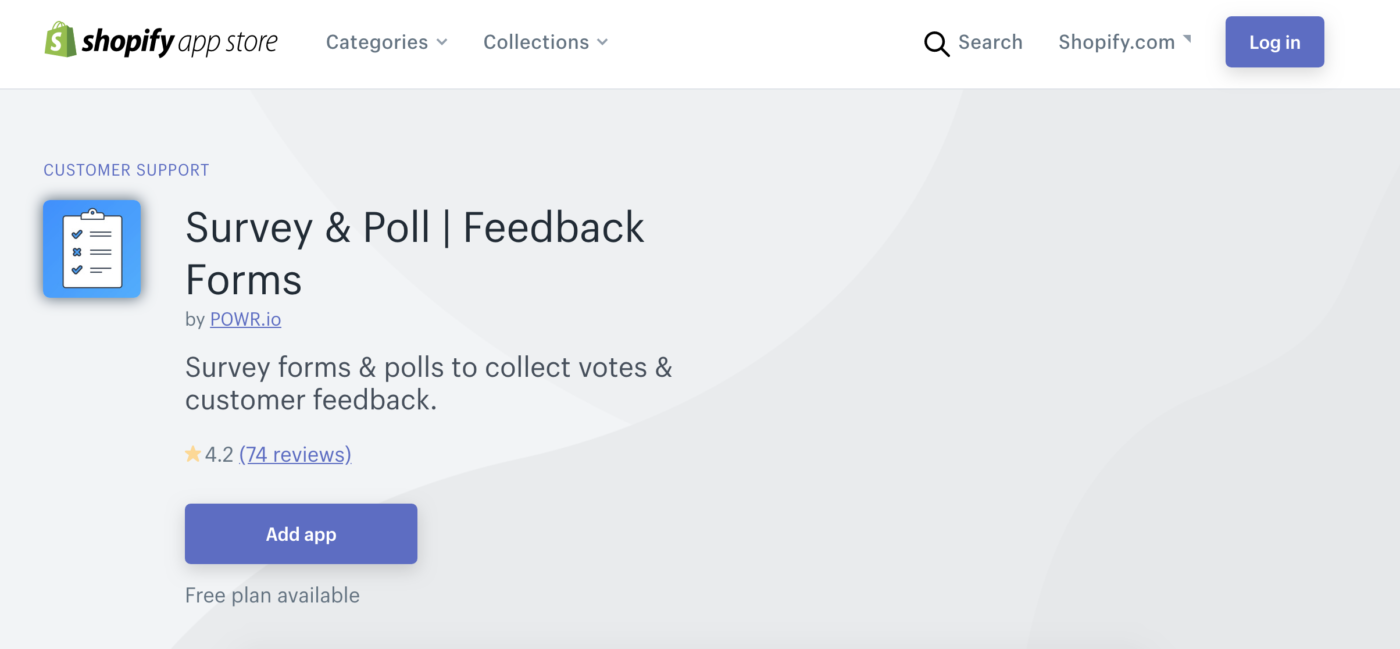 Your AOV is calculated from the people who've already purchased items from you.
Why not go straight to the horses' mouth and ask them how to increase your Shopify store's average order value?
With Feedback Forms, you can ask customers important questions like:
What additional products would you use with the one you bought?
What was your budget for your order?
What other options could we add to make your experience better?
Pool together your answers and look for the common denominator in the Shopify review submissions. Allowing for customers to give their honest feedback may open the door to a mixture of spectacular customer reviews, as well as some not so great reviews from unsatisfied customers. It's important to reward favorable reviews and learn how to respond to negative reviews and pivot in a way that accommodates this feedback.
If you find that people had a higher budget than the price of the item they ordered, consider raising your prices. And if people said they'd like to see add-on items during the shopping process, make sure you're using the other plugins to cross-sell.
Boost your Shopify AOV with these apps
Every Shopify merchant should track their AOV—regardless of whether you're running a dropshipping store or selling your own items.
Not only can it help you tweak your pricing strategies, but you'll know how much budget you have to spend when acquiring new loyal customers.Start testing some of these Shopify apps using the techniques we've shared. You'll soon start to see that your AOV increases once you make it easy for shoppers to purchase more than one product. Once established, you may even incorporate a Shopify blog to further enhance your AOV as you share your expertise in the industry.
Want to increase revenue per customer in your Shopify store? Get ManyChat today. It's free to get started.
O conteúdo deste blog foi preparado de forma independente e destina-se apenas a fins informativos. As opiniões expressas são de responsabilidade do autor e não refletem necessariamente a posição do ManyChat ou de qualquer outra parte. Os resultados individuais podem variar.