How To Create A Successful Nurture Campaign for Your Business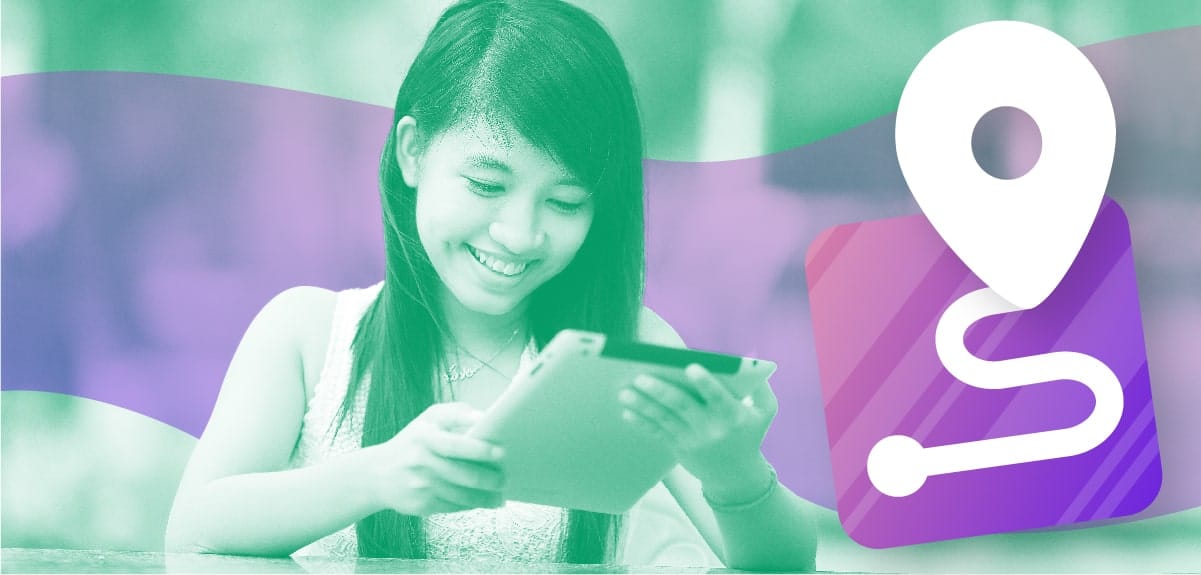 Whether you're running a Chat Marketing agency, e-commerce store, local store or SaaS company, the fact is: Nurture campaigns are important for every business.

Your nurture campaign is a valuable marketing asset that welcomes potential customers to your company, creates a good first impression, encourages repeat purchases, and turns hesitant leads into paying customers.
There's more to optimize your nurture campaigns to make the most of your lead generation efforts that simply sending catchy emails, though, like:
Identifying exactly what your nurture campaign needs to achieve
Knowing the difference between a nurture campaign and a drip campaign
Knowing how to create the best nurture campaign for your business
Making the most of your nurture campaign
What is a chat nurture campaign?
A chat nurture campaign is a series of messages via Messenger, SMS, and email, sent based on a leads behavior. When delivered in a relevant, timely matter, this type of campaign helps move the lead through your funnel. As a lead receives your messages, you can set a lead score and use it to send relevant content or offers to the lead.
You can break nurture campaigns down into four categories:
New customer campaigns that build a relationship between the business and potential customer, focusing on engagement.
Post-purchase campaigns that delight customers with promotions, how-tos, and opportunities to leave product reviews, continuing the conversation even after a purchase
Repeat customer campaigns that target a high-value segment of customers to encourage repeat purchases.
Re-engagement campaigns that engage with at-risk and cold customers, working to get them back on your company's radar.
Behavioral segmentation is essential to any chat nurture campaign. For example, you'll want to consider how many interactions a user has had with your company over a period of time, the time frame in which they've last interacted, which webinars or events they've attended, and articles or guides they've read. Possessing this knowledge will allow you to deliver the valuable content that they want to consume and build closer ties with these leads until they convert.
Remember, your lead nurture campaign can influence people to buy or not; every interaction you have with them counts.
What your nurture campaign needs to achieve
It may feel like you have so many moving parts to consider when building a nurture campaign. But before you begin to feel too overwhelmed, let us help you make sense of it all. Remember that effective nurture campaigns will:
Collect contact information like phone numbers and email addresses that you can use for future marketing purposes
Educate leads by offering valuable content that builds a relationship between them and your business
Achieve omnichannel communication, focusing on providing the right message, at the right time, on the right channel
Showcase your brand's personality, keeping your voice consistent with the rest of your marketing assets
Personalize, targeting contextual messages based on lead interest and behaviors to help drive conversion
Pave a path to final conversion to your website or online store
Fortunately, there are a handful of different ways to boost the effectiveness of your nurture, and create a lead generation process that can help turn anonymous website visitors into paying customers.
What's the difference between a nurture campaign and drip campaign?
A nurture campaign is customer-centric, whereas a drip campaign is more business-centric. Let's look at what we mean in a bit more detail.

Drip campaigns are executed by sending messages (discounts, new product announcements, company news, etc.) via email, direct mail or social media (or all three) to customers or prospects at pre-planned intervals.

These intervals are usually several days apart to ensure the receiver isn't bombarded by marketing content. The goal is to keep your business top of mind so, when the time comes to make a purchase, customers will consider shopping with you.

So, how is a nurture campaign different? A nurture campaign is designed to deliver timed and targeted messages based on a customer's or prospect's behavior, attribute or customer segment.

Using information you collect ensures the messages you send are helpful and relevant. It's like buying a new friend something they've specifically asked for rather than a random gift you picked out last minute. Which would they appreciate more?

The tips below will help you convert more site visitors with an optimized nurture campaign.
How to create the best nurture campaign for your business
Since you only have one chance to hook your leads, make sure all your priorities are in place in your nurture campaign before you push it live. Here's a helpful checklist:
1. Layout the goal of your campaign
Your first step is to determine a goal for your nurture campaign.

To decide what your goal will be, find the bottlenecks in your current campaigns. Which customer groups aren't buying and why? Do you want to improve lead quality? Generate new leads? Re-engage with cold ones?

Once you identify who you'll be targeting for your campaign, you may want to set up SMART goals to hold yourself accountable. SMART goals are:

Specific, or well-defined and focused
Measurable, with concrete numbers to stay on track
Achievable, or goals you can realistically reach
Relevant, and based on current market conditions
Time-based, so you know when to accomplish your goal
Once you set SMART goals, you'll want to uncover specifically who you want to reach.
2. Define your buyer persona
When defining a buyer persona, ask yourself three questions:

Who are you trying to reach?
What problem will you help them solve?
What motivates them to buy?
This will guide your content creation to help remove any obstacles and narrow in on the right messaging for your audience. You should paint a clear picture of who represents this group of people.

3. Consider their journey to conversion
When a potential customer interacts with your company — whether it be via a click-to-Messenger ad or website visit — they most likely aren't going to buy right away.

You need a way to attract and encourage them to join a Messenger subscriber, email, or SMS list. Somewhere you can begin to have conversations with them.

That's where a Messenger experience comes in. If someone discovers your company through a Messenger ad, you can drive them directly into a Messenger conversation to start talking with them. If someone discovers your company website first, you can use a pop-up widget that starts a conversation on product pages, homepage, or any other important pages.

Since customers want to research and educate themselves, you'll want to have content ready to help them solve the issues they care about most. The combination of content and conversation can support any stage of the buyers' funnel.
4. Determine the best channels for your nurture campaign
Once you've done your research and decided what content you'll create and provide, you can choose the way leads will receive each piece of content. You can deliver your materials through retargeting ads, SMS messages, Messenger conversations, or email. SMS and Messenger will be a critical part of your campaign's success, so take the time to decide how you'll use these highly engaged channels.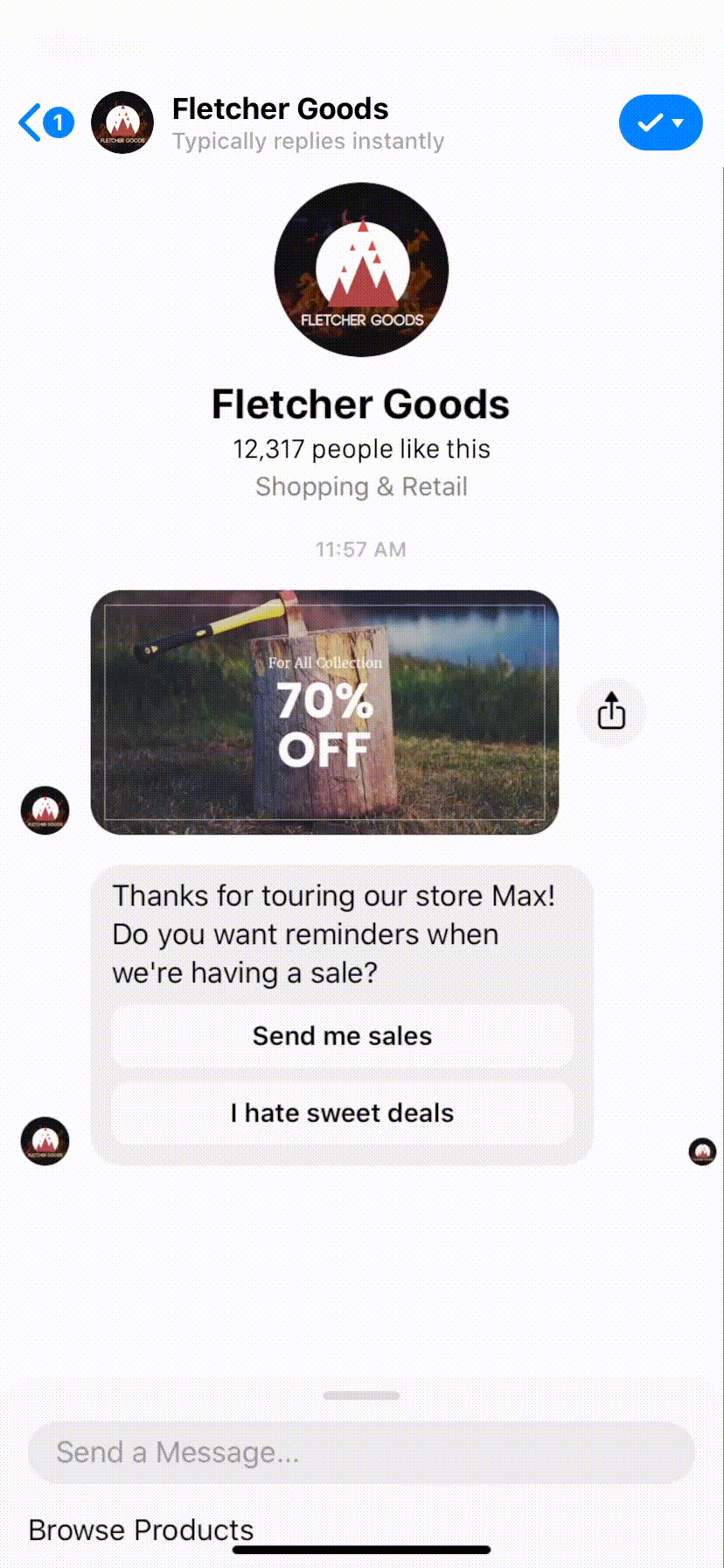 Get a free ManyChat account and improve your nurture campaigns with automation today.
5. Measure and improve
Nurture campaigns don't stop once you click "Publish." To continually improve your nurture campaigns, it's important to keep track of what's working and what's not.

With ManyChat Analytics, you can measure sequence-level metrics like open rates and click-through rates:

You can track the monetary gains a specific campaign has generated over a period of time:
Track the goals and success metrics you set up in step one and measure the results of your lead nurturing efforts. Then you can improve on what's necessary to drive more conversions.
Get your first lead nurture campaign up and running today
As you begin to create your first nurture campaign — be sure to keep an omnichannel strategy in mind. Potential leads are bound to fall off if you only use one siloed channel. Our world is becoming more and more connected, and in this digital age, the more channels you utilize in sync with each other, the more effective your campaigns can be.
With these lead nurture campaign tips in hand, you can make a powerful lead generation process for your business and convert more leads into paying customers.
Want to create a high-converting nurture campaign for your business? Try ManyChat today. It's free to get started.
Los contenidos de este blog han sido elaborados de forma independiente y sólo tienen fines informativos. Las opiniones expresadas son las del autor y no reflejan necesariamente los puntos de vista de ManyChat o de cualquier otra parte. Los resultados individuales pueden variar.