8 Reasons To Adopt a Video Marketing Strategy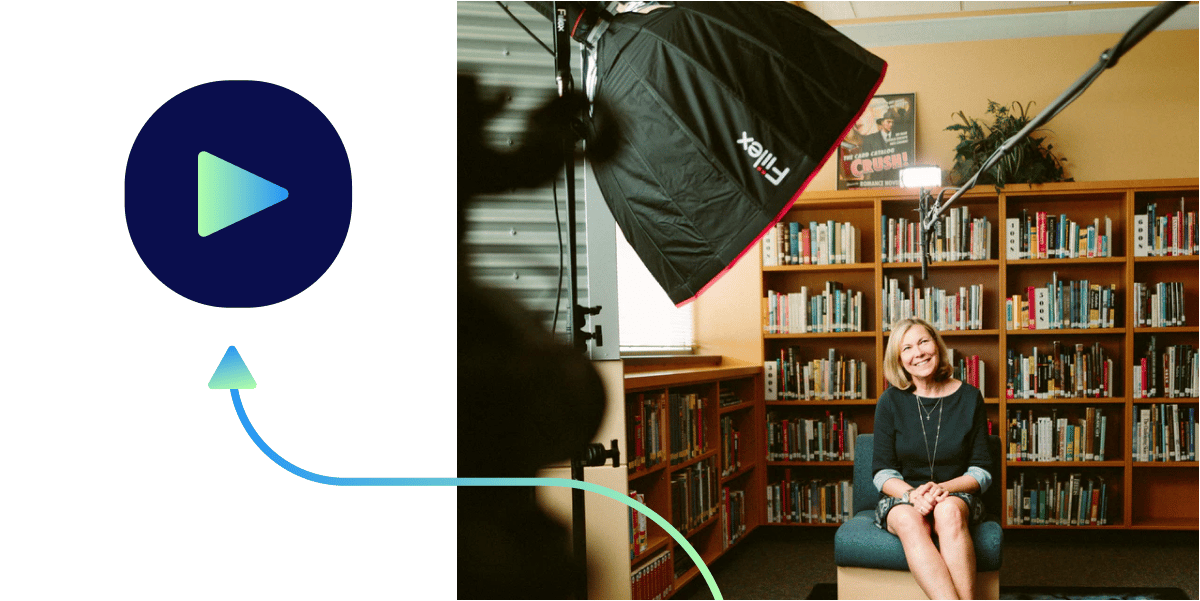 As video becomes the leading source of internet traffic, representing 82% of all IP traffic by 2021, the threat that outdated types of content pose for businesses is no longer speculative. Businesses are working to protect their marketing strategy and get the best possible ROI as consumer behaviors shift toward a trust in video content.
More and more marketers are figuring out where video fits into their current strategy, and consumers are paying close attention. Those who execute a video marketing strategy yield 66% more qualified leads yearly than those who don't focus on video, according to OptinMonster. They also reported a 54% increase in brand awareness with their content among audience members.
By putting their energy into a video marketing strategy, companies can show a higher volume of qualified leads and better ROI for their efforts. If you're not entirely convinced, here are eight powerful reasons why you should utilize a video marketing strategy.
8 reasons to adopt a video marketing strategy
1. People enjoy video content
Whether we're looking for a movie, Instagram story, or a YouTube video, people enjoy entertainment — even more in video format. So much that 85% of all internet users in the United States watched online video content monthly on any of their devices, according to Statista.
Video also helps grab a potential customer's attention also. According to PhD psychologist Susan Wenschenk, aka "The Brain Lady", we've been programmed since our hunting days to pay attention to movement and noise. When we hear and see a video, it stimulates our sense and heightens both attention and focus.
So not only do humans enjoy video, we are hardwired to respond more attentively than reading a tweet or blog post.
2. Demand for video continues to increase
When you roll out a video marketing strategy, you show potential customers your business is in-line with their wants and needs. One study showed that 54% of consumers want to see more video content from a brand or business they support.
According to Wyzowl's 2019 The State of Video Marketing 2019 reports, when asked what type of video content customers would like to see, they identified:
39% of people cited explainer videos.
20% wanted to see more entertaining 'viral' style videos.
12% would like to see product demo videos.
10% said video blogs.
9% said interactive videos.
6% said they'd like to see more software tutorials.
Once you've established video marketing in your business, you'll always be ahead of the status quo. Through video marketing, customers get a better understanding of your brand story. Seek out opportunities to wield the power of video by testing different types and styles to see which connect with viewers and use them to grow your business.
3. Video is a powerful marketing tool
Video marketing is key for several reasons, one being that it's a convenient and efficient way for shoppers to get information. It also gives marketers an attractive, flexible, and extremely shareable way to reach their target audience.
According to Wyzowl The State of Video Marketing 2019 report, 87% of marketing professionals use video as a marketing tool. This number has seen a sharp increase from 63% in 2017, and 81% in 2018.
The use of marketing videos will continue to grow in coming years. As businesses feel the pressure to rise above the noise, more marketers are using video than ever before. Video can help you achieve a variety of different goals, from how to get traffic to your website to getting more leads and improving the customer experience and reducing support costs in your online store.
4. Videos are a consumers favorite type of media
A critical first step when sharpening the marketing strategy of your company — whether you're a Chat Marketing agency or eCommerce marketer — is to create great visual content. When it comes to brainstorming new content marketing strategy ideas, you want to set aside a healthy budget for video marketing because that's what your customers want to see.
Video is a consumers' favorite type of content to see from a brand on social media, based on a survey by Animoto.
According to the 2018 State of Social Video Marketing Trends report, 73% of consumers say they've been influenced by a brand's social media presence when making a purchasing decision. This is why, on a weekly or monthly basis, you want to publish a video to better connect with the right audience.
5. Marketers are satisfied with the ROI of their video marketing
So, now you're thinking about creating a video marketing strategy. Even if seeing results seem far-off, know that putting the time and effort into making videos pays off.
When a shopper watches a video from your business, they are more likely to buy your products. If you look at the numbers, 93% of businesses landed a new customer because of a video on social media.
According to a report done by Animoto, 88% of video marketers are satisfied with the ROI of their video marketing efforts on social media. The same findings show us that 80% of marketers also state to be satisfied by the ROI of video advertising — such as Facebook video ads — that they have posted on social media.
Take KAP7, an online water polo equipment retailer, for example. The company contributes professional video product reviews as a leading factor to 30% year-over-year revenue growth.
At the heart of their video marketing strategy is a specific set of target audiences, including parents, coaches and athletes of any age.
Alex Young (KAP7 General Manager) tells BigCommerce, "In order to market to each customer type, we use product reviews from both purchasers as well as professional video product reviews," he explains. "We also provide drill and trips, and collaborate with national team coaches and athletes to educate about the sport."
Are you curious about how to advertise on Facebook and if it's the right move for your business? Implementing a Facebook marketing strategy, organic and paid, is a great way to grow your eCommerce business. There are some factors that play into how successful you will be on the platform including Facebook ad targeting, creative assets, and budget.
6. Keeps people on website longer
Video marketing is one way to effectively improve time spent on your website. The average user spends 88% more time on a website with video, according to Forbes.
In terms of engagement, it's easy to see the allure of using video to connect with your audiences. Viewers typically remember messages better when they see it in a video versus written. So if you want people to stick around in your online store, grab their attention by adding helpful videos. Whether it's a "how-to", "product-in-use", or a "story", videos help keep users on your website longer and also keep them more engaged.
7. Customers buy products after watching a video
Video informs your customers about the products or services you offer. Through brand video, a customer can learn about the value of your product, how to use it, and any other information that can lead to a purchase.
Customers tend to purchase items after watching a video. A survey conducted by Wyzowl shows that nearly eight out of every ten users have purchased a piece of software or app after having watched the brand's video.
When there's stiff competition in the market and you need a competitive advantage, video can help you convince customers to choose your brand.
8. Live stream and video will drive more traffic
Live stream is a newer type of video content sent over the Internet in real time without being recorded and stored. It's estimated that by 2022, 82 percent of internet traffic will come from video streaming and downloads, according to Cisco. This figure is an 88 percent increase in traffic share from the 72.3 percent in 2017.
If you want to implement live streaming into your business, read about How One Facebook Live turned into $90,000 in Sales. Then, figure out the tough situations your customers are in and how you can help them over a live stream. You can stream product releases, demos, events, tips and tricks. It seems tough at first, but streaming live can help make you a stronger and more respected brand in your industry.
Creating a video marketing strategy for your business
If you're running a business that wants to change with the times, you'll find yourself naturally gravitating toward video marketing. Customers may want to envision your product in their own lives, and video can help communicate that and trigger a purchase.
Remember that good things take time. A bold video marketing strategy requires practice, humility, and self-assurance that you'll come out on top. The more you publish videos, the better you'll get. The only thing you have to do is start.
O conteúdo deste blog foi preparado de forma independente e destina-se apenas a fins informativos. As opiniões expressas são de responsabilidade do autor e não refletem necessariamente a posição do ManyChat ou de qualquer outra parte. Os resultados individuais podem variar.