Is Email Dead?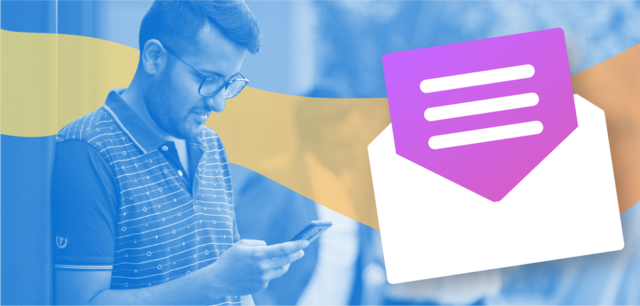 You may have heard this little rumor that email is dying, or is already dead.

With more and more platforms to communicate with others instantly (SMS, social media, Messenger, Slack), marketers can now have conversations and see results right away. Which is why the rumor about email being dead keeps spinning in circles.

However, that assumption couldn't be any less true. In fact, it's not emailing alone that's the problem, it's the current market mix which doesn't give marketers the results they want.

Although new technologies like Facebook Messenger bots have the potential to take over email entirely, the two work side-by-side to disrupt the usual way of marketing.

The traditional way of marketing involves drawing people into your opt-in list, sending them nurturing emails for some time, then hoping they buy. But within 2 to 3 years, this may change completely.

With advances in Messenger and other conversational marketing channels, it'll only continue to become more challenging to land your marketing email in front of people effectively.
Now don't panic, email is not dead. While email is slowly losing it's open rate, CTR, and conversions, it's still a big role in your marketing mix.

The rise in Messenger Marketing has been seen as a more visible tool that closes more deals and requires little human touch.
So where is email marketing going?
First, consumers are not paying much attention to email. Yes, there are the "4400% ROI claims" that come from very, very few cases — but that shouldn't be your focus.

Several surveys confirm the average benchmark rates for email are:
Open rate: 17.92%
Click-through rate: 2.69%
Unsubscribe rate: 0.17%
Cick-to-open rate: 14.10%
Bounce rate: 1.06%
People are making peer-based buying decisions, often through Friends & Family or online reviews, and want to see educational and entertaining videos from brands they like over an email newsletter.

Second, in today's growing conversational marketing environment, marketers will have to evolve email with the trend. Companies who rely on email will want to use other tools like Messenger bots and video to fuel a more well-rounded strategy.
When you compare to the higher open rates and low costs of an automated 1:1 Messenger-first marketing strategy, it doesn't make sense to focus all your resources on one expensive channel.

Third, many brands still don't do email right. They send out bulk HTML emails — newsletters, announcements, and product promotions — the same way they've been for the past 10 years. The accepted strategy is batch-sending personalized "Hey Mike", "Hello Amy" emails to people who aren't interested. Roughly 77% of email marketing ROI comes from segmented, targeted campaigns — yet so many companies don't do it. 
What's the next step in email marketing?
There's a lot of guessing about what will replace email. Will it be Messenger? Text? Cold calling? The answer is none. The next step is not to kill email but continue to use it in order to improve your entire marketing mix.

Why? If you put all your eggs in one basket, you risk losing interactions with customers. Plus, it expands your contact with them beyond one channel — so if they miss an email, Instagram post, or a tweet — you can catch them on Messenger or another way.

With an integrated foundation like this in place, you can capture and connect with customers in real-time — as well as fuel marketing automation, Facebook advertising, lead nurturing, and analytics — it's the entire marketing mix that will soon take over email marketing.

Leading companies are already exploring the possibilities. Many have begun using Facebook Messenger Marketing, plus email and other marketing channels to connect and build audiences at scale:

"People are building these huge subscriber lists. For me, ManyChat is the backbone of the core of our marketing funnels. However, we still use email, websites, and more to build audiences. It's about not trying to do everything in Messenger. It's the middle part of the funnel, but it's not the whole funnel. So utilize everything you can within your marketing ecosystem."

John Preston — Director at Superstar Bots
How to turn your marketing mix into a lean, mean, lead generating machine — again.
This new model is already in place for a number of expert Messenger Marketers:

Provide valuable content for subscribers
An effective marketing strategy offers content to educate and engage your audience. Whether it's how-to videos, educational blogs, or inspiring emails — your goal is to give them what they want, when they want it.

Create multiple entry points into your ecosystem
Many companies spend much time and energy on perfecting one channel. It doesn't matter if someone enters your funnel from YouTube, blog opt-in, or Messenger. A better approach is to catch them in multiple places and offer an effortless transition between all your channels. For example, when you get a new ManyChat subscriber, with the integration of Zapier, you can add them to an audience in MailChimp.

Carefully segment your audiences
People who adopt this marketing approach are also rethinking how they segment audiences for promotional efforts. Email marketing tries to encourage people to open with catchy subject lines, spam tactics, or other methods without knowing who's on the other side.
Every one of your customers is in a different stage of buying your product. Consider where they are, the questions they ask, the best time and channel to reach out, and what they need to decide.

Automate the process
Perhaps the most exciting part of this comes from the ability to automate (nearly) the entire selling process. Some years ago, you couldn't target specific campaigns based on user-behaviors.
What could be seen as difficult is a problem that Mary Kathryn Johnson, Founder of Messenger Funnels has solved. When she sends people to channels like WebinarJam or ClickFunnels, she brings them back into her Messenger bot and puts them into a specific nurturing sequence.

Approached in the same way, marketers can create an entire marketing ecosystem that keeps customers around longer and extends the purchase cycle.

This new marketing strategy helps companies drive more qualified leads their way, so they can reduce manpower, better manage operations, and provide customer support at a lesser cost. It can help you too.

You may think email is dead, but the new possibilities of integration-based, conversational marketing, offer a more significant promise for creating stable growth through genuine customer relationships.
Sign up for a free ManyChat account and build your Messenger bot today!
O conteúdo deste blog foi preparado de forma independente e destina-se apenas a fins informativos. As opiniões expressas são de responsabilidade do autor e não refletem necessariamente a posição do ManyChat ou de qualquer outra parte. Os resultados individuais podem variar.