[Case Study] How Humber River Hospital Used ManyChat to 2X Nursing Applications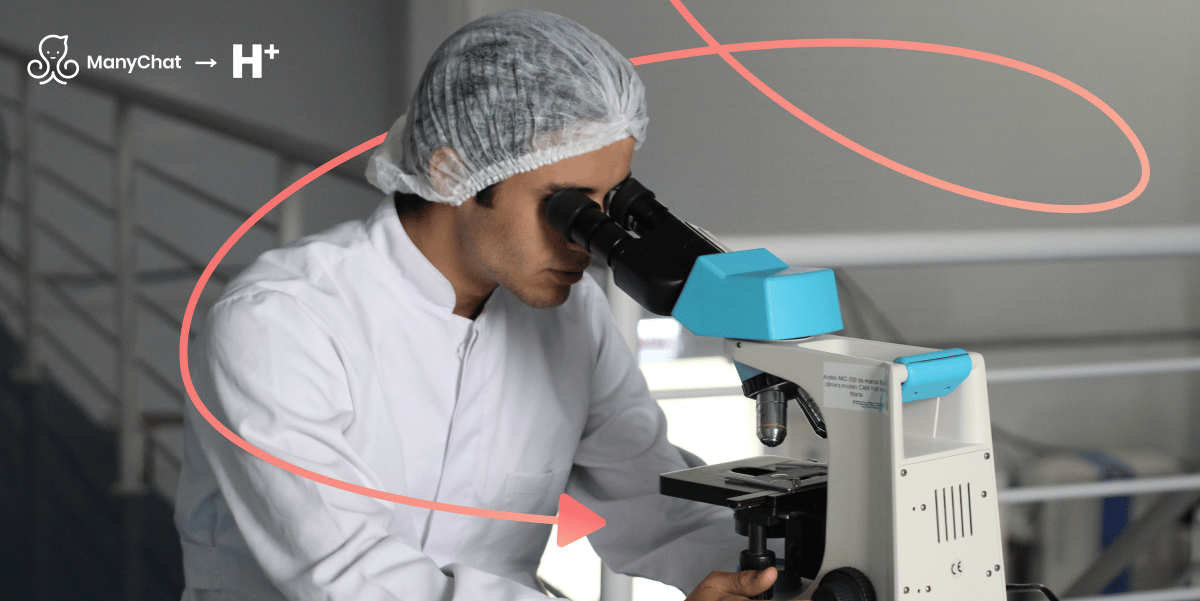 Overview
Due to the nursing shortage in Canada, Humber River Hospital is continually looking for first-rate ICU nursing candidates to staff its acute care facility in Toronto, Ontario. They post job ads on Indeed. But, because of high competition amongst other Toronto hospitals, it was difficult to stand out with only a text ad. This resulted in low return on investment (ROI) for its high cost.
Humber River Hospital worked with Adam Chambers, founder of digital recruitment agency, Applichat, to redesign its lead generation process and create targeted Chat Marketing recruitment campaigns. The partnership resulted in $10,000 potential reduction in cost per lead and a 2X increase in booked interviews for Humber River Hospital.
Results

The Problem
Humber River Hospital relied on job boards to find top-tier ICU nursing candidates. If they didn't get enough candidates, they would have to go through an agency, which costs an average of $15,000 per hire.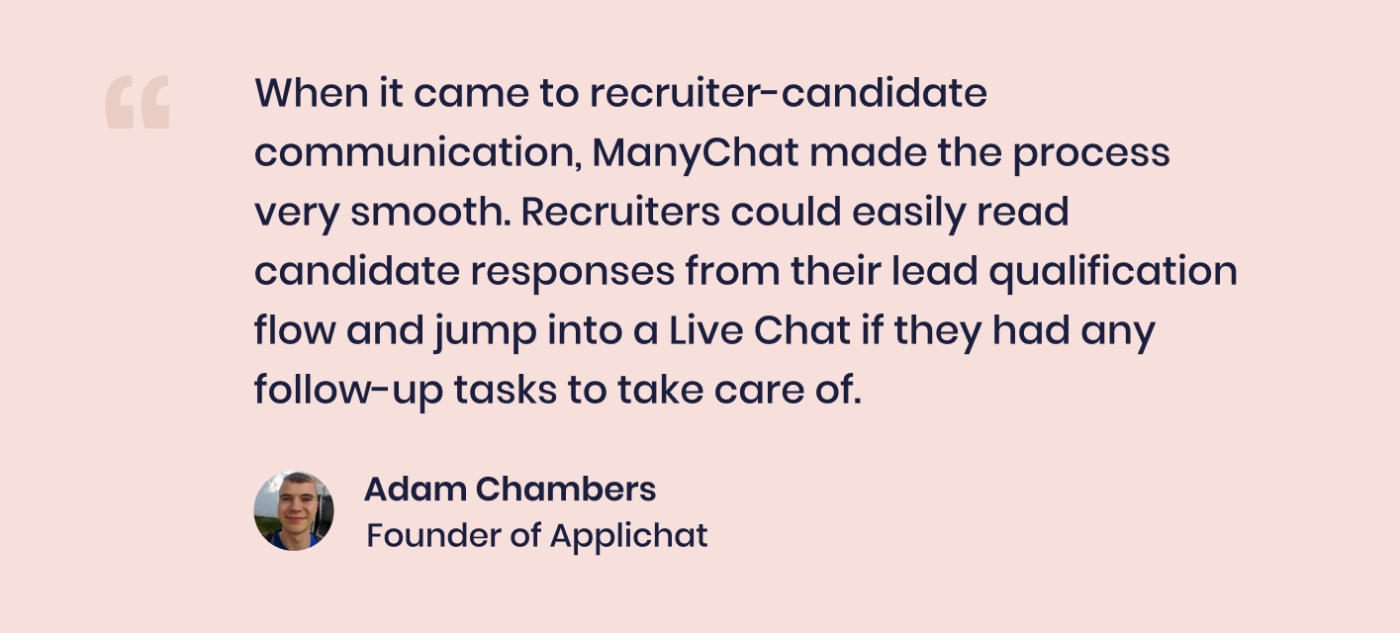 Their Goal
The Toronto-based hospital wanted a more cost-effective way to attract qualified candidates and qualify them for internal recruitment agents.
Approach
As part of Applichat's Chat Marketing recruitment strategy, Humber River Hospital:
Simplified the campaign's reach. Rather than use job boards and Google pay-per-click ads, the hospital focused on one channel where job seekers were searching: Facebook.
Targeted Facebook ads by location and interests. The hospital used precise Facebook targeting to seek out candidates with the specific skills they needed to run a successful ICU operation.
Ran click-to-Messenger ads. When job seekers clicked a Humble River Hospital ad, they entered a Messenger conversation with the hospital, which improved engagement and conversions.
Automated lead qualification process. Potential candidates would answer a series of questions in Messenger to see if they were a good fit, which scaled the way Humber River Hospital interacted with customers and made it easier to provide one-on-one service.
How Humber River Hospital Boosted Applicant Lead Generation by 2X with ManyChat
Humber River Hospital is a major acute care in Toronto, Canada and North America's first fully digital hospital. Founded in 1997, the hospital's mission is to leverage its state-of-the-art facility to achieve exceptional patient care for the community.
North American hospitals such as Humber River Hospital were already dealing with a nursing shortage before COVID-19. Once the pandemic hit, the hospital needed a more efficient way to hire qualified nurses for the ICU unit.
Problem is, job boards for nursing careers are stocked to the brim with listings.
Whenever Humber River Hospital would advertise on job boards, they would compete with dozens of other hospitals in the area, which made it hard for the hospital to impress on candidates and convince them to work at their facility.
Adam and his team ran targeted Facebook ads to local ICU nurses to generate interest in the hospital's facility.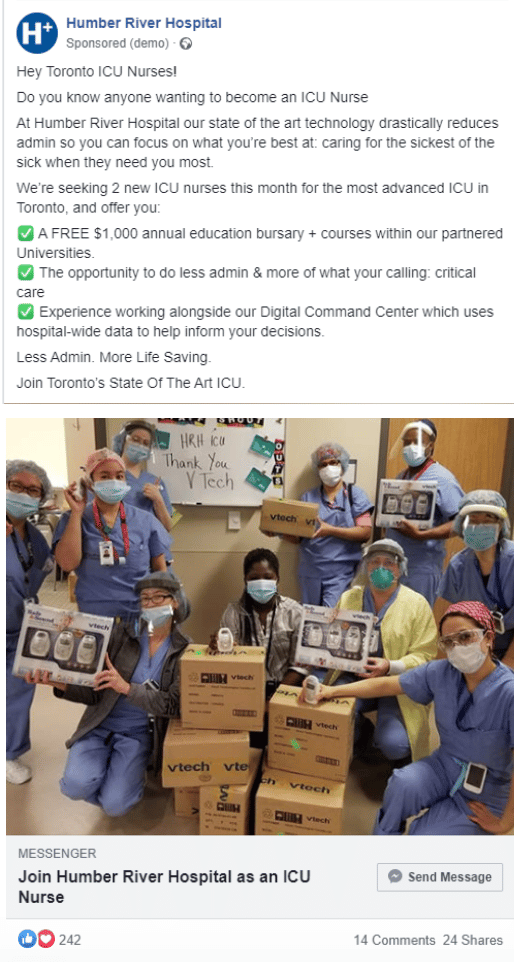 Although they ran multiple ad variants, they made sure to cover key pain points ICU nurses have when applying to work at a hospital:
Continued education
Less administrative work
Working with innovative technology
The team ran each ad variant to a separate bot flow in order to better track conversions and optimize the campaign.
When a potential candidate clicked the ad, they entered a Messenger conversation with the hospital. After confirming they wanted to continue with the application and giving their phone number, candidates enter a pre-screening flow.
Because Humber River Hospital was only looking for candidates with acute care and ICU, Adam filtered out any nurses without the proper qualifications for the job.
Those who passed the pre-screening by clicking ICU or acute care we're sent down different paths:
If candidates had ICU experience, they were prompt to schedule an interview.
If candidates had acute care experience, they were sent through a further lead qualification path.
If candidates had neither, the hospital followed up with a "Refer-a-Friend" message.
Once a candidate was considered pre-qualified by the bot, the hospital sent a voice note to people in Messenger and were prompt to a series of free-form questions.
After a user completed the entire flow, an email notification was sent to the hospital's recruiter with a call-to-action to enter a Live Chat with the qualified candidate to book an interview and seal the deal.
Conclusion
By transitioning from job boards to a Chat-based marketing system, Humber River Hospital was able to create an interactive recruiting process that saved them money and resources when looking for qualified nursing candidates. Results included:
58 applicants in 40 days
2X increase in booked interviews
Potential savings of $10,000 per placement
Want to get more leads for your business? It's easy with ManyChat. Sign up today to get started.
O conteúdo deste blog foi preparado de forma independente e destina-se apenas a fins informativos. As opiniões expressas são de responsabilidade do autor e não refletem necessariamente a posição do ManyChat ou de qualquer outra parte. Os resultados individuais podem variar.