How to Drive Foot Traffic with SMS Marketing for Restaurants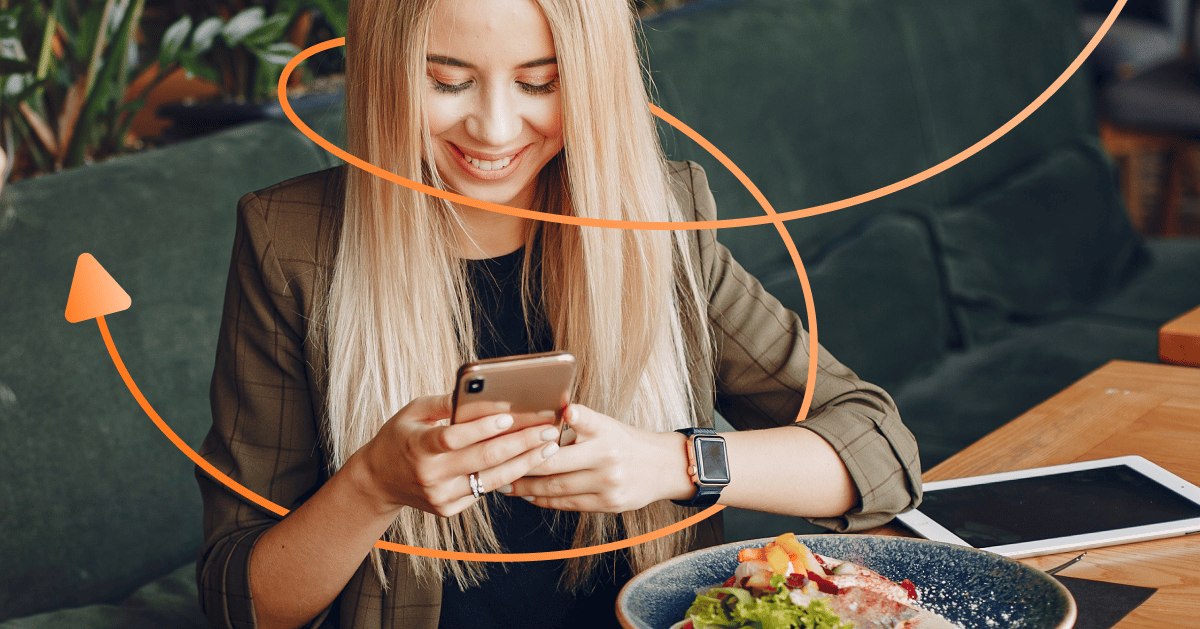 Stuck for ideas on how to promote your restaurant?
SMS marketing is a relatively new channel that restaurant owners should take advantage of because it allows direct communication with customers and their text inbox — a place most brands seldom don't have access to.
But how can your restaurant use SMS marketing? And how do you get customers to opt-in to receive texts?
In this guide to SMS marketing for restaurants, we'll share how you can use texts to get more patrons dining in your restaurant, which includes:
Running polls on new menu items.
Delivering time-limited, exclusive discounts.
Running sweepstakes.
Booking table reservations.
Sending reservation reminders.
Running feedback surveys.
Creating SMS customer loyalty programs.
What is an SMS marketing campaign?
SMS marketing is the process of sending text messages to your customers with the intent to promote your restaurant; and is why it's also known as text message marketing.
Most often, the goal of a SMS marketing strategy is to drive a potential customer to your restaurant in the hopes that they will place an order. But you can also use SMS marketing to help subscribers book a table, order takeout, or request feedback on their dining experience.
Why is SMS marketing important for restaurants?
Now that we know what SMS marketing is, let's take a look at why it's important for restaurant owners to use.
Better open rates
Chances are you're already using other marketing channels to reach diners. So you probably already know that an open rate is a metric that shows the percentage of people who received a marketing message from you and opened it. And the higher the percentage, the better (it proves people are actually seeing your marketing content).
However, here's where things get surprising. The average open rate for SMS marketing campaigns is 98%. That's a huge percentage of subscribers who will open your text; and it's much higher compared to the average 20% open rate for email marketing campaigns.
Immediate reach
We think it's safe to assume that most people have their mobile phones with them wherever they go. Combine that knowledge with the fact that people hate unread notifications (98% of smartphone users say they have no unread text messages,) and it makes sense why SMS has a read rate of 97% within 15 minutes of delivery. Text messages are almost guaranteed to grab your customers' attention immediately.
Customers want to receive restaurant texts
SMS marketing isn't just another fad channel that customers don't want to use. Research shows that 64% of consumers think businesses should contact them via text messages more often. Direct messages might feel personal and reserved for friends and family, but more and more consumers want brands to speak to them through texts sent to their mobile device.
How does SMS marketing for restaurants work?
Ready to take advantage of SMS marketing for your restaurant business? Start by collecting customers' phone numbers. You can do this by:
Adding a field in a table reservation form for their phone number.
Asking for their phone number when they're making enquiries.
You'll need to ask everyone on your contact list to opt-in to SMS messages and get explicit permission to contact your customers by text. Having them check the "opt-in" box stops your messages from being reported as spam and, in the worst case, being reported to the FCC.
Finally, find a text messaging platform to send mass texts. We might be biased, but ManyChat is a superb option.
All that's left to do is drive customers to your restaurant using the techniques below.
How to use SMS marketing to acquire patrons
1. Run polls on new menu items.
A superb way to engage diners with your SMS marketing campaigns is to ask them to do something. A poll, for example, is a type of interactive content that asks subscribers to respond to your message.
For example, you could ask people to vote what meals you should have on your menu.
"Which of these weekly specials would you prefer to see this Sunday? Respond with a letter! A) Option 1, B) Option 2, or C) Option 3."
Not only are these polls a superb way to engage your customer base, but they can help your restaurant be more cost-effective, too. By asking customers in advance what they want to eat and only offering the winning option, you only buy the ingredients you need. You won't have to spend weeks figuring out which special is most popular, and less popular dishes won't go to waste.
2. Deliver limited-time, exclusive deals.
Did you know that consumers redeem SMS-delivered coupons about 10x more than other types of digitally sent coupons?
Vouchers, coupons, or discount codes delivered to mobile phones are easy for customers to use, especially since most people have their phone on them at all times. Put this tactic to work for your restaurant by offering exclusive discounts only available to subscribers — an enticing enough incentive will convince them to stick around and open your texts.
Plus, people who hear about your mobile coupons might be more willing to opt-in to your texts. Incentivizing the sign-up process — as Subway does in the example below — can help grow your SMS contact list.
Here are some text coupon examples you could use to boost sales:
Free snacks.
20% off discounts.
Flash happy hour specials.
Ready to scale your restaurant? Learn how ManyChat can help you succeed.
3. Run sweepstakes.
Sweepstakes are competitions that ask your subscribers to enter a giveaway, and are designed to improve engagement with people on your restaurant's SMS contact list. (Sweepstakes improve engagement because patrons have to respond to your message to enter.)
For example, you could text your list the following message:
"Reply 'WIN' to be entered for a chance to win a three-course meal for two in October."
(Make sure you mention that data rates may apply.)
You can even take this a step further and ask people to follow or post about your restaurant on social media to earn extra entries; it's superb for brand awareness and reaching new, potential customers.
But here's the best part: Even if subscribers don't win, they'll remember your restaurant and you'll stay top of mind. Plus, there's a good chance they'll return to your restaurant even if they're not the sweepstakes winner.
4. Book table reservations.
Research shows that almost half of diners prefer to make a table reservation online, rather than over the phone (compared to just 20% five years ago).
SMS marketing fits perfectly into the online booking trend. Just make it easy for diners to find your restaurant's phone number — such as putting it on your website or Google My Business listing — and allow patrons to text you to make reservations.
Additionally, you can use integrations to sync your text messaging platform to your booking system to manage reservations automatically. That means customers can have their bookings made and confirmed without a single phone call.
5. Send reservation reminders.
No-shows have a huge impact on restaurants, and some 20% of diners fail to show up for their reservations in big cities.
Yet studies indicate that 45% of those no-shows don't turn up because they can't find reservation details to cancel their booking.
To proactively counteract no-shows, configure your restaurant SMS marketing platform to send text reminders to customers with upcoming reservations, perhaps sending reminders a day before and the morning of. In the text, give diners an easy way to cancel if they can no longer make the reservation.
This should limit the number of no-shows you have to deal with on a daily basis.
6. Run feedback surveys.
Not all patrons need to be first-time visitors to your restaurant. In fact, it can be more cost-effective to ask past diners to return for a meal than it is to convince new customers to try your food. But you'll have a tough job convincing previous diners to return if their first experience wasn't top-notch.
Your SMS messaging platform provides the perfect opportunity to dive into your customers' thoughts. Did they enjoy the food? How was the service? And more importantly, would they return?
Find out these and more important answers by asking all diners to enter their phone number to make a reservation. The following day, run an SMS campaign that asks them how their visit was. This could be as simple as using the Net Promoter Score (NPS) as a metric:
"How likely are you to recommend our restaurant to your friends and family on a scale of 1-10?"
For customers who give a low score, follow up and ask what you could do to improve. You can even offer them a discount on their next meal to make up for their prior experience, and hopefully change their mind.
For customers who said they had a great experience, respond with, "Thanks! We're glad you enjoyed it. We hope you see you back again soon."
7. Create SMS loyalty programs.
As we touched on earlier, not every customer coming through your restaurant's doors needs to be brand new, and it's actually cheaper to retain an existing patron than it is to find a new one. Implementing customer loyalty programs can convince diners to return again.
So, why should SMS be the foundation of your customer loyalty campaign? Because three-quarters of people said they're more likely to increase participation in a loyalty program if they can access it easily from their mobile phone.
Your text-based loyalty program can start by asking people to join your SMS loyalty program, before sending immediate texts for them to redeem a reward. For example:
"Show this message in store to get a free starter."
"Tell your server you're part of our SMS loyalty program to get 30% off your check."
"Flash sale for subscribers only! Show this message to get two-for-one drinks all night."
Regardless of what kind of special offers you send, give customers an incentive to join your SMS loyalty program. It's the best way to convince them to come back.
Conclusion
As you can see, running SMS campaigns for your restaurant is a great way to get more customers through your doors, regardless of whether they're returning patrons or first-time diners.
Be sure to find an SMS messaging platform (like ManyChat) that allows you to send texts. ManyChat's tool helps you collect phone numbers from your website, create drip campaigns, and have two-way conversations with your patrons.
Ready to scale your restaurant? Learn how ManyChat can help you succeed.
O conteúdo deste blog foi preparado de forma independente e destina-se apenas a fins informativos. As opiniões expressas são de responsabilidade do autor e não refletem necessariamente a posição do ManyChat ou de qualquer outra parte. Os resultados individuais podem variar.