Facebook Chat Plugin Updates for ManyChat Customer Chat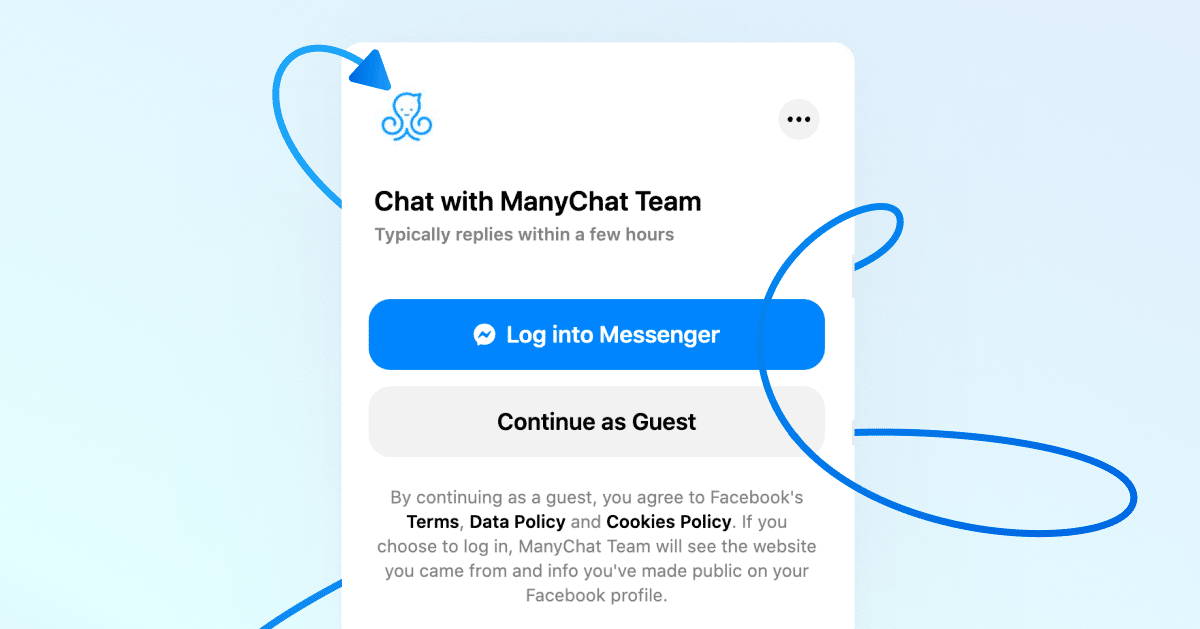 Chatting with visitors to your website just got easier.
Messenger by Facebook announced a major update to their Facebook Chat Plugin, which lets businesses use Facebook Messenger to chat with their customers directly on their website. The updated Facebook Chat Plugin now supports 'Guest Mode.' This means visitors to your website can interact with your ManyChat bot without logging into Facebook, letting you chat with anyone who visits your site.

You can enable the Chat Plugin and use 'Guest Mode' on your website by installing the Customer Chat growth tool, an extension of the Facebook Chat Plugin. Visitors will now see an option to "continue as a guest" and have the ability to interact with your bot without providing their Facebook Messenger profiles. We've also made it easy to build custom flows for guests and logged-in visitors with a new Condition.
Using the Chat Plugin via Customer Chat makes conversations easier, more intuitive, and helps customers make quicker buying decisions—and ultimately results in more sales. In fact, 53% of consumers say they are more likely to shop with a business they can message via Chat.

Discover how to get started with the Chat Plugin by using Customer Chat and all the benefits that come with this feature.
What Are the Benefits of 'Guest Mode' for Customer Chat?
Connecting in a digital space can be challenging for online businesses. However, Customer Chat with Guest Mode is powerful and helps businesses, like yours, connect to customers quickly. Check out these benefits to using Guest Mode.
Free and easy to set up
Makes it possible to chat with anyone who visits your site
Increases sales with 82% of shoppers more likely to buy after they chatted with the company first
Offers convenient customer support to any online visitor
How the Facebook Chat Plugin Works with ManyChat Customer Chat
Getting started is simple. Watch this video tutorial to learn how to take advantage of the new Chat Plugin updates with the Customer Chat growth tool.
'Guest Mode' is enabled for the Chat Plugin by default in your Facebook business page settings and the option to 'continue as a guest' for site visitors will appear automatically with Customer Chat on your website.
All you need to do to take advantage of the updated Facebook Chat Plugin and the new 'Guest Mode' feature is to install the Customer Chat growth tool to your website and set up your flows.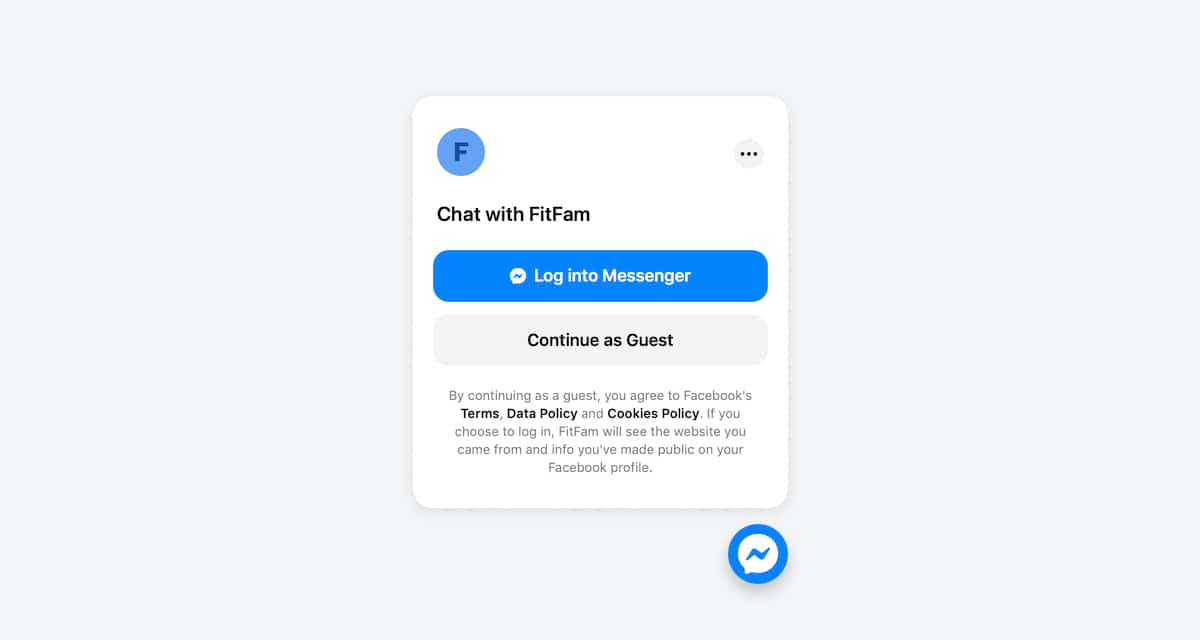 We've added a new 'Existing Contacts' Condition to ManyChat so you can easily build flows for both subscribers and visitors, depending on if this condition is true or false: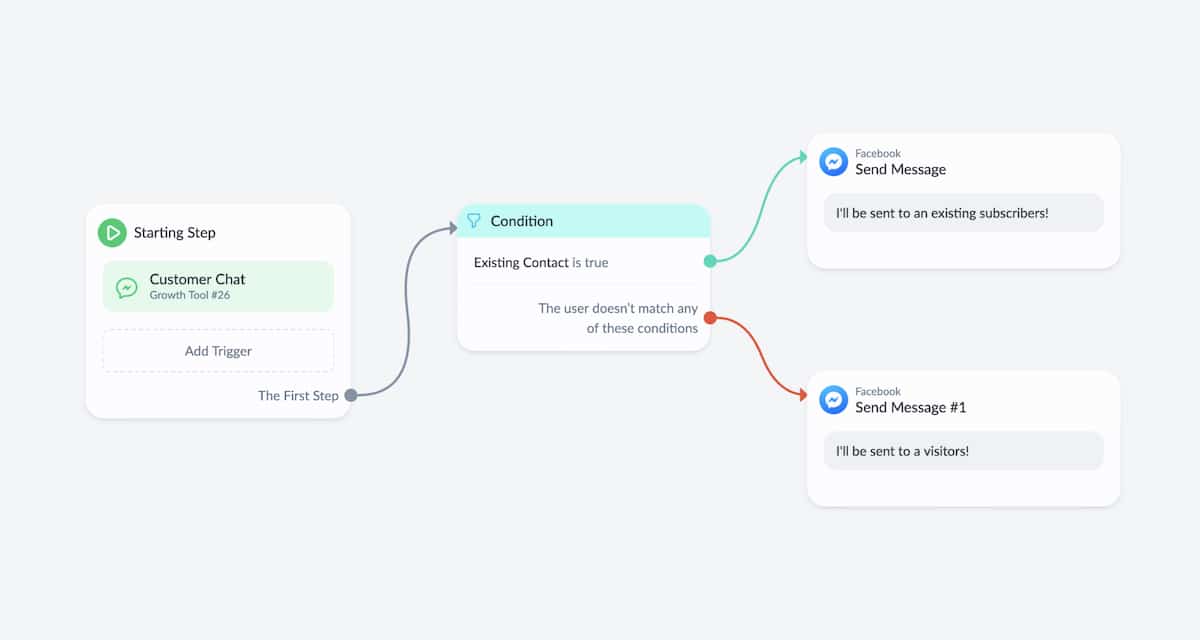 There are some limitations for visitors when you build your flows for this audience—you won't be able to subscribe to visitors to sequences or use personalization.
You can find visitors in your Audience tab along with your subscribers and use Tags and Custom Fields for visitors in your flows. Visitors who interact as a guest with your bot will not be counted towards your subscriber totals.
Conversations with visitors in 'Guest Mode' will be open for 24 hours from their first interaction and a live agent can reach out to them directly through Live Chat in ManyChat. The messaging window with customers closes after 24 hours or when a customer clicks 'End Chat' in the Customer Chat dropdown menu and you will not be able to chat with customers beyond that point. We suggest you capture the guest's email or phone number, when appropriate, to follow-up with them.
PRO tip: You can notify team members in real-time when a site visitor wants to talk to a human agent using the 'Notify Admin' Action in your flows, available with ManyChat Pro. This helps you to always stay in touch with shoppers at the right time to drive more sales.

To disable 'Guest Mode' for Customer Chat, open your Facebook business page and go to Page Settings -> Messaging -> Add Messenger to your website -> Get Started and flip the toggle OFF for 'Guest Mode.'
The addition of 'Guest Mode' for Customer Chat makes this popular growth tool more powerful, engaging more customers by answering common customer questions through your automated flows and connecting them to live customer support if needed, all without the customer having to log into their Facebook account.
O conteúdo deste blog foi preparado de forma independente e destina-se apenas a fins informativos. As opiniões expressas são de responsabilidade do autor e não refletem necessariamente a posição do ManyChat ou de qualquer outra parte. Os resultados individuais podem variar.