Ecommerce Logistics in 2021: How It Works + Trends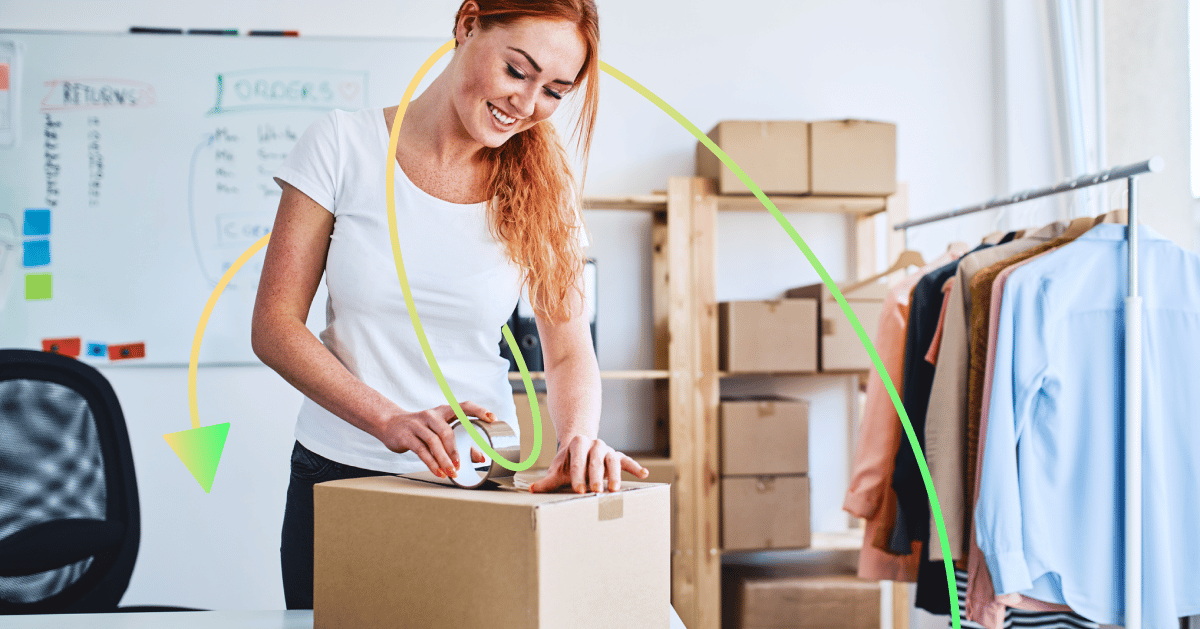 The eCommerce industry's exponential growth wouldn't have been possible without a corresponding evolution of logistics and distribution networks. Even as the industry expands, players in the distribution value chain have to continually optimize their service to match ever-increasing complexities.
If you're running an eCommerce business, it's vital to understand that logistics is your business's backbone. A well-oiled logistics chain will lead to great savings that can be passed on to customers in the form of low prices. Moreover, you'll consistently deliver the best customer experience while building a brand your customers can trust.
What is eCommerce logistics?
eCommerce logistics details the processes an online store follows when moving goods from the manufacturers to the consumers. The process starts with moving inventory or raw materials from the manufacturer or supplier and ends when the goods are successfully delivered to the consumer's doorstep.
What's in the eCommerce logistics chain?
Depending on the nature of your eCommerce business, the logistics chain typically begins when you order raw materials from suppliers or products from manufacturers. The chain then proceeds by receiving and storing the inventory in your warehouse, picking and packing products after a customer places an order, and shipping to the final destination.
This seemingly simple sequence of activities often involves multiple facilities and professionals, which may include sorting facilities, distribution hubs, carriers, suppliers, and fulfillment centers.
Sorting facilities
Large-scale eCommerce brands like Amazon need to move bulk quantities of stock-keeping units (SKUs). To make the process more efficient, the tech giant set up centers wholly dedicated to sorting these items before they're passed off to relevant couriers that will deliver products to customers.
Distribution hubs
Larger eCommerce retailers don't store products in a single location, and operating multiple distribution hubs in different strategic locations reduces shipping costs and delivery times on orders.
Distribution hubs work like fulfillment centers. However, the difference between the two is that fulfillment centers usually handle business-to-consumer (B2C) or direct-to-consumer (DTC) orders only. Additionally, distribution hubs sometimes cater to business-to-business (B2B) orders, which, for some companies, serve as fulfillment centers.
Carriers
Carriers are companies that specialize in transporting products to their final destination. ECommerce companies often use third-party carriers like DHL, FedEx, UPS, and USPS for their last-mile delivery needs. Sometimes, they also help in transporting products between fulfillment centers or other facilities. To improve efficiency, eCommerce companies work with multiple carriers and may even develop in-house carrying capabilities as the company grows.
Suppliers
Suppliers are the people responsible for providing raw materials, products, or other resources for an eCommerce company. Companies typically work with multiple suppliers to source products. These relationships are often contractual, and companies usually negotiate the lowest possible rates to achieve better margins.
Fulfillment centers
Fulfillment centers are highly specialized warehouses that store products and pick, pack, and ship items to customers. These centers process incoming bulk orders before sending products out in smaller units. Companies with highly efficient fulfillment centers can ship out their customers' orders faster and cheaper, leading to significant cost savings.
Reverse logistics
Reverse logistics is a fancy way of referring to the returns process. Returns do happen and having a logistics network that makes the returns process easier is a great way to keep customers happy, preventing potential lost sales in the future.
How eCommerce logistics differ from brick-and-mortar logistics
Many brick-and-mortar stores struggle to replicate their success in the online space. One of the primary reasons for this failure is approaching eCommerce logistics in the same manner as brick-and-mortar logistics. It cannot be overemphasized that there are numerous points of differences between the two, and some of the most prominent ones include:
Number of destinations
Brick-and-mortar warehouses are built to serve the company's retail stores. Often, the sister stores served by each warehouse only number a few hundred locations, whereas eCommerce fulfillment centers serve hundreds of thousands or even millions of individual customers. Thus, the warehouses cannot be set up in the same way if maximum efficiency is to be achieved.
Size of shipments and order volume
The bulk of brick-and-mortar shipments are either from the supplier to the warehouse or from the warehouse to sister stores, so you can expect large shipments and order volume when dealing with brick-and-mortar logistics. Conversely, eCommerce logistics operations specialize in small shipments and orders.
In-store pickup vs. home delivery
Supply chain management in brick-and-mortar logistics ends when goods are delivered to the store since customers come in to pick up items. However, eCommerce logistics must develop a solid plan to get goods to customers, so it's no wonder why everyone in the space raves about last-mile delivery.
Why you need optimized logistics
If you wish to "win" at eCommerce, logistics is one aspect of your business you can't afford to compromise on. Most of your customers want their goods delivered the same day or at most two days after placing an order. If your logistics machine is not well oiled, you'll struggle to keep up with such demands or, worse still, incur huge costs. Below are some of the top reasons why every eCommerce business benefits from optimized logistics:
Two-day shipping capabilities
If you have fulfillment centers in the right locations, you can service your orders within two days or less. As mentioned earlier, customer demands are becoming increasingly stringent, and there's not a lot of room for disappointment or second chances. Even if you're not yet able to lease warehouses in your chosen locations, partnering with third-party logistics (3PL) providers is always a great option.
Valuable data and insights
With automation and digitization taking center stage in most eCommerce fulfillment centers, having the right data is priceless. Accurately collecting and analyzing data greatly eases automation efforts and allows effective communication between the different parts of your logistics chain. Furthermore, optimizing your chain gives you the data and insights needed for accurate forecasting.
Better return processing
No one likes dealing with customer returns, but it's pretty much inevitable. Dealing with returns in the right manner is central to providing your customers with a great shopping experience. With an optimized logistics chain, your company is better equipped for dealing with customer returns, and your business and customers alike will reap the benefits.
Scale as your business grows
Many eCommerce companies struggle to scale as their sales increase. For some, challenges arise when it's time to transition from self-fulfillment to working with a 3PL company; while for others, problems occur when orders are more than what their current logistics partner can handle. An optimized logistics chain makes it easier to decide when to switch fulfillment models; plus, you'll have set the right parameters for assessing prospective logistics partners.
The top three eCommerce logistics trends of 2021
Whether you're planning to start your eCommerce business or wish to position your business for rapid growth, below are some of the top eCommerce logistics trends you should know about for the coming year.
Customers expect faster delivery speeds
Statistics from Coldwell Banker show that 64% of online shoppers are more likely to place an order if the purchase comes with a same-day delivery option. Additionally, 61% of those shoppers don't mind paying more to have their goods delivered on the same day either. If you want to win your customers' trust and loyalty, you need to up your order fulfillment game by offering same-day or two-day delivery.
Last-mile delivery is a game-changer
Previously, eCommerce companies paid little attention to the final leg of delivery, leaving most of the work to carriers. However, that's set to change this coming year. eCommerce companies and 3PL partners will contribute more to last-mile delivery to lower-cost shipping zones and provide real-time tracking data.
Logistics will determine post-purchase customer satisfaction
Post-purchase customer satisfaction is critical to facilitating repeat purchases and promoting customer loyalty. Previously, most businesses felt customer satisfaction was tied to the quality of the goods, but businesses have realized that delivery logistics are just as important as the goods purchased. If you can get goods to customers at the right time and in the right condition while providing accurate tracking data in the process, your customers are more likely to rave about your service.
Conclusion
More than ever, customers are more demanding of eCommerce businesses, making the need to optimize logistics even more important. A well-optimized logistics network is the surest path to ensuring customer satisfaction, improving the post-purchase process, and converting new customers into brand loyalists. Plus, your business will benefit from the reduced operating expenses that come with having a well-oiled logistics chain.
To improve the customer experience during the post-purchase process, consider using a tool like ManyChat. With ManyChat, eCommerce merchants can send SMS, email, and Messenger updates on shipping and order confirmations to keep customers in the loop on their deliveries.
Get started with ManyChat today!
O conteúdo deste blog foi preparado de forma independente e destina-se apenas a fins informativos. As opiniões expressas são de responsabilidade do autor e não refletem necessariamente a posição do ManyChat ou de qualquer outra parte. Os resultados individuais podem variar.