Customer Spotlight Mary Kathryn Johnson: The Spark that Ignited the #ChatBotMom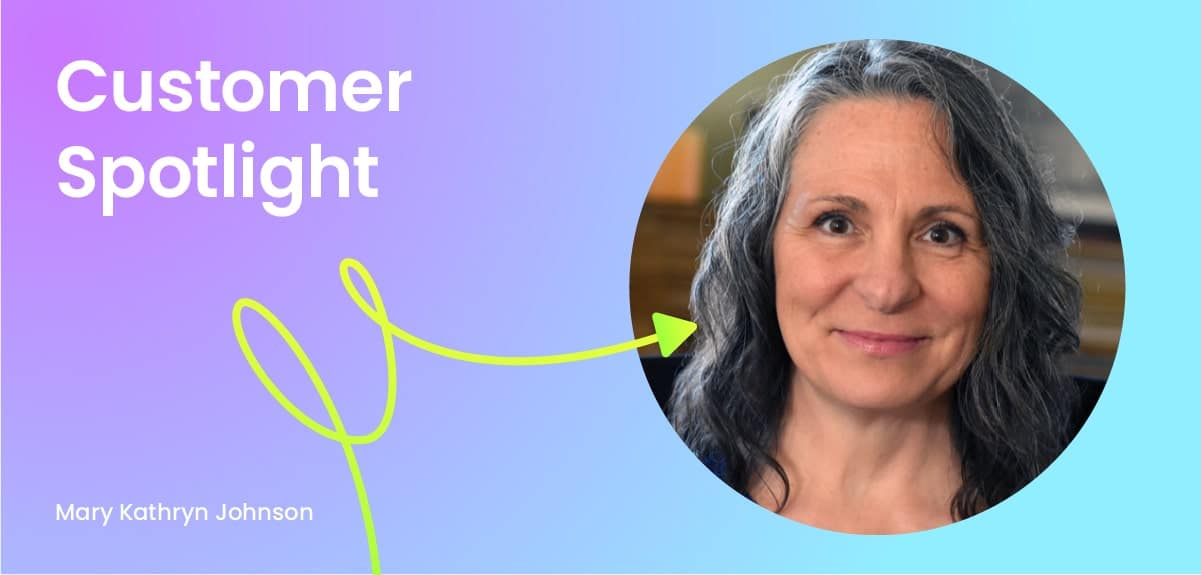 A small spark is all it takes to set Mary Kathryn Johnson, founder of Messenger Funnels (a full-service Messenger Marketing agency), in motion and down a path from which she won't look back once.
No stranger to the digital realm, Johnson started her first business MommyLoves — an online novelty maternity clothier — in 2003, roughly 18 months after she gave birth to her second child and fully recovered from breaking both of her legs. Yeah, you read that right: Johnson broke both of her legs when she was eight months pregnant.
"I had casts up to the knee on both legs and I had to use a walker," she recalls. "I couldn't take a shower or a bath. It was just nuts. When I finally got on the other side of that I looked back and said, 'If I can do that with my sense of humor still intact I can do anything.' "
And thus was the impetus for MommyLoves. Johnson cut her chops on building an e-commerce website from scratch while also building out her business plan. "I'm a closet techie," says. "I don't know a lot of tech, but it really lights me up." Turns out, she's really good at it as MommyLoves continued to grow steadily, filling a niche in maternity wares. But then the 2008 recession hit, and it was a major blow to the business and Johnson's psyche.
As the recession continued to tighten its grip, Johnson found herself struggling to differentiate herself from her company claiming that she couldn't let MommyLoves go because that would mean she had failed.
"I struggled and struggled and struggled, and my revenue went down by half in 2008 and down by another half in 2009," Johnson remembers. "It just kept sinking and trying to put more money in. I didn't have the ability to figure out how to weather this and separate myself from my business, my personal identity."
It wasn't until her friendly neighborhood accountant (AKA, her husband) asked her point-blank why she was hanging onto her dying business. To which Johnson explained that if MommyLoves fails then that meant she had failed. And then Johnson's husband spoke the wisest words she's ever heard in her career: "You are not your business."
"That hit me," she says. "That made the light bulb go on." So she let go and instead wrote a book about her experience as a two-broken-legged expecting mother to a successful momtrepreneur to a victim of the 2008 crash. Soon she had other parent entrepreneurs queuing up, asking her questions about her experiences. So Johnson started the podcast Parent Entrepreneur Power.
Shortly after launching her podcast, Johnson began consulting fellow parent entrepreneurs looking to glean a little insight as to how to run a successful business while also raising a family, until Johnson found herself in the throes of a full-fledged business development and marketing agency. But Johnson was hungry for something different, though she didn't know exactly what "different" was.
And then in February 2017, she opened a chain email from Andrew Warner promoting his upcoming live webinar touting the secret behind 80 percent open rates and 60 percent click-through rates.
"I signed up for the webinar with absolutely no intention of showing up because I know what's going to happen on a webinar; he's gonna try and sell me something. And I'm a skeptic about that," Johnson says matter of factly. Intrigued, though not completely sold on webinars for their product-selling facade, Johnson reluctantly found herself tuning in. What she listened to next, she claims, changed her life forever.
"[Warner] blew my mind. Absolutely, hands down," Johnson says of the discovery of Messenger and Chat Marketing. "I got the same feeling of excitement for chatbots and Messenger Marketing that I had for my online store MommyLoves. It grabbed me by the throat and would not let go."
With a new fire burning within, Johnson would be one of the first people to sign up for and complete Warner's Bot Academy courses (an introductory training program that uses ManyChat for building bots), even if she didn't wholly agree with who he was trying to sell the five-week course to.
"I got on the call with [him] and I'm like, 'Dude, you're going to the wrong people,' " says Johnson. " 'This is not for techies. This is for marketers. You've got to go to marketers.' " Warner agreed, but it was Johnson who actually implemented this new way of communicating into her marketing agency. She was off and running with clients lining up to work with her.
Three years later, Johnson runs a full-service, multi-faceted Chat Marketing agency with, who she calls, extremely talented employees, and works with clients across several industries. Her revenue has doubled each year since first employing Messenger Funnels, and it's projected to quadruple this year alone.
"I can't even tell you how much ManyChat, specifically, but Messenger Marketing and Chat Marketing has absolutely changed my life," she says. "My world has exploded. Without ManyChat, I wouldn't be where I am right now."
And perhaps most exciting of all, Warner has handed over the keys to Bot Academy to Johnson. As of February 2020, Johnson is the proud new owner of the same bot-building platform that helped her get her start in Messenger and Chat Marketing. With the addition of Bot Academy, Johnson will now be able to offer a complete line-up of resources. From bot-building 101 to conversions (a method she's coined as the MKJ Conversion Method) to launching an agency to an in-depth mastermind, Johnson has created a fully-stacked chat empire.
She can even teach you a few of her tried and true methods to gain and retain traction with Messenger or chat users, like keeping your conversations to a FaceTweet, another Johnson-ism that refers to keeping your messages short, sweet, and conversational.
"It's like if Facebook and Twitter had a baby," the chat expert explains. "Keep your messages to 160 characters or less. It drives me nuts when I get this big, long conversation coming through chat and it gets delivered at the same time, and then at the end they just want me to schedule an appointment or direct me to their sales page. You totally lost me."
Instead, she suggests the art of conversation in the form of a FaceTweet with a short generalized question or lead magnet, allowing the user some time to respond or ask questions before gently guiding them to a sales page, e-commerce site, or calendar appointment. Johnson asserts, however, that FaceTweets won't work unless you know your audience. The persona of your bot is crucial to captivating your audience and drawing them into a conversation.
"Don't speak Spanish to Norwegians," she says, in an analogy. "Speak their language, use the words they use, use the slang that's comfortable for you and who [your users] represent."
Since acquiring Bot Academy and ramping up Messenger Funnels training courses, the #ChatBotMom (a nickname lovingly bestowed upon Johnson by some of her younger clientele) is excited for the next step in chat communications, which she predicts will include voice and progressive web apps, such as Instagram and WhatsApp.
"If you know how to do [Chat Marketing] very well, you'll be able to adapt as the chat world evolves. Email is not dead, but believe me: Voice (Alexa, Google Home) and progressive web apps and Chat, that's the future of marketing," she says definitively, with a new spark of excitement twinkling in her eyes.
O conteúdo deste blog foi preparado de forma independente e destina-se apenas a fins informativos. As opiniões expressas são de responsabilidade do autor e não refletem necessariamente a posição do ManyChat ou de qualquer outra parte. Os resultados individuais podem variar.