[Case Study] How Gustavo Boregio Improves Online Course Conversion Rates by 2,900% with ManyChat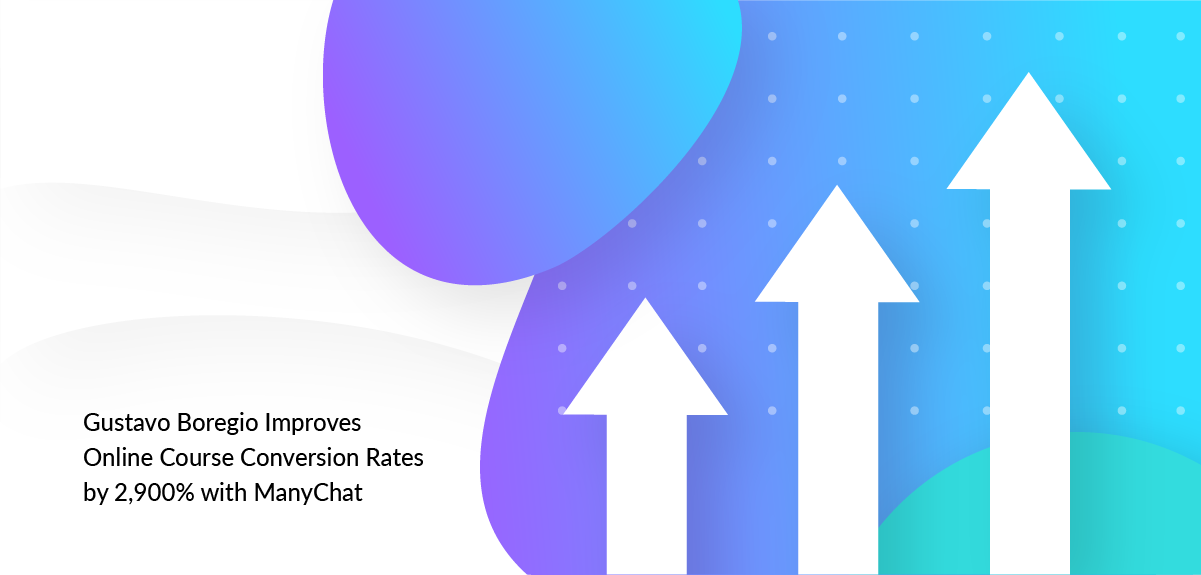 Building relationships is big business for established online coaches who generate revenue from digital courses and trainings. It's an opportunity to attract new customers, and grow your business in a meaningful way.
For Founder of Engi Marketers Gustavo Boregio, a client of his struggled to expand her child-raising education business beyond four walls. She used her Facebook Group and email list for marketing — which was slowly losing traction.
After adding a ManyChat bot into the mix, conversions jumped 2,900% in weeks with $0 ad spend.
Want to reach more customers? We'll show you how Gustavo got it done. Scroll on for more.
Joining the online coaching space with Engi Marketers
Gustavo created a ManyChat bot for his coaching client to help transition her course into the digital space. Prior, she held in-person sessions that only fit 20 people max. She'd tried offering online courses in the past but did not get sign-ups and traffic.
Challenges included:
As a well-respected teacher in the Spanish-speaking community, she wasn't able to connect with women around the world live online. Doing this would mean changing her marketing approach.
The two channels she used to communicate with her audience was in Facebook Group posts and email list, which was slow and not engaging.
In order to expand her coaching business, she had to create educational videos for her audience and engage more with them to deliver the content they needed.
Significantly higher conversion rates, zero ad spend
Gustavo began proactively engaging with her community in Messenger via ManyChat and testing different conversion rate optimization best practices. The outcomes were:
The online coach has reimagined how she markets her business since pairing with Gustavo and sees conversion rates increase by 30x — organically.
Trainings now hold 5x more people per class online and women are requesting courses via Messenger.
Gustavo's noticed she's able to fast-track content creation and double up delivery output, helping connect with more women internationally.
Successfully starting conversations and implementing ManyChat
The big question Gustavo had to ask himself was: how to get organic subscribers into his client's Messenger bot?
Since this coaching client had a highly-engaged Facebook Group, he chose to tap into the community to get people to subscribe to the new bot. But his approach was different.
Instead of posting a single image and text saying "subscribe to our bot for updates on child care!", he set up a fun content "survey" for people to take part in.
The survey served two purposes:
It gave people the chance to vote on what topics they want to learn about
People automatically subscribed to the Messenger bot when they voted
Here's what the landing page looked like:
Users were then tagged by which subject they voted for to improve future targeting. The course with the most votes would be covered first, then the second, and so on.
Subscribers were then put into a two-step sequence. When the course was available, they were sent a broadcast message under the "Confirmed Event Reminder" Messenger tag.
When someone clicked the link but didn't sign up for the course, they were sent a follow-up message shortly after. This simple two-step sequence resulted in a 2900% increase in conversions without ad spend.
His client now operates as a modern coaching business. She spends fewer hours trying to expand her reach, and more time listening and engaging with her clients.
Gustavo plans to move the entire funnel into his ManyChat bot — from content delivery to payments, and more.
"ManyChat gave us the flexibility to scale a small business without losing the integrity of their practice. It was easy to get set up and going, and compared to other Messenger Marketing software, offers the user a human-like experience — which is important for any business who wants to connect with their audience".
Want to improve your conversion rates by 2,900%? Sign up for a free ManyChat account and start building your Messenger bot today.
O conteúdo deste blog foi preparado de forma independente e destina-se apenas a fins informativos. As opiniões expressas são de responsabilidade do autor e não refletem necessariamente a posição do ManyChat ou de qualquer outra parte. Os resultados individuais podem variar.