6 Key Client Relationship Management Tips for Agency Owners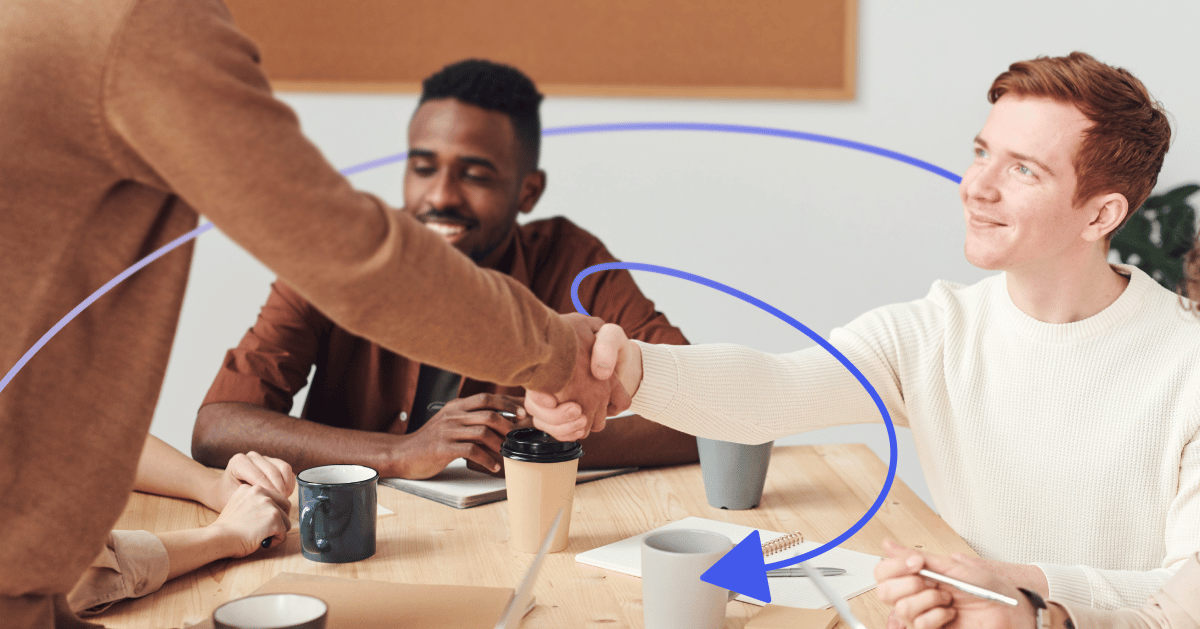 In 1984, the average client-agency relationship lasted around seven years. Today, that number is down to under three.
Why?
As with all relationships, there are good ones that thrive, and poor ones that you just have to, well, deal with. Marketing and advertising relationships are no different. In a world full of opinions, perceptions, and abstract concepts like creativity and innovation, it's no surprise that agency-client relationships can be volatile.
Despite this, according to research from eMarketer, most brands still outsource to external agencies to improve marketing capabilities and capacity.
What can you do to improve client relationship management and retain clients longer? Here are six expert tips that will help you develop strong client relationships through transparency, trust, and communication.
Six key client relationship management tips
1. Communicate regularly
Aim for transparent, friendly conversations with your clients regularly. Great communication improves trust between teams by supporting an open and harmonious relationship and can help surface small issues before they become big problems.
"Go beyond just sending monthly reports and talking numbers with an existing client," suggests Trilce Jiron, Founder of TBS Marketing, "Whether it's a weekly or bi-weekly call, check in to see how clients are doing with their business and lives. We end up becoming friends with our clients, so they feel comfortable expressing any comments, concerns, or suggestions about a bot build or design—it's how we've maintained a 100% retention rate since 2015."
Trilce also recommends the following to build trust with clients:
Get to know them personally
Conduct virtual check-ins and on-site visits (weekly if feasible) with clients
Offer ways to improve their business outside of Chat Marketing
Keep an "open book" policy for communication
"When you show clients you care about their business as a whole, they'll look at you as a partner, rather than a line item they pay monthly services for," Trilce adds. "In my experience, the more meaningful a relationship you build with clients, the longer they'll stick with your agency."
When you first sign with a new client, create a plan with them that outlines the communication channels and processes you'll be using. You can encourage your clients to communicate with you via a social media platform like Messenger Live Chat or through email and WhatsApp—whatever works best for both parties.
In the plan, identify the frequency of your meetings, and the best method to discuss project work that will keep everyone on the same page throughout the client relationship.
2. Understand your client's goals and needs
The Association of National Advertisers (ANA) found that 87% of clients who work with agencies believe that their partnership plays an essential role in driving success for the organization. These brands rely on agencies to achieve their business goals. Agencies can excel at client relationship management by aligning their strategies with these goals and setting the roadmap for how and when they'll accomplish them.
"Align expectations and understand a client's needs before you start working on the first project," Fernanda Guerra, TEDx Speaker and Brand Consultant, explains. "Be super clear and explicit on what success looks like for your client to kick-off your relationship the right way."
Spend time evaluating your client's current position and marketing strategy. Their key performance indicators (KPIs) like conversions, revenue, retention, etc., should support their overall business goals."
When proposing new campaign strategies, Gustavo Boregio, Founder of Chat Marketing agency Engi Marketers, ensures his approach aligns with his clients' business objectives. "Learn what their plans are for the future. For example, do they plan to launch a new product? Do they have too much stock of a particular item? What are their priorities over the next few quarters?"
He adds, "Once we have an idea, we choose marketing automation strategies and tactics that go hand-in-hand with their long-term goals."
After you set goals and expectations with your client, create a detailed list of deliverables and deadlines for each goal. Review each deliverable with your client and answer any questions they have before starting the project.
3. Manage client expectations right from the start
Client expectations are behaviors or actions a client anticipates they'll experience when interacting with an agency. Clients have historically expected basics such as creativity and innovative ideas,but today, according to the SCOPEN 2019 Agency Scope report, they also expect strategic planning, a solid understanding of the marketplace, competitors, their brand, trends, and media, along with an integrated service offering. Whew!
With a list of exponentially growing client demands, it can be hard to balance going the extra mile to exceed their expectations, while prioritizing your own business goals.
Luckily, there are some ways to fix that:
"Managing client expectations is one of the best ways to keep clients happy, informed, and avoid any misunderstandings," explains Angela Allan, CEO of Mads Collective. "When I have a new client, I send them an onboarding email that tells them where to find the services agreement, the statement of work, the fee, the payment schedule, and next steps (booking a client strategy session). After every meeting, I send a follow-up email to recap what my agency is working on and deadlines."
"It's a lot of admin, but it's worth it. If the client goes rogue at any point or in the event of a payment dispute, you have everything in writing to back up what your agency is producing for them. I would say 99% of disagreements with clients, either in terms of work produced, deadlines or payments, arise from not setting expectations up front."
When you start a new relationship with a client, you need to mutually agree on the level of engagement they'll have with you and what you need to keep projects moving smoothly. The onboarding process is the perfect time to set these expectations. Using this time to walk them through how your team operates is essential to improving client satisfaction.
4. Share campaign wins and results
Agency owners can all agree on one thing: results are the primary driver of successful client relationship management. To improve your client-agency relationships, you should share reports to inform clients of profitable campaigns, divulge insights on subscriber engagement, and communicate how you're supporting their end goals.
"In my experience, what keeps the client relationship going and growing is results," Gustavo explains. "As long as you measure the results of your campaign and make the client's progress easy to understand and act on, you shouldn't have problems with customer loyalty."
"Once I shifted my mindset to focusing less on talking about chatbots," Gustavo adds, "and more towards what the client wants (a clear path to the end result), it became much easier to maintain the relationship over time."
Reporting for clients is easy with ManyChat, as you can track multiple conversion types in your Messenger bots including:
Purchases
Customer information collection
Abandoned carts
Pixel conversions
Custom (Action Step conversions in ManyChat)
You can create custom conversions in any place where there is an Action Step in your Messenger bot flow. All you have to do is add a revenue value to any Action Step Conversion, and the value will be attributed to the flow's "earned" revenue every time a conversion is recorded.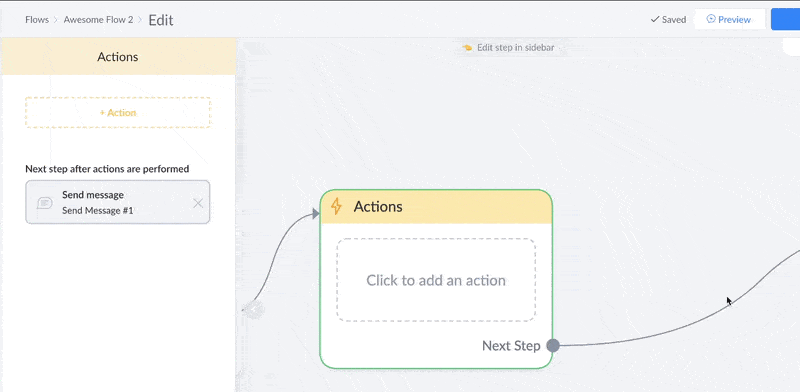 When you show results to clients, you can open the Metrics dashboard in your ManyChat account and view total revenue across all flows:
Or individual conversions:
To learn more about using ManyChat Analytics, read Product Update: ManyChat Analytics, Conversion Tracking, and the ManyChat Pixel.
5. Show that you care about their success
Demonstrating to clients you're genuinely looking out for their business will markedly improve your relationship with them. Such attention to detail will help you acquire a better understanding of who they are and what they care about— which will enable you to jump in to resolve a bad situation before it gets worse.
"Position your agency as an asset rather than another commodity, " says Adam Chambers, Founder of Applichat, an RN sourcing agency. "I had one client cut their marketing channels from 36 to two during our relationship. They kept us because we provided quality leads and showed we cared about their long-term strategic plans."
Here are some ways you can prove to clients you care:
Regularly ask for feedback on your team's work. Be proactive. If you have a gut feeling that something isn't right, or the client isn't happy, don't sit on that feeling and risk the possible loss of the client.
Track of Key Performance Indicators (KPIs) in one place. Set up a custom Google Sheet that automatically populates with the client's metrics from your bot.
Notify clients of any changes. Inform your clients right away about updates, releases, bug fixes, etc. for their marketing channels and technology stack.
Offer additional Chat Marketing services. If it's applicable, once you've achieved your first measurable success for your client, offer to help with other Chat Marketing services. Show your clients that you're always thinking about their business and goals.
Attend client events. If your client is speaking at a conference relevant to your services, consider attending to support them.
6. Choose the right customer relationship management tools
CRM software (customer relationship management software), also referred to as "sales force automation software," helps agencies track and manage clients from prospecting to retention in one dashboard. You can place all relevant client data—including contact information, history, and transactions—into a live contact record to improve productivity and shorten the sales cycle.
According to Nucleus Research, a CRM delivers an average return on investment of $8.71 for every dollar spent. This statistic illustrates how essential it is for an agency owner to use CRM tools to support their business and clients.
Agencies typically use a CRM to:
Capture, store, and nurture potential clients
Organize client files and collaborate with teams
Collaborate with clients and provide quick access to information
Automate social media, email, and paid campaigns for clients
Manage team members and deadlines
To create a CRM technology stack that supports client relationship management, consider the following solutions:
ManyChat: Automate and build meaningful relationships with leads through SMS, Messenger, and email, all from one place. You can also qualify prospects, set appointments, and send reminders.
Agorapulse: Manage and update all your social media networks and monitor competitors in one intuitive dashboard.
Notion: Keep all of your files, images, videos, and more in one place if you're working on a big project. Your team will have visibility across all projects, and your client can quickly access files at a glance, rather than rummaging through various Google folders.
HubSpot CRM: Bring all your marketing and sales tools together! You can convert, track, and manage leads, speed up the sales cycle, and send targeted emails. It's useful for both individual contributors and larger teams.
Databox: Combine all marketing campaign data into one beautiful and easy-to-digest data dashboard.
Whatever CRM products you choose, be sure they support your clients' goals. Before you buy, determine how they'll all fit together to help you improve ROI for your clients.
Improving your agency's client management
Trust and transparency are crucial elements of positive client relations, especially given that brands have countless alternatives to your firm. Deploying these strategies will better position you to retain clients and build a reputation that inspires confidence in your abilities.
Become an expert Chat Marketing agency today with ManyChat. It's free to get started.
O conteúdo deste blog foi preparado de forma independente e destina-se apenas a fins informativos. As opiniões expressas são de responsabilidade do autor e não refletem necessariamente a posição do ManyChat ou de qualquer outra parte. Os resultados individuais podem variar.