How to Sell Art Online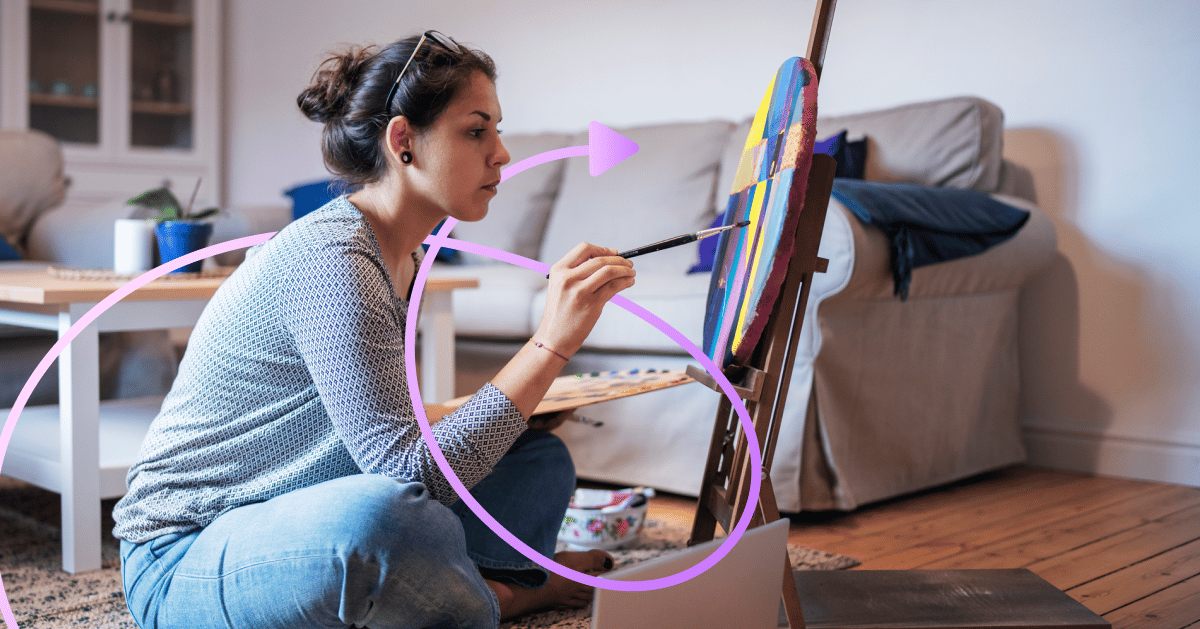 Online art sales are projected to reach $9.32 billion by 2024.
You're spot on if you want a piece of the action because selling art online (when done well) can turn your art business into a money-making machine.
Not sure where to start? No worries.
This guide will walk you through how to sell artwork online—including marketing strategies and tips for getting discovered—to generate more sales for your business.
How to sell art online
Use the following step-by-step outline to get online and start selling your artwork.
Step 1: Make a plan
Before you begin traveling down the path to art world success, there are a few things you'll want to work out.
What art are you selling? Will you sell your own art? Or will you become a curator and sell other artists' works? 
What kind of art will you sell? Consider the different mediums you could create and sell. For example, you could repurpose original art to sell as prints, books, mugs, t-shirts, hats, shoes—the list is endless. Or you could offer original works in your store. 
Who is your audience? You'll want to define your target demographic before selling your artwork online. Knowing who your buyers are and how much money they're willing to spend will influence your prices and help you decide which marketplaces to sell on. 
"When building an online presence, it's important to know who your main buyers are," explains José Monsivais, an Independent Art Director from México. "You want to know their age range and how much they have to spend on art. This helps artists target the right people and create pieces that resonate with them."
Step 2: Create your online store
Once you have your products and audience figured out, what happens next? It's time to show them to the world and build an online store.
There are many eCommerce platforms to choose from, but two we'd recommend are:
Facebook Shops: A completely free and effortless way to start an online shop and sell your art through Facebook. You can choose what pieces you want to feature and customize your store's look and feel. People from both Facebook and Instagram can find your shop, browse your art collections, and place orders without ever leaving the app. For more info about getting started, check out our Facebook Shops guide. 
Shopify: One of the leading eCommerce website builders for small businesses, Shopify has everything you need to create your online store, including tools to help you reach potential buyers, generate sales, and manage your business. You can choose from over one hundred eCommerce website templates to start, then add your logo and customize colors and fonts to match your style. Learn how to set up an online store with Shopify.
Once you set up your online store, you should continue to build your online brand by creating original content. You can start a blog to share insights, updates, and stories with your audience. You could also teach online courses or host giveaways. The sky is the limit!  
Step 3: Create art marketing campaigns
With your online store in place, it's time to create marketing campaigns to help people discover your business. Start by running free and paid campaigns aimed at your target audience that convince them to become part of your contact list.
A contact list refers to individuals who have chosen to receive messages from your business. The most common form is an email contact list, but you can also communicate with people through Messenger, SMS, and WhatsApp.
Many types of marketing campaigns will help you grow a contact list. Once you have one, you can easily connect with people at a lower cost. Building relationships with your list members can also encourage word-of-mouth marketing when you have a product launch or promotion.
If you're feeling adventurous, you can even create customer segments (people grouped by similar interests and traits) to create more personalized marketing campaigns that will drive sales. 
Here are a few ways to grow your contact list:
Get on social media (if you're not already)
Odds are you're on social media. If not, sign up for Instagram at a minimum. The photo and video sharing app is excellent for promoting visual art and has helped many artists grow their brands over the years.
Use social media to generate interest in your brand. Considering 92% of new art buyers use Instagram for art-related purposes, and nearly 35% of millennial buyers have bought art on Instagram before, this social media platform is a clear win for those looking to sell art online. 
Not sure how to start? Check out the Artist Support Pledge, created by artist Matthew Burrows to help other makers and creators sell on Instagram. 
The project solely exists on Instagram. Artists can post images with the hashtag #artistsupportpledge with details about their work and the price, which cannot exceed more than £200. If someone wants to buy, they can message the artist on Instagram. When an artist reaches £1,000 in sales, they pledge to buy £200 worth of art from other artists.
As you build your Instagram presence, add an m.me link (aka Messenger Ref URL) to your bio. Once someone clicks it, they will enter a conversation with you on Facebook Messenger and automatically become a contact. You can then chat with them live or answer questions using a customer service chatbot. 
Add Growth Tools to your online store
After your eCommerce store goes live, you can start conversations with visitors by using ManyChat's Growth Tools. Choose from a list of lead generation tools that will promote offers to potential buyers to increase engagement, such as the SMS modal pop-up, which gives users the option to join your SMS contact list. 
Place a customer chat window on your website
A great customer experience today is about connecting with people where they are. And if there's one channel people frequently use these days, it's messaging and live chat.
Think about it: all day, you message your friends and family on iMessage or WhatsApp and work colleagues through Slack. Because this is a standard way to communicate now, it makes sense we've come to expect this form of engagement from businesses as well. 
Considering nine out of 10 consumers want the option to message brands, you'll want to add a Customer Chat window to your website. You'll be able to provide real-time support, resolve buyer issues, and encourage art sales for your business. 
The best part? If you're on Shopify, you can easily integrate ManyChat into your site and get a Customer Chat window up and running in no time.
Run Instagram ads
Instagram is becoming a critical channel for people to discover your brand and for you to sell artwork online. Did you know that you can run Instagram ads through Facebook Business Manager? You can use Facebook's Audience Insights and targeting options to find new customers for your business. 
When you send the right promotions to the right people, you'll be able to grow your contact list and drive more sales online. Watch the video below to learn how to run Instagram ads for your art business.
Want to get more sales for your art business? Start free with ManyChat automation.
Step 4: List with online galleries and marketplaces
After you've set up your online store and deployed your first marketing campaigns, it's time to start listing in different galleries and marketplaces.
Though marketplaces are great for exposure, they can get costly with listing and commission fees. As your art business grows online, you'll want to slowly shift towards selling exclusively in your own online store so you can turn a higher profit.
Here are five sites on which you can sell your artwork online:
Etsy
Etsy is the go-to marketplace for creators and makers. Launched in 2005, it's the de facto place to showcase art, connect with potential buyers, and sell your pieces online. The marketplace offers exposure to a big audience, but its popularity means more competition. It can be challenging to make a living off Etsy alone, but you can use it to raise brand awareness if you're new to online retail.
Amazon
Depending on what type of art you sell, Amazon can provide substantial sales opportunities. If you sell handmade crafted items, you could list them on Amazon Handmade. The niche marketplace also promotes fine art like paintings, drawings, and photos from listed artists. 
Fine Art America
Fine Art America is the marketplace of choice for hundreds of thousands of independent artists and brands. It's also one of the largest online art marketplaces in the world, offering millions of unique products, from t-shirts to iPhone cases to digital art downloads, art prints, and more.  
Saatchi Art
Saatchi Art is an excellent place to sell art online, whether you're a new or veteran artist. The online marketplace reaches a huge international audience, with works sold to collectors in 80+ countries. It boasts over 12 million monthly page views, 1.6 million-plus monthly unique visits, and has over 1.1 million followers on its social channels. 
Your account is free to start, and you'll receive 65% of your list price on every piece of artwork sold.
UGallery
UGallery is a high-end online gallery where you can sell unique artwork. The marketplace carefully curates paintings, illustrations, sculptures, and photos to appeal to highbrow buyers with deep pockets.
They focus on exciting contemporary art, showcasing emerging artists with modern styles. The only drawback is that all the art must be original and exclusive to UGallery, meaning you can't sell it anywhere else. 
UGallery does have a selective application process. You'll have to submit digital copies of your art, an artist statement, your application, and a five-dollar application fee. If you are approved, they'll handle all the marketing, and if you make a sale, you'll split the proceeds 50-50 with the art gallery.
Final thoughts
As you can see, it can be challenging to compete in the online art world. But that doesn't mean you can't get a piece of the action. All you need is a solid strategy and a personal commitment to selling art.
Think about your audience's needs, build your own store, and list on marketplaces to increase your artwork's exposure. Using the right eCommerce software and tools, you'll see how easy it is to connect with your buyers and sell your artwork online faster. As you become more accomplished and start to rack up sales, you'll gain confidence in no time.  
Get more leads and sales for your art business with ManyChat automation. Start free today.
Los contenidos de este blog han sido elaborados de forma independiente y sólo tienen fines informativos. Las opiniones expresadas son las del autor y no reflejan necesariamente los puntos de vista de ManyChat o de cualquier otra parte. Los resultados individuales pueden variar.