[Case Study] How Offset Solar Generated $1.2M in Revenue in 6 Months with ManyChat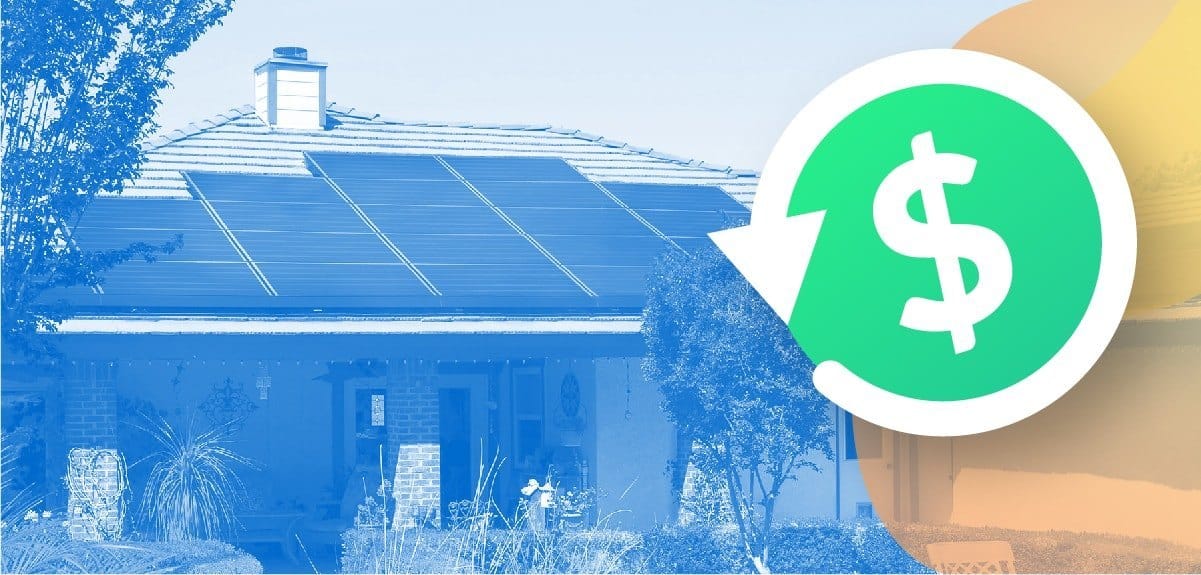 Founded in 2017, Offset Solar became one of the leaders in home solar installation across the United States. Although they were seeing new sales meetings booked through a contact form on their homepage, they wanted to test how Chat Marketing could help speed up their sales cycle.
They needed to create a lead generation process that quickly qualified visitors, and turned them into leads for sales.
Together, the team at Alice Digital Design and Offset Solar decided to use a ManyChat bot to start a conversation with site visitors and help book more meetings. Within six months, the company was able to close over $1.2 million in sales by funneling website leads through ManyChat.
Starting a conversation with new website visitors
Offset Solar's goal was to build a better lead generation process with a clear customer-focused strategy. When analyzing the experience on their homepage, they found two big obstacles people faced when coming onto the site:
People didn't know what they wanted
Or they didn't how to find it
For Offset Solar, that's where a Messenger Bot on their homepage came in.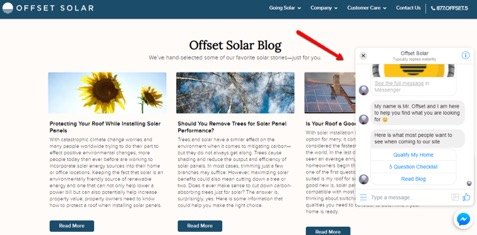 A website chatbot lets businesses start a conversation, answer visitors' questions, and qualify interested prospects for sales teams. In this case, Offset Solar connected with anonymous visitors through chat, and discovered more about who they were and what their energy needs were.
Creating a Messenger-based lead funnel
Offset Solar designed a four-step process inside Messenger to help qualify leads:
Step 1: Ask visitors a question
Most human-to-human conversations start by asking a question or giving a compliment. The first conversation with a prospect should be no different.
Using phrases like "see if you qualify," have shown to have much higher open rates than phrases like, "are you interested?». Remember, it's not so much of what you ask, rather, it's about how you ask it.
They tested two different openings, the first:
Hey there! Click here to view MUST see solar information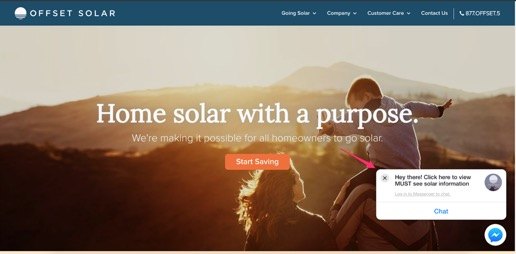 And the second:
Hey! Want to see if YOUR HOME qualifies for the Offset Solar incentive program?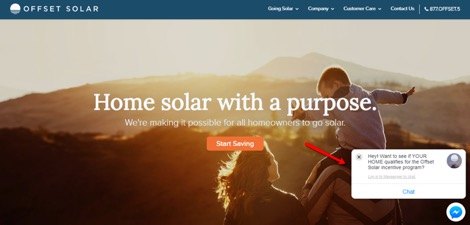 Both openings offered the same thing, but by asking a question, the open rates and click-through rates were significantly higher.
Step 2: Offer valuable content right away
The next step was offering new visitors valuable content to start building a closer relationship.
Offset Solar created Mr. Offset, the company's bot personality, to offer three different options website visitors are usually interested. They can choose from 3 things:
To see if their home qualifies for the solar program
Receive the 5 Question Checklist (their lead magnet)
Check out Offset Solar's blog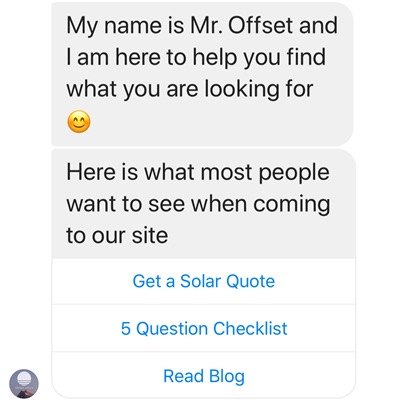 Offering a Lead Magnet such as a checklist or other downloadable content is effective because you can get a lead's email, and get them subscribed to your bot or SMS so you can follow up with them later.
To improve lead generation, they chose to send a follow-up message to people who downloaded the lead magnet, but didn't become a lead: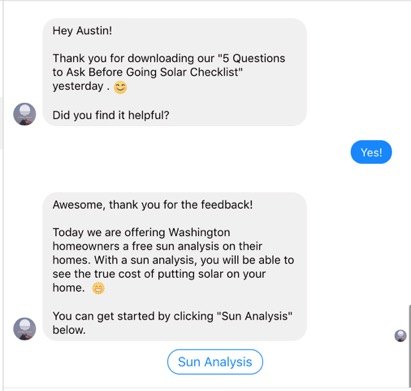 If they someone said they found the download valuable, Offset Solar would send them down another lead sequence.
Step 3: Collect the most sensitive information last
The best chatbots collect basic information and then record all interactions with users. Part of the chatbot's function is to retrieve, organize and analyze data, and use every bit of information to create actionable insight whenever necessary.
When it came to Offset Solar's Messenger marketing strategy, they chose to request the most sensitive information last.
As you can see in the image below, the Offset Solar bot asked for things such as price, electricity company, phone number, and email at the end of the conversation: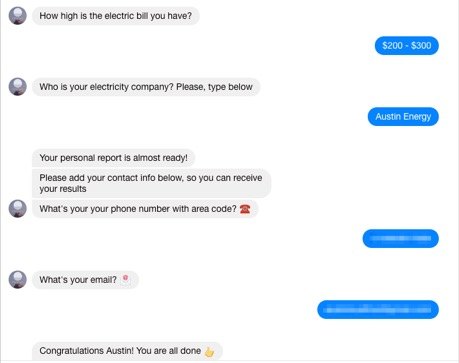 This also helped ensure that the company only had interested people who were likely to buy in their sales funnel.
One key to the success of Offset Solar's campaign was asking pre-suading questions to increase the likelihood of someone giving you sensitive information.
For example, the company asked people how high their electric bills were. This got prospects thinking about the financial burden of their electric bill, increasing the likelihood of getting their information so that the company could offer them our energy solution.
Step 4: Close the deal in person
While Messenger bots are good at automating conversations, a prospect will often have a ton of questions before signing the dotted line.
This is why it's beneficial to have a salesman to help them complete the sale. A salesman will help the customer overcome any last-minute resistance by answer any questions or concerns in a tactical and empathetic way.
At the end of Offset Solar's flow, they offered prospects the ability to schedule an appointment with a sales rep.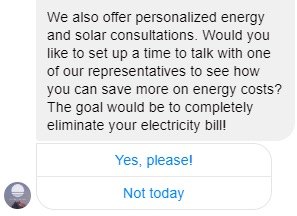 The results
The method deployed by Offset Solar was a huge success. By simply funneling leads through a Messenger bot, the company generated $1.2 million dollars in revenue.
This case study aims to help you understand two things:
1. Don't underestimate the power of a simple automation tool.
Your Messenger bot can be so simple that it doesn't require intricate flows or Facebook ad campaigns. Yet, you can do amazing things with it. If you program your chatbot to genuinely help people, the results will be much better than what you expected it to be.
2. Human interaction is still necessary.
While a chatbot can build trust, personal interaction is what really seals the deal. Even if your chatbot strategy is going well, make sure to nurture leads with real, human interaction.
As long as you are open to trying new things and put your heart into it, you're bound to achieve great results!
Want to leverage these Chat Marketing strategies to grow your own business? It's ridiculously easy with ManyChat, and getting started is free.
Los contenidos de este blog han sido elaborados de forma independiente y sólo tienen fines informativos. Las opiniones expresadas son las del autor y no reflejan necesariamente los puntos de vista de ManyChat o de cualquier otra parte. Los resultados individuales pueden variar.