[Case Study] How Eddy's Cantina Used ManyChat and Walletly to Achieve 3000% ROAS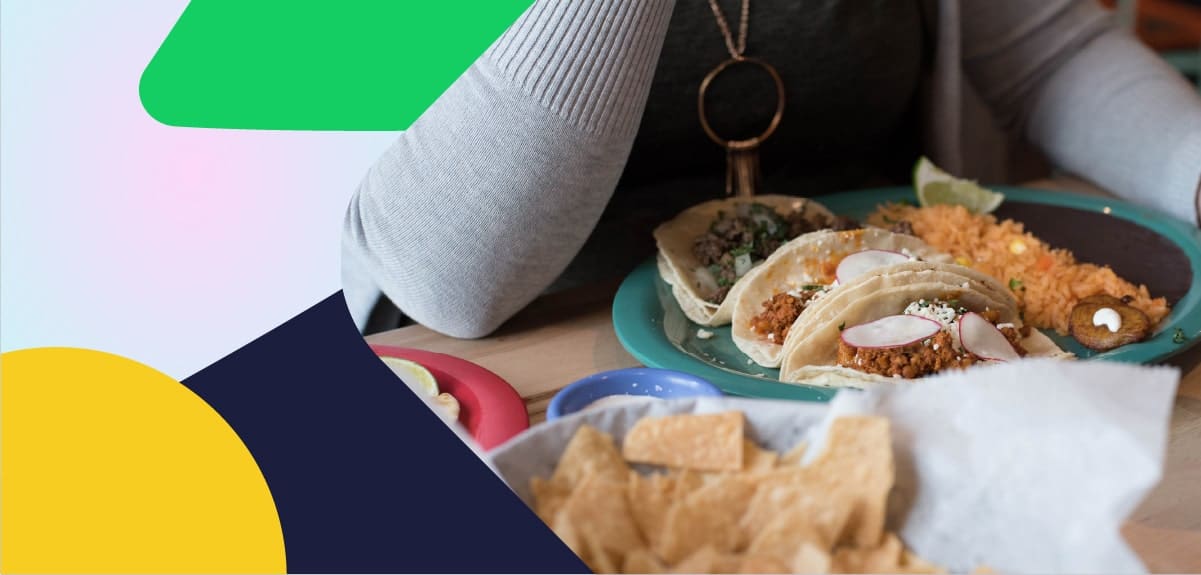 Eddy's Cantina is a restaurant chain owned by Ed Gonzalez, based in Taipei City, Taiwan. He started the business 12 years ago, as a stand-in a night market, which he slowly built into two restaurants. Mouth-watering Mexican food and five-star service have made Eddy's Cantina a favorite among locals and tourists alike.
In this time, Ed had been trying to find an effective marketing system that would turn new diners into long-term customers.
He tested ManyChat, Active Campaign and Facebook Ads to bring more first-time diners into the restaurant. But after building a subscriber list for both email and Messenger, he found one important component missing to encourage diners to come back — a mobile customer loyalty program.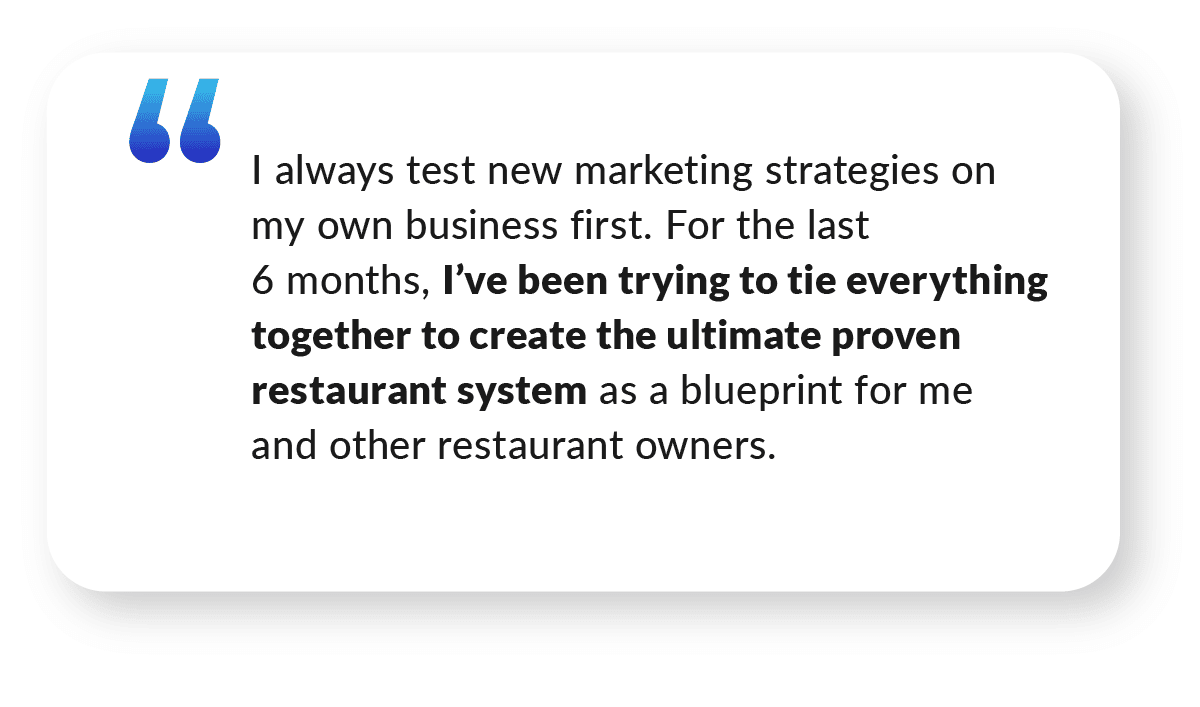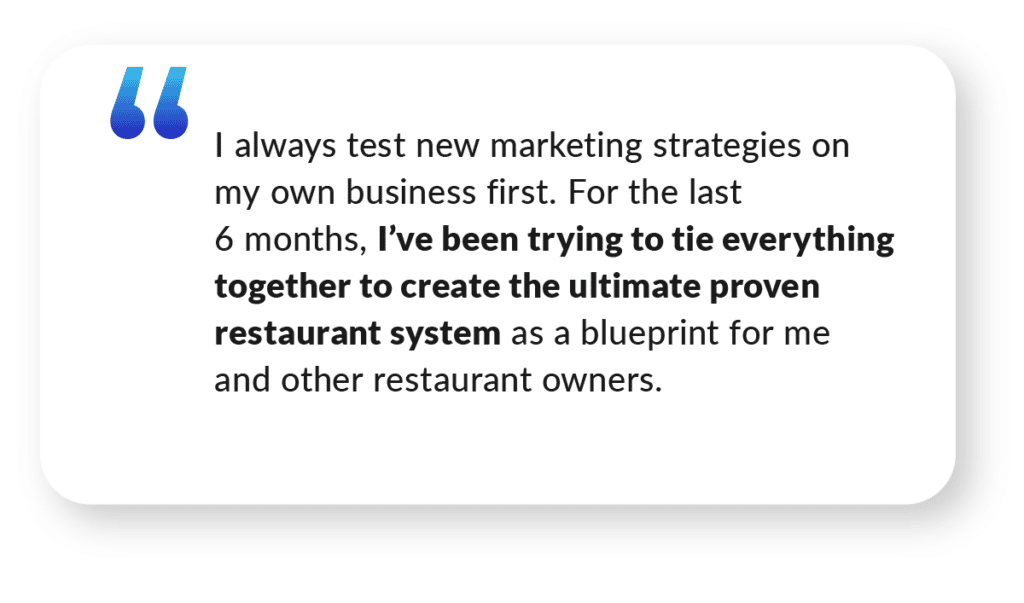 Enter Walletly.
Using ManyChat and Walletly, Eddy was able to create a trackable loyalty rewards program that saw a 47% conversion rate for coupon redemptions, and a 3000% return on ad spend for the company.
Managing an email-only loyalty program
Before using Walletly, Ed was working with a specialist to run a loyalty program on Active Campaign. The campaign was getting new customers in the door, but click-through rates and open rates were declining. Eddy saw the potential to improve the program and drive more sales using Facebook Messenger.

With Facebook having over 2.5 billion monthly active users, Eddy didn't want to miss out on the opportunity to tap into this massive audience. So he turned to ManyChat to assist Facebook ads and broaden the restaurant's reach.
For the restaurant's loyalty program, Ed turned to Walletly. Walletly helped him deliver coupons directly into a customer's mobile wallet, but also send push notifications if a customer passed the restaurant. Creating another channel outside Messenger's 24-hour messaging window to connect with diners.
Using ManyChat and Walletly to win over new diners
Ed began running a Buy One Get One campaign for Eddy's Cantina. Here's how it worked:
Step 1: Ed sent a target Facebook ad to a local audience with the BOGO offer. The Call-to-action (CTA) is to sign-up for a BOGO food or beer coupon.
Step 2: Once a person clicks the CTA, a conversation opens in Messenger where they can choose which offer to redeem.
Step 3: After choosing their free drink or food, Walletly sends the coupon through Messenger. Potential diners then add it to their mobile wallet. When they redeem it in-store, staff can scan the QR code and give the customer their offer.
Ed doesn't just run Facebook ads to promote the business; he also uses ManyChat's Ref URL to offer the coupon to diners inside the restaurant.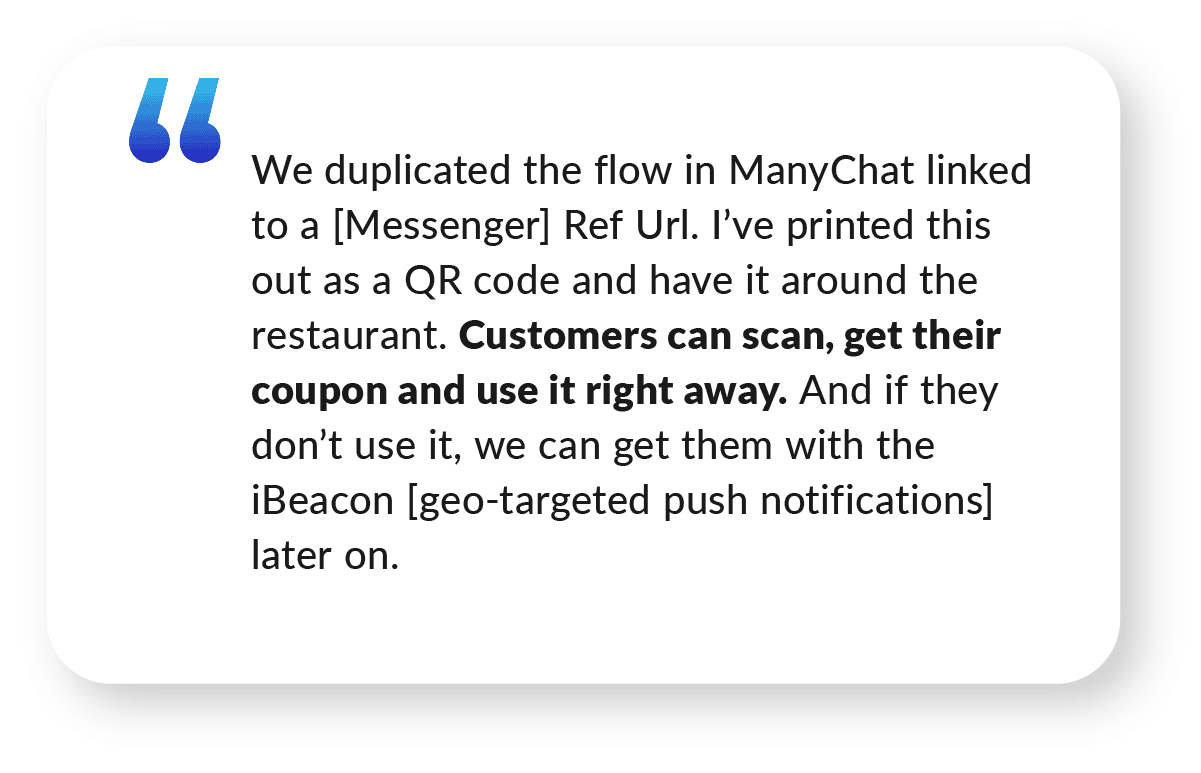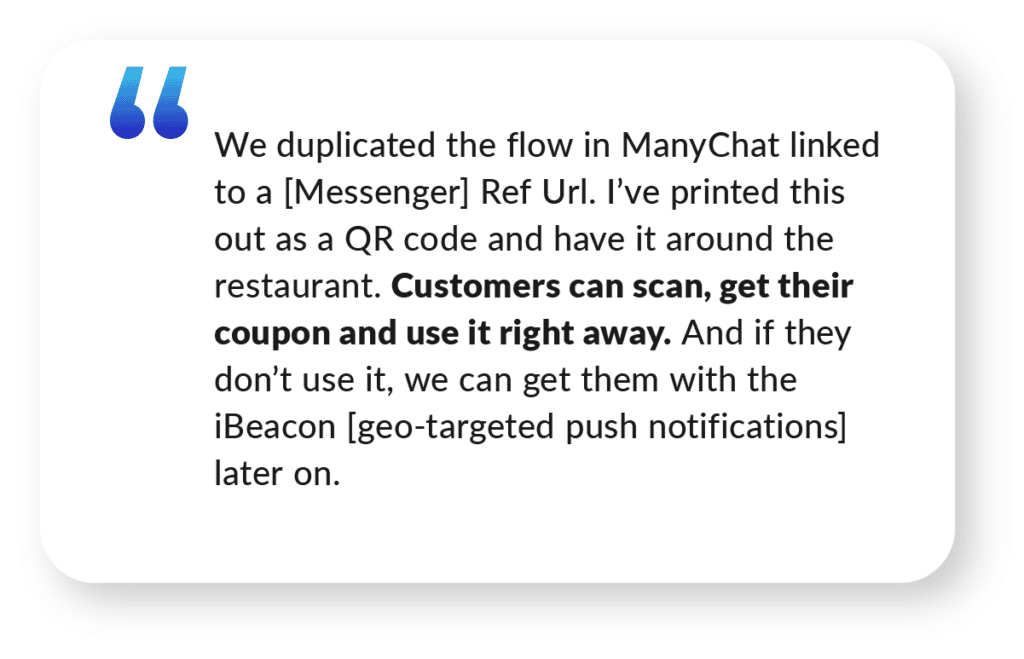 ManyChat's software delivered the automated lead generation sequence post-ad. While Walletly and WalletScan handled creating the digital coupon and sending it to potential diners' mobile wallets. This made the coupons more accessible to potential diners and increase the likelihood they'll redeem it.

WalletScan is associated with Walletly. The software provides business owners with an on-the-go dashboard, the ability to send geo-targeted push notifications, and track redemption. It's not an app customers need to download.

The new marketing ecosystem is not only effective, but also affordable. Ed explains: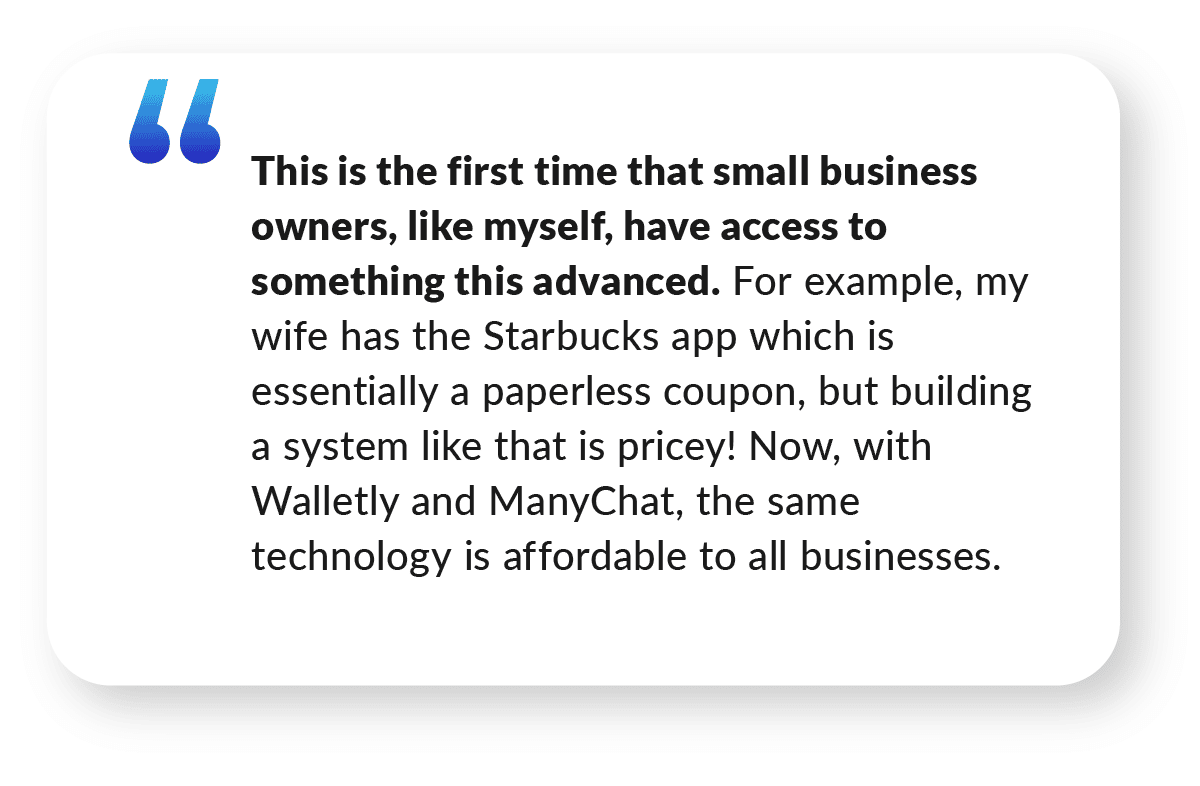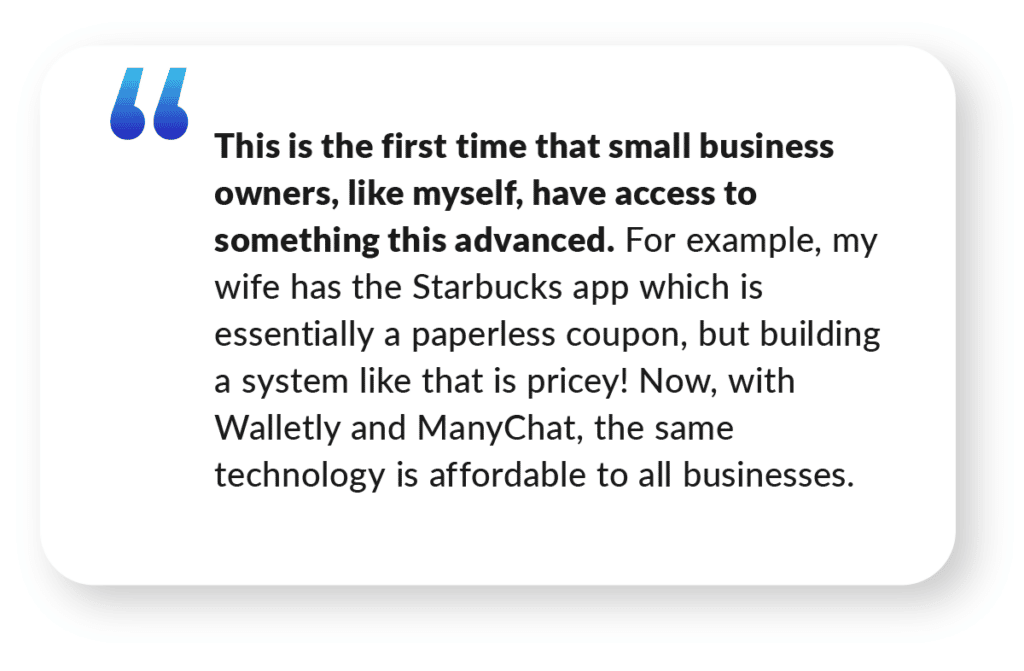 More sales, happier customers
Before using Walletly and ManyChat, Ed hired a designer to create every new coupon, which was costly and time-consuming. Coupons weren't scannable, causing confusion around their validity.

But Walletly generates each coupon automatically. It's 100% trackable and customers can get their reward quickly and easily. Ed noticed just how much customers valued the convenience of a digital coupon.

Ed is now able to delight both new and returning customers using less time and fewer resources. He's also able to segment customers to create more relevant experiences:
New customers are offered the first BOGO offer to get them into the restaurants' ecosystem.
Returning customers can be sent special deals and offers through Walletly to encourage them to come back.
Every customer can get the right coupon, at the right time, and store it in their mobile wallet for future use. The benefit of storing the coupon in their mobile wallet, Ed explains, is that you can send them a push notification through Walletly when they are nearby — another tool to help business owners win more customer dollars.
A big return on investment
Ed's first campaign was a success. Using ManyChat and Walletly, the restaurant owner was able to achieve over 3000% return on ad spend, and create a marketing system that any restaurant can use to get more long-term customers.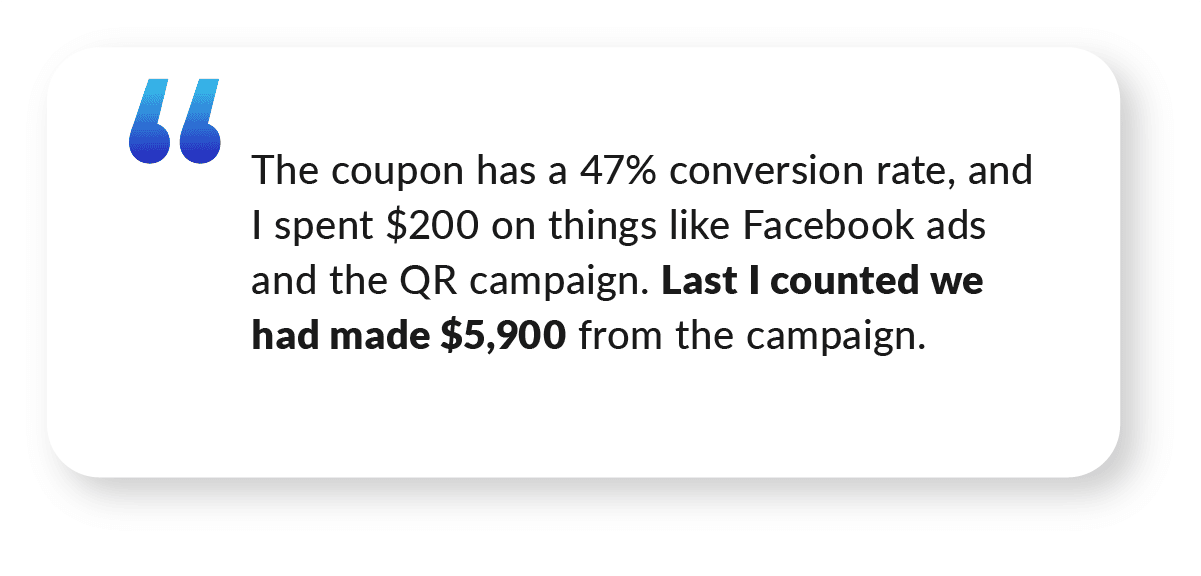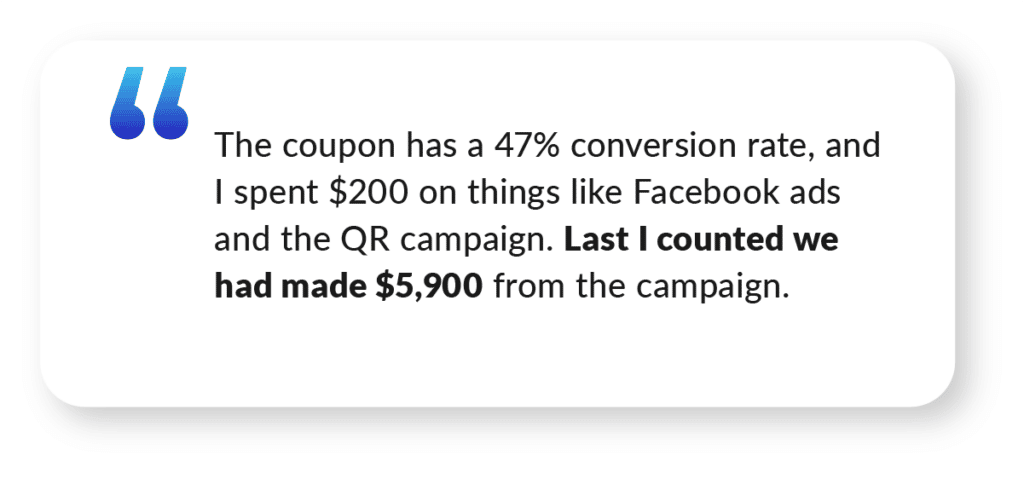 He continues to run the campaign today, and promotes the new marketing system to other restaurant owners to help attract more customers, retain them, and track ROI throughout their campaigns.
Want to sell more product in your business? Get ManyChat today. It's free to get started.
Los contenidos de este blog han sido elaborados de forma independiente y sólo tienen fines informativos. Las opiniones expresadas son las del autor y no reflejan necesariamente los puntos de vista de ManyChat o de cualquier otra parte. Los resultados individuales pueden variar.