7 eCommerce Trends to Follow in 2020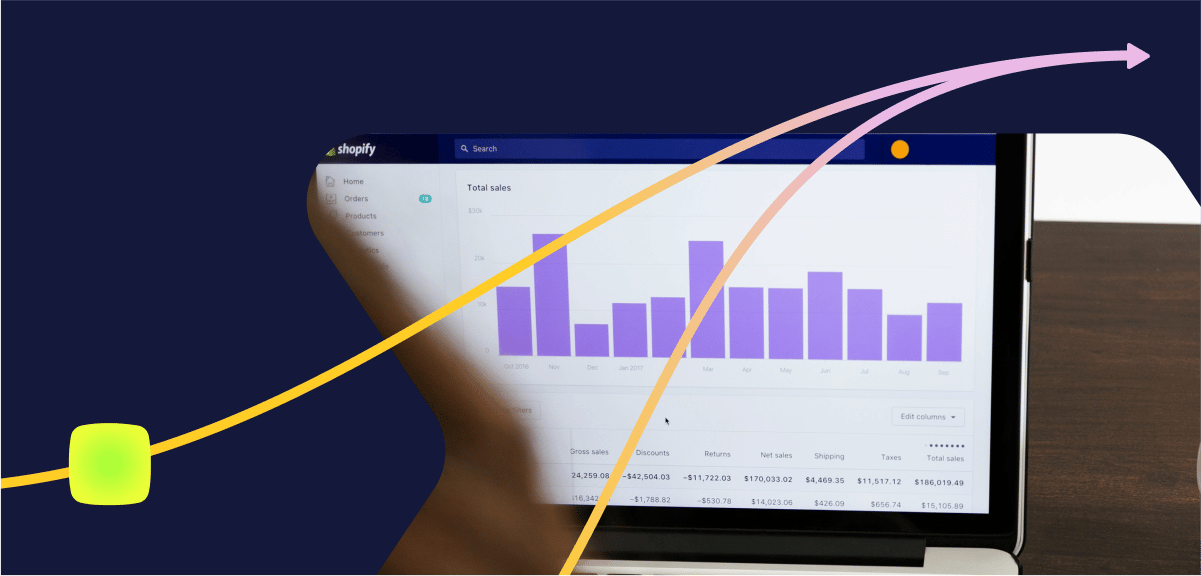 Retail sales are projected to grow to $6.54 trillion in 2022. But customer preferences are changing. Just like the strategies we used five years ago are outdated, the way people buy online won't be the same in a few years.
We can observe marketing trends in eCommerce to understand how to get there.
We've dug into the data, surveyed experts, and analyzed customer behavior to understand how eCommerce is changing — and help your eCommerce brand keep up.
Here are seven of the biggest eCommerce trends we're expecting to see this year:
1. Direct-to-consumer retail is on the rise
It's no surprise that businesses are trying to compete with Amazon. But instead of joining their site to take advantage of their reach, direct-to-consumer retail is on the rise.
Direct-to-consumer (DTC) businesses cut out the middlemen (like Amazon) when selling their products. They don't use marketplaces, or grocery stores like Whole Foods, either. DTC retail sales are usually done through a company-owned channel, such as their:
Website
Social channels
Brick and mortar stores
Research has shown that two-thirds of consumers expect the ability to connect directly with brands.
DTC brands can do this since they own their own sales channels and audience. You can add them to your email list, invite them to your Facebook Group, or encourage them to follow you on social media—each of which builds customer loyalty.
Approximately 90% of customers are likely to purchase more than once. You can use those owned channels to push them in that direction.
Plus, DTC brands don't rely on other eCommerce marketplaces to get customers, nor pay expensive fees to sell your products there.
Take Away, for example: You won't see their products sold in luggage shops. They're a DTC eCommerce business who only sells their products via their eCommerce website, and they try to build an entire community around their brand:
Away has neglected eCommerce powerhouses like Amazon, and sold straight to its customers, a move that's helped them achieve a $1.4bn valuation.
In fact, Brian Robben of Robben Media expects DTC retail to be the main focus of eCommerce brands as a result of the coronavirus:
"Due to the Coronavirus, many retail brands are forced to become direct-to-consumer brands, regardless of industry.

We're seeing restaurants, chiropractors, jewelry stores, and others who before didn't have eCommerce capabilities, now looking to them to stay afloat. Local restaurants will start delivering food like national chains. Service businesses will have to use video to consult with customers. And local retailers will have to create distribution systems to get their products to buyers without foot traffic saving the day."
2. Customers want real-time support
Did you know that 41% of customers expect live chat on your website? (That jumps to 50% for people using your site via mobile.)
People are on the go all the time. Long gone are the days of capturing online visitors solely from their desktop computers. Research has shown that 79% of people aged 18-44 carry their smartphones for 22 hours each day. And when they're on their phones, they're communicating.
Combine that with the fact that patience is wearing thin, and you can understand why customers expect real-time support from brands they've purchased (or are about to purchase from). This is why using chat tools to enhance the user experience is essential to your marketing strategy. When thinking through your eCommerce business ideas, know that there are a variety of tools available to help.
Communication tools like:
… are becoming increasingly popular. Each tool helps someone reach out to support teams to get answers within minutes — no matter where they are.
Take this Facebook Messenger bot example. Through a bunch of survey-style messages, customers can click to ask questions. The bot uses artificial intelligence to suggest further questions, and directs them to a product they might be interested in:
The best part? These channels are automated. So while your customer gets answers to their questions in real-time, you don't need a constantly-manned team of agents to reply to them. It's done through artificial intelligence.
3. Multi-channel experiences
We all know that millennials are a huge target audience for eCommerce brands. But as we head into 2020 and beyond, there's a new demographic we can keep a close eye on: Gen Z, who will account for 40% of all consumers this year.
That's not even the best part. They've got money to spend with an estimated purchasing power of more than $44 billion annually.
So, what do we need to know about Gen Z and how they purchase?
The most important factor is that they're the most hyper-connected generation and use several online channels. It's not enough to rely on social media platforms, or experiences that millennials engage with. You'll need to build marketing and support campaigns that span across each channel to engage them.
Take Walgreens, for example. They run PPC campaigns to target people via paid search, according to Ahrefs:
But instead of relying solely on PPC, they offer support via their mobile app, as well. Customers can set up alerts to remind them when a prescription is about to run out, and refill their prescriptions—all without having to visit (or call) the pharmacy.
4. Social commerce is growing
Speaking of Gen Z, we know they're social media obsessed. They're using apps like TikTok, Snapchat, and Instagram—the latter of which is a channel through which 70% of Gen Z prefer brands to contact them about new products.
Social media platforms are starting to harness the purchasing power that their audience has.
They're allowing eCommerce brands to sell their products directly through the platform—meaning your target audience can purchase without visiting your online store . This makes the eCommerce experience that much seamless for customers, making it easier for them to purchase one of your products.
One we're expecting to grow this year is Instagram. They've recently launched their Checkout feature, which allows brands to tag products in their photos—and customers to click the product tags to buy them.
The Checkout feature is still in testing; it's only available for larger brands. However, it's expected to roll out in-full this year. Here's what we can expect it to look like:
The bottom line? With Gen Z using several social media apps on a daily basis, you need to deliver multi-channel experiences that reach them where they are. Social platforms are making that easier for eCommerce brands with their checkout features.
5. Augmented reality helps online shoppers
Augmented reality is a type of technology that shows animated images in real-life.
(Take the infamous Pokemon Go game, for example. Players used their camera to find hidden prizes around their home, garden, and town.)
It's not just gaming businesses that can take advantage of AR, though. Gartner predicts that 100 million shoppers will use augmented reality this year—yet just 46% of retailers plan to use AR technology.
Augmented reality technology is perfect for showing your product in real life, such as:
Showing a piece of furniture in your customers' room
Showing an item of clothing on a life-size model
Retail expert Kaleigh Moore agrees:
"One thing I think we'll continue to see increase is more dynamic visual content on product pages. Rather than static images alone, brands are beginning to integrate more gifs, product videos, and 360-degree product views so that shoppers get as much visual context as possible. 

This helps overcome the obstacle to purchase around not being able to see/touch/feel the item in person."
This tweet by ASOS shows eCommerce augmented reality in action. Their website has a "virtual catwalk" feature, so they've taken to social media to engage their followers and raise awareness of the technology they're using:
The virtual catwalk achieves one main goal of any online store : it makes the experience easier for customers to purchase their product which has the potential to increase eCommerce sales. They can see a life-size version of what the clothing looks like, and get a 360-view. Why wouldn't they want to buy it after this amazing user experience?
6. Sustainability is more important than ever
When we think of business sustainability, we usually think of growth strategies that continue to bring in customers.
But it's not the customer acquisition side of your business that should be sustainable. Research shows that consumers prefer sustainable brands; 88% of them want brands to help them live more sustainably.
David Hoos of The Good explains:
"I think that with the recent high profile revelations happening in the DNVB [Digitally Native Vertical Brands] space with brands like Away, Brandless, and Outdoor Voices, we'll see a greater emphasis across eCommerce on early and sustainable profitability.
As a result, I think we'll also see a greater emphasis on conversion optimization, customer experience, and customer retention."
Cosmetics brand Lush is a perfect example of this. They're passionate about not using animals to test their products, and have an environmental policy available to view on their website:
You can prove that your business is sustainable by creating similar policies. Think about what's most important to your brand— whether it's a stand against animal testing, sourcing environmentally-friendly ingredients, or donating to charity.
Create public documents that show where your eCommerce business stands on significant issues, and more importantly, actively market your sustainability through other channels. Be consistent with the message, and offer your customers guidance in becoming sustainable, too.
7. Specificity is longevity
There's no doubt that Amazon is the main competition for eCommerce brands, making almost anything you could possibly think of available for purchase. So, in order to compete with them, eCommerce companies (especially DTC brands) need to accomplish the opposite: specialize.
Specificity means you're selling a tiny range of products to a very specific customer. And while advising you to go niche may feel counter-intuitive, the strategy works. People start to know what you do, and that you do it well—even if it's only one thing. They'll come to you whenever they need that item.
Take Crocs, for example. They only sell one type of shoe, and still made $1.2 million in 2019. Casper is another example: They're valued at $1.1 billion, but they only have three versions of their product.
Deciding which products to double-down on might be simple—especially if you have one top-seller that outperforms the others in your inventory.
But if you've got a handful of top-selling products, which should be your main focus? This is a complex process that starts with customer feedback. Ask them which product they recognize most, and the word(s) they think of when they hear your name.
You can then rejig your messaging and positioning to start building brand recognition with that single product. Hopefully, by identifying niche products and using clever digital marketing, you'll be able to boost your eCommerce sales.
Can you jump on these 2020 retail trends?
As you can see, the world of eCommerce is always changing. This year is no different.
The easiest way to get started in your eCommerce marketing is with realtime support. Unlike the other marketing trends, it doesn't need a complete overhaul of your existing strategy—especially when there are tools you can use to get started instantly.
ManyChat, a Facebook Messenger tool, provides automated real-time support. The goal? To engage leads, and push customers towards a purchase. It's the easiest way to get a headstart on these eCommerce trends and create a positive eCommerce experience for your customers.
Los contenidos de este blog han sido elaborados de forma independiente y sólo tienen fines informativos. Las opiniones expresadas son las del autor y no reflejan necesariamente los puntos de vista de ManyChat o de cualquier otra parte. Los resultados individuales pueden variar.