Customer Spotlight Michelle Barnum Smith: Her Ascension to the Amazon Chat Marketing Throne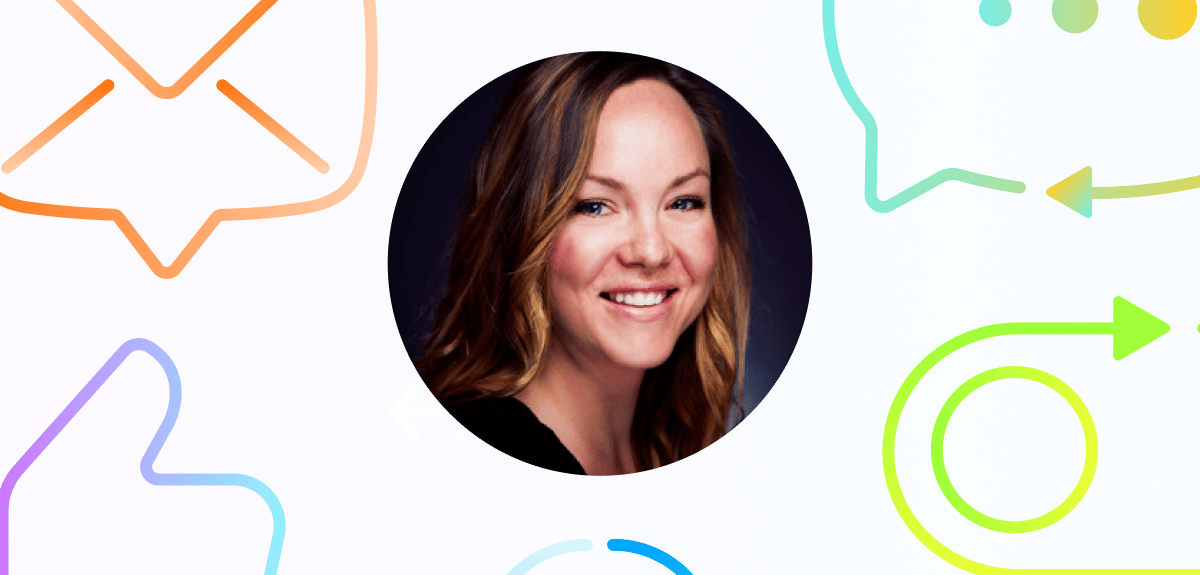 Michelle Barnum Smith, founder of AMZ Messenger Bot, met her very first chatbot in 2017. Though never having experienced a Messenger bot before, the marketing professional of 20 years was impressed by the seamless interface and was instantly intrigued.
"I clicked on a Facebook ad, did this whole exchange with the bot, and was like, What is this coolness?" Smith recalls. "I saw it was powered by ManyChat and thought, What's ManyChat? And the rest is history." And by history, Smith is referring to her rapid rise as a renowned chatbot expert earning her the title of "Queen of Amazon Chat Marketing."
But before she ascended to her chatbot throne, Smith began her career in the corporate high tech world, working for some of the largest tech companies around. She was great at what she did, but, like many entrepreneurs, she wanted to try something new.
Then in 2012, after getting married and starting her family, Smith wanted more freedom than her corporate life could offer and found the gumption to branch out on her own.
"I wanted more freedom and flexibility in my life, as many entrepreneurs do," she says, "and so I started my own marketing agency."
And things were good, as Smith grew her client portfolio after having mastered digital marketing funnels. Yet, she became dissatisfied with the tedium involved with traditional funnels stating that it was a journey of several months of building, writing, and working before being able to see if the campaign would be successful.
And then she experienced her first ManyChat bot and her whole world shifted.
"I saw my first chatbot and it was so seamless, so easy," she remembers. "I knew that it was going to be the future." Noticing that it was a ManyChat bot, Smith learned everything she could about the platform and devoted herself to all things Messenger Marketing. She was able to easily translate her funnels into a bot, and the almost instant results were hard to argue with.
What would normally have been a multi-month-long saga to run a campaign with a traditional funnel, was set up in an hour. Smith could hardly believe it.
"I was able to see immediate results and see if everything was converting. It was so seamless, so frictionless, and so fun," she says.
Looking to monopolize on the fun and excitement of what she calls "the future" of marketing, Barum created a profile on Upwork and hit the ground running, creating bots for a variety of clients including a law firm and the largest pregnancy tracker app in the world. Then in October 2017, Smith worked with her first Amazon seller and her world shifted again.
Smith, being the savvy entrepreneur that she was, quickly realized that most Amazon sellers only cared about the same three things (launching, ranking, and reviews) and started developing bots with these strategic goals in mind. Soon word got out in the Amazon seller marketplace that Smith was creating marketing campaigns successfully driving external traffic to product pages.
"There's sort of like this hierarchy of gurus and seven-figure sellers [on Amazon]," she explains, "and [these sellers] shared my information in these high-level groups." In just six short months Smith went from behind the scenes to speak on stage at major conferences and events — including the Prosper Show, Traffic & Conversion, ASD Market Week, AMZ Innovate, and Global Sources Summit — and hosting webinars.
"I have become this expert in the chat world, speaking at several major conferences, and now I'm seen as the Queen of Amazon Chat Marketing," she says incredulously. "In any other field, like corporate high tech, I would be a cog in the battleship. I would never have been on a stage somewhere. That was the job for the CEO."
Despite her disbelief in her sudden claim to chatbot fame, Smith still had the forethought to know she couldn't rest on her laurels. Understanding that businesses need to iterate and pivot in order to survive, Smith, quoting from a bit of Robert Frost, says that she's always believed that "way leads on to way." In other words, it's important to look and see what's not working, and move forward in a new direction rather than become a victim of market conditions or competition.
Since starting out on her "road not taken" journey, Smith has found herself on yet another new path stating; "I had this goal to learn and had grown to such a point of knowing that I was in a position to help others learn as well."
The Amazon Chat Marketing queen now has her own chatbot course specifically focused on the eCommerce marketplace and has created 50 different ManyChat templates for her customers to "plug and play" with, as well as offers her expertise through coaching sessions and mentorship.
"ManyChat has given me the freedom to build not just an agency, but to educate and serve an audience that I didn't know existed," she says of her solo- and micro-preneur Amazon sellers. "I'm significantly helping [these small sellers] and their business and their families.
"To me, it's a huge gift that I can work from my basement while my little girls are upstairs playing, and I can work for a full day and make a significant income. To be able to provide for my family but also other people's families, that's a huge motivation and to me that's success," concludes the benevolent queen.
Los contenidos de este blog han sido elaborados de forma independiente y sólo tienen fines informativos. Las opiniones expresadas son las del autor y no reflejan necesariamente los puntos de vista de ManyChat o de cualquier otra parte. Los resultados individuales pueden variar.