Top 10 Reasons You Should Go to Conversations 2019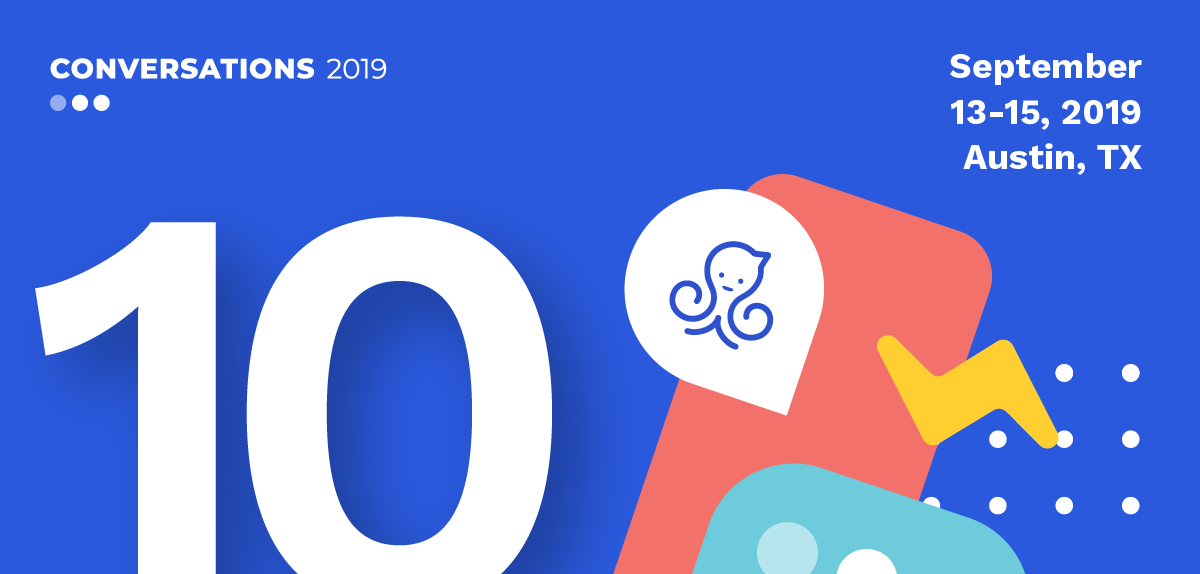 Looking to grow your business, increase audience engagement and get inspired? Well, we've got just the solution to help you scale, grow and take your business to the next level.
Conversations 2019 happens over three days—one day dedicated to agencies— filled with advice, tactics, insights, and motivation to help you understand Messenger trends, marketing necessities, and business growth opportunities. If heading to Austin, Texas for a few days doesn't sound good enough to attend, well then here are the top ten reasons to join us at Conversations 2019.
1. Listen and Learn From Amazing Keynote Speakers
Don't miss out on a fantastic opportunity to be in the same room as incredible role models. This year's keynote includes Randi Zuckerberg and Neil Patel! In a fun and fresh conversation, Randi will discuss real-world advice on how to make tech work for you and your business with suggestions for recruiting, managing employees, marketing your brand, engaging customers and much more.
During Neil's keynote, he will share his thoughts on the future of marketing, multi-channel marketing, and how Messenger fits into the larger picture. He'll provide significant industry trends and what it means for end-users, how small businesses and agencies can prepare as the industry evolves, and much more!
Plus, we have Ezra Firestone—a leading expert in e-Commerce, Mari Smith—a premier Facebook marketing expert and social media thought leader, a marketing expert from Hubspot, and leadership from ClickFunnel.
Seriously, this one will be one for the books.
2. Hear From ManyChat's Leadership and Product Team
Not only do you have a chance to hear about the latest features and products from ManyChat, but you'll also hear from our CEO, Mikael Yang, who will discuss the future of Messenger Marketing. Have a question for the ManyChat team? Now's your chance to ask!
3. Get Motivation From Industry Experts, Panels, and Sessions
We have a full lineup of industry bot experts throughout the conference. From SMBs to agency owners, hear their story from start-up to success. Plus, attend panels and fireside chats that focus on a range of topics like Women in Leadership and Solopreneurs.
4. No Stale Conference Lunches
Don't you hate when you're at a conference all day, starving, and when it's time for you to discover a stale box lunch? Yup, we've experienced that too which is why we are forgoing the stale sandwich and bringing Austin's favorites to you. You won't go hungry!
Did the food sell you? Don't forget to register for Conversations 2019!
5. Start Your Day With Energetic Topics
It wouldn't be a conference without energy and conversation. We'll kick off each day with hot topics, humor and insights to get you excited for what's to come.
6. Gain Insight From Facebook Leadership
With the Facebook changes happening, now's the time to learn the latest updates and how to apply it to your marketing funnel from Facebook leaders.
7. Get Face Time With ManyChat Customer Support and Developers
Have a burning question on how to use functions and features? Now's the time to get one-on-one demos with our ManyChat team. Ask any questions you have, and learn new ways to scale your business.
8. Network, Network, Network
Meet fellow entrepreneurs, small business owners and marketers who are working just as hard as you are to run a business and have more meaningful conversations with audiences. Hear their stories, best practices, and tips while making connections and growing your network of bot support.
9. Have a Fun Weekend That's Not All Work
Ready to work and play? We chose Austin, Texas, for its gorgeous weather, laid-back vibe, great music and an environment where we can enjoy to geek out about Messenger, marketing and business.
10. Celebrate At Our Big Bash
Raise a glass to how far you've come! Whether it's your first business or tenth, you've worked hard to learn new skills and take your company to the next level. That deserves a toast. Live it up at this year's Conversations Bash with great music, food, drinks, and dancing.
So, ready to have some meaningful Conversations with industry friends and experts? Join us at Conversations 2019 this September 13–15 in Austin, Texas. Can't wait to see you there!
O conteúdo deste blog foi preparado de forma independente e destina-se apenas a fins informativos. As opiniões expressas são de responsabilidade do autor e não refletem necessariamente a posição do ManyChat ou de qualquer outra parte. Os resultados individuais podem variar.