[Case Study] Creating a Scalable Messenger Marketing Agency: Misfit Media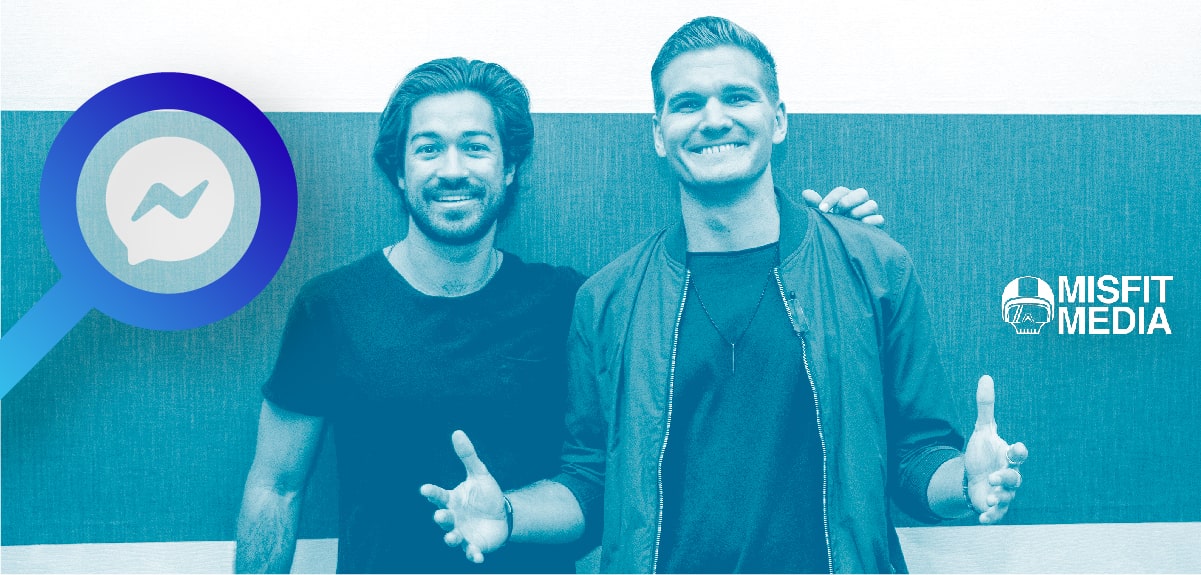 Misfit Media, an agency partner of ManyChat, is a direct-response marketing agency for restaurants across the United States that specializes in trackable marketing. They work with over 140 restaurants across the United States spanning from single locations to mid-size franchises and corporate chains.

We recently hosted Misfit Media's co-founders, Jace Kovacevich and Brett Linkletter, as speakers at Conversations 2019 — ManyChat's annual conference for all things Messenger and Chat Marketing. In their presentation, "How We Scaled Over 140 Restaurant Concepts and Built a 7-Figure Agency with Messenger Marketing," Brett and Jace spoke on how they took their agency from zero to over $1 million annually in just a couple years and how they continue to grow their business month after month.

Here's their story.
From the "do-all agency for everyone" to restaurant-specific Messenger Marketing experts
Misfit Media in 2016 is nearly unrecognizable when compared to what the agency is today. Back in the day, Misfit was a full-service marketing agency that did everything and anything a client could ask for. From content creation to email marketing to influencer management — Misfit did it all. At Conversations 2019, Brett joked, "If a client asked us to move their fridge, we'd do it."

For a minute, this business model looked promising. Jace and Brett had the skill set companies were looking for in a digital marketer, and the client opportunities were endless. However, the model wasn't sustainable.

In 2017, Misfit took its first big step in the direction of who they are today. Misfit became a niche agency dedicated to bringing trackable, ROI-yielding marketing to restaurants across the country.

After this pivot, Brett and Jace discovered Messenger Marketing. This finding gave them the ability to confidently tackle two major problems that restaurants have: new customer acquisition and ROI tracking.

Over the next few months, the team was seeing success. They were running Click-to-Messenger ads to incentivize customers to come in and were able to track redemptions and values — a huge advance for them to retain clients.

"ManyChat gave us the best avenue to help prove ROI and show that to our clients. It allowed us to take our business and service offering the next level," says Jace.

Messenger Marketing became the bread and butter of Misfit's services. Jace explained that ManyChat simplified complex processes — like funnel creation and cross-channel communication — that are integral parts of online marketing. By letting ManyChat do some of the heavy automation lifting, Misfit Media was able to execute advanced, scalable marketing strategies that drove results restaurant owners have been chasing.

Misfit was one of the earliest agencies to introduce Facebook Messenger Marketing to the restaurant world. Immediately, their clients began seeing results and ROIs that they never thought possible. And the best part? Every part of their process — spend, redemptions, revenue, etc. — was tracked down to the dollar. Misfit brought clarity and success to restaurant marketing.

Today, their marketing process is clear cut. Misfit Media continues to see revenue growth quarter after quarter, adding between fifteen and thirty restaurants to their client list per month. They have generated nearly half a million subscribers for clients, generated hundreds of thousands of revenue for those new acquisitions, and become a lean seven-figure restaurant marketing agency in just three years.

Why ManyChat?
Jace tested out a couple of other Messenger bot providers, but ManyChat was the clear winner. He explained that ManyChat was "everything I felt like I've been looking for in software. That's a big part of why we trust it and use it across most of our clients now.

Misfit Media uses ManyChat to execute its Chat Marketing campaigns for three main reasons:
Intuitive user interface. ManyChat gives Misfit the ability to build advanced bots and see results while being extremely easy to navigate.
ManyChat's Flow Builder. Anytime Misfit's team builds a complex marketing funnel, they use ManyChat's visual editor. It helps them see their flows from end-to-end and provides a clear layout of how a user will get from point A to point B, as well as the info that Misfit will collect along the way.
Reliability. ManyChat's software helped Misfit Media scale to the level they're at today. By leveraging it's innovative and updated features, the agency was able to maximize revenue while keeping overhead low.
Creating a scalable, seven-figure agency with a trusted partner
Misfit Media is continually improving its service. They recently developed their own analytics software, Misfit Hub, which provides clients with all of their campaign metrics in real-time and serves as a direct communication channel to the company.

The clarity and strong ROI's Misfit brings to the world of restaurant marketing has earned the agency two case studies (see 5 Napkin Burger and Miller's Roast Beef) published by Facebook on the social media giant's Success Stories page.

ManyChat is a key component to Misfit Media's success. The strength and ability of the software contribute an immense amount of value to Misfit's service, enabling them to serve a large (and growing) client base and charge them accordingly.

"If you look at ManyChat's success, their key partnerships, what is happening, and how fast they adapt, it's a no-brainer. When you grow an agency business, you have a lot of money on the line every month. I need to feel I can depend on my software partners. They need to evolve as we evolve. ManyChat is our biggest partner. Out of all the things we've accomplished, it's given us validation and confidence to manage our growing list of clients," explains Jace.

ManyChat was the game-changer that Misfit Media needed in late 2017. The Chat Marketing platform has served them well and helped take them to over $1 million a year in revenue.
Want to scale your marketing agency? Apply for the ManyChat Agency Partner Program and get 20% revenue sharing, priority support, access to our private Agency Community, and more.

O conteúdo deste blog foi preparado de forma independente e destina-se apenas a fins informativos. As opiniões expressas são de responsabilidade do autor e não refletem necessariamente a posição do ManyChat ou de qualquer outra parte. Os resultados individuais podem variar.